Benzylidene-bis-(4-Hydroxycoumarin) and Benzopyrano-Coumarin Derivatives: Synthesis, 1H/13C-NMR Conformational and X-ray Crystal Structure Studies and
In Vitro

Antiviral Activity Evaluations

1

Faculty of Pharmacy, University of Sarajevo, Čekaluša 90, Sarajevo BA-71000, Bosnia and Hercegovina

2

Slovenian NMR Centre, National Institute of Chemistry, Hajdrihova 19, Ljubljana SI-1000, Slovenia

3

EN-FIST Centre of Excellence, Dunajska 156, Ljubljana SI-1000, Slovenia

4

Faculty of Chemistry and Chemical Technology, University of Ljubljana, Aškerčeva cesta 5, Ljubljana SI-1000, Slovenia

5

Department of Applied Chemistry, Faculty of Textile Technology, University of Zagreb, Prilaz baruna Filipovića 28a, Zagreb HR-10000, Croatia

6

Rega Institute for Medical Research, Katholieke Universiteit Leuven, Minderbroedersstraat 10, Leuven B-3000, Belgium

7

Department of Organic Chemistry, Faculty of Chemical Engineering and Technology, University of Zagreb, Marulićev trg 20, Zagreb HR-10000, Croatia

*

Author to whom correspondence should be addressed.

Received: 13 June 2011 / Revised: 6 July 2011 / Accepted: 12 July 2011 / Published: 19 July 2011

(This article belongs to the Special Issue

Antivirals

)
Abstract
We report on the synthesis of 4-hydroxycoumarin dimers
1
–
15
bearing an aryl substituent on the central linker and fused benzopyranocoumarin derivatives
16
–
20
and on their
in vitro
broad anti-DNA and RNA virus activity evaluations. The chemical identities and structure of compounds
1
–
20
were deduced from their homo- and heteronuclear NMR measurements whereas the conformational properties of
5
,
14
and
20
were assessed by the use of 1D difference NOE enhancements. Unequivocal proof of the stereostructure of compounds
7
,
9
,
16
and
18
was obtained by single crystal X-ray diffraction method. The X-ray crystal structure analysis revealed that two 4-hydroxycoumarin moieties in the 4-trifluoromethylphenyl- and 2-nitrophenyl derivatives (compounds
7
and
9
, respectively) are intramolecularly hydrogen-bonded between hydroxyl and carbonyl oxygen atoms. Consequently, the compounds
7
and
9
adopt conformations in which two 4-hydroxy-coumarin moieties are
anti
-disposed. Antiviral activity evaluation results indicated that the 4-bromobenzylidene derivative of bis-(4-hydroxycoumarin) (compound
3
) possesses inhibitory activity against HSV-1 (KOS), HSV-2 (G), vaccinia virus and HSV-1 TK
-
KOS (ACV
r
) at a concentration of 9–12 μM and at a minimum cytotoxic concentration (MCC) greater than 20
μM. Compounds
4
–
6
,
8
, and
20
were active against feline herpes virus (50% effective concentration, EC
50
= 5–8.1
μM), that is at a 4-7-fold lower concentration than the MCC.
View Full-Text
►

▼

Figures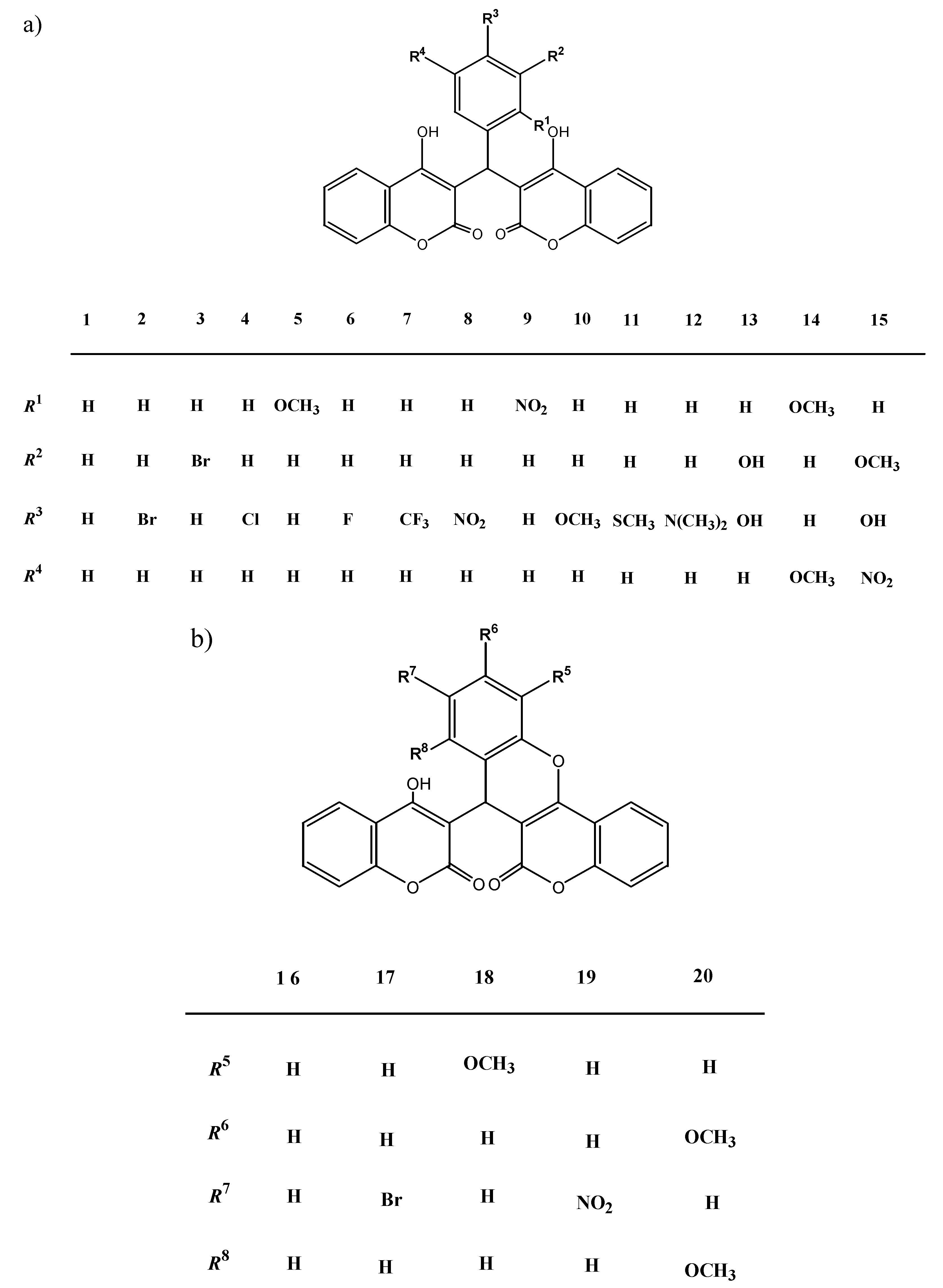 Figure 1

Share & Cite This Article
MDPI and ACS Style
Završnik, D.; Muratović, S.; Makuc, D.; Plavec, J.; Cetina, M.; Nagl, A.; Clercq, E.D.; Balzarini, J.; Mintas, M. Benzylidene-bis-(4-Hydroxycoumarin) and Benzopyrano-Coumarin Derivatives: Synthesis, 1H/13C-NMR Conformational and X-ray Crystal Structure Studies and In Vitro Antiviral Activity Evaluations. Molecules 2011, 16, 6023-6040.
Related Articles
Comments
[Return to top]