Enantioselective Addition of Allyltin Reagents to Amino Aldehydes Catalyzed with Bis(oxazolinyl)phenylrhodium(III) Aqua Complexes
1
Institute for Materials Chemistry and Engineering, Kyushu University, 6-1 Kasuga-koen, Kasuga, Fukuoka 816-8580, Japan
2
School of Materials Science, Toyohashi University of Technology, Tempaku-cho, Toyohashi, Aichi 441-8580, Japan
3
Department of Applied Chemistry, Graduate School of Engineering, Nagoya University, Chikusa, Nagoya 464-8603, Japan
*
Author to whom correspondence should be addressed.
Received: 30 May 2011 / Revised: 20 June 2011 / Accepted: 23 June 2011 / Published: 27 June 2011
Abstract
Bis(oxazolinyl)phenylrhodium(III) aqua complexes, (Phebox)RhX
2
(H
2
O) [X = Cl, Br], were found to be efficient Lewis acid catalysts for the enantioselective addition of allyl- and methallyltributyltin reagents to amino aldehydes. The reactions proceed smoothly in the presence of 5–10 mol % of (Phebox)RhX
2
(H
2
O) complex at ambient temperature to give the corresponding amino alcohols with modest to good enantioselectivity (up to 94% ee).
View Full-Text
►

▼

Figures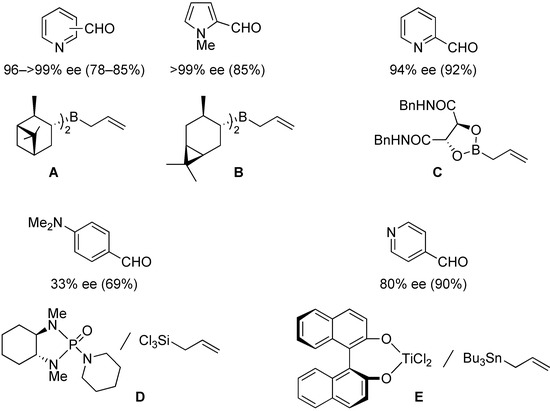 Figure 1

Share & Cite This Article
MDPI and ACS Style
Motoyama, Y.; Sakakura, T.; Takemoto, T.; Shimozono, K.; Aoki, K.; Nishiyama, H. Enantioselective Addition of Allyltin Reagents to Amino Aldehydes Catalyzed with Bis(oxazolinyl)phenylrhodium(III) Aqua Complexes. Molecules 2011, 16, 5387-5401.
Related Articles
Comments
[Return to top]