Crystallization and Characterization of an Inflammatory Lectin Purified from the Seeds of
Dioclea wilsonii
1
Núcleo de Biotecnologia, Centro de Ciências da Saúde, Universidade Federal do Espírito Santo, Vitória, ES 29040-090, Brazil
2
Instituto Superior de Ciências Biomédicas, Universidade Estadual do Ceará, P. O. Box 6043, 60455-970 Fortaleza, Ceará, Brazil
3
Laboratório de Moléculas Biologicamente Ativas, Departamento de Bioquímica e Biologia Molecular, Universidade Federal do Ceará, P. O. Box 6043, 60455-970 Fortaleza, Ceará, Brazil
4
Departamento de Biologia Molecular, Centro de Ciências Exatas e da Natureza - Campus I, Universidade Federal da Paraíba,Caixa Postal 5009, 58051-970, João Pessoa, PB, Brazil
*
Authors to whom correspondence should be addressed.
Received: 14 April 2011 / Revised: 7 June 2011 / Accepted: 17 June 2011 / Published: 20 June 2011
Abstract
DwL, a lectin extracted from the seeds of
Dioclea wilsonii
, is a metalloprotein with strong agglutinating activity against rabbit and ABO erythrocytes, inhibited by glucose and mannose. DwL was purified by affinity chromatography on a Sephadex G-50 column and ion exchange chromatography on a HiTrap SP XL column. SDS-PAGE revealed three electrophoretic bands corresponding to the α (25,634 ± 2 Da), β (12,873 ± 2 Da) and γ (12,779 ± 2 Da) chains. Protein sequencing was done by Tandem Mass Spectrometry. The primary sequence featured 237 amino acids and was highly homologous to other reported Diocleinae lectins. A complete X-ray dataset was collected at 2.0 Å for X-Man-complexed DWL crystals produced by the vapor diffusion method. The crystals were orthorhombic and belonged to the space group I222, with the unit-cell parameters a = 59.6, b = 67.9 and c = 109.0 Å. DWL differed in potency from other ConA-like lectins and was found to induce neutrophil migration in rats, making it particularly useful in structural/functional studies of this class of proteins.
View Full-Text
►

▼

Figures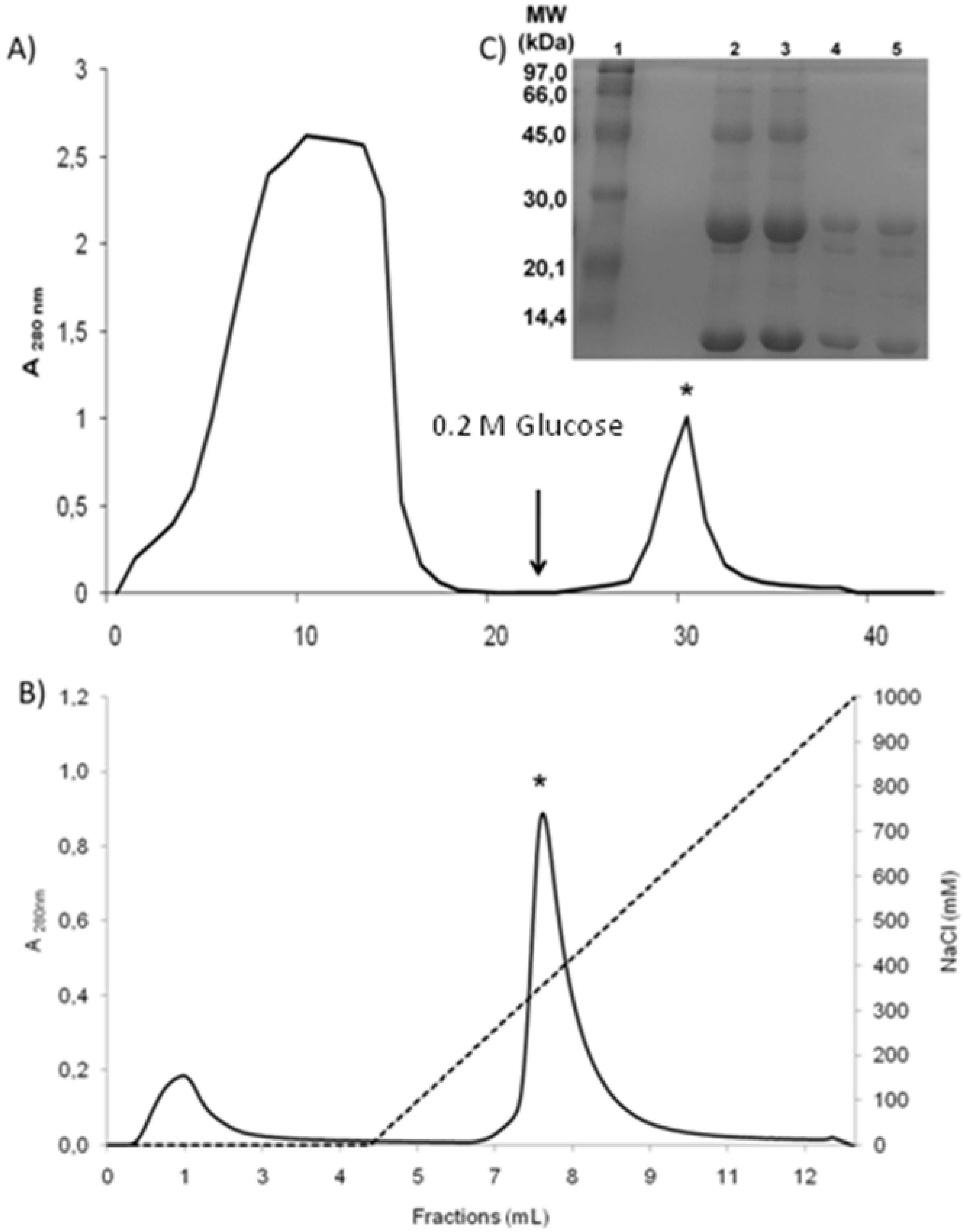 Figure 1

Share & Cite This Article
MDPI and ACS Style
Rangel, T.B.A.; Assreuy, A.M.S.; Pires, A.F.; Carvalho, A.U.; Benevides, R.G.; Simões, R.C.; Silva, H.C.; Bezerra, M.J.B.; Nascimento, A.S.F.; Nascimento, K.S.; Nagano, C.S.; Sampaio, A.H.; Delatorre, P.; Rocha, B.A.M.; Fernandes, P.M.B.; Cavada, B.S. Crystallization and Characterization of an Inflammatory Lectin Purified from the Seeds of Dioclea wilsonii. Molecules 2011, 16, 5087-5103.
Related Articles
Comments
[Return to top]