Inhibitors of Testosterone Biosynthetic and Metabolic Activation Enzymes
1
The 2nd Affiliated Hospital, Wenzhou Medical College, Wenzhou, Zhejiang 325000, China
2
Biopharmaceutical Research and Development Center, Jinan University, Guangzhou 510632, China
3
Population Council and Rockefeller University, 1230 York Avenue, New York, NY 10065, USA
*
Authors to whom correspondence should be addressed.
Received: 2 November 2011 / Revised: 21 November 2011 / Accepted: 21 November 2011 / Published: 2 December 2011
(This article belongs to the Special Issue
Steroids
)
Abstract
The Leydig cells of the testis have the capacity to biosynthesize testosterone from cholesterol. Testosterone and its metabolically activated product dihydrotestosterone are critical for the development of male reproductive system and spermatogenesis. At least four steroidogenic enzymes are involved in testosterone biosynthesis: Cholesterol side chain cleavage enzyme (CYP11A1) for the conversion of cholesterol into pregnenolone within the mitochondria, 3β-hydroxysteroid dehydrogenase (HSD3B), for the conversion of pregnenolone into progesterone, 17α-hydroxylase/17,20-lyase (CYP17A1) for the conversion of progesterone into androstenedione and 17β-hydroxysteroid dehydrogenase (HSD17B3) for the formation of testosterone from androstenedione. Testosterone is also metabolically activated into more potent androgen dihydrotestosterone by two isoforms 5α-reductase 1 (SRD5A1) and 2 (SRD5A2) in Leydig cells and peripheral tissues. Many endocrine disruptors act as antiandrogens via directly inhibiting one or more enzymes for testosterone biosynthesis and metabolic activation. These chemicals include industrial materials (perfluoroalkyl compounds, phthalates, bisphenol A and benzophenone) and pesticides/biocides (methoxychlor, organotins, 1,2-dibromo-3-chloropropane and prochloraz) and plant constituents (genistein and gossypol). This paper reviews these endocrine disruptors targeting steroidogenic enzymes.
View Full-Text
►

▼

Figures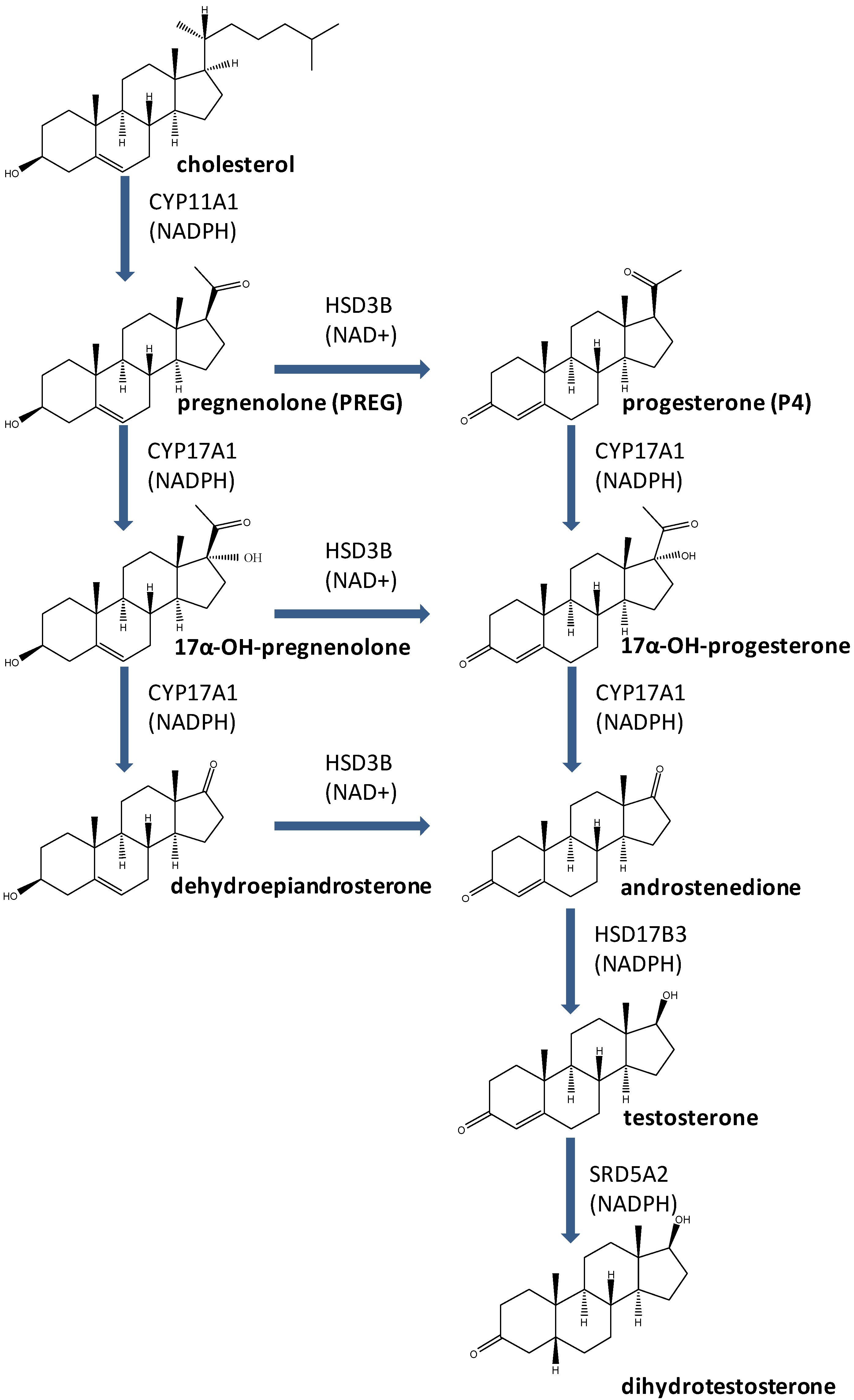 Figure 1

Share & Cite This Article
MDPI and ACS Style
Ye, L.; Su, Z.-J.; Ge, R.-S. Inhibitors of Testosterone Biosynthetic and Metabolic Activation Enzymes. Molecules 2011, 16, 9983-10001.
Related Articles
Comments
[Return to top]