Use of Titanium Dioxide Photocatalysis on the Remediation of Model Textile Wastewaters Containing Azo Dyes
1
Centro de Estudos da Saúde do Trabalhador e Ecologia Humana Escola Nacional de Saúde Pública - Fundação Oswaldo Cruz, Av. Leopoldo Bulhões, 1480, Rio de Janeiro, 21041-210 RJ, Brazil
2
CQFM - Centro de Química-Física Molecular and IN – Instituto de Nanociencias e Nanotecnologia, Complexo Interdisciplinar, Instituto Superior Técnico, Universidade Técnica de Lisboa, Av. Rovisco Pais 1049-001, Lisboa, Portugal
3
C3i - Centro Interdisciplinar de Investigação e Inovação, Escola Superior de Tecnologia e Gestão, Instituto Politécnico de Portalegre, Lugar da Abadessa Apartado 148 - 7301901 Portalegre, Portugal
*
Authors to whom correspondence should be addressed.
Received: 16 October 2011 / Revised: 17 November 2011 / Accepted: 21 November 2011 / Published: 14 December 2011
Abstract
The photocatalytic degradation of two commercial textile azo dyes, namely C.I Reactive Black 5 and C.I Reactive Red 239, has been studied. TiO
2
P25 Degussa was used as catalyst and photodegradation was carried out in aqueous solution under artificial irradiation with a 125 W mercury vapor lamp. The effects of the amount of TiO
2
used, UV-light irradiation time, pH of the solution under treatment, initial concentration of the azo dye and addition of different concentrations of hydrogen peroxide were investigated. The effect of the simultaneous photodegradation of the two azo dyes was also investigated and we observed that the degradation rates achieved in mono and bi-component systems were identical. The repeatability of photocatalytic activity of the photocatalyst was also tested. After five cycles of TiO
2
reuse the rate of colour lost was still 77% of the initial rate. The degradation was followed monitoring the change of azo dye concentration by UV-Vis spectroscopy. Results show that the use of an efficient photocatalyst and the adequate selection of optimal operational parameters may easily lead to a complete decolorization of the aqueous solutions of both azo dyes.
View Full-Text
►

▼

Figures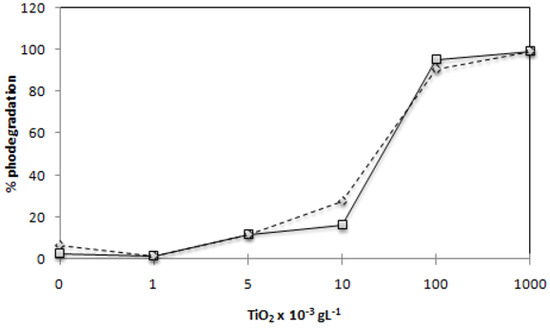 Figure 1

Share & Cite This Article
MDPI and ACS Style
Saggioro, E.M.; Oliveira, A.S.; Pavesi, T.; Maia, C.G.; Ferreira, L.F.V.; Moreira, J.C. Use of Titanium Dioxide Photocatalysis on the Remediation of Model Textile Wastewaters Containing Azo Dyes. Molecules 2011, 16, 10370-10386.
Related Articles
Comments
[Return to top]