Biological Activity of Carbazole Alkaloids and Essential Oil of
Murraya koenigii

Against Antibiotic Resistant Microbes and Cancer Cell Lines

1

Laboratory of Natural Products Chemistry, Institute for Tropical Biology and Conservation, Universiti Malaysia Sabah, 88999 Kota Kinabalu, Sabah, Malaysia

2

School of Medicine, Universiti Malaysia Sabah, 88999 Kota Kinabalu, Sabah, Malaysia

3

Institute of Marine Biotechnology, University Malaysia Terengganu, 21030 Kuala Terengganu, Terengganu, Malaysia

*

Author to whom correspondence should be addressed.

Received: 22 September 2011 / Revised: 9 November 2011 / Accepted: 11 November 2011 / Published: 21 November 2011
Abstract
A total of three carbazole alkaloids and essential oil from the leaves of
Murraya koenigii
(Rutaceae) were obtained and examined for their effects on the growth of five antibiotic resistant pathogenic bacteria and three tumor cell lines (MCF-7, P 388 and Hela). The structures of these carbazoles were elucidated based on spectroscopy data and compared with literature data, hence, were identified as mahanine (
1
), mahanimbicine (
2
) and mahanimbine (
3
). The chemical constituents of the essential oil were identified using Gas Chromatography-Mass Spectroscopy (GCMS). These compounds exhibited potent inhibition against antibiotic resistant bacteria such as
Staphylococcus aureus
(210P JTU),
Psedomonas aeruginosa
(ATCC 25619),
Klebsiella pneumonia
(SR1-TU),
Escherchia coli
(NI23 JTU) and
Streptococcus pneumoniae
(SR16677-PRSP) with significant minimum inhibition concentration (MIC) values (25.0–175.0 mg/mL) and minimum bacteriacidal concentrations (MBC) (100.0–500.0 mg/mL). The isolated compounds showed significant antitumor activity against MCF-7, Hela and P388 cell lines. Mahanimbine (
3
) and essential oil in particular showed potent antibacteria and cytotoxic effect with dose dependent trends (≤5.0 μg/mL). The findings from this investigation are the first report of carbazole alkaloids' potential against antibiotic resistant clinical bacteria, MCF-7 and P388 cell lines.
View Full-Text
►

▼

Figures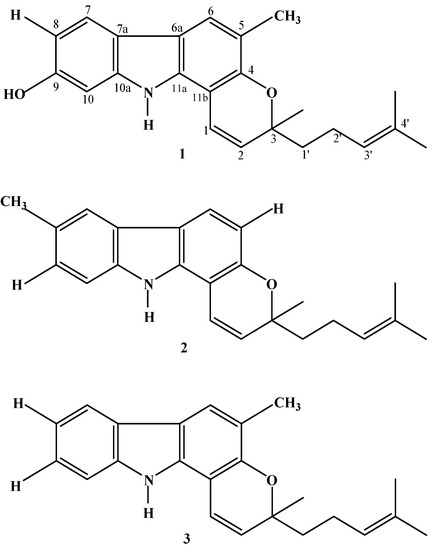 Figure 1

Share & Cite This Article
MDPI and ACS Style
Nagappan, T.; Ramasamy, P.; Wahid, M.E.A.; Segaran, T.C.; Vairappan, C.S. Biological Activity of Carbazole Alkaloids and Essential Oil of Murraya koenigii Against Antibiotic Resistant Microbes and Cancer Cell Lines. Molecules 2011, 16, 9651-9664.
Related Articles
Comments
[Return to top]