Composition of Sulla (
Hedysarum coronarium

L.) Honey Solvent Extractives Determined by GC/MS: Norisoprenoids and Other Volatile Organic Compounds

1

Faculty of Chemistry and Technology, University of Split, N. Tesle 10/V, 21000 Split, Croatia

2

Dipartimento di Tossicologia, Università di Cagliari, via Ospedale 72, 09124 Cagliari, Italy

3

Marko Marulić Polytechnic in Knin, P. Krešimira IV 30, 22300 Knin, Croatia

4

Faculty of Agriculture, University of Zagreb, Svetošimunska 25, 10000 Zagreb, Croatia

*

Author to whom correspondence should be addressed.

Received: 1 July 2010 / Revised: 7 September 2010 / Accepted: 9 September 2010 / Published: 9 September 2010
Abstract
Samples of unifloral sulla (
Hedysarum coronarum
L.) honey from Sardinia (Italy) were analysed. To investigate the chemical composition of the honey volatiles two solvent systems were used for ultrasonic solvent extraction (USE): 1) a 1:2 (v/v) pentane and diethyl ether mixture and 2) dichloromethane. All the extracts were analysed by GC and GC/MS. These procedures have permitted the identification of 56 compounds that include norisoprenoids, benzene derivatives, aliphatic compounds and Maillard reaction products. Norisoprenoids were the major compounds in both extracts, dominated by vomifoliol (5.3-11.2%; 9.6-14.0%) followed by minor percentages of other norisoprenoids such as α-isophorone, 4-ketoisophorone, 3-oxo-α-ionol or 3-oxo-α-ionone. Other abundant single compounds in the extracts were 3-hydroxy-4-phenylbutan-2-one (0.8-5.4%; 0.6-5.7%) and methyl syringate (3.0-5.7%; 2.2-4.1%). The composition of the volatiles and semi-volatiles in the obtained extracts suggests that sulla honey is quite distinctive relative to the other honeys that have been chemically studied by GC/MS, but no specific markers of the honey botanical origin were found.
View Full-Text
►

▼

Figures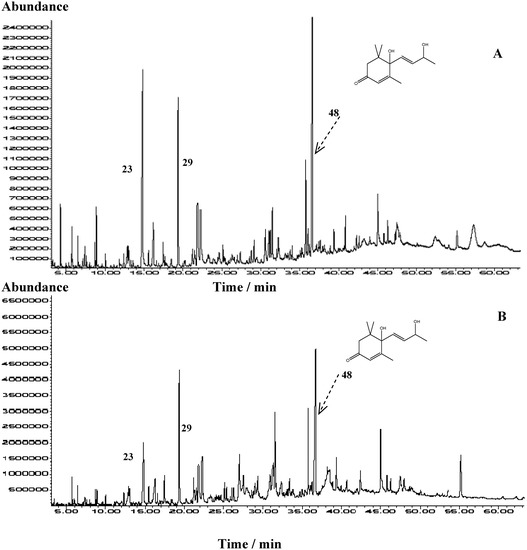 Figure 1

Share & Cite This Article
MDPI and ACS Style
Jerković, I.; Tuberso, C.I.; Gugić, M.; Bubalo, D. Composition of Sulla (Hedysarum coronarium L.) Honey Solvent Extractives Determined by GC/MS: Norisoprenoids and Other Volatile Organic Compounds. Molecules 2010, 15, 6375-6385.
Related Articles
Comments
[Return to top]