Microwave Synthesis, Basic Spectral and Biological Evaluation of Some Copper (II) Mesoporphyrinic Complexes
1
Faculty of Pharmacy, "Carol Davila" University of Medicine and Pharmacy, 6 Traian Vuia St., 020956 Bucharest, Romania
2
"Ilie Murgulescu" Institute of Physical Chemistry, Romanian Academy, 202 Splaiul Independenţei, 060021 Bucharest, Romania
3
Centro de Química-Física Molecular, Institute of Nanosciences and Nanotechnology, Instituto Superior Técnico Av. Rovisco Pais 1049-001, Lisbon, Portugal
4
Escola Superior de Tecnologia e Gestão de Portalegre, Instituto Politécnico de Portalegre, Apartado 148, 7300-901 Portalegre, Portugal
5
"Victor Babeş" National Institute for Pathology and Biomedical Sciences, Bucharest, 99-101 Splaiul Independenţei, 050096 Bucharest, Romania
*
Authors to whom correspondence should be addressed.
Received: 27 April 2010 / Revised: 19 May 2010 / Accepted: 24 May 2010 / Published: 25 May 2010
Abstract
Cu(II) complexes with asymmetrical and symmetrical porphyrinic ligands were synthesized with superior yields using microwave irradiation. The paper presents the synthesis of 5-(3-hydroxyphenyl)-10,15,20-tris-(4-carboxymethylphenyl)-21,23-Cu(II)-porphine in comparison to its symmetrical complex 5,10,15,20-
meso
-tetrakis-(4-carboxy-methylphenyl)-21,23-Cu(II) porphine. The two compounds were characterized by FT-IR, UV–Vis and EPR spectroscopy, which fully confirmed the structures. The spectral molecular absorption properties of the porphyrinic complexes were studied in organic solvents (methanol, ethanol,
iso
-propanol, dimethyl sulfoxide, dimethylformamide and methylene chloride), and the influence of the solvent polarity on the absorbance maxima is described. In order to establish their future potential in biomedical applications preliminary toxicological studies consisting of viability and proliferation of standard tumor cell lines (MCF7 and B16) testing was performed. The obtained results indicate a low toxicity for both compounds and further recommends them for testing in light activation protocols.
View Full-Text
►

▼

Figures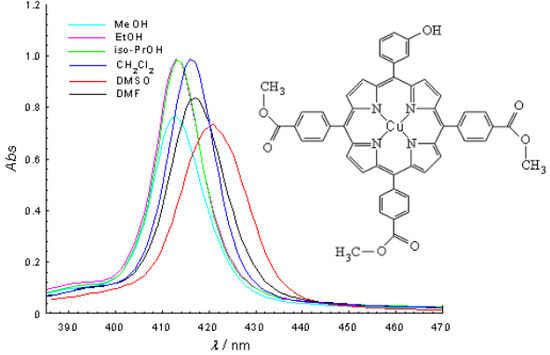 Graphical abstract

Share & Cite This Article
MDPI and ACS Style
Boscencu, R.; Ilie, M.; Socoteanu, R.; Oliveira, A.S.; Constantin, C.; Neagu, M.; Manda, G.; Ferreira, L.F.V. Microwave Synthesis, Basic Spectral and Biological Evaluation of Some Copper (II) Mesoporphyrinic Complexes. Molecules 2010, 15, 3731-3743.
Related Articles
Comments
[Return to top]