Norcoclaurine Synthase: Mechanism of an Enantioselective Pictet-Spengler Catalyzing Enzyme
1
Dipartimento di Scienze Biochimiche, Università "Sapienza" P. Aldo Moro 5, 00185, Rome, Italy
2
Dipartimento di Studi di Chimica e Tecnologia delle Sostanze Biologicamente Attive, Università "Sapienza" P. Aldo Moro 5, 00185, Rome, Italy
*
Author to whom correspondence should be addressed.
Received: 2 March 2010 / Revised: 18 March 2010 / Accepted: 22 March 2010 / Published: 24 March 2010
Abstract
The use of bifunctional catalysts in organic synthesis finds inspiration in the selectivity of enzymatic catalysis which arises from the specific interactions between basic and acidic amino acid residues and the substrate itself in order to stabilize developing charges in the transition state. Many enzymes act as bifunctional catalysts using amino acid residues at the active site as Lewis acids and Lewis bases to modify the substrate as required for the given transformation. They bear a clear advantage over non-biological methods for their ability to tackle problems related to the synthesis of enantiopure compounds as chiral building blocks for drugs and agrochemicals. Moreover, enzymatic synthesis may offer the advantage of a clean and green synthetic process in the absence of organic solvents and metal catalysts. In this work the reaction mechanism of norcoclaurine synthase is described. This enzyme catalyzes the Pictet-Spengler condensation of dopamine with 4-hydroxyphenylacetaldehyde (4-HPAA) to yield the benzylisoquinoline alkaloids central precursor, (S)-norcoclaurine. Kinetic and crystallographic data suggest that the reaction mechanism occurs according to a typical bifunctional catalytic process.
View Full-Text
►

▼

Figures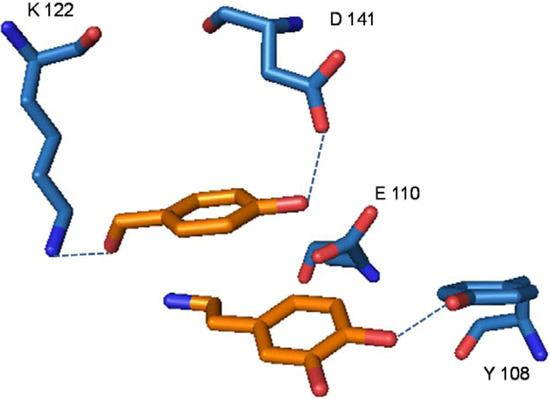 Figure 1

Share & Cite This Article
MDPI and ACS Style
Bonamore, A.; Barba, M.; Botta, B.; Boffi, A.; Macone, A. Norcoclaurine Synthase: Mechanism of an Enantioselective Pictet-Spengler Catalyzing Enzyme. Molecules 2010, 15, 2070-2078.
Related Articles
Comments
[Return to top]