Identification of a Benzamide Derivative that Inhibits Stress-Induced Adrenal Corticosteroid Synthesis
1
Department of Biochemistry & Molecular and Cellular Biology, Georgetown University Medical Center, Washington, DC 20057, USA
2
The Research Institute of the McGill University Health Centre, Montreal, Quebec, H3G 1A4, Canada
3
Department of Medicine, McGill University, Montreal, Quebec, H3G 1A4, Canada
4
Samaritan Pharmaceuticals, Las Vegas, NV 89109, USA
5
Department of Pharmacology & Therapeutics, McGill University, Montreal, Quebec, H3G 1A4, Canada
*
Author to whom correspondence should be addressed.
Received: 27 July 2009 / Revised: 14 August 2009 / Accepted: 1 September 2009 / Published: 3 September 2009
Abstract
Elevated serum glucocorticoid levels contribute to the progression of many diseases, including depression, Alzheimer's disease, hypertension, and acquired immunodeficiency syndrome. Here we show that the benzamide derivative
N
-[2-(4-cyclopropanecarbonyl-3-methyl-piperazin-1-yl)-1-(
tert
-butyl-1
H
-indol-3-yl-methyl)-2-oxo-ethyl]-4-nitrobenzamide (SP-10) inhibits dibutyryl cyclic AMP (dbcAMP)-induced corticosteroid synthesis in a dose-dependent manner in Y-1 adrenal cortical mouse tumor cells, without affecting basal steroid synthesis and reduced stress-induced corticosterone increases in rats without affecting the physiological levels of the steroid in blood. SP-10 did not affect cholesterol transport and metabolism by the mitochondria but was unexpectedly found to increase 3-hydroxy-3-methylglutaryl-coenzyme A, low density lipoprotein receptor, and scavenger receptor class B type I (SR-BI) expression. However, it also markedly reduced dbcAMP-induced NBD-cholesterol uptake, suggesting that this is a compensatory mechanism aimed at maintaining cholesterol levels. SP-10 also induced a redistribution of filamentous (F-) and monomeric (G-) actin, leading to decreased actin levels in the submembrane cytoskeleton suggesting that SP-10-induced changes in actin distribution might prevent the formation of microvilli–cellular structures required for SRBI-mediated cholesterol uptake in adrenal cells.
View Full-Text
►

▼

Figures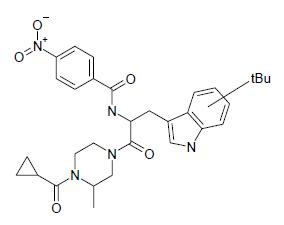 Graphical abstract

Share & Cite This Article
MDPI and ACS Style
Xu, J.; Lecanu, L.; Tan, M.; Greeson, J.; Papadopoulos, V. Identification of a Benzamide Derivative that Inhibits Stress-Induced Adrenal Corticosteroid Synthesis. Molecules 2009, 14, 3392-3410.
Related Articles
Comments
[Return to top]