Open Access This article is
freely available
re-usable
Article
On the Explanation of Born-Rule Statistics in the de Broglie-Bohm Pilot-Wave Theory
Department of Physics, Smith College, Northampton, MA 01063, USA
Received: 8 May 2018 / Accepted: 28 May 2018 / Published: 31 May 2018
Abstract
:
The de Broglie-Bohm pilot-wave theory promises not only a realistic description of the microscopic world (in particular, a description in which observers and observation play no fundamental role) but also the ability to derive and explain aspects of the quantum formalism that are, instead, (awkwardly and problematically) postulated in orthodox versions of quantum theory. Chief among these are the various "measurement axioms" and in particular the Born rule expressing the probability distribution of measurement outcomes. Compared to other candidate non-orthodox quantum theories, the pilot-wave theory suffers from something of an embarrassment of riches in regard to explaining the Born rule statistics, in the sense that there exist, in the literature, not just one but two rather compelling proposed explanations. This paper is an attempt to critically review and clarify these two competing arguments. We summarize both arguments and also survey some objections that have been given against them. In the end, we suggest that there is somewhat less conflict between the two approaches than existing polemics might suggest, and that indeed elements from both arguments may be combined to provide a unified and fully-compelling explanation, from the postulated dynamical first principles, of the Born rule.
Keywords:
pilot-wave theory; Bohmian mechanics; Born rule statistics; measurement problem
Funding
This research received no external funding.
Acknowledgments
Thanks to two anonymous referees for helpful comments on the paper's first draft.
Conflicts of Interest
The author declares no conflict of interest.
Figure 1.
Density plot of . Please note that evolves periodically with period
T
. Note also that, for the particular non-equilibrium initial distribution , . So this same figure can be taken also as illustrating for this particular non-equilibrium distribution. The corresponding for , , and are shown in subsequent figures.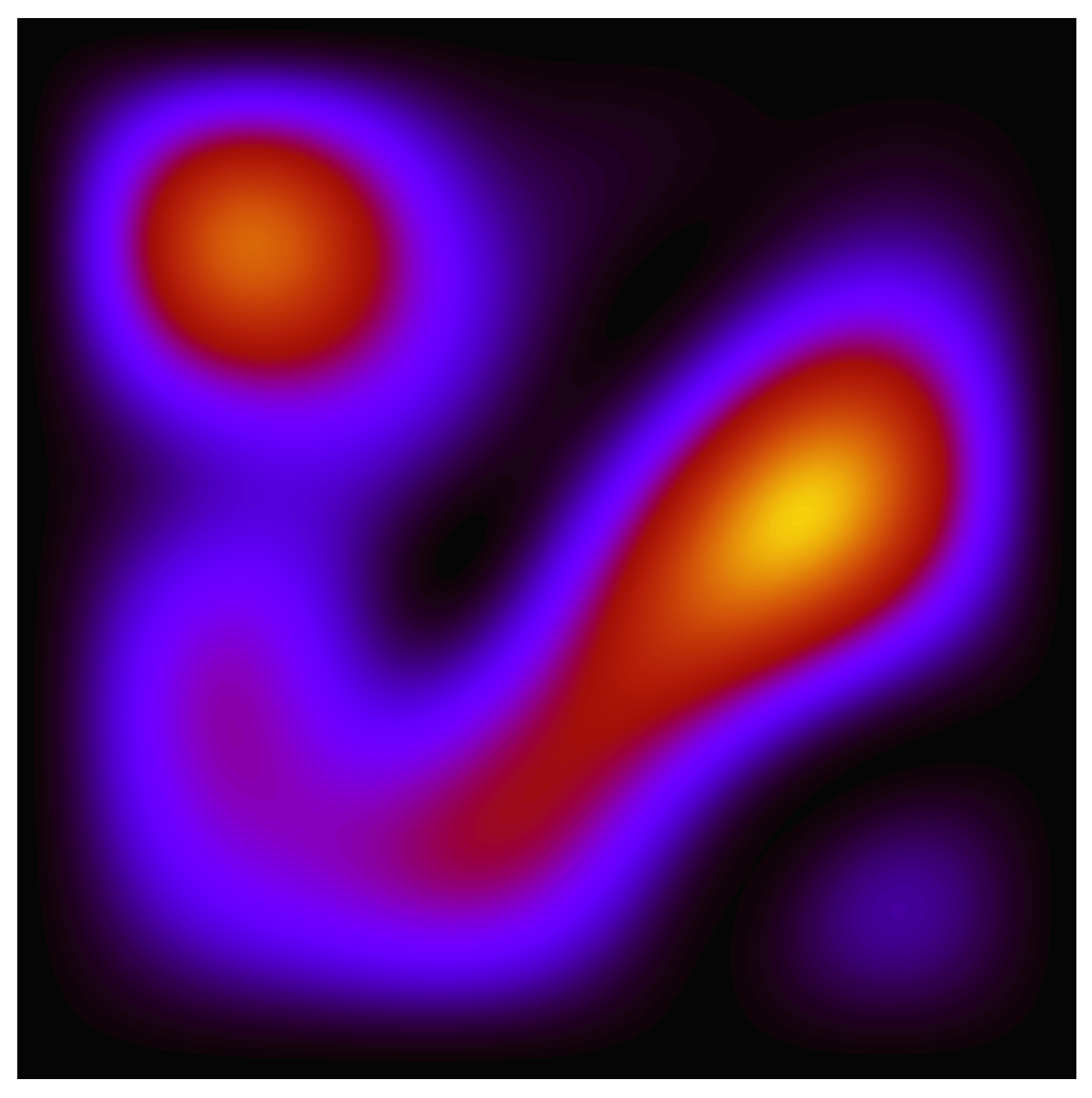 Figure 3. The left panel is the same as panel (d) of the previous figure, but for an ensemble of 50,000 initially-uniformly-distributed particles, allowing one to see some of the fine-grained structure in the distribution. The right panel zooms in on the portion of the box highlighted by the gray box on the left, for an ensemble of 200,000 particles, allowing even more fine-grained structure to be visible.
Figure 4.
The time-evolution of , for an initially-uniform
P
. The evolution through each period is like a "kneading" operation which results in the non-uniformities in
g
being systematically mixed down to smaller and smaller length scales. Further time-evolution would eventually result in a map whose was uniform.
Figure 6.
This is the distribution for that is required at in order to make , i.e., to make constant, at . A very specific fine-grained micro-structure in
P
is required, at the earlier time, to generate a smooth, easily-describable non-equilibrium distribution at a later time.

© 2018 by the author. Licensee MDPI, Basel, Switzerland. This article is an open access article distributed under the terms and conditions of the Creative Commons Attribution (CC BY) license (http://creativecommons.org/licenses/by/4.0/).