Complex Behavior of Nano-Scale Tribo-Ceramic Films in Adaptive PVD Coatings under Extreme Tribological Conditions
1
Department of Mechanical Engineering, McMaster University, 1280 Main St. W., Hamilton, ON L8S 4L7, Canada
2
SPRG Surface Phenomena Researches Group, Physical Metallurgy Institute CNIICHERMET, 2nd Baumanskaya str., 9/23, off. 475, Moscow 105005, Russia
3
Moscow State Technological University "Stankin" (MSTU "STANKIN"), Joint Stock Company Railway Research Institute, Moscow 127994, Russia
4
LMA—Laboratory of Advanced Microscopy, at INA—Institute of Nanoscience of Aragón, University of Zaragoza, Edificio I + D. Campus Rio Ebro.C/Mariano Esquillor, s/n 50018 Zaragoza, Spain
5
Saskatchewan Structural Sciences Centre, University of Saskatchewan, Thorvaldson Building Office 186, 110 Science Place, Saskatoon, SK S7N 5C9, Canada
6
Kobe Steel Ltd., Kobe 651-2271, Japan
*
Author to whom correspondence should be addressed.
Received: 7 November 2018 / Revised: 22 November 2018 / Accepted: 18 December 2018 / Published: 19 December 2018
Abstract
Experimental investigations of nano-scale spatio-temporal effects that occur on the friction surface under extreme tribological stimuli, in combination with thermodynamic modeling of the self-organization process, are presented in this paper. The study was performed on adaptive PVD (physical vapor deposited) coatings represented by the TiAlCrSiYN/TiAlCrN nano-multilayer PVD coating. A detailed analysis of the worn surface was conducted using scanning electron microscopy and energy dispersive spectroscopy (SEM/EDS), transmission electron microscopy (TEM), X-ray photoelectron spectroscopy (XPS), and Auger electron spectroscopy (AES) methods. It was demonstrated that the coating studied exhibits a very fast adaptive response to the extreme external stimuli through the formation of an increased amount of protective surface tribo-films at the very beginning of the running-in stage of wear. Analysis performed on the friction surface indicates that all of the tribo-film formation processes occur in the nanoscopic scale. The tribo-films form as thermal barrier tribo-ceramics with a complex composition and very low thermal conductivity under high operating temperatures, thus demonstrating reduced friction which results in low cutting forces and wear values. This process presents an opportunity for the surface layer to attain a strong non-equilibrium state. This leads to the stabilization of the exchanging interactions between the tool and environment at a low wear level. This effect is the consequence of the synergistic behavior of complex matter represented by the dynamically formed nano-scale tribo-film layer.
View Full-Text
►

▼

Figures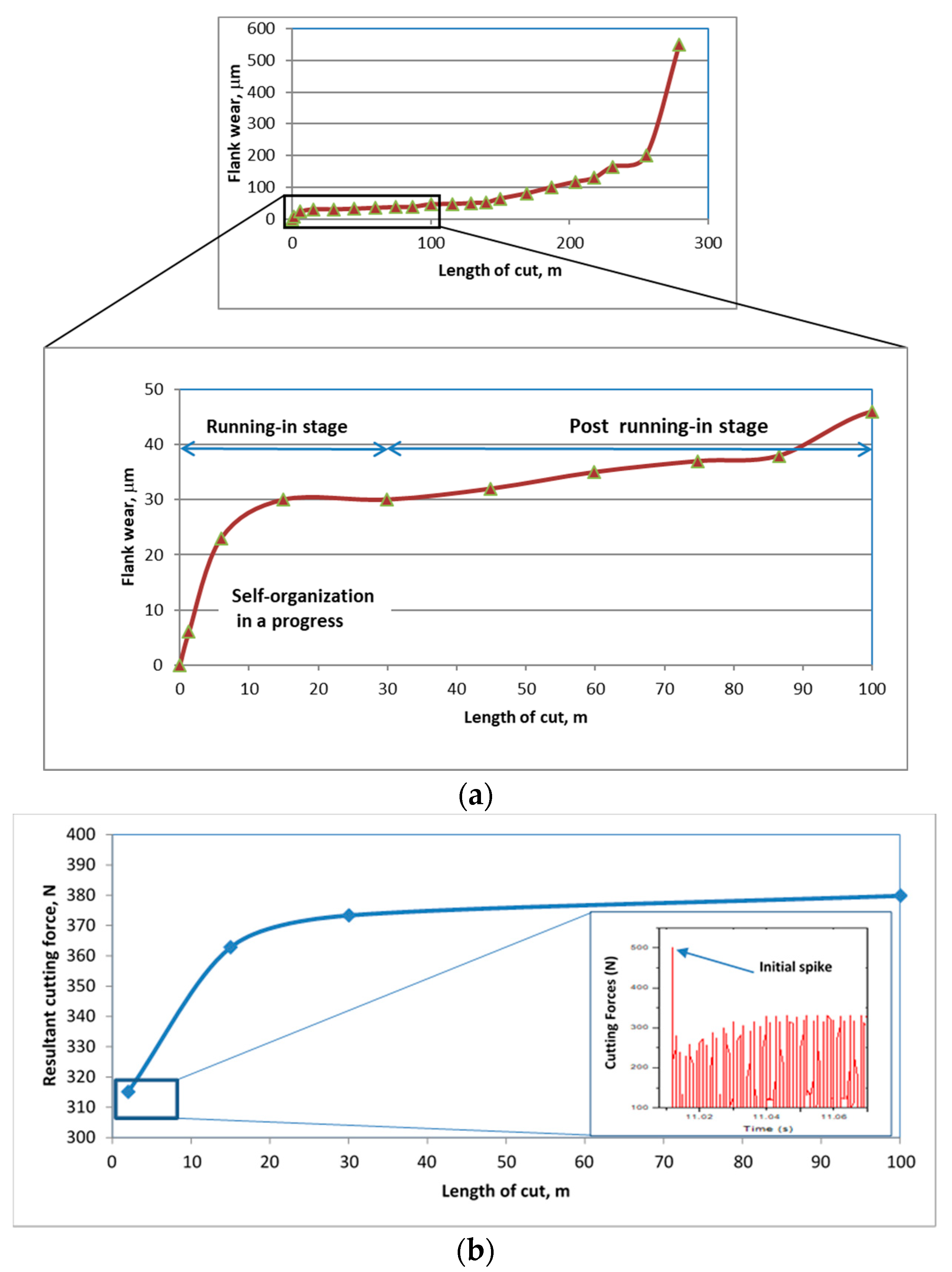 Figure 1
This is an open access article distributed under the
Creative Commons Attribution License
which permits unrestricted use, distribution, and reproduction in any medium, provided the original work is properly cited (CC BY 4.0).

Share & Cite This Article
MDPI and ACS Style
Fox-Rabinovich, G.; Kovalev, A.; Gershman, I.; Wainstein, D.; Aguirre, M.H.; Covelli, D.; Paiva, J.; Yamamoto, K.; Veldhuis, S. Complex Behavior of Nano-Scale Tribo-Ceramic Films in Adaptive PVD Coatings under Extreme Tribological Conditions. Entropy 2018, 20, 989.
Note that from the first issue of 2016, MDPI journals use article numbers instead of page numbers. See further details here.
Related Articles
Comments
[Return to top]