Open Access
Article
Chemical and Sensory Evaluation of Silicone and Polylactic Acid-Based Remedial Treatments for Elevated Methoxypyrazine Levels in Wine
Received: 3 May 2016 / Revised: 31 August 2016 / Accepted: 12 September 2016 / Published: 16 September 2016
PDF Full-text (993 KB) | HTML Full-text | XML Full-text
Abstract
Alkylmethoxypyrazines (MPs) are a class of compounds that can elicit undesirable aroma and flavor characteristics in wine, and resist remediation using traditional wine making approaches. MPs are grape-derived constituents as well as contaminants from
Coccinellidae
beetles present during wine processing; the latter
[...] Read more.
Alkylmethoxypyrazines (MPs) are a class of compounds that can elicit undesirable aroma and flavor characteristics in wine, and resist remediation using traditional wine making approaches. MPs are grape-derived constituents as well as contaminants from
Coccinellidae
beetles present during wine processing; the latter eliciting an off-flavor referred to as 'ladybug taint'. In this study we investigated the capacity of two plastic polymers—one silicone-based, the other polylactic acid-based—applied with varying surface areas to reduce concentrations of isopropylmethoxypyrazine (IPMP),
sec
-butylmethoxypyrazine (SBMP) and isobutylmethoxypyrazine (IBMP) in a Merlot wine using multi-dimensional gas chromatography coupled with mass spectrometry and headspace solid phase microextraction (SPME-MDGCMS). The impact of treatments on the sensory characteristics of the wine (descriptive analysis) and volatile aroma compounds (VOCs) (SPME-MDGCMS) was also investigated. Results showed substantial reductions for all of the target odorants: up to 38%, 44% and 39% for IPMP, SBMP and IBMP, respectively, for the silicone polymer, and up to 75%, 78% and 77% for IPMP, SBMP and IBMP, respectively, for the polylactic acid polymer. These polymers had no or minimal effect on VOCs at applications of 200 cm
2
/L for silicone or for all polylactic acid treatments. Sensory impacts were less clear, but generally showed minimal effect from the treatments. Taken overall, the data confirm the utility of both polylactic acid and silicone polymers in reducing elevated levels of grape-derived MPs, as well as potentially improving wine contaminated by ladybug taint.
Full article
►

▼

Figures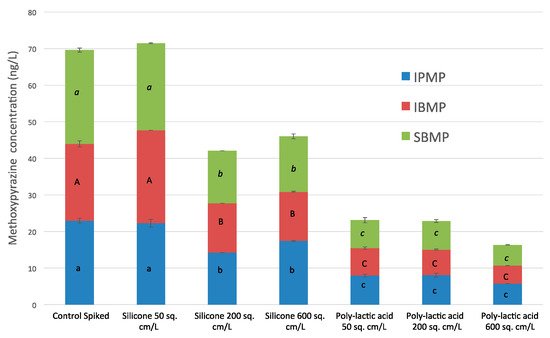 Figure 1