Open Access
Article
Dibasic Ammonium Phosphate Application Enhances Aromatic Compound Concentration in Bog Bilberry Syrup Wine
Received: 20 November 2016 / Revised: 16 December 2016 / Accepted: 25 December 2016 / Published: 29 December 2016
PDF Full-text (908 KB) | HTML Full-text | XML Full-text | Supplementary Files
Abstract
A nitrogen deficiency always causes bog bilberry syrup wine to have a poor sensory feature. This study investigated the effect of nitrogen source addition on volatile compounds during bog bilberry syrup wine fermentation. The syrup was supplemented with 60, 90, 120 or 150
[...] Read more.
A nitrogen deficiency always causes bog bilberry syrup wine to have a poor sensory feature. This study investigated the effect of nitrogen source addition on volatile compounds during bog bilberry syrup wine fermentation. The syrup was supplemented with 60, 90, 120 or 150 mg/L dibasic ammonium phosphate (DAP) before fermentation. Results showed that an increase of DAP amounts accelerated fermentation rate, increased alcohol content, and decreased sugar level. Total phenol and total flavonoid content were also enhanced with the increase of DAP amounts. A total of 91 volatile compounds were detected in the wine and their concentrations were significantly enhanced with the increase of DAP. Ethyl acetate, isoamyl acetate, phenethyl acetate, ethyl butanoate, ethyl hexanoate, ethyl octanoate, ethyl decanoate, isobutanol, isoamyl alcohol,
levo
-2,3-butanediol, 2-phenylethanol,
meso
-2,3-butanediol, isobutyric acid, hexanoic acid, and octanoic acid exhibited a significant increase of their odor activity value (OAV) with the increase of DAP amounts. Bog bilberry syrup wine possessed fruity, fatty, and caramel flavors as its major aroma, whereas a balsamic note was the least present. The increase of DAP amounts significantly improved the global aroma attributes, thereby indicating that DAP supplementation could promote wine fermentation performance and enhance the sensory quality of bog bilberry syrup wine.
Full article
►

▼

Figures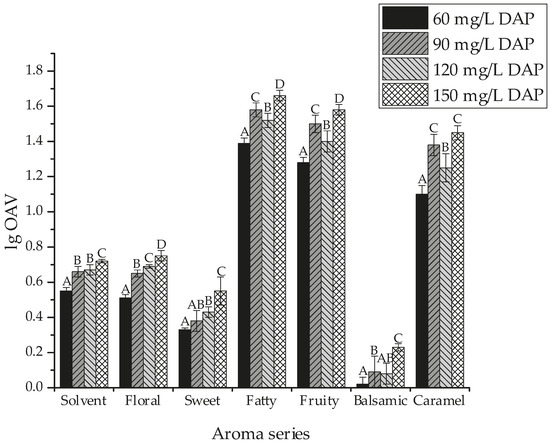 Figure 1