Open Access
Article
The Combined Use of Schizosaccharomyces pombe and Lachancea thermotolerans—Effect on the Anthocyanin Wine Composition
Received: 22 February 2017 / Revised: 21 April 2017 / Accepted: 25 April 2017 / Published: 4 May 2017
PDF Full-text (1523 KB) | HTML Full-text | XML Full-text
Abstract
The most popular methodology to make red wine is through the combined use of Saccharomyces cerevisiae yeast and lactic acid bacteria, for alcoholic fermentation and malolactic fermentation respectively. This classic winemaking practice produces stable red wines from a microbiological point of view. This
[...] Read more.
The most popular methodology to make red wine is through the combined use of
Saccharomyces cerevisiae
yeast and lactic acid bacteria, for alcoholic fermentation and malolactic fermentation respectively. This classic winemaking practice produces stable red wines from a microbiological point of view. This study aims to investigate a recent red winemaking biotechnology, which through the combined use of
Lachancea thermotolerans
and
Schizosaccharomyces pombe
is used as an alternative to the classic malolactic fermentation. In this new methodology,
Schizosaccharomyces
pombe
totally consumes malic acid, while
Lachancea thermotolerans
produces lactic acid, avoiding excessive deacidification of musts with low acidity in warm viticulture areas such as Spain. This new methodology has been reported to be a positive alternative to malolactic fermentation in low acidity wines, since it has the advantage to produce wines with a more fruity flavor, less acetic acid, less ethyl carbamate originators and less biogenic amines than the traditional wines produced via conventional fermentation techniques. The study focuses on unexplored facts related to this novel biotechnology such as color and anthocyanin profile.
Full article
►

▼

Figures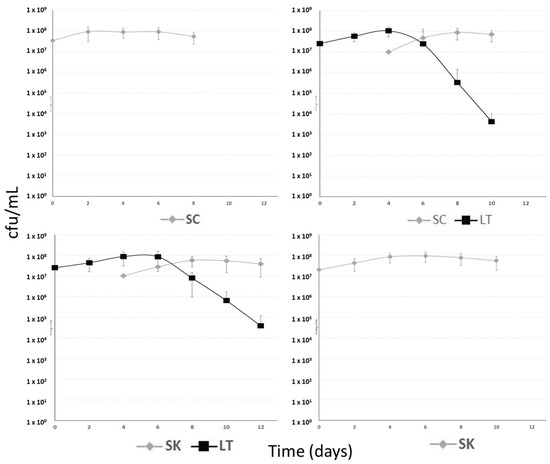 Figure 1