Potential Intermediate Hosts for Coronavirus Transmission: No Evidence of Clade 2c Coronaviruses in Domestic Livestock from Ghana
1
Department of Clinical Microbiology, Kwame Nkrumah University of Science and Technology, PMB, UPO, Kumasi 00233, Ghana
2
Kumasi Centre for Collaborative Research in Tropical Medicine, PMB, UPO, Kumasi 00233, Ghana
3
Department of Theoretical and Applied Biology, Kwame Nkrumah University of Science and Technology, PMB, UPO, Kumasi 00233, Ghana
4
Department of Medical Laboratory Technology, Kwame Nkrumah University of Science and Technology, PMB, UPO, Kumasi 00233, Ghana
5
Department of Animal Science, Kwame Nkrumah University of Science and Technology, PMB, UPO, Kumasi 00233, Ghana
6
School of Veterinary Medicine, Kwame Nkrumah University of Science and Technology, PMB, UPO, Kumasi 00233, Ghana
7
Department of Agroforestry, Kwame Nkrumah University of Science and Technology, PMB, UPO, Kumasi 00233, Ghana
8
Department of Wildlife and Range Management, Kwame Nkrumah University of Science and Technology, PMB, UPO, Kumasi 00233, Ghana
*
Author to whom correspondence should be addressed.
Received: 17 December 2018 / Revised: 31 January 2019 / Accepted: 4 February 2019 / Published: 10 February 2019
Abstract
The emergence of Middle East Respiratory Syndrome Coronavirus (MERS-CoV), nearly a decade ago with worldwide distribution, was believed to be of zoonotic origin from bats with dromedary camels as intermediate hosts. There is a likelihood of other domestic livestock serving as intermediate hosts for this virus. The presence of coronaviruses, closely related to MERS-CoV in Ghanaian bats, presented the opportunity to test the hypothesis of transmissibility of this virus through domestic livestock species. The possible interactions between livestock and bats in 31 household farms were accessed by observation and interviews with farmers. Rectal swabs and serum from cattle, sheep, goats, donkeys, and swine from commercial and household farms were tested for MERS-CoV and a
Nycteris
sp. bat coronavirus, previously detected in Ghana. A pan-PCR assay to detect clade 2c viruses and recombinant immunofluorescence assay to detect anti-spike IgG antibodies against the target viruses were used. Likely contact between livestock and bats was determined for 13 farms (41.9%) that reported confining their livestock and also observing bats in their homes. Livestock were left unconfined on eight farms (25.8%) that also observed bats roosting in trees close to their homes. No viral RNA or antibodies against the two coronaviruses were detected in any of the livestock species tested. Cattle, sheep, goats, donkeys, and swine are not likely hosts of clade 2c coronaviruses.
View Full-Text
►

▼

Figures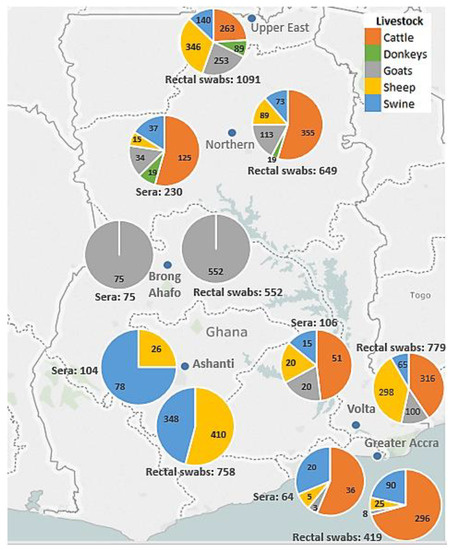 Figure 1
This is an open access article distributed under the
Creative Commons Attribution License
which permits unrestricted use, distribution, and reproduction in any medium, provided the original work is properly cited (CC BY 4.0).

Share & Cite This Article
MDPI and ACS Style
El-Duah, P.; Sylverken, A.; Owusu, M.; Yeboah, R.; Lamptey, J.; Oppong Frimpong, Y.; Burimuah, V.; Antwi, C.; Folitse, R.; Agbenyega, O.; Oppong, S.; Adu-Sarkodie, Y. Potential Intermediate Hosts for Coronavirus Transmission: No Evidence of Clade 2c Coronaviruses in Domestic Livestock from Ghana. Trop. Med. Infect. Dis. 2019, 4, 34.
Note that from the first issue of 2016, MDPI journals use article numbers instead of page numbers. See further details here.
Comments
[Return to top]