Open Access This article is
freely available
re-usable
Article
Interactive Hesitation Synthesis: Modelling and Evaluation
1
Cluster of Excellence Cognitive Interaction Technology (CITEC), Bielefeld University, 33615 Bielefeld, Germany
2
Phonetics and Phonology Workgroup, Faculty of Linguistics and Literary Studies, Bielefeld University, 33615 Bielefeld, Germany
3
Dialogue Systems Group, Faculty of Linguistics and Literary Studies, Bielefeld University, 33615 Bielefeld, Germany
4
Applied Informatics Group, Faculty of Technology, Bielefeld University, 33615 Bielefeld, Germany
*
Author to whom correspondence should be addressed.
Received: 8 December 2017 / Accepted: 26 February 2018 / Published: 2 March 2018
Abstract
:
Conversational spoken dialogue systems that interact with the user rather than merely reading the text can be equipped with hesitations to manage dialogue flow and user attention. Based on a series of empirical studies, we elaborated a hesitation synthesis strategy for dialogue systems, which inserts hesitations of a scalable extent wherever needed in the ongoing utterance. Previously, evaluations of hesitation systems have shown that synthesis quality is affected negatively by hesitations, but that they result in improvements of interaction quality. We argue that due to its conversational nature, hesitation synthesis needs interactive evaluation rather than traditional mean opinion score (MOS)-based questionnaires. To validate this claim, we dually evaluate our system's speech synthesis component, on the one hand, linked to the dialogue system evaluation, and on the other hand, in a traditional MOS way. We are thus able to analyze and discuss differences that arise due to the evaluation methodology. Our results suggest that MOS scales are not sufficient to assess speech synthesis quality, leading to implications for future research that are discussed in this paper. Furthermore, our results indicate that synthetic hesitations are able to increase task performance and that an elaborated hesitation strategy is necessary to avoid likability issues.
Keywords:
speech synthesis; evaluation; hesitation; virtual agents; interaction
Acknowledgments
This research was carried out as part of the CITEC Large Scale Project "The Cognitive Service Robotics Apartment as an Ambient Host" (CSRA) and was supported by the Cluster of Excellence Cognitive Interaction Technology 'CITEC' (EXC 277) at Bielefeld University, which is funded by the German Research Foundation (DFG). We warmly thank our participants. We are also grateful to Christoph Draxler, who invested much of his to set up experiment 2; Timo Baumann and Soledad Lopez-Gambino, who gave advice regarding several issues with the synthesis in InProTK; Monika Chromik and Ayla Canpolat for their massive support during experiment 1; and all the people who invested a lot of their time to set up the CSRA as a platform for interaction research.
Author Contributions
All authors conceived and designed the experiments, and analysed the data jointly. Birte Carlmeyer and Simon Betz conducted experiment 1. Simon Betz constructed the stimuli for experiment 2. Petra Wagner conducted experiment 2. Simon Betz, Birte Carlmeyer and Petra Wagner wrote the paper.
Conflicts of Interest
The authors do not declare any conflict of interests.
Appendix A. Stimuli for Crowdsourcing Study
The following stimuli are used for the crowdsourcing experiment described in
Section 5
. Lengthened syllables are indicated by appended colons. Pauses are indicated by seconds in brackets. Lengthening durations are determined as described in
Section 3.2.3
. Stimuli for the baseline condition are the same, except without lengthenings and pauses.
Introduction
"Hallo, schön, dass du an: (1.0) dieser Studie teilnimmst."

"Ich werde dir heute ein wenig über dieses Apartment erzählen, un:d (1.0) dann habe ich eine kleine Aufgabe für dich."

"Du könntest mir nämlich beim Suchen helfen. Hier sind eben ein paa:r (1.0) Sachen verloren gegangen."

"Einige Handwerker waren hier im Apartment un:d (1.0) haben die Küche umgebaut."

"Ich konnte wegen des Staubs leider nicht genau erkennen, wo die: (1.0) Sachen versteckt wurden."
Instruction
"Jemand hat die Waschmaschine bedient un:d (2.0) das Waschpulverfach geöffnet."

"Und ich habe gesehen, wie jemand zur Pflanze im Wohnzimmer gegangen ist, un:d (2.0) etwas am Blumentopf gemacht hat."

"Danach hat jemand die Beschteckschublade geöffnet un:d (2.0) hat dort rumgewühlt."

"Und dann habe ich beobachtet dass jemand den Schrank über der: (2.0) Mikrowelle aufgemacht hat."

"Dann wurde einer der Stühle im: (2.0) Wohnzimmer bewegt."

"Irgend etwas ist mit den Kaffeetassen auf dem Tisch im: (2.0) Wohnzimmer passiert."

"Zu guter Letzt war noch jemand am Beschteckfach der: (2.0) Spülmaschine."
Conclusions
"Schau in beliebiger Reihenfolge an: (1.0) den Orten nach, die ich dir genannt habe."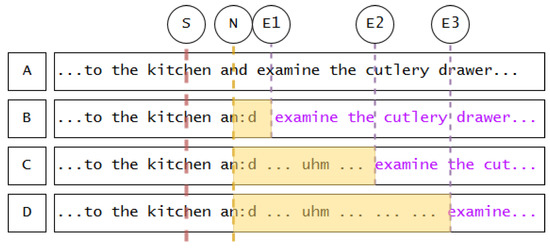 Figure 2. Examples of insertable hesitations. S = Starting point (external event triggering hesitation mode); N = Entry point (best upcoming target segment, in this case nasal sound in function word); E1–E3 = End points (external events triggering end of hesitation mode, after which originally intended utterance A is resumed); B = utterance with short hesitation, resumption (in purple) starting at E1; C = longer hesitation with lengthening, silence, filler, silence; D = same as C, but with a long second silence (when the strategy is "after the loop, remain silent until an external event triggers the end of hesitation mode".) Hesitation mode intervals are highlighted in yellow.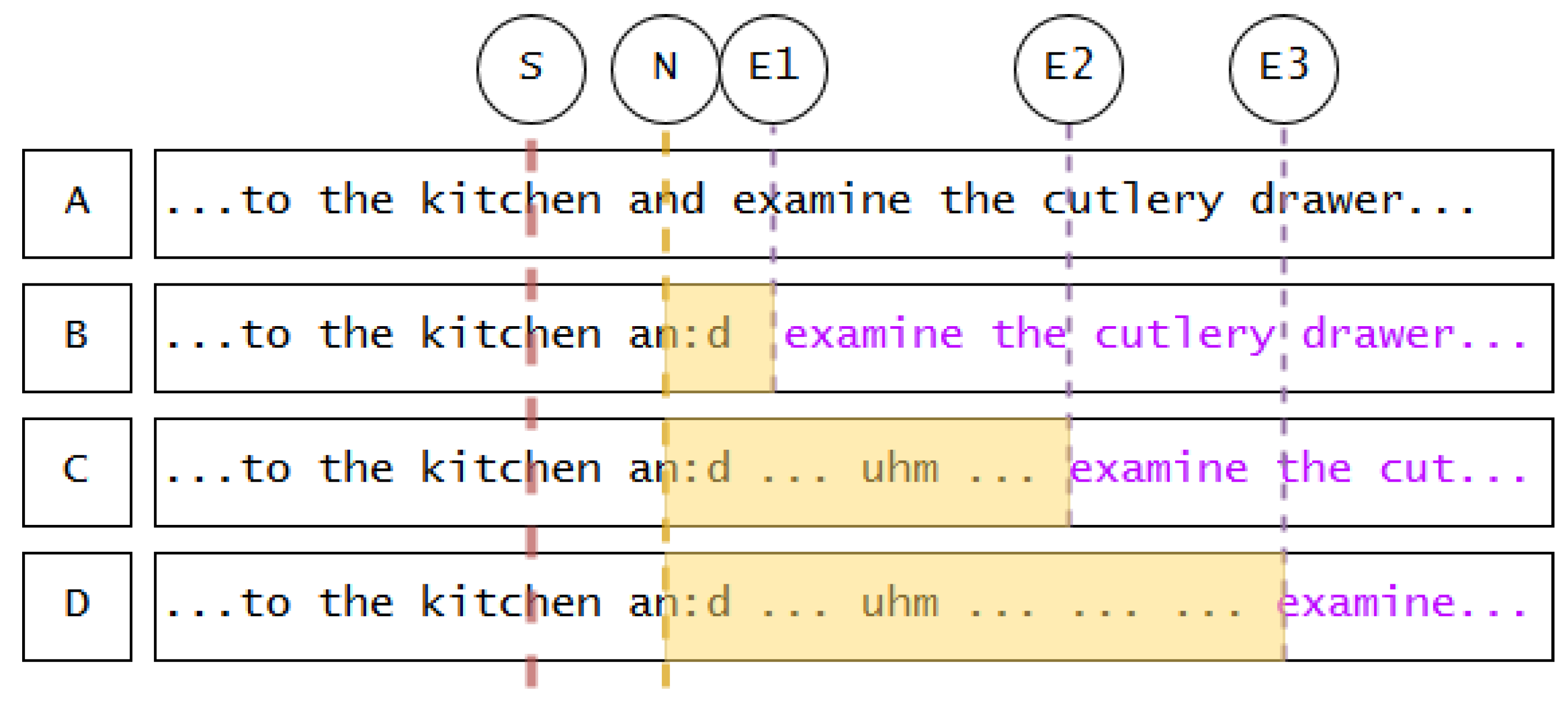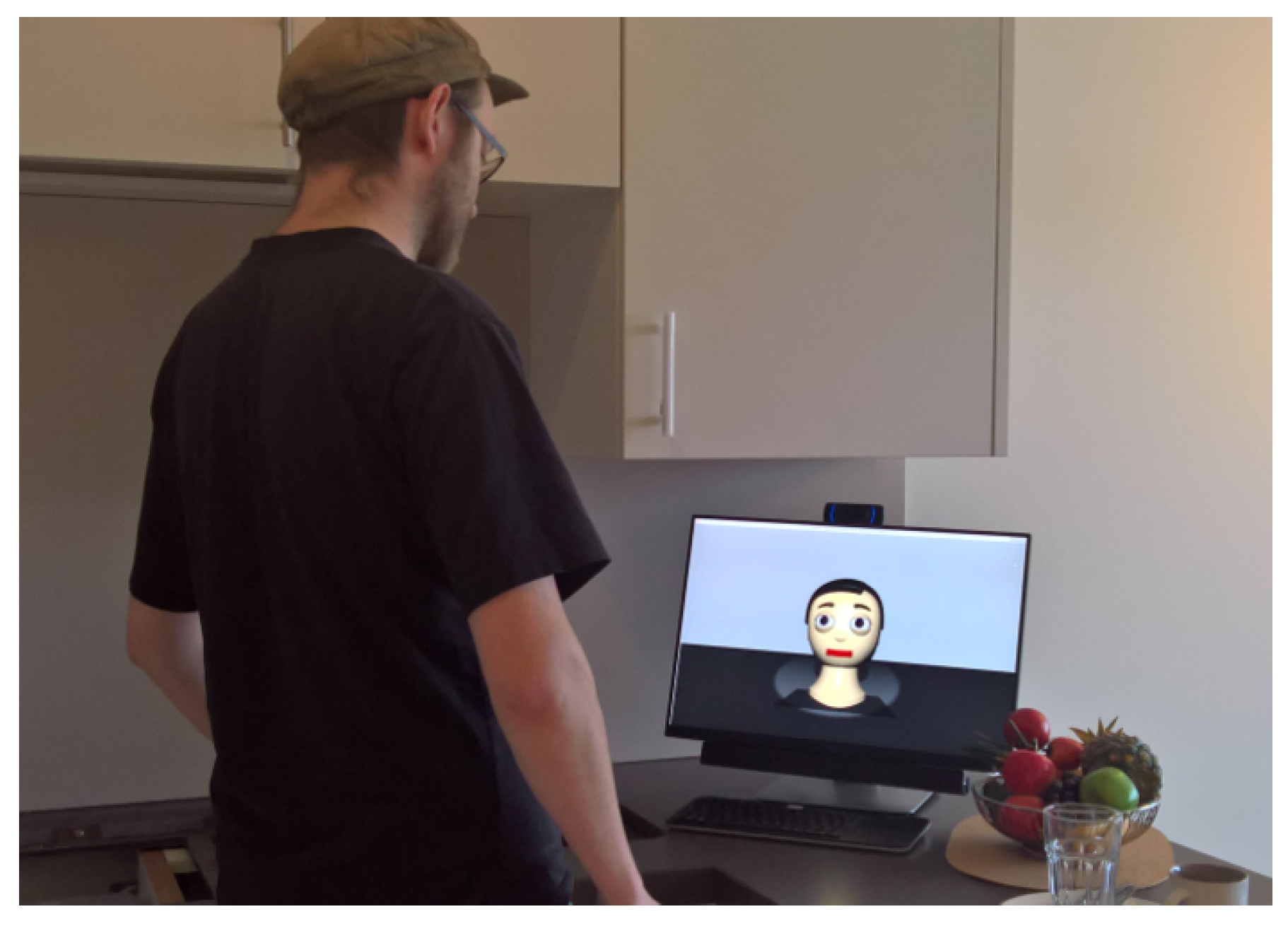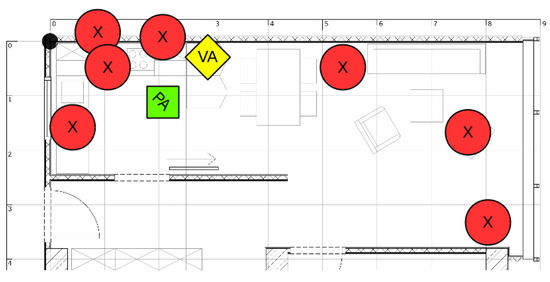 Figure 4. A 2D map of the smart home environment. (X) denotes hiding places of treats, (VA) the position of the screen with the virtual agent, and (PA) the initial position of the participant.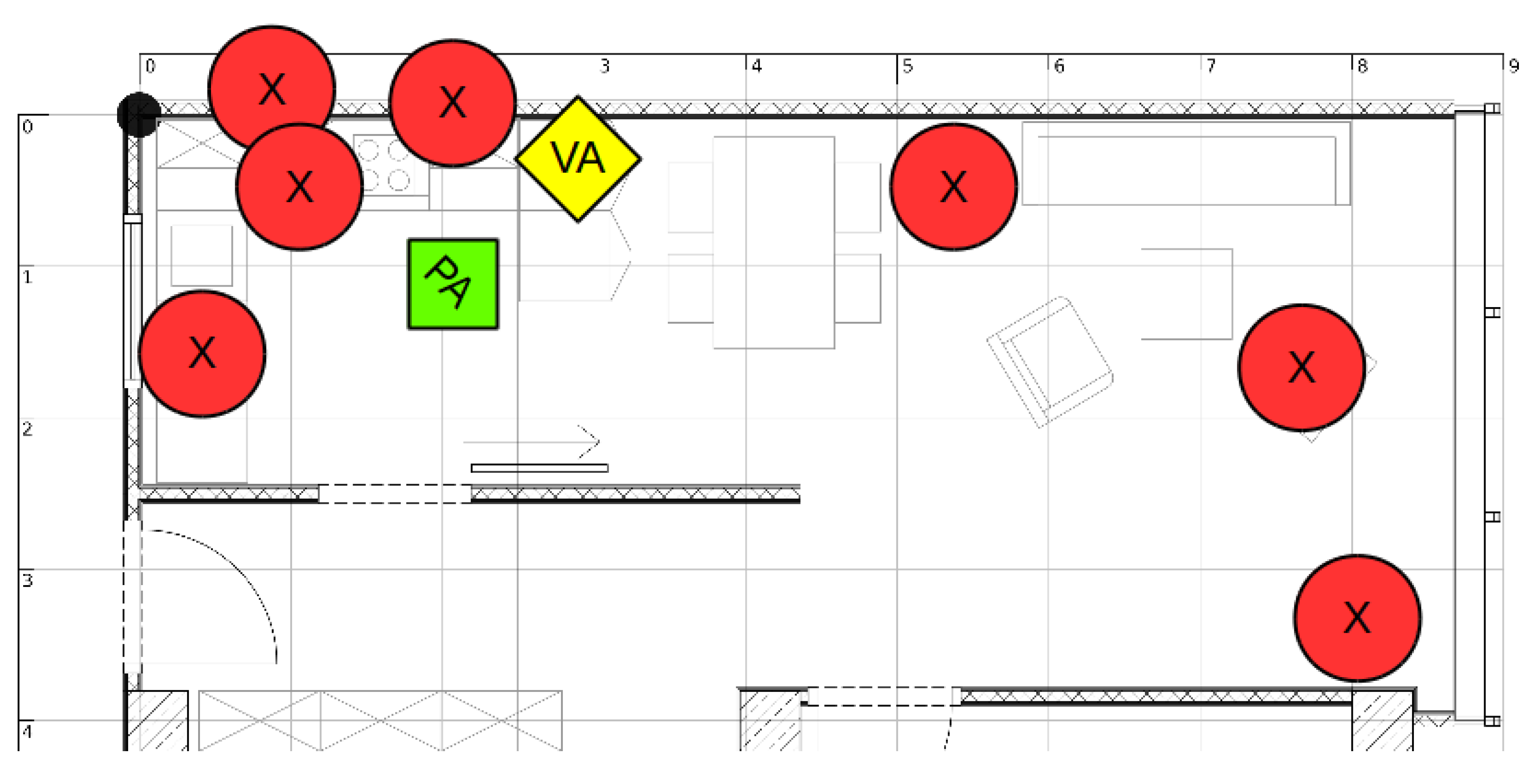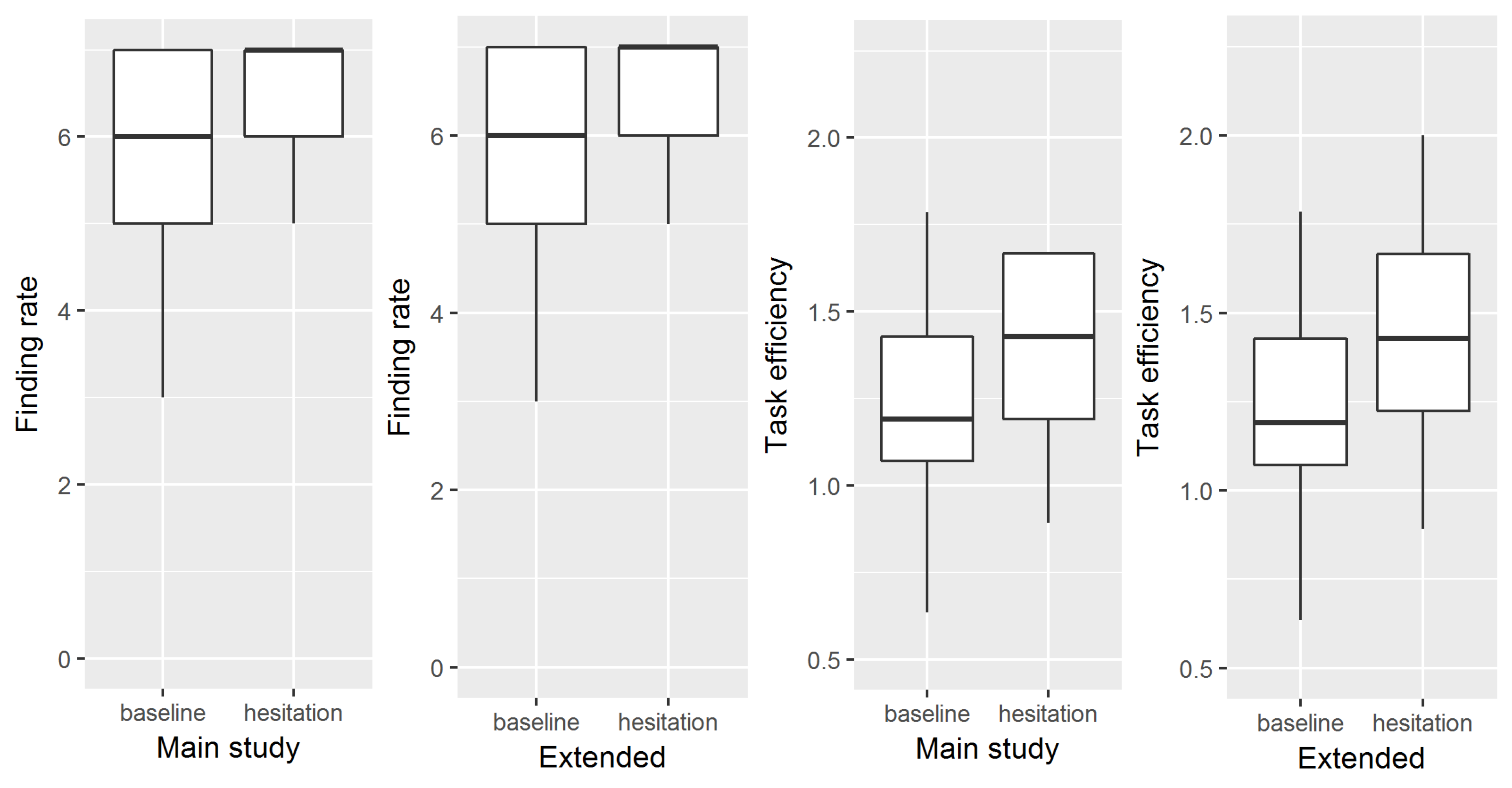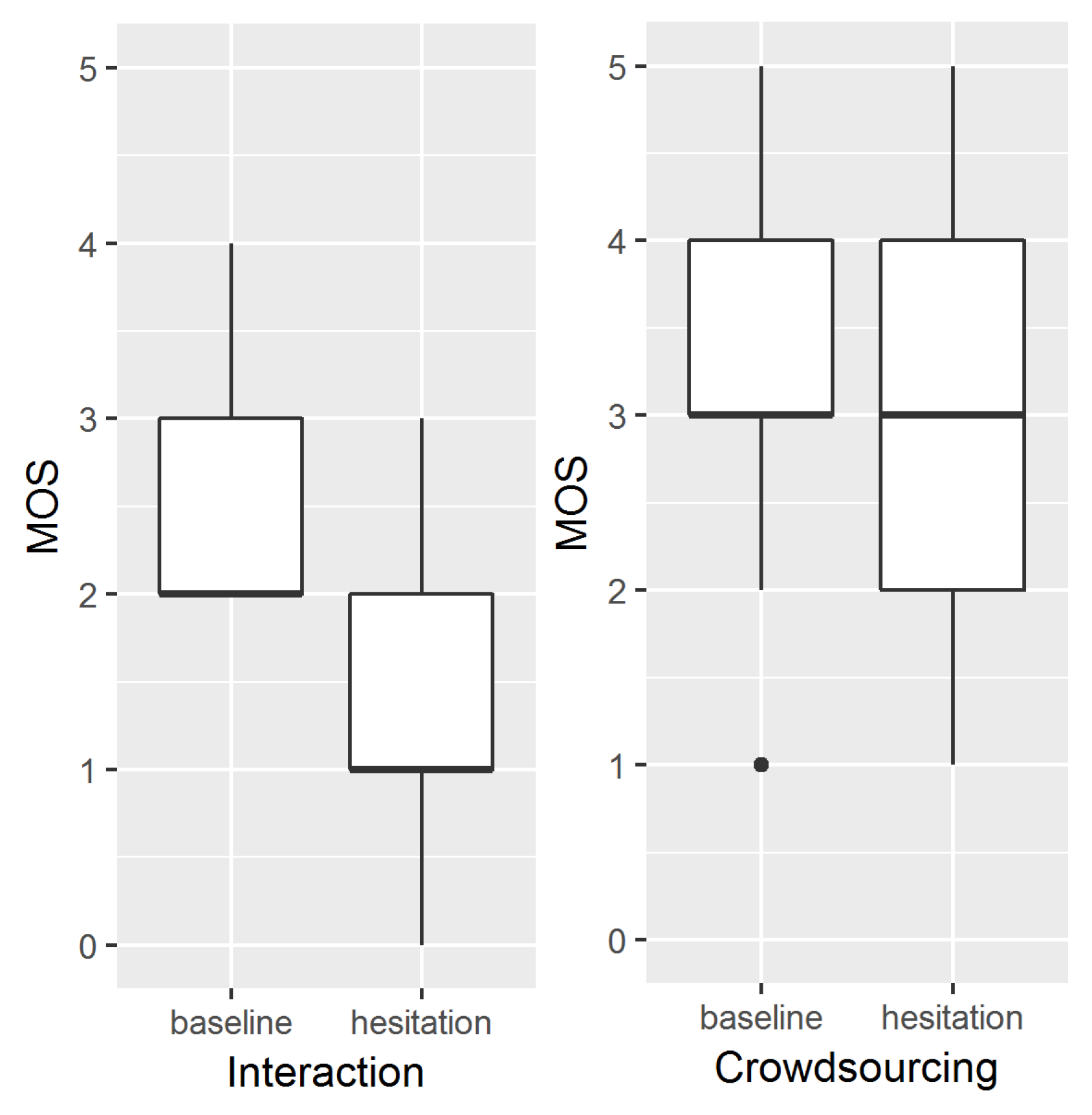 © 2018 by the authors. Licensee MDPI, Basel, Switzerland. This article is an open access article distributed under the terms and conditions of the Creative Commons Attribution (CC BY) license (http://creativecommons.org/licenses/by/4.0/).