Open Access This article is
freely available
re-usable
Article
High-Yield Preparation of ZnO Nanoparticles on Exfoliated Graphite as Anode Material for Lithium Ion Batteries and the Effect of Particle Size as well as of Conductivity on the Electrochemical Performance of Such Composites
1
ECKART GmbH, A member of ALTANA, 91235 Hartenstein, Germany
2
Department of Materials Processing, Faculty of Engineering Science, Zentrum für Energietechnik (ZET), University of Bayreuth, 95447 Bayreuth, Germany
3
Department of Functional Materials, Faculty of Engineering Science, Zentrum für Energietechnik (ZET), University of Bayreuth, 95447 Bayreuth, Germany
†
The present work is dedicated to Prof. Dr. Monika Willert-Porada. Prof. Willert-Porada passed away unexpectedly on 11 December 2016 at age of 61. We lost an open minded, highly interdisciplinary and innovative scientist and supervisor.

Received: 4 April 2018 / Accepted: 18 May 2018 / Published: 23 May 2018
Abstract
:
The combination of zinc oxide (ZnO) nanoparticles (NP) and graphite provides a promising approach for applications in the field of anode materials for lithium ion batteries. Here, we report a facile and environmentally friendly method yielding uniformly dispersed ZnO particles with a controllable particle size between 5 and 80 nm, supported by exfoliated graphite (EG) sheets. A thermal post-treatment (420 to 800 °C, N
2
) of
[email protected]
composite results in high yield with the opportunity for industrial scale-up. The post-treatment leads to growing ZnO particles on the EG sheets, while oxygen is disincorporated from ZnO by the associated carbothermal reduction of
[email protected]
composites above 600 °C and the conductivity is increased.
[email protected]
composite anodes, reduced at 600 °C, show improved Li storage capacity (+25%) and good cycle stability, compared to the EG anode. This can be attributed to the increased conductivity, despite the particle size increased up to 80 nm. Furthermore, we suggest that the mechanism for the reaction of Li
+
ions with
[email protected]
including ZnO-particles with an average particle size below 20 nm differs from the classical Li
+
ions insertion/de-insertion or alloying process.
Keywords:
nanocomposite; ultrasound-assisted synthesis; scale-up; particle growth; Li
+
-storage; carbothermal reduction
3. Results and Discussion
3.2. Electrochemical Performance
Author Contributions
O.I. designed and performed the experiments as well analyzed the results and wrote the manuscript. S.H., O.S., M.W.-P. and R.M. provided the guidance. S.H., O.S., R.M. helped in manuscript preparation. R.M. contributed to scientific discussion and edited the manuscript.
Acknowledgments
The authors would like to thank Jasmin Bleisteiner for SEM, Ingrid Otto for STA-MS, Dominik Doleschal for TG, Michael Ringl for ICP-OES and Margit Fuchs for XRD measurements.
Conflicts of Interest
The authors and the institutes where the work has been carried out declare that there are no conflicts of interest regarding the publication of this article.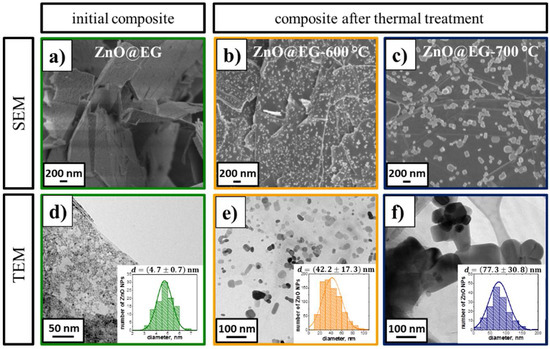 Figure 1.
SEM and TEM images of (
a
,
d
) initial
[email protected]
composites and after thermal treatment at (
b
,
e
) 600 °C and (
c
,
f
) at 700 °C with corresponding histograms showing the size distributions (insets, obtained from at least 100 ZnO NPs. The colors of the frames correspond to the temperature of the thermal composite treatment.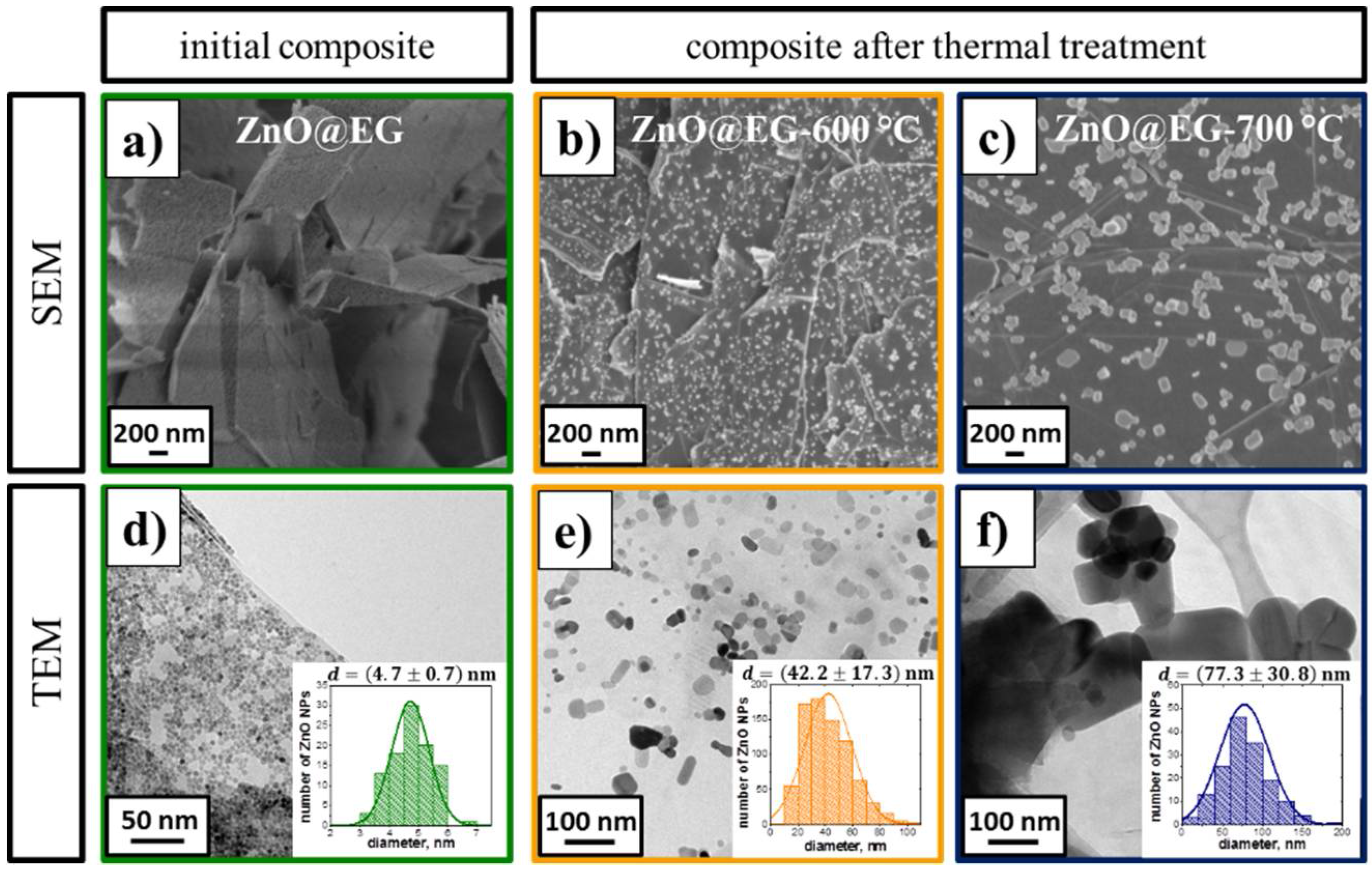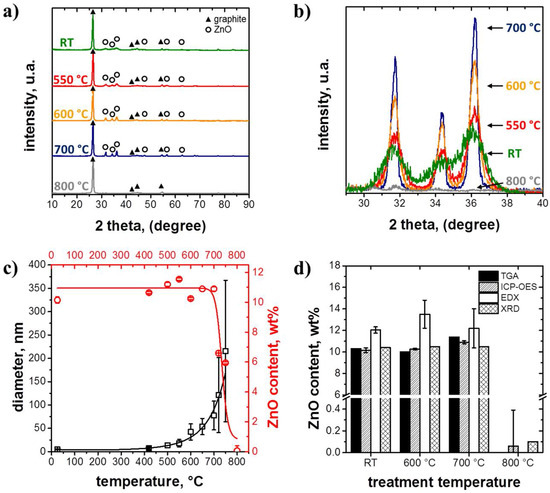 Figure 2.
(
a
) XRD spectra before (RT) and after the thermal treatment of
[email protected]
composites at 550 °C, 600 °C 700 °C, and 800 °C with corresponding (
b
) magnification. (
c
) Particle growth during thermal post-treatment with corresponding ZnO content determined by ICP-OES and (
d
) TGA, EDX, and XRD.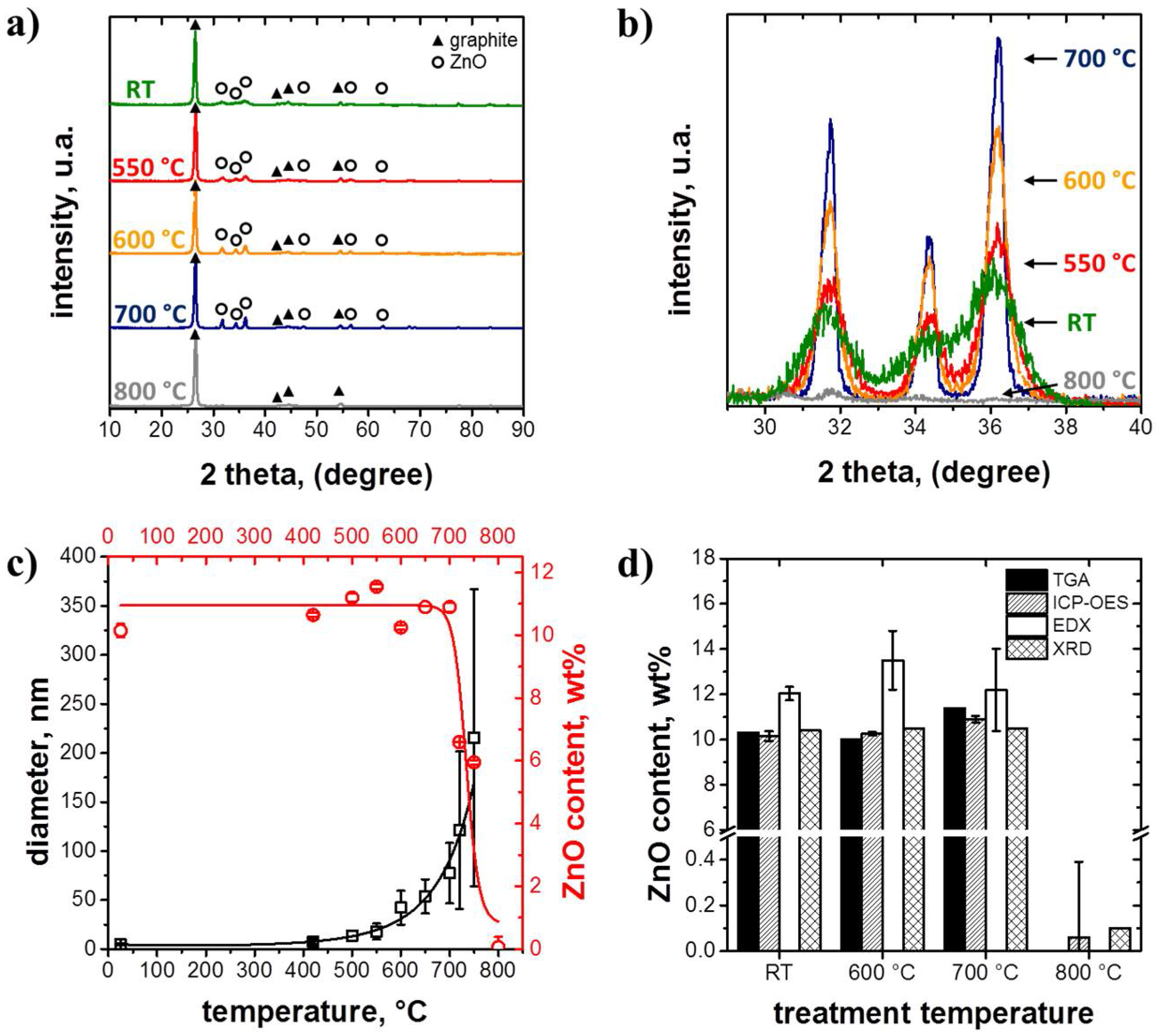 Figure 3.
A series of SEM images of thermal treated
[email protected]
composites at (
a
) 600 °C; (
b
) 700 °C; and (
c
) 800 °C.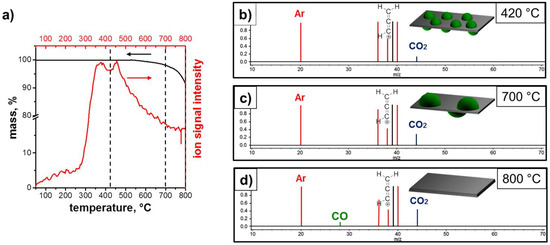 Figure 4.
(
a
) TG of initial
[email protected]
composites with corresponding ion signal intensity. MS spectrograms for thermally treated samples at (
b
) 420 °C; (
c
) 700 °C; and (
d
) 800 °C. The insets schematically illustrate the structural changes of the composite at the corresponding temperature. The dotted lines in (
a
) correlate with the temperatures in the MS spectrograms.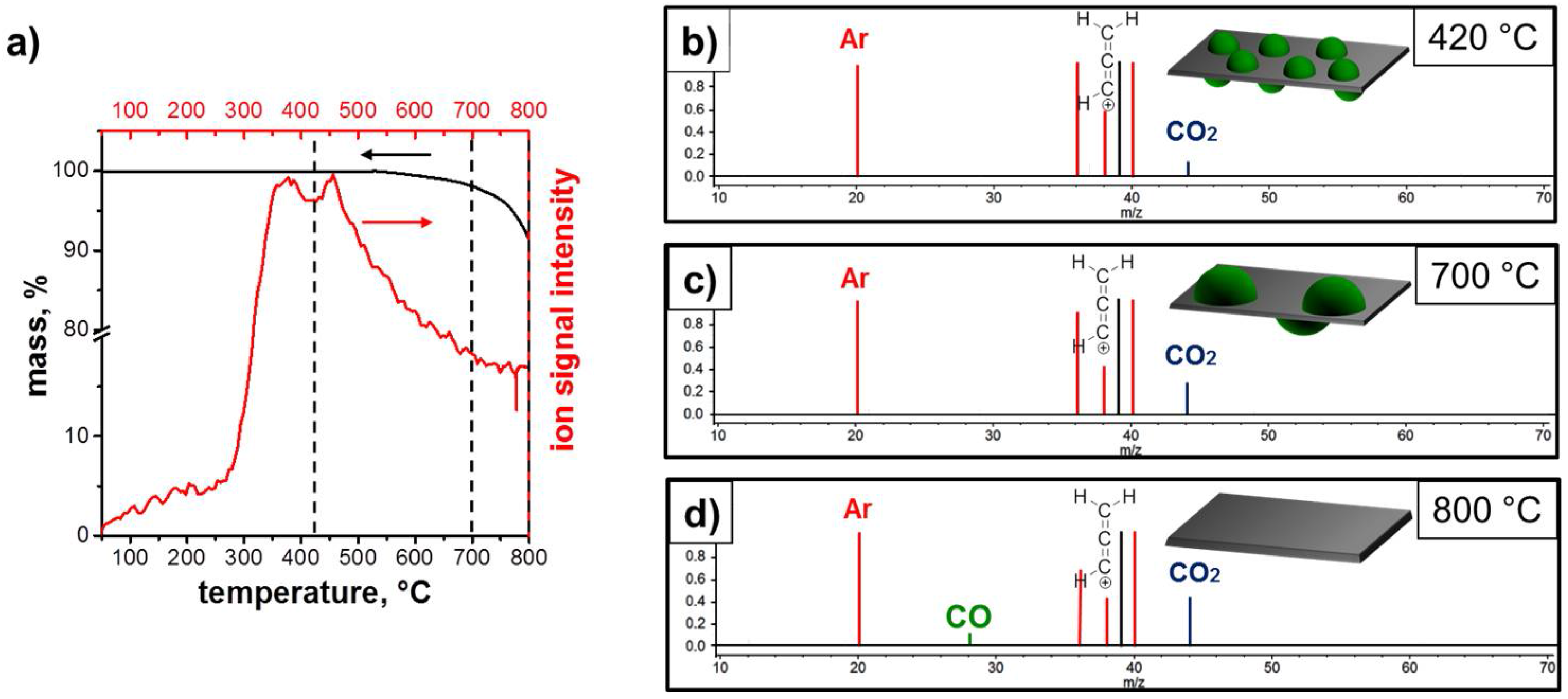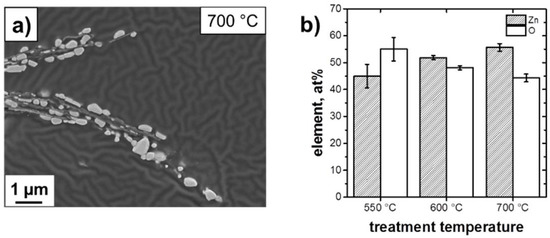 Figure 5.
(
a
) SEM cross section of as-prepared
[email protected]
°C composite. (
b
) Content of elemental zinc and oxygen in ZnO particles after thermal post-treatment at different temperatures.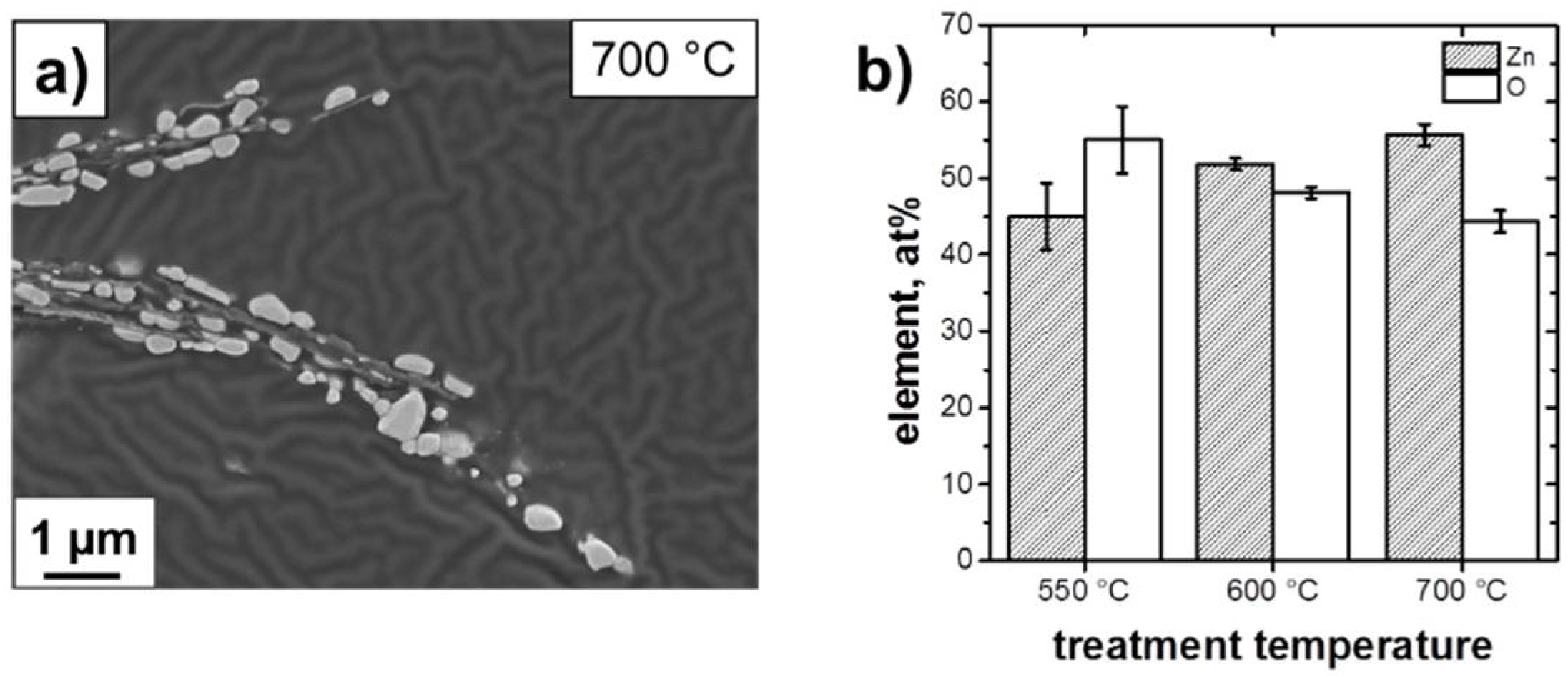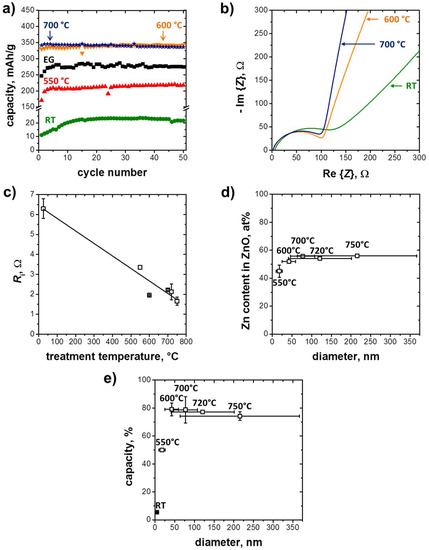 Figure 6.
(
a
) Cycle performance of EG, initial
[email protected]
composite (RT) and thermally treated composites at 550 °C, 600 °C, and 700 °C at 0.05 C-rate. (
b
) Electrochemical impedance spectra of EG, initial
[email protected]
composite prepared at room temperature (RT) and thermally treated composite at 600 °C and 700 °C before cycling. (
c
) Internal resistance as a function of the treatment temperature of
[email protected]
composites. (
d
) Plot of the Zn stoichiometry in the ZnO particles and (
e
) the capacity against the average ZnO particle size.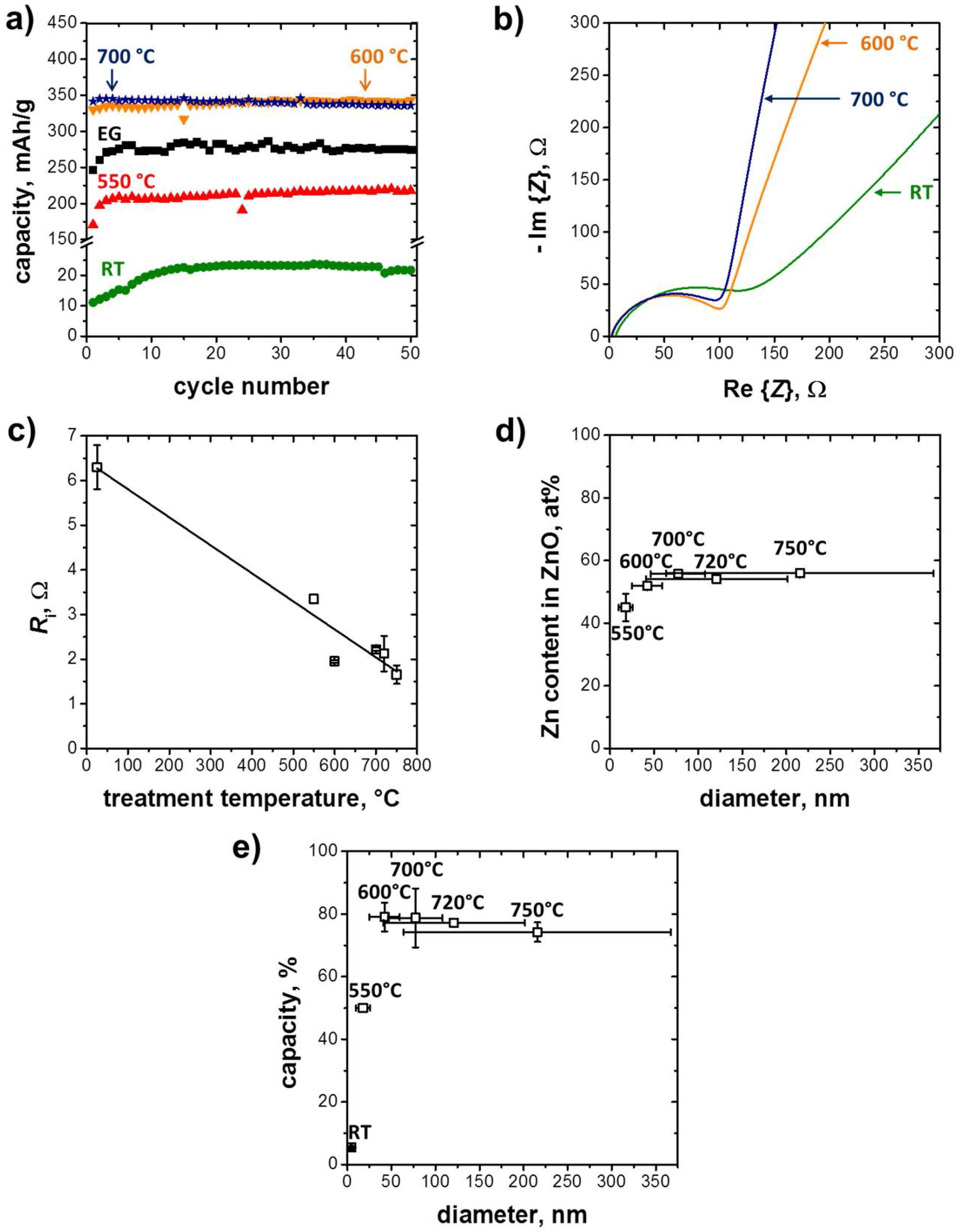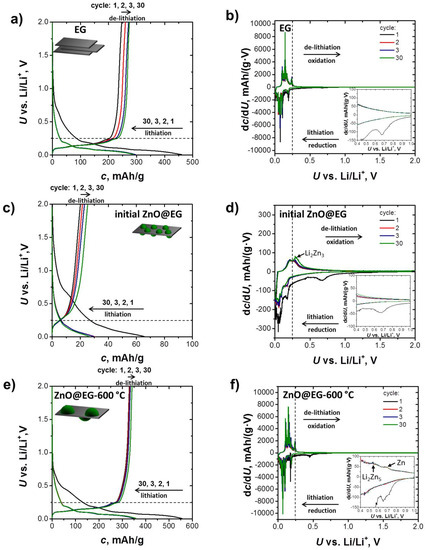 Figure 7.
Galvanostatic discharge (Li
+
intercalation) and charge (Li
+
de-intercalation) voltage profiles obtained from (
a
) EG and
[email protected]
composites (
c
) before and (
e
) after thermal treatment at 600 °C with the corresponding (
b
,
d
,
f
) plots of the differential specific capacity d
c
/d
U
vs. cell potential at 0.05 C-rate for 1st, 2nd, 3rd, and 30th cycle. The dotted black line is a guide for the eyes, showing the lithiation/de-lithiation process of EG occurring below 0.25 V.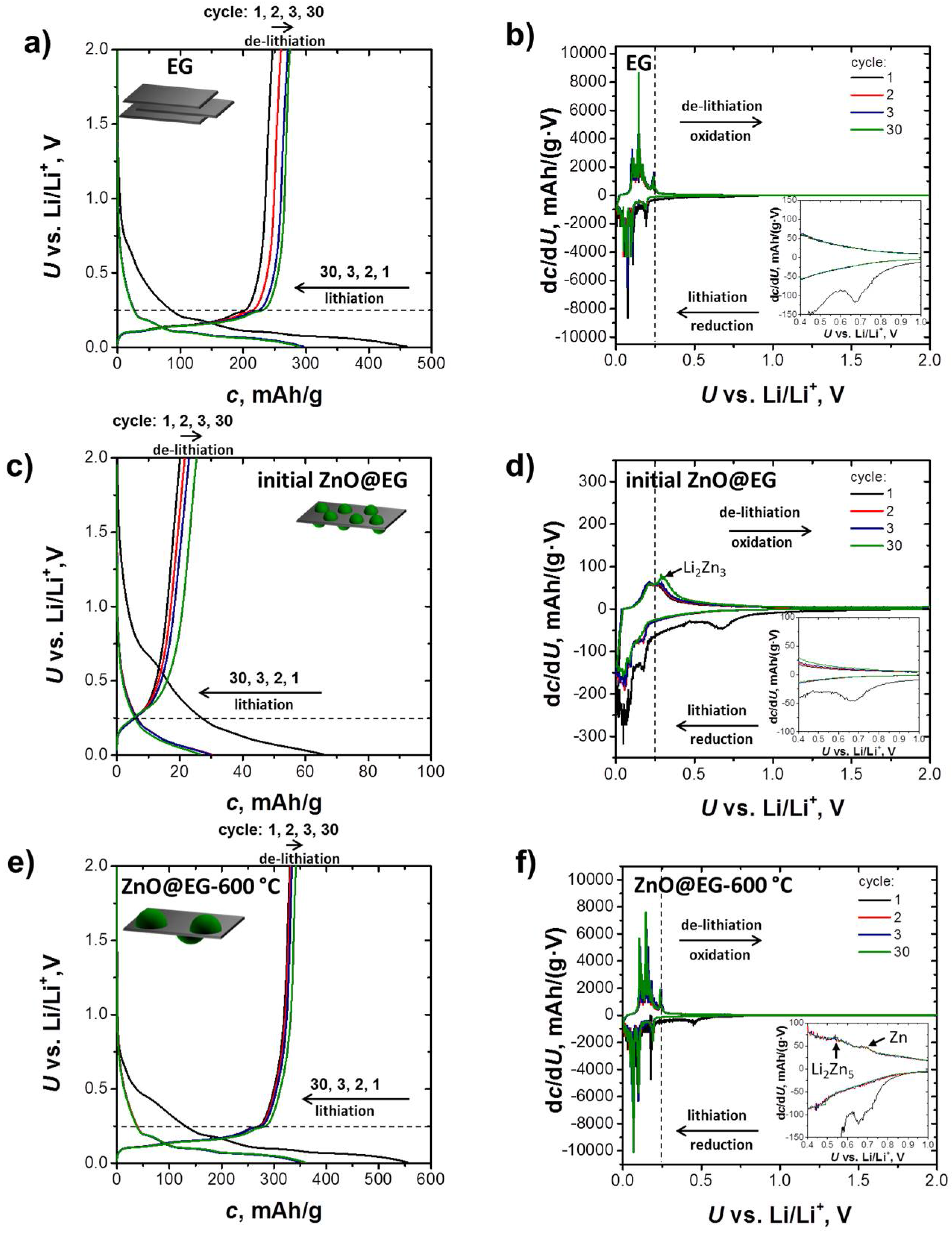 © 2018 by the authors. Licensee MDPI, Basel, Switzerland. This article is an open access article distributed under the terms and conditions of the Creative Commons Attribution (CC BY) license (http://creativecommons.org/licenses/by/4.0/).