Under-Recognition of Fractures as Osteoporosis Indicators
1
Division of Endocrinology, Diabetes, and Metabolism, University of Miami Miller School of Medicine, 1400 NW 10th Ave Suite 807 Miami, FL 33136, USA
2
Endocrinology Section, Miami Veterans Affairs Healthcare System, 1201 NW 16th St (11GRC), Miami, FL 33125, USA
3
Department of Medicine, Farwaniya Hospital, P.O. Box 13373, Farwaniya 81004, Kuwait
4
Reproductive Health Physicians, 4675 Ponce de Leon Blvd. Suite 204, Miami, FL 33146, USA
5
Department of Medicine, University of Miami School of Medicine, 1600 NW 10th Ave. Suite 1140 Miami, FL 33136, USA
6
Geriatric Research Education and Clinical Center, Miami Veterans Affairs Healthcare System, 1201 NW 16th St (11GRC), Miami, FL 33125, USA
*
Author to whom correspondence should be addressed.
Received: 30 November 2018 / Revised: 31 December 2018 / Accepted: 8 January 2019 / Published: 9 January 2019
Abstract
After the first fracture, the risk of subsequent fractures increases significantly. Medical treatment can reduce the risk of a second fracture by about 50%, but many older adults do not receive osteoporosis medication following their first fracture. This observational study aimed to understand primary care management patterns of older adults after osteoporotic fractures at the Miami Veterans Affairs (VA) Healthcare System. A retrospective review of 219 fracture cases selected by International Classification of Disease (ICD-9) codes between October 2015 and September 2016 identified 114 individuals age ≥50 years who had a non-traumatic fracture code entered in their medical record for the first time. Among them, 72 (63%) did not undergo a bone mineral density (BMD) test or receive treatment in the 12 months following their fracture. Of the 40 individuals who had a BMD test post-fracture, 17 (100%) received or were considered for anti-osteoporosis treatment if their T-score indicated osteoporosis (T-score ≤−2.5), but only 8/23 (35%) if the T-score was >−2.5. Physicians are more likely to prescribe osteoporosis therapy based on a BMD T-score diagnosis of osteoporosis, rather than a clinical diagnosis of osteoporosis based on a low-trauma fracture. A change in practice patterns is necessary to decrease the incidence of fractures.
View Full-Text
►

▼

Figures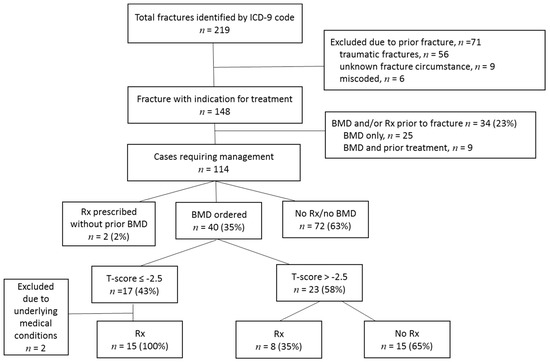 Figure 1
This is an open access article distributed under the
Creative Commons Attribution License
which permits unrestricted use, distribution, and reproduction in any medium, provided the original work is properly cited (CC BY 4.0).

Share & Cite This Article
MDPI and ACS Style
Lagari, V.S.; Al-Yatama, F.; Rodriguez, G.; Berger, H.R.; Levis, S. Under-Recognition of Fractures as Osteoporosis Indicators. Geriatrics 2019, 4, 9.
Note that from the first issue of 2016, MDPI journals use article numbers instead of page numbers. See further details here.
Comments
[Return to top]