Is a Combination of Melatonin and Amino Acids Useful to Sarcopenic Elderly Patients? A Randomized Trial
1
IRCCS Mondino Foundation, 27100 Pavia, Italy
2
Department of Public Health, Experimental and Forensic Medicine, Unit of Human and Clinical Nutrition, University of Pavia, 27100 Pavia, Italy
3
Department of Biomedical Science and Human Oncology, University of Bari, 70121 Bari, Italy
4
A.S.P.S. Margherita Geriatric Department, 27100 Pavia, Italy
5
Department of Biology, College of Science, University of Bahrain, Sakhir Campus P.O. Box 32038, Kingdom of Bahrain
*
Author to whom correspondence should be addressed.
Received: 15 November 2018 / Revised: 12 December 2018 / Accepted: 21 December 2018 / Published: 24 December 2018
Abstract
This study evaluated the effectiveness of a 4-week intervention of melatonin and essential aminoacid supplementation on body composition, protein metabolism, strength and inflammation in 159 elderly sarcopenic patients (42/117, men/women), assigned to four groups: isocaloric placebo (P, n = 44), melatonin (M, 1 mg/daily, n = 42), essential amino acids (eAA 4 g/daily, n = 40) or eAA plus melatonin (eAAM, 4 g eAA and 1 mg melatonin/daily, n = 30). Data from body composition (dual X-ray absortiometry (DXA)), strength (handgrip test) and biochemical parameters for the assessment of protein metabolism (albumin) and inflammation (CRP) were collected at baseline and after the 4-week intervention. Compared with P and M, supplementation with eAA plus M increased total fat-free mass (vs. P: +2190 g;
p
< 0.01; vs. M: +2107 g;
p
< 0.05). M alone lowered albumin levels (vs. P: −0.39 g;
p
< 0.01; vs. eAA: −0.47 g;
p
< 0.01). This data on albumin was confirmed by within-group analysis (M −0.44g;
p
< 0.001; eAAM: −0.34
p
< 0.05). M and eAA seemed to lower the percentage of gynoid fat (
p
< 0.05) and android fat (
p
< 0.01). No significant changes in inflammation or strength were reported. A 4-week intervention with eAA plus M together may be effective in enhancing fat-free-mass compared to M and P but not versus eAA. M alone demonstrates a negative effect on albumin level.
View Full-Text
►

▼

Figures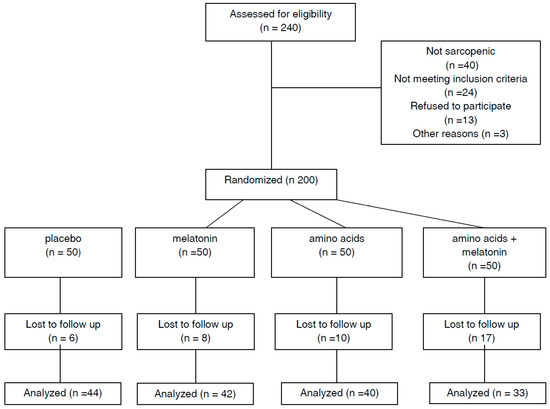 Figure 1
This is an open access article distributed under the
Creative Commons Attribution License
which permits unrestricted use, distribution, and reproduction in any medium, provided the original work is properly cited (CC BY 4.0).

Share & Cite This Article
MDPI and ACS Style
Rondanelli, M.; Peroni, G.; Gasparri, C.; Infantino, V.; Nichetti, M.; Cuzzoni, G.; Spadaccini, D.; Perna, S. Is a Combination of Melatonin and Amino Acids Useful to Sarcopenic Elderly Patients? A Randomized Trial. Geriatrics 2019, 4, 4.
Note that from the first issue of 2016, MDPI journals use article numbers instead of page numbers. See further details here.
Comments
[Return to top]