How Well Do Seniors Estimate Distance to Food? The Accuracy of Older Adults' Reported Proximity to Local Grocery Stores
1
Stanford Prevention Research Center, Stanford University School of Medicine, 1070 Arastradero Road, Suite 300, Palo Alto, CA 94304, USA
2
Department of Health Research & Policy (Epidemiology), Stanford University School of Medicine, Stanford, CA 94305, USA
3
Department of Pediatrics, Seattle Children's Research Institute and University of Washington, Seattle, WA 98121, USA
4
School of Community and Regional Planning, University of British Columbia, Vancouver, BC V6T 1Z2, Canada
5
Department of Family & Preventive Medicine, University of California, La Jolla, CA 92093, USA
*
Author to whom correspondence should be addressed.
†
Current address: Department of Social Policy and Intervention, University of Oxford, Oxford OX1 2ER, UK.
Received: 5 November 2018 / Revised: 22 December 2018 / Accepted: 8 January 2019 / Published: 10 January 2019
Abstract
(1) Background: Findings from observational studies of relations between neighborhood environments and health outcomes underscore the importance of both objective and perceived experiences of those environments. A clearer understanding of the factors associated with discrepancies between these two assessment approaches is needed to tailor public health interventions to specific populations. This study examined how individual and neighborhood characteristics affect perceptions of supermarket distance, particularly when perceptions do not match objective measures. (2) Methods: Participants were older adults (
n
= 880) participating in the Senior Neighborhood Quality of Life Study in the Seattle/King County, WA or Baltimore/Washington, DC regions. Two main analyses were conducted. The primary outcome for Analysis I was participants' geographic information systems (GIS)-based objective network distance to the closest supermarket. Generalized linear mixed models with block group-level random effects were used to assess associations between objective supermarket distance and individual/neighborhood characteristics. The primary outcome for Analysis II was a categorical "accuracy" variable, based on participants' perceived distance to the nearest supermarket/grocery store relative to the objective distance, assuming a walking speed of 1.0 m/s. Multivariate log-linear models fit neural networks were used to assess influential covariates. (3) Results: Several significant associations with objective distance to the nearest supermarket were observed, including a negative relationship with body mass index (BMI) (95% CI = −45.56, −0.23), having walked to the supermarket in the last 30 days (−174.86, −59.42), living in a high-walkability neighborhood, and residing in Seattle/King County (−707.69, −353.22). In terms of participants' distance accuracy, 29% were classified as accurate, 33.9% were "Underestimators", 24.0% "Overestimators", and 13.2% responded "Don't Know". Compared to Accurate participants, Overestimators were significantly less likely to have walked to the supermarket in the last 30 days, and lived objectively closer to a supermarket; Underestimators perceived significantly higher pedestrian safety and lived objectively further from a supermarket; and Don't Know were more likely to be women, older, not living independently, and not having recently walked to the supermarket. (4) Conclusions: Both modifiable and nonmodifiable factors influence the accuracy of older adults' perceptions of their proximity to the nearest supermarket. Recent experience in walking to the closest supermarket, along with personal safety, represent potentially modifiable perceived environmental factors that were related to older adults' accuracy of perceptions of their neighborhood food environment.
View Full-Text
►

▼

Figures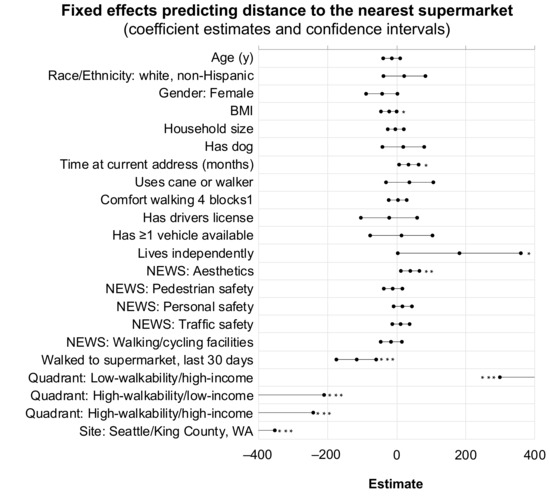 Figure 1
This is an open access article distributed under the
Creative Commons Attribution License
which permits unrestricted use, distribution, and reproduction in any medium, provided the original work is properly cited (CC BY 4.0).

Share & Cite This Article
MDPI and ACS Style
Chrisinger, B.W.; King, A.C.; Hua, J.; Saelens, B.E.; Frank, L.D.; Conway, T.L.; Cain, K.L.; Sallis, J.F. How Well Do Seniors Estimate Distance to Food? The Accuracy of Older Adults' Reported Proximity to Local Grocery Stores. Geriatrics 2019, 4, 11.
Note that from the first issue of 2016, MDPI journals use article numbers instead of page numbers. See further details here.
Comments
[Return to top]