Driving Simulator Training Is Associated with Reduced Inhibitory Workload in Older Drivers
1
Department of Psychology, Division of Neuropsychology, University of Zurich, Binzmühlestrasse 14/25, CH-8050 Zurich, Switzerland
2
Department of Psychology, Division of Gerontopsychology, University of Zurich, Binzmühlestrasse 14/24, CH-8050 Zurich, Switzerland
3
International Normal Aging and Plasticity Research Centre (INAPIC), CH–8050 Zurich, Switzerland
4
Center for Gerontology, CH-8050 Zurich, Switzerland
5
University Research Priority Program "Dynamics of Healthy Aging", University of Zurich, CH-8050 Zurich, Switzerland
*
Authors to whom correspondence should be addressed.
Academic Editor: Max Toepper
Received: 20 February 2016 / Revised: 23 June 2016 / Accepted: 29 June 2016 / Published: 4 July 2016
Abstract
Background: In demanding cognitive tasks, older people mostly experience more problems than younger people, and their brain workload is higher. An overloaded or exhausted mental workload is frequently associated with unsafe driving behavior. In this paper, we hypothesize that 10 active training sessions in a driving simulator positively influence brain workload, which relates to a beneficial increase in on-road driving performance. Methods: Ninety-one healthy active drivers (62–87 years) were randomly assigned to: (a) a driving simulator-training group; (b) an attention-training group; or (c) a control group. The dependent variables of this training study were brain workload (theta Fz/alpha Pz), and performance in three tasks, for which inhibition of inadequate responses (Stroop, Negative Priming, and Flanker) is required. Seventy-seven participants (85% of the total sample) completed the training. Training gains were analyzed by using a multiple regression analysis with planned comparisons. Results: The results revealed that the driving simulator training reduced brain workload during performance of the inhibition tasks. The performance of the simulator group during the inhibition tasks did not improve, but the participants completed the tasks with less brain workload compared to the attention-training group. Conclusion: Adding to our first paper on the Drive-Wise project, this paper now focuses on the superiority of the driving simulator training, compared to attention-training in regards to reducing brain workload. The change in brain workload seems to be associated with a positive change in drivers' behavior on the road. Hence, a driving simulator training lasting only ten sessions leads to beneficial neuroplastic changes. This demonstrates brain plasticity of older people and its possible positive influence in real driving behavior.
View Full-Text
►

▼

Figures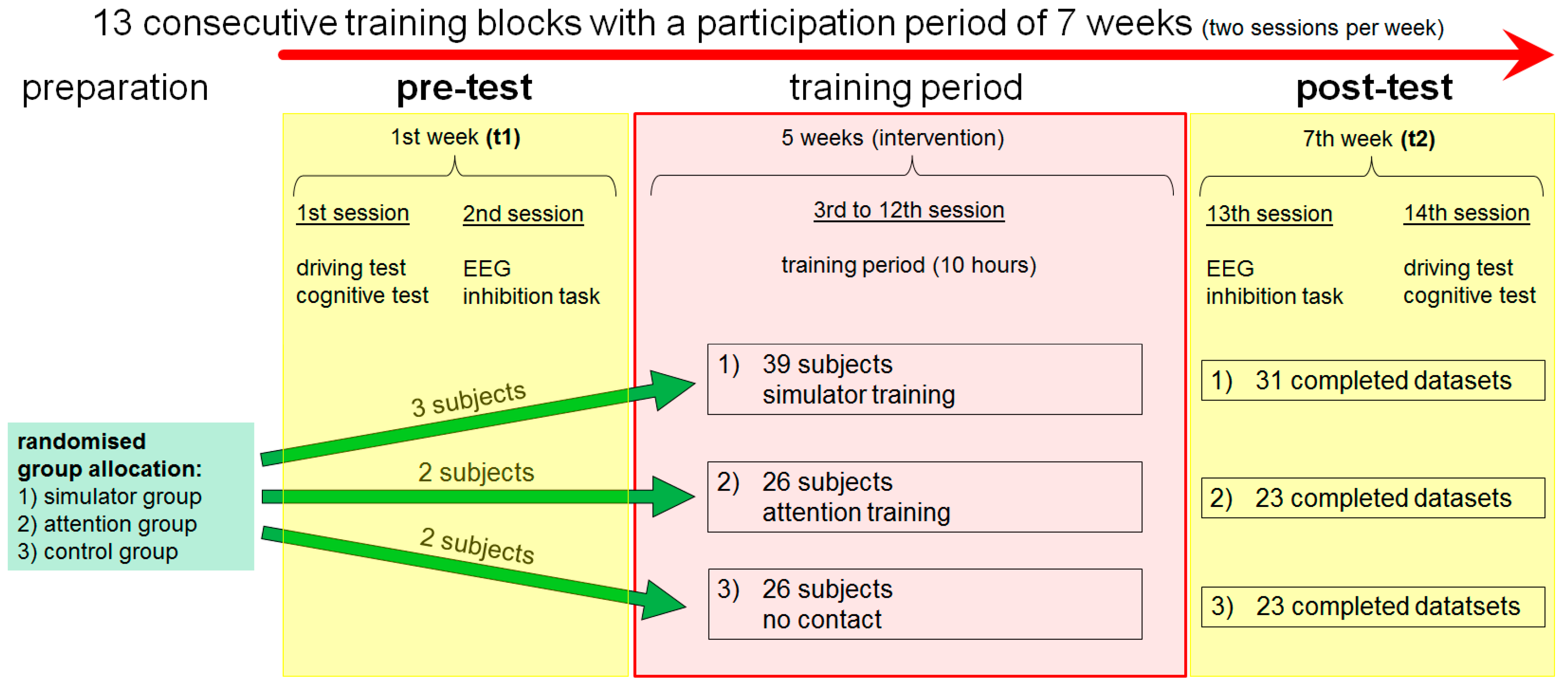 Figure 1
This is an open access article distributed under the
Creative Commons Attribution License
which permits unrestricted use, distribution, and reproduction in any medium, provided the original work is properly cited (CC BY 4.0).

Share & Cite This Article
MDPI and ACS Style
Casutt, G.; Martin, M.; Jäncke, L. Driving Simulator Training Is Associated with Reduced Inhibitory Workload in Older Drivers. Geriatrics 2016, 1, 16.
Note that from the first issue of 2016, MDPI journals use article numbers instead of page numbers. See further details here.
Comments
[Return to top]