Open Access This article is
freely available
re-usable
Article
Examining the Causal Relationship between Tourism and Economic Growth: Spillover Index Approach for Selected CEE and SEE Countries
Department of Mathematics, Faculty of Economics and Business, University of Zagreb, 10000 Zagreb, Croatia
Received: 6 February 2019 / Accepted: 8 March 2019 / Published: 12 March 2019
Abstract
:
Debate on tourism-led growth and growth-led tourism is still ongoing today, with much research done for developed countries and those which are popular tourist destinations over the world. Surprisingly, the research is scarce for the Central and Eastern European (CEE) and South and Eastern European (SEE) countries. The contribution of this research is examining the dynamic relationship between spillovers of tourism growth and economic growth for CEE and SEE countries for the first time in the literature. The methodology used in the study (spillover indices) allows for estimating the dynamic relationship throughout rolling indices. Based upon monthly data (with different time spans depending upon availability of data, from January 2000 to January 2003 until December 2017, i.e., October 2018), the following countries were in focus: Bulgaria, Croatia, Czech Republic, Hungary, Poland, Slovenia and Slovakia. Results from dynamic rolling spillover indices indicate mixed results for all of the countries throughout the sample. Dynamic results enable policymakers from individual countries to focus on specifics of their economies to develop even better policies in order to achieve best possible results regarding the tourism growth and related economic growth.
Keywords:
tourism and economic growth; spillover index; tourism-led growth hypothesis; growth-led tourism hypothesis
JEL Classification:
Z32; C30
1. Introduction
The debate on the tourism-led growth (TLG) and the growth-led tourism (GLT) hypotheses
1
is still ongoing in the literature today ever since the seminal paper in 2002, which formalized the relationship between tourism and economic growth (
Balaguer and Cantavella-Jorda 2002
). The overview literature on this topic is fruitful both on theoretical and empirical sides (see
Pablo-Romero and Molina 2013
;
Gwenhure and Odhiambo 2017
;
Kido-Cruz et al. 2015
or
Comerio and Strozzi 2019
for both theoretical and empirical overview); although the importance of the interactions of tourism and the economy as a whole was already recognized in 1960s (
McKinnon 1964
). Moreover, the debates on sustainable development, sustainable tourism and overall tourism contributions to the economy of a country are getting louder every year (see
UNWTO 2016
). The majority of existing empirical research cites at least one source from the World Travel & Tourism Council (WTTC), which focuses on the total, direct, indirect contributions of tourism employment, arrivals, revenues, exports and other important variables to the economic system of a country. Major conclusions based upon WTTC data and forecasts are that the tourism industry is an important contributor to economic growth and will continue to have a greater impact in the future as well (see
Brida et al. 2016
). As
WTTC
(
2019
) predicts, the overall average growth of world tourism spending for the period 2017–2027 will be around 4% (almost constant growth throughout the whole decade). This brings many opportunities for economic policy makers to try to achieve best possible results regarding tourism contributions to the economy. Moreover, many world conferences are scheduled every year regarding tourism's contribution to the economy, sustainable tourism and other topics, with UNWTO and UNESCO organizing some of these.
Since the literature and practitioners have recognized the importance of tourism in economies, it is not surprising that new theoretical and empirical insights are revealed all the time. Surprisingly, there is a lack of literature which focuses on Central and Eastern European (CEE) and South and Eastern European (SEE) countries. These countries are mostly included in a wide panel data analysis, with a lack of focus on their specific results. The reasoning why these countries are not focused on in the literature could be that a lot of research, when deciding upon the criteria for including countries in the analysis, uses the contribution of tourism to GDP (in nominal values, thus making the comparability very difficult) or number of arrivals of tourists (again, in nominal values). Data non-availability is also an issue with these countries (as was in this research as well). As
Brida et al.
(
2016
) state, there is usually a sample bias in the literature, due to researchers picking those countries in which high tourism propensity is in place, meaning that the tourism sector in those economies is almost surely going to have significant impact, regardless of which methodology is being used. Moreover, some papers focus solely on either summer oriented tourism, cultural, or other criteria. In that way, CEE and SEE countries are often disjointed. In this study we focus on the following countries: Bulgaria, Czech Republic, Croatia, Hungary, Poland, Romania, Slovenia and Slovakia as selected countries of the mentioned regions. These countries experienced a great increase in tourism arrivals from 2003 up until 2017. Average growth rates were as follows: 7.23%, 4.35%, 6.29%, 4.68%, 5.43%, 6.07%, 5.67%, and 2.9%
2
(
Eurostat 2019
, with growth rates ordered as names of countries previously). Capital investments into tourism industry have been very volatile over the last decades (see
Figure A3
in
Appendix
). So, it seems that these countries did not have a well oriented policy in order to achieve best results. Finally, the majority of existing literature usually employs methodology which is static in essence, with calculations, i.e., estimations for the whole sample. There is a lack of studies which observe the dynamic relationship between tourism and economic growth, and this paper fills that gap in the literature as well.
Thus, the purpose of this paper is to empirically evaluate the relationship between tourism growth and economic growth in selected CEE and SEE countries. The motivation was found because of much different existing research with different methodologies for these countries which makes them non-comparable to one another. In this way, comparability will be achieved. Moreover, although the existing empirical research on this topic is great, the research on CEE and SEE countries is rather scarce. That is why the aim of this research is to fill that gap in the literature as well. Finally, the results of the research will give a basic stepping stone for further research on whether a country should focus more on the direction from tourism growth to economic growth or vice versa. The paper is structured as follows. The second section gives an overview of related research, which focused either on the countries included in this analysis or the methodology used here. The third section describes the methodology used in the empirical part of the paper (section four), which includes the discussion as well. The fifth section concludes the paper.
2. Previous Related Research
3. Methodology
For the purpose of describing the used methodology in this research, we follow
Diebold and Yilmaz
(
2009
,
2012
) and
Urbina
(
2013
). A VAR
12
(
p
) model of
N
variables can be written in a matrix form as follows:
where
y
t
is the vector of
N
variables in the system,
v
vector of intercepts,
A
i
coefficient matrices of the system and
ε
t
vector of error terms (innovations)
13
. The compact form of (1) is given as
14
, with the assumption of being a stable
15
process and with a MA
16
(∞) representation , . The polynomial form of the MA representation is usually observed for the purpose of the forecast error variance decomposition:
in which denotes polynomial of the lag operator
L
. The coefficients
ϕjk,i
denote the impulse responses of every variable in the system to shocks in variable
k
. Due to innovations in being correlated, Choleski decomposition could be applied on their variance-covariance matrix such that a lower triangular matrix
P
−1
is chosen so
E
(
P
−1
P
−1
) = 0 holds. The model (2) is now in the form . In order to decompose the forecast error variance of every variable in the model, the
h
-step ahead forecasted value is detracted from the actual value in the
h
-step ahead, i.e., .
Now, let us focus on the elements in the difference , the mean square error and the variance decomposition for every variable ; in which the numerator is calculated as the contribution of shocks in variable
k
to the forecast error of variable
j
and the denominator is the mean square error forecast of variable
j
.
e
k
is the
k
-th column of matrix
I
Np
.
It can be seen that it is calculated as the fraction of the
h
-step ahead error variance forecast of variable
j
due to shocks in variable
k
in the total forecast error variance of the whole system. Since the Choleski decomposition of the variance-covariance innovation matrix depends upon the ordering of the variables, the generalized forecast error variance decomposition (GFEVD) could be applied. This decomposition is based upon non-linear impulse response functions (see
Koop et al. 1996
;
Pesaran and Shin 1998
). In this case, the variance decomposition for every variable is defined as (
Lütkepohl 2006
).
Besides the total spillover index in (3), the directional spillover indices can be calculated, from one variable to others and from all others to the variable
j
as follows:
based upon the total sample and the
h
-steps ahead by calculating the rolling indices. Net spillovers are calculated as the difference between (4) and (5). Usually, the spillover table is constructed for a better visual interpretation. Thus, the dynamics over time can be observed in order to get more insights into any given relationship between variables of interest. More details on this methodology can be found in
Lütkepohl
(
1993
,
2006
,
2010
) as well.
4. Empirical Analysis and Discussion
5. Conclusions
Although the tourism-led growth and growth-led tourism hypotheses are discussed in the literature for many years now, the empirical research sometimes provides contradictory results for the same country. This is mostly true for studies which use the static approach of estimating the relationship between tourism and the economy, which contributes to this problem, alongside using different variables and time spans in the research. This study opted to obtain the longest time span possible for every country in the analysis and to estimate a dynamic spillover index between tourism and economic growth. In that way, if the relationship is changing over time. this could give researchers and practitioners more correct information. The overall results implicate that Poland should utilize the tourism led growth results before reaching greater development, as this would bring rising return performance for the GDP growth at this point. Czech Republic, Hungary, Slovenia and Croatia should focus more on achieving greater overall economic development so the spillovers to the tourism industry could be even greater. This is especially true for Croatia, in which due to migrations of the labor force to the rest of the Europe, the economy will face problems in the long run. It seems that Romania is on a right path for promoting tourism led growth in the last two years. Thus, it should focus now on the tourism content which is being demanded. Bulgaria had bi-directional spillovers for both variables, which could mean that this country found a good balance between investing into tourism development which spills over to the economy and vice versa. Finally, Slovakia already carried out some changes in early 2010s, when major capital investments were done regarding tourism industry and now should continue to focus on spillovers from the rest of the economy to the quality of tourism industry.
The shortcomings of the paper were the following ones. Firstly, we observed only 8 CEE/SEE countries, due to data unavailability. Moreover, since part of the total time span has to be used to estimate the VAR model with sufficient data in order to obtain reliable results, the pre-crisis and crisis period could not be included in the estimation of rolling spillover indices. It would be interesting to observe which countries were more successful to bounce back to pre-crisis trends. Thus, positive practices could be observed. Moreover, the total time span is also relatively short compared to other studies in which more developed countries are in focus. This is why often CEE/SEE countries are left out from analyses. The same is true regarding the topic of this paper (as it was seen in literature overview). Moreover, only two variables were observed with the spillover methodology (due to estimating total effects between them). Further research should extend not only the time span used in the analysis, but it should try to observe interaction between other tourism demand variables. This research followed previous literature and we opted to use the most common variable (tourist arrivals). Since some data exists on domestic and foreign tourist arrivals, this could be another direction for future research.
However, some of the results obtained in this study also provide at least some help in determining on the changing relationship between tourism and economic growth. In this way, policy makers and others involved into the tourism-economy relationship on every level of the economy can focus more on those time spans in which some meaningful changes in the spillover indices were in place. Relevant agents can focus on what specifically was happening in the economy, tourism demand and supply when some specific changes occurred. To conclude, many opened questions are left for future work for researchers in individual countries observed in this study regarding enhancing the results from the relationship between tourism and economic growth.
Funding
This research received no external funding. The APC was funded by institutions through the Knowledge Unlatched initiative and partially funded by MDPI.
Acknowledgments
Author would like to thank three anonymous referees for their valuable comments and suggestions which contributed to the quality of the paper.
Conflicts of Interest
The author declares no conflict of interest.
Appendix A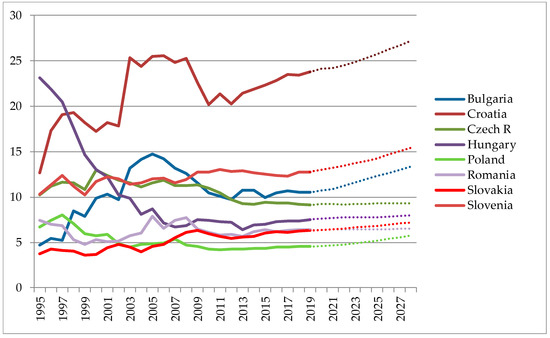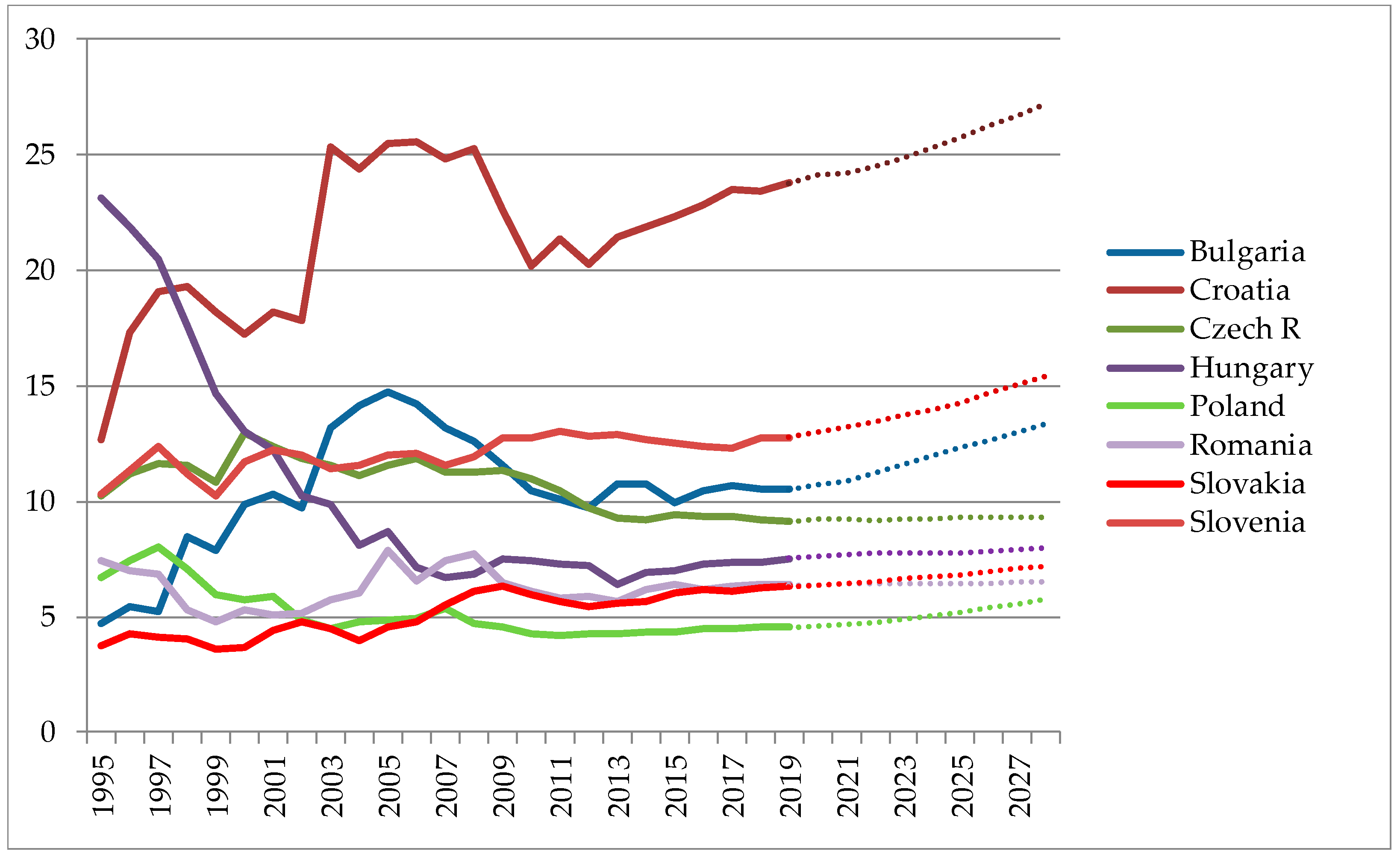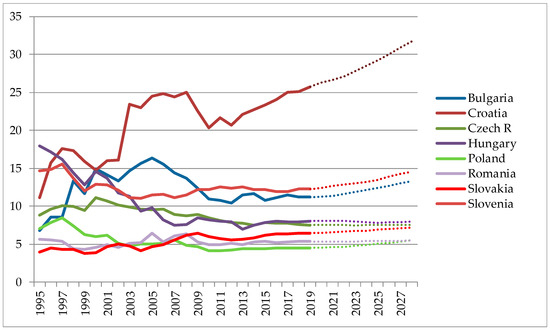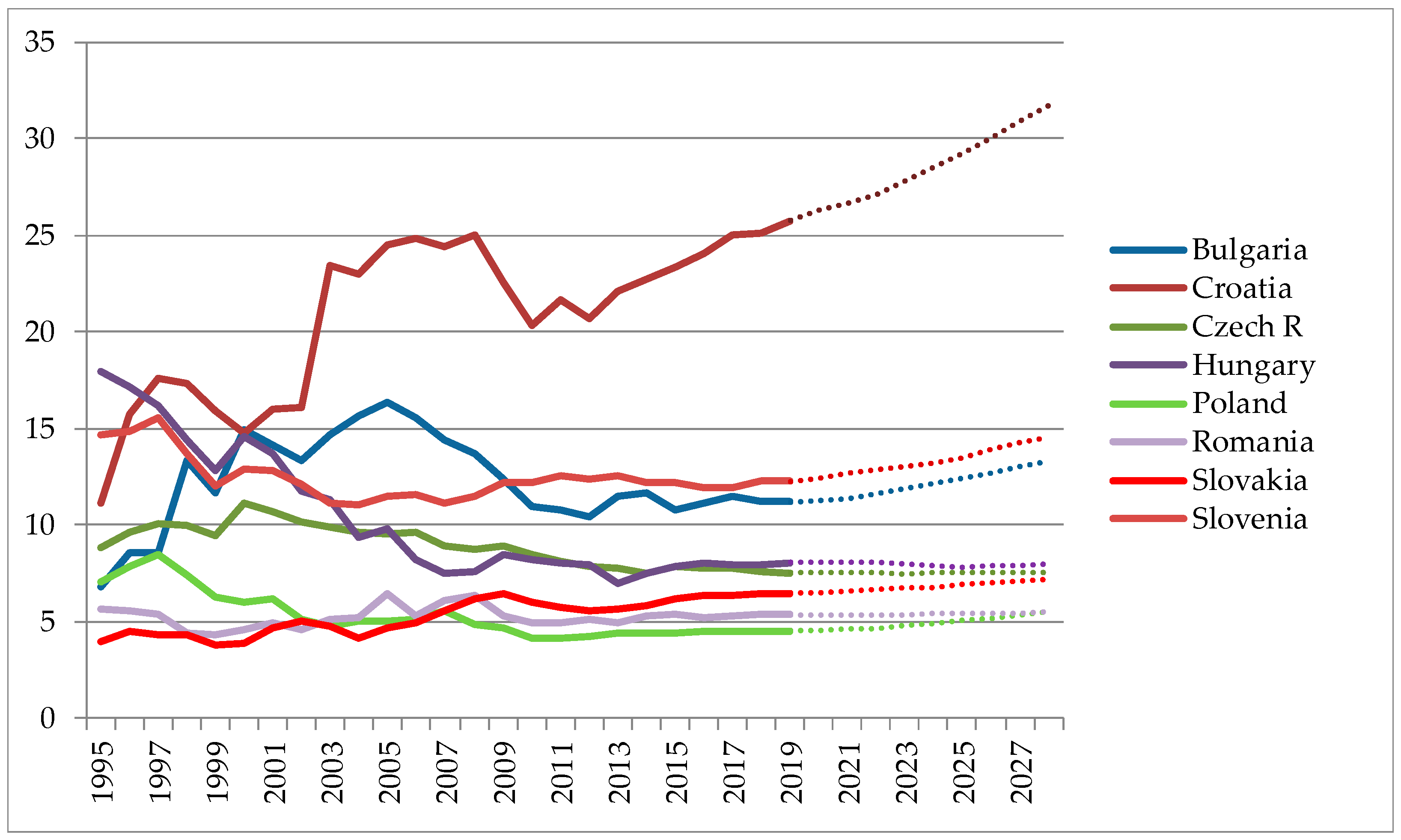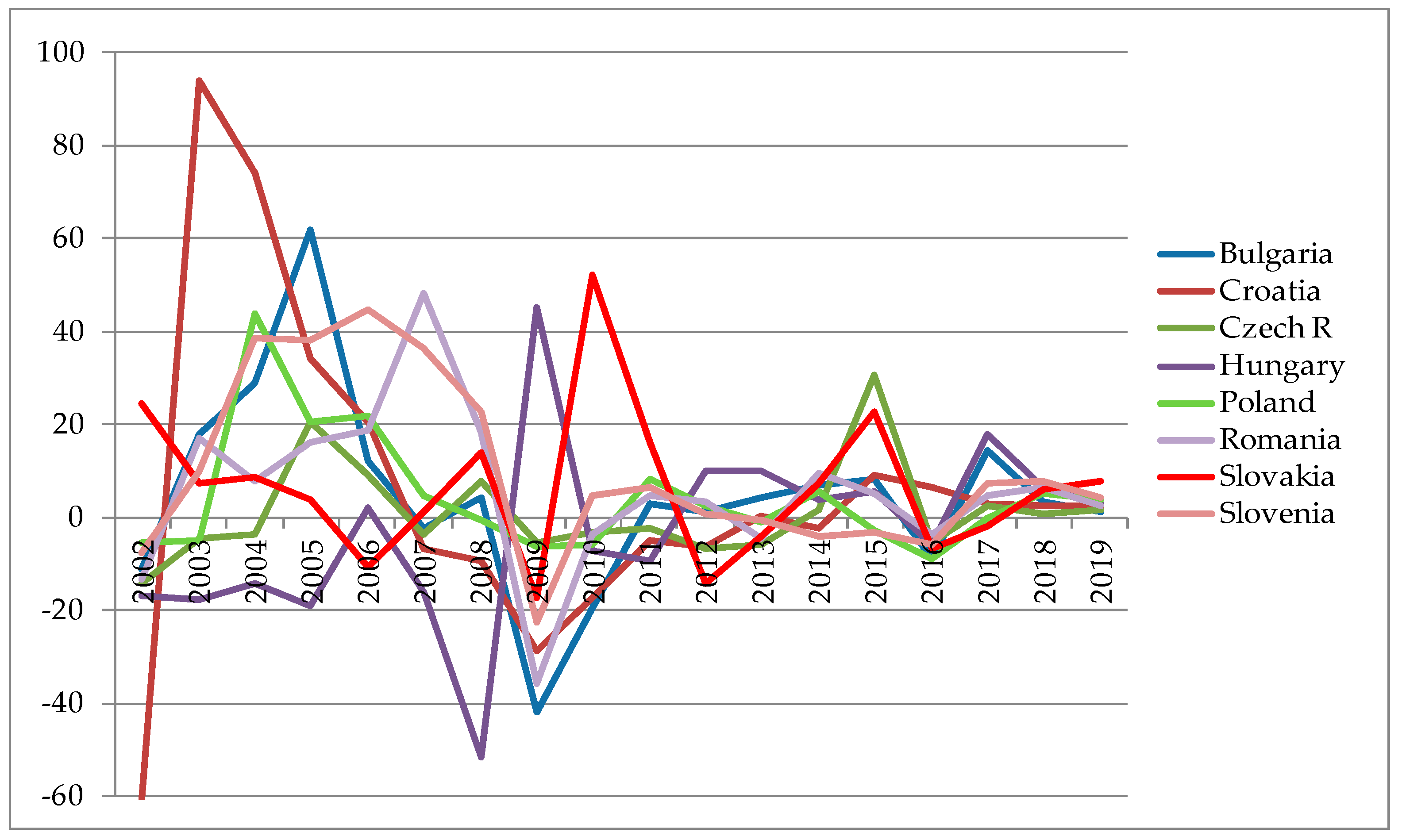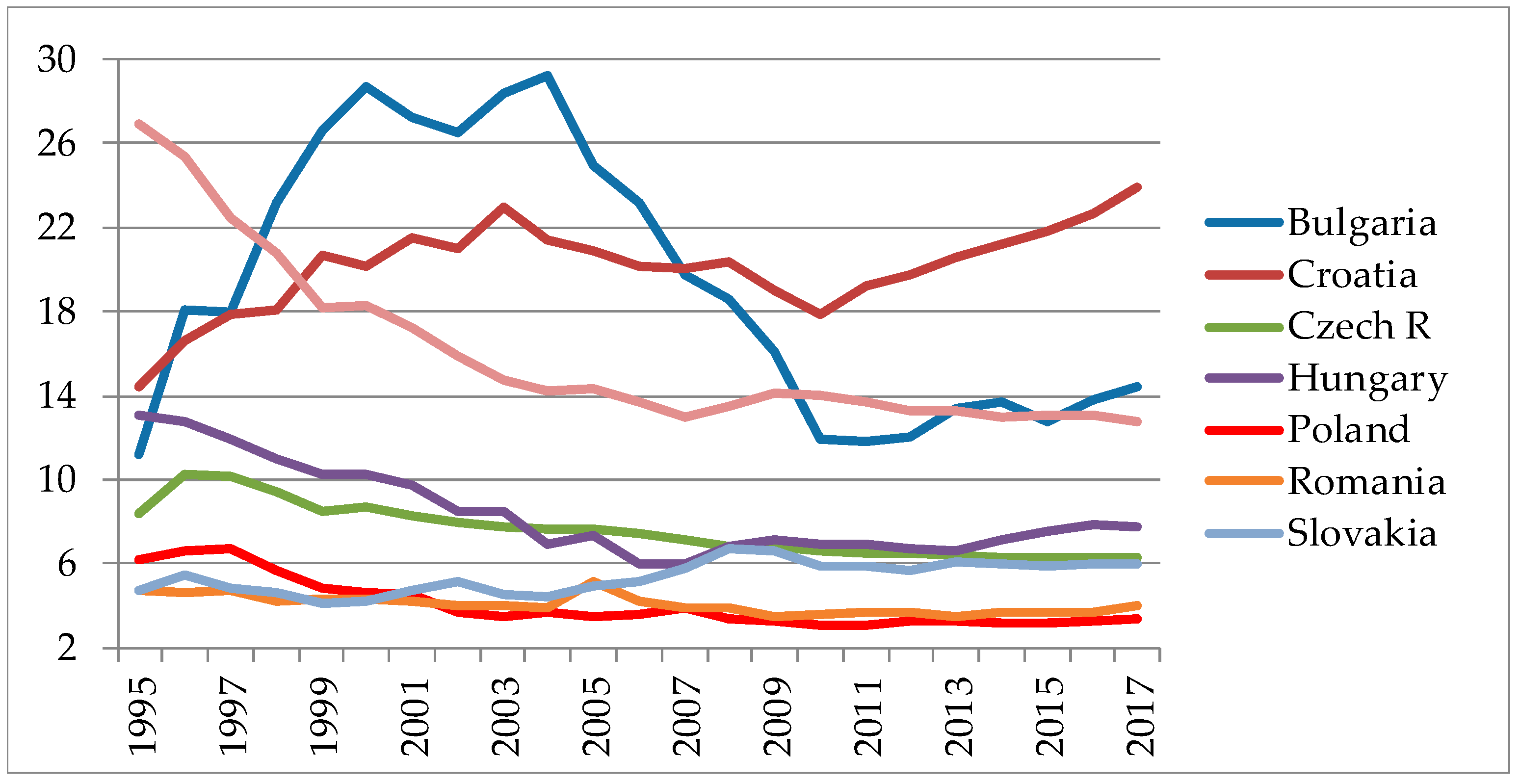 | Country | Start | End |
| --- | --- | --- |
| Bulgaria | January 2002 | October 2018 |
| Czech Republic | January 2002 | September 2018 |
| Croatia | January 2003 | October 2018 |
| Hungary | January 2001 | October 2018 |
| Poland | January 2003 | October 2018 |
| Romania | January 2002 | October 2018 |
| Slovenia | January 2000 | December 2017 |
| Slovakia | January 2003 | October 2018 |
| Variable | Type: constant | Type: none |
| --- | --- | --- |
| TUR_BULG | −13.495 | −13.369 |
| IIP_BULG | −16.240 | −16.008 |
| TUR_CZECH | −13.532 | −13.430 |
| IIP_CZECH | −21.044 | −20.625 |
| TUR_CRO | −11.262 | −11.212 |
| IIP_CRO | −16.175 | −16.207 |
| TUR_HUNG | −11.629 | −11.540 |
| IIP_HUNG | −18.029 | −17.731 |
| TUR_POL | −12.510 | −12.090 |
| IIP_POL | −20.383 | −18.576 |
| TUR_ROM | −15.150 | −14.769 |
| IIP_ROM | −17.802 | −17.377 |
| TUR_SLO | −18.261 | −17.823 |
| IIP_SLO | −20.865 | −20.686 |
| TUR_SLOVAK | −10.960 | −10.874 |
| IIP_SLOVAK | −16.107 | −15.680 |
Note: Augmented Dickey-Fuller test statistic is given for every test. Critical values for the test with constant included as deterministic variable are −3.46, −2.88 and −2.57 for 1%, 5% and 10% respectively. Critical values for the test without deterministic variables included are −2.58, −1.95 and −1.62 for 1%, 5% and 10% respectively. Source: author's calculation.
| Country | AIC | HQ | SC | FPE |
| --- | --- | --- | --- | --- |
| Bulgaria | 4 | 4 | 3 | 4 |
| Czech Republic | 3 | 2 | 2 | 3 |
| Croatia | 6 | 2 | 2 | 6 |
| Hungary | 2 | 2 | 2 | 2 |
| Poland | 6 | 2 | 2 | 6 |
| Romania | 2 | 2 | 2 | 2 |
| Slovenia | 6 | 2 | 2 | 6 |
| Slovakia | 4 | 3 | 2 | 4 |
Note: AIC, HQ, SC and FPE denote Akaike, Hannan-Quinn, Schwartz information criteria and the Forecast Prediction Error respectively. Where the optimal values differed for some country, the optimal lag was chosen with a parsimony principle: starting with lower values of the lags and testing each VAR(

p

) model for multivariate autocorrelation and heteroskedasticity until the null hypothesis was not rejected. Optimal values which were chosen are bolded for each country. Source: author's calculation.
1

Also referred to as TLGH and GLTH where H stands for hypothesis.

2

If we exclude the financial crisis and the impact in year 2009, the growth rates are: 8.72%, 5.15%, 7.03%, 5.50%, 5.89%, 7.57%, 6.34% and 4.44%.

3

Here several tables give overview for many countries, with none of those included in this paper.

4

Here only 4 papers exist which observe some of the countries in this paper.

5

None of the research included countries which are in this paper.

6

Only 2 papers are found here which include some of the countries in this paper, with 2 overlapping as in reference

Brida et al.

(

2016

).

7

Here only 2 papers exist which observe some of the countries in this paper.

8

Similar in terms of economy at whole or similar geographical position.

9

Generalized method of moments.

10

Fully modified ordinary least squares.

11

Dynamic ordinary least squares.

12

Vector AutoRegression.

13

It holds that

E

(

ε

t

) =

0

,

E

(

ε

tεt′

) = Σ

ε

< ∞ and

E

(

ε

tεs'

) = 0 for

t

≠

s

.

14

15

The model is stabile if det(

I

Np

−

A

z

) ≠ 0 for |

z

| ≤

1

.

16

Moving average.

17

These variables were used as previous literature utilizes them when using monthly data. Moreover, this way we get more data available. All of the data are seasonally adjusted.

18

Other countries which were considered to include but due to unavailability of data were excluded from the analysis: Albania, Bosnia and Herzegovina, Macedonia, Montenegro and Serbia.

19

20

For more information on the total, direct and indirect effects of one variable to another, please see

Baron and Kenny

(

1986

).

21

22

© 2019 by the author. Licensee MDPI, Basel, Switzerland. This article is an open access article distributed under the terms and conditions of the Creative Commons Attribution (CC BY) license (http://creativecommons.org/licenses/by/4.0/).