Seed and Germination Characteristics of 20 Amazonian Liana Species
1
Xishuangbanna Tropical Botanical Garden, Chinese Academy of Sciences, Plant Geography Lab, Menglun, Mengla, Yunnan 666303, China
2
Instituto Nacional de Pesquisas da Amazônia (INPA), Coordenação de Pesquisa em Silvicultura Tropical, Av. André Araújo, 2936, Aleixo, Manaus, AM, Brazil
3
Tropical Silviculture and Forest Ecology, Burckhardt Institute, Georg-August-Universität Göttingen, Büsgenweg 1, 37077 Göttingen, Germany
*
Author to whom correspondence should be addressed.
Received: 26 October 2012 / Revised: 14 December 2012 / Accepted: 25 December 2012 / Published: 7 January 2013
Abstract
Lianas are an important component of tropical forests, and may reach their highest densities in disturbed areas. However, information on seed and germination characteristics is scarce. Twenty Amazon liana species were screened for their germination characteristics, including light dependence, tolerance of desiccation and of alternating temperatures; these characteristics are considered important for the germination success in areas with relatively open canopies. Between 31–1,420 seeds per species were available, as 15 species seeds came from one mother plant. We studied seed biometry and conducted germination trials with fresh seeds (12 h light daily, or dark) and desiccated seeds at 25 °C. Germination at alternating temperatures (20/30 °C, 15/35 °C) was analyzed for nine species. Of the 20 species, eight species with the largest seeds had desiccation sensitive seeds; this is the first record for species of four genera and one family, where only desiccation tolerant seeds are otherwise recorded. Light-dependent germination was found in three species (0.01–0.015 g) and is the first record for two; however, results were based on seeds from one plant per species. Alternating temperatures of 15/35 °C decreased final germination of four out of nine species, and response to 20/30 °C cycles varied compared to constant 25 °C. Seed and germination characteristics of the species ranged from pioneer to climax traits indicating that establishment of lianas from seeds may be confined to species specific niches.
View Full-Text
►

▼

Figures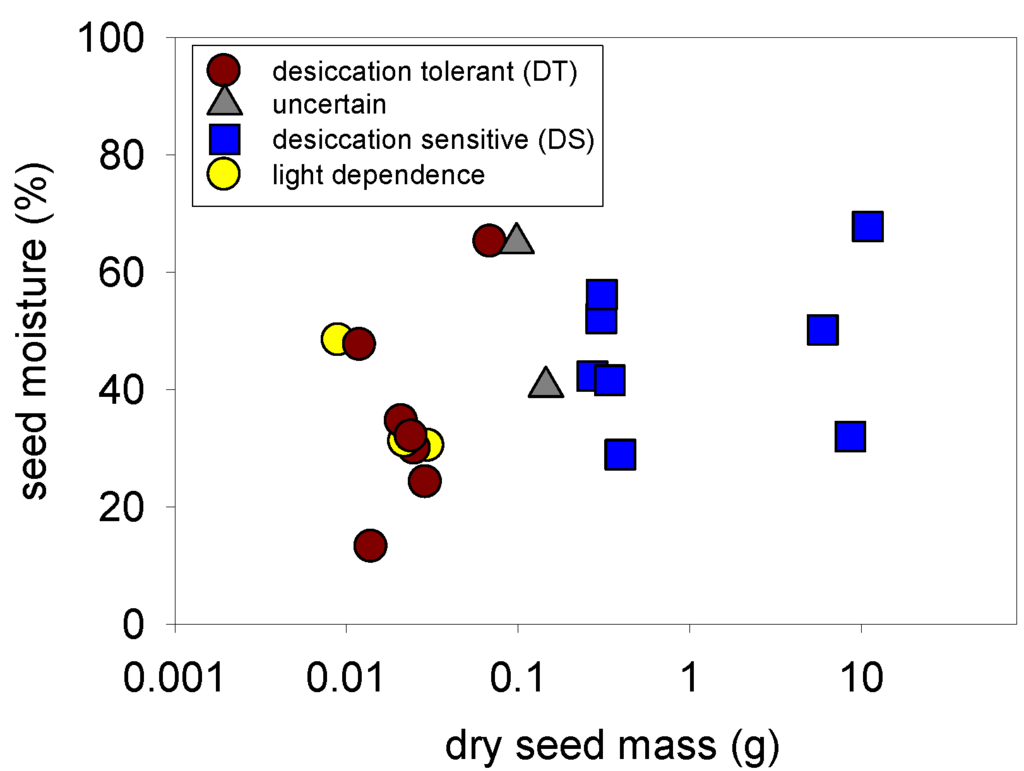 Figure 1

Share & Cite This Article
MDPI and ACS Style
Roeder, M.; Ferraz, I.D.K.; Hölscher, D. Seed and Germination Characteristics of 20 Amazonian Liana Species. Plants 2013, 2, 1-15.
Related Articles
Comments
[Return to top]