Probing the Gravitational Dependence of the Fine-Structure Constant from Observations of White Dwarf Stars
1
Department of Physics and Astronomy, University of Leicester, University Road, Leicester LE1 7RH, UK
2
LERMA, Observatoire de Paris-Meudon, PSL Research University, CNRS, UMR8112, F-92195 Meudon, France
3
Sorbonne Universités, UPMC University Paris 6, UMR8112, LERMA, F-75005 Paris, France
4
Center for Astrophysics and Space Astronomy, University of Colorado, Boulder, CO 80309-0389, USA
5
School of Physics, University of New South Wales, Sydney, NSW 2052, Australia
6
DAMTP, Centre for Mathematical Sciences, University of Cambridge, Wilberforce Road, Cambridge CB3 0WA, UK
7
Lunar and Planetary Laboratory, Sonett Space Sciences Building, University of Arizona, Tucson, AZ 85721, USA
8
Department of Physics, University of Strathclyde, Glasgow G4 0NG, UK
9
Department of Physics and Astronomy, LaserLab, VU University, De Boelelaan 1081, NL-1081 HV Amsterdam, The Netherlands
10
Department of Physics, University of California, Berkeley, CA 94720-7300, USA
*
Author to whom correspondence should be addressed.
Academic Editors: Mariusz P. Dąbrowski, Manuel Krämer and Vincenzo Salzano
Received: 31 January 2017 / Revised: 13 March 2017 / Accepted: 17 March 2017 / Published: 30 March 2017
Abstract
Hot white dwarf stars are the ideal probe for a relationship between the fine-structure constant and strong gravitational fields, providing us with an opportunity for a direct observational test. We study a sample of hot white dwarf stars, combining far-UV spectroscopic observations, atomic physics, atmospheric modelling, and fundamental physics in the search for variation in the fine structure constant. This variation manifests as shifts in the observed wavelengths of absorption lines, such as quadruply ionized iron (FeV) and quadruply ionized nickel (NiV), when compared to laboratory wavelengths. Berengut et al. (
Phys. Rev. Lett.
2013
,
111
, 010801) demonstrated the validity of such an analysis using high-resolution Space Telescope Imaging Spectrograph (STIS) spectra of G191-B2B. We have made three important improvements by: (a) using three new independent sets of laboratory wavelengths; (b) analysing a sample of objects; and (c) improving the methodology by incorporating robust techniques from previous studies towards quasars (the Many Multiplet method). A successful detection would be the first direct measurement of a gravitational field effect on a bare constant of nature. Here we describe our approach and present preliminary results from nine objects using both FeV and NiV.
View Full-Text
►

▼

Figures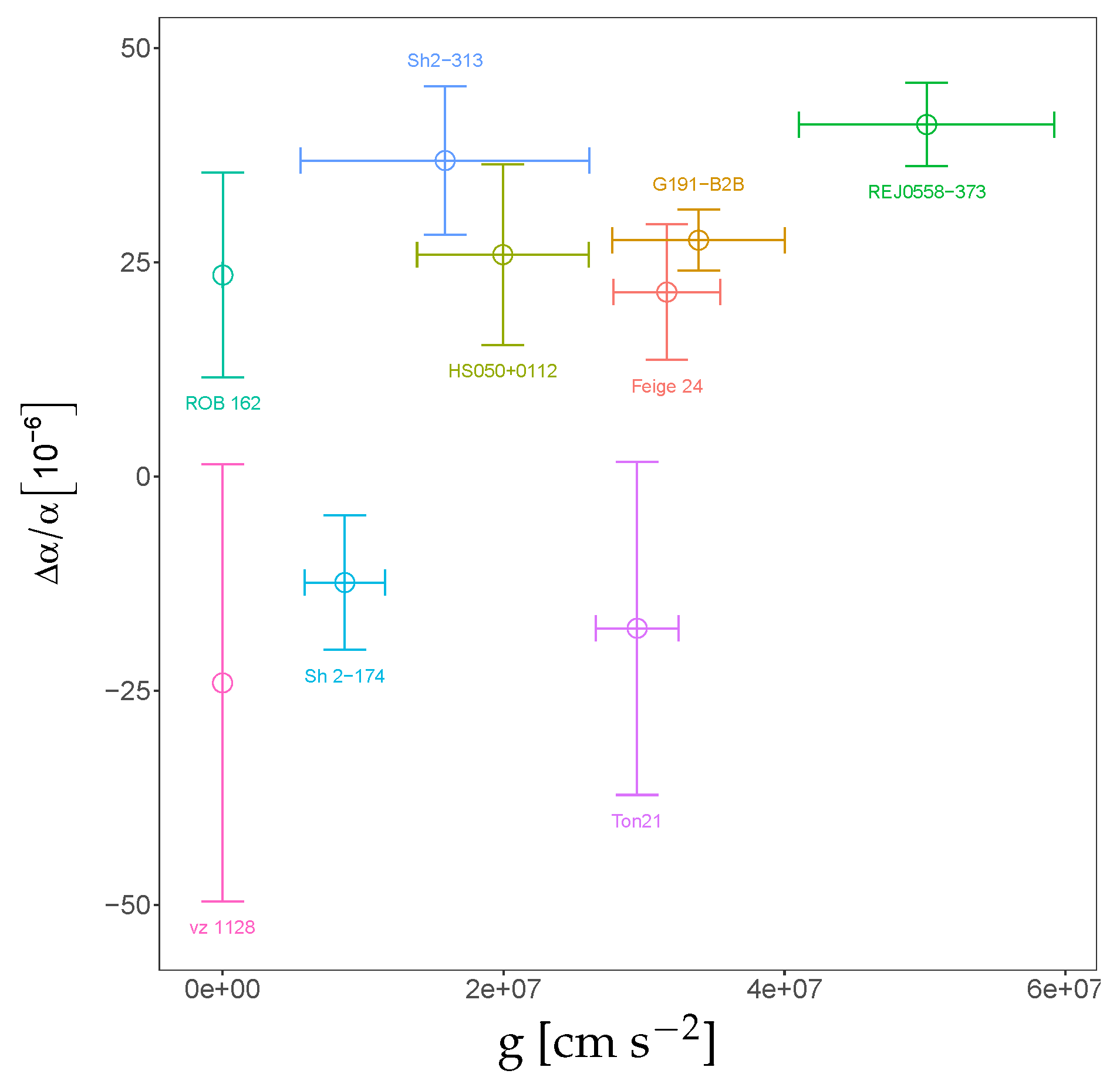 Figure 1
This is an open access article distributed under the
Creative Commons Attribution License
which permits unrestricted use, distribution, and reproduction in any medium, provided the original work is properly cited (CC BY 4.0).

Share & Cite This Article
MDPI and ACS Style
Bainbridge, M.B.; Barstow, M.A.; Reindl, N.; Tchang-Brillet, W.-Ü.L.; Ayres, T.R.; Webb, J.K.; Barrow, J.D.; Hu, J.; Holberg, J.B.; Preval, S.P.; Ubachs, W.; Dzuba, V.A.; Flambaum, V.V.; Dumont, V.; Berengut, J.C. Probing the Gravitational Dependence of the Fine-Structure Constant from Observations of White Dwarf Stars. Universe 2017, 3, 32.
Note that from the first issue of 2016, MDPI journals use article numbers instead of page numbers. See further details here.
Related Articles
Comments
[Return to top]