Open Access This article is
freely available
re-usable
Review
Honey and Cancer: Current Status and Future Directions
Institute of Biomedical and Biomolecular Science (IBBS), School of Pharmacy and Biomedical Sciences, University of Portsmouth, Hampshire, Portsmouth PO1 2DT, UK
*
Author to whom correspondence should be addressed.
Academic Editor: Maurizio Battino
Received: 30 July 2016 / Accepted: 19 September 2016 / Published: 30 September 2016
Abstract
:
Cancer is a leading cause of death worldwide and poses a challenge to treatment. With overwhelming evidence of the role played by diet and lifestyle in cancer risk and prevention, there is a growing interest into the search for chemopreventative or chemotherapeutic agents derived from natural products. Honey is an important source of bioactive compounds derived from plants and recent years have seen an increased interest in its anticancer properties. This review examines the role of honey in targeting key hallmarks of carcinogenesis, including uncontrolled proliferation, apoptosis evasion, angiogenesis, growth factor signalling, invasion, and inflammation. The evidence for honey as an adjunct to conventional cancer therapy is also presented. The review also highlights gaps in the current understanding and concludes that, before translation of evidence from cell culture and animal studies into the clinical setting, further studies are warranted to examine the effects of honey at a molecular level, as well as on cells in the tumour environment.
Keywords:
honey; cancer; phenolic; flavonoid; proliferation; inflammation; apoptosis; angiogenesis; fibrobalsts; invasion
1. Introduction
Cancer is one of the most common causes of death and represents a significant health burden [
1
]. In spite of considerable research input, this pervasive condition remains a challenge to prevent and treat. Conventional methods to treat cancer have severe side effects necessitating the search for novel, less toxic therapies. Approximately 90%–95% of cancer cases are thought to be related to the environment and lifestyle of an individual [
2
], highlighting the potential role of diet in carcinogenesis [
3
]. In recent years there has been increased interest in the search for chemopreventive and chemotherapeutic agents derived from food or natural products. The relative safety of food-derived compounds makes this an attractive alternative compared to conventional cancer therapy.
Natural honey is produced by bees and contains over 200 compounds, consisting mainly of sugars (75% monosaccharides: glucose and fructose; 10%–15% disaccharides: sucrose, maltose, etc.) and water, as well as enzymes, vitamins (Vitamin B6, riboflavin, niacin, thiamine, etc.), minerals, phenolic compounds (flavonoids, phenolic acids), volatile compounds, and pigments [
4
,
5
,
6
,
7
]. Honey has been used for centuries as a food source and medicine, and current research suggests it may be a beneficial aid to cancer therapy. Reactive oxygen species (ROS) and inflammation play an important role in the process of carcinogenesis [
8
,
9
]. The antioxidant and anti-inflammatory action of honey is well documented [
10
,
11
,
12
,
13
,
14
] and related to its phenolic constituents [
4
,
5
,
15
,
16
]. These include phenolic acids such as caffeic acid, ellagic acid, gallic acid, syringic acid, chlorogenic acid, p-coumaric acid, ferulic acid, and the flavonoids chrysin, kaempferol, catechin, quercetin, galangin, luteolin, pinocembrin, pinobankskin, and myricetin [
17
,
18
]. Caffeic acid, benzoic acid, and gallic acid are the most common phenolic acids, and flavonoids such as quercetin, catechin, kaempferol, luteolin, and apigenin are shared among many honey types. The highest content is often found in manuka honey, a monofloral honey derived from new Zealand, tualang honey, a Malaysian multifloral honey and the monofloral buckwheat honey obtained from several geographical sources, while the lowest phenolic content is seen in two monofloral varieties: gelam honey (
Melaleuca
sp.) and acacia honey (
Pseudoacacia
) [
7
,
17
,
19
,
20
,
21
]. The phenolic content of honey varies between 86 and 1141 mg/kg and is related to several factors including their floral source, geographical origin [
7
,
17
,
19
,
20
,
21
], as well as the HPLC method used for analysis in the laboratory [
22
,
23
,
24
,
25
]. It is also worth noting that many researchers tend to report the total phenolic content of honey in gallic acid equivalents and the Folin–Ciocalteau method used for measuring the total phenolics tends to overestimate the values [
20
]. Overall, honey contains constituents that may confer its anticancer properties, but effectiveness is likely to vary with its composition. There are limited studies on the bioavailability of phenolics from honey, however supplementation with 1.5 g/kg buckwheat honey (containing ~1.171 mg of phenolic antioxidants per gram) has been reported to produce significant increases in plasma phenolics 2 h after supplementation, the levels remaining high for up to 6 h [
26
].
There are a few reviews that have examined the anticancer properties of honey. Among the ones published within the last two years, a review by Jagnathan et al. [
27
] focused only on the antiproliferative and apoptotic potential of honey. A second review from the same laboratory discussed, in depth, the anticancer potential of honey and of its constituents against colon cancer only [
28
]. Another review by Erejuwa et al. [
29
] thoroughly covered the anticancer potential of honey against several cancer types and also described several possible mechanisms of action. However this review does not mention the concentrations of honey nor the percentage inhibitory effect. Furthermore, the effect of honey on the invasive properties of cancer cells, as well as the potential of honey being used as an adjunct to chemotherapy was not addressed either. The present review contains more detailed information which should complement the previous reviews. It also provides a critical appraisal of the published data, highlights gaps in the current understanding, and offers suggestions for further studies, which are warranted before recommendations for clinical studies can be made.
2. Honey and Cancer
The development of cancer is a complex process beginning with alteration of the genetic material of healthy cells which, if not repaired, can result in abnormal proliferation, failure of apoptosis, and the development of tumours [
30
]. Multiple events collude to produce cancer, including activation of oncogenes, inactivation of tumour suppressor genes, deregulation of cell signalling pathways, growth factors and hormones, as well as many other interconnected complex processes [
31
]. The underlying commonality of cancer has been highlighted by Hanahan and Weinberg, who described hallmarks leading to the progression of a normal cell to a neoplastic state. These include replicative immortality and sustained proliferative signalling, resisting cell death/apoptosis, angiogenesis induction, evading growth suppressors, and activating invasion and metastasis [
31
]. The heterogeneity in cellular genotypes and phenotypes and multiple mechanisms that underlie the pathology makes cancer a difficult disease to treat. Targeting any one specific mechanism, as seen in many conventional therapies, often does not achieve the desired outcome.
The effect of honey treatment on these key hallmarks of cancer, as well as on inflammatory signalling, will be discussed in this review (
Figure 1
), with reference to the dosage, composition, and different types of honey examined.
2.1. The Antiproliferative Properties of Honey
Aberrant proliferation is a defining feature of tumour cells and is a key target for both conventional chemotherapeutics and novel therapies. Cell cycle deregulation underlies uncontrolled cell proliferation leading to tumour formation. Growth arrest at G0/G1 and G2/M phases or apoptosis can be initiated with DNA alterations. Many chemotherapeutic drugs are targeted at inhibiting the cell cycle in S and M phases. Several studies have reported honey treatment of cell lines leading to arrest of cells in the G0/G1 phase in bladder (T24, 253 J, RT4, and MBT-2) [
32
], colon (HCT-15 and HT-29) [
33
], and human melanoma (A375) [
34
] cell lines.
Multiple honey types have been tested for their in vitro effects on cell proliferation. Swellam et al. [
32
] examined the effect of increasing doses of pure unfractionated honey, sourced from Tokyo, Japan, in three human bladder cancer cell lines (T24, 253J, and RT4), as well as in one murine bladder cell line (MBT-2), using the 3-(4,5-dimethylthiazol-2-yl)-2,5-diphenyl tetrazolium bromide (MTT) assay. Compared to control, at 12% final concentration, honey reduced the cancer cell viability to 18% viable cells in MBT-2 and RT4 cell lines. Very few viable cells were present in T24 and 253J cells after 24 h incubation with 12% honey. A higher dose of 25% honey did not show any additional effects. The 5-bromodeoxyuridine (BrDu) labelling index also showed minimal cell viability in RT4, T24, and 253J cells in the presence of 12% honey. Flow cytometry analysis matched the BrdU labelling index and showed a significant low S phase fraction and accumulation of a large cell population behind the G1 peak in the presence of both 6% and 12% honey. Interestingly, the effect was higher in the presence of 6% honey than 12% in the 253J and RT4 cell lines [
32
]. Likewise the apoptotic rate in the presence of 6% honey was higher than 12%, an effect which may be related to the low cell survival rate at a higher concentration of honey.
Manuka honey (UMF 10+) was shown to inhibit cell proliferation at concentrations as low as 0.6% (
w
/
v
) in multiple cell lines (human breast cancer MCF-7, murine melanoma B16.F1, and mouse colon carcinoma CT26) in a dose and time dependent manner [
35
]. Using the CellTiter-Glo
®
Luminescent cell viability assay (Promega, Madison, WI, USA), the authors found 40% inhibition after 24 h and 60% after 72 h incubation of MCF-7 cells, with 5% final concentration of honey. Similar results were shown for other cell lines, with B16.F1 viability reduced to 43% of control after 24 h and 17% after 72 h following treatment with 2.5% manuka honey. The honey treatment reduced CT26 cell viability to 30% (24 h) and 7% (72 h) to that of the control. This study also demonstrated that the antiproliferative effect of manuka honey was associated with the activation of a caspase-9-dependent apoptotic pathway [
35
].
Tualang honey was shown to exhibit antiproliferative effects in oral squamous and osteosarcomal cell lines [
36
], with complete growth inhibition at 15% final concentrations and IC50 of 4% (oral squamous cell line) and 3.5% (osteosarcomal cell line). Since honey is supersaturated with sugars, the authors also examined the effects of a mixture of glucose, fructose, and sucrose, and showed that the antiproliferative effect of honey superseded the osmolarity effects of sugars. By examining the antiproliferative activity in the presence of catalase, they also ruled out the toxic effects of hydrogen peroxide and indicated that the antiproliferative effects of honey were related to its phenolic content. Tualang honey has also been shown to be antiproliferative against several other cancer models, including human breast cancer (MCF-7 and MDA-MB-231), cervical cancer (HeLa), and leukemia (K562 and MV4-11) cell lines [
37
,
38
]. However, it did not exert cytotoxic effects on the MCF-10A, a normal breast cell line [
37
]. A similar selective cytotoxicity effect has been reported for gelam honey against liver cancer HepG2 cells where, compared to non-neoplastic cells [
39
,
40
], a much higher concentration of honey caused cytotoxicity of the normal cell line (25% vs. 70%).
Thyme honey has been tested for its antiproliferative effects in breast cancer (MCF-7), prostate cancer (PC3), and endometrial cancer (ishikawa) cell lines [
41
]. In this study, honey was shown to reduce cell viability by 10% at the highest concentration (125 ug/mL) [
41
]. However, the highest concentration used in this study was much lower than the concentration used by Ghasham et al. [
36
] and this might be the reason why the effect of honey was lower than that observed by Ghasham et al. [
36
]. Tsiapara et al. [
41
] also showed an augmentary effect of fir honey on MCF-7 cell proliferation. Although it is not understood why this honey might have exerted a stimulatory effect it may, however, be related to its nutrient (glucose, amino acids, minerals), hydrogen peroxide, and phenolic constituent content, especially quercetin, which has been reported to exert biphasic effects on cancer cells [
42
].
Gelam and nenas honey were tested for their antiproliferative effects using the 3-(4,5-dimethylthiazol-2-yl)-5-(3-carboxymethoxyphenyl)-2-(4-sulfophenyl)-2
H
-tetrazolium (MTS) assay in the colon cancer HT29 cell line, with an IC50 of 39 mg/mL (~3.9%) and 85 mg/mL (~8.5%), respectively reported for each honey type [
43
]. Their results for gelam honey were similar to the ones reported by Ghasham et al. [
36
]. Honey varieties differ in their phenolic content and, therefore, their antioxidant-related effects are likely to vary as well. Tualang honey has been shown to contain slightly higher phenolic and flavonoid content than gelam honey [
44
] and, if results are compared between Ghasham et al. [
36
] and Wen et al., then the slightly better IC50 for tualang honey, in an osteosarcomal cell line, compared to gelam honey, in the HT29 cell line, can be explained due its higher antioxidant content. However, the IC50 of tualang honey in an oral squamous cell line was similar to the one observed for gelam honey. For acacia honey, an IC50 of 2% (0.02 g/mL) was reported for both murine (B16-F1) and human (A375) melanoma cell lines [
34
]. The same honey showed an IC50 of 4.4% for 24 h and 1.9% for 48 h incubation with honey of a human prostate cancer (PC3) cell line [
45
]. This suggests that the effects of honey can vary between the varieties of honey, as well as the cell lines which are tested. Most studies do not provide information on the passage number of the cells tested and this might also influence the results obtained.
Another confounding factor that might influence results when honey is tested using in vitro studies is the effect of sugars on cell proliferation. Glucose is a preferred nutrient for cancer cells and sugars present in honey have been suggested to have both mutagenic, as well as antimutagenic, effects. Wang et al. used the Ames mutagenicity assay to test the mutagenic and antimutagenic effects of seven different honeys, as well as their individual sugar components [
46
]. The results showed antimutagenic effects of monosaccharide sugars, as well as honeys, against food mutagen Trpp-1 (3-amino-1,4-dimethyl-5
H
-pyrido[4,3-
b
]indole), at concentrations above 100 µg/mL (0.01%
w
/
v
). Buckwheat honey was shown to be the most effective of the seven honey types which were tested [
46
]. While there are numerous studies which examined the antiproliferative effects of honey in cell culture, the type of honey used was often different and many studies did not compare the effect of sugars versus the effects seen for honey. In our experience, the effects of honey can vary between cell lines and also the type of honey that is used. Preliminary data showing the effects of honey on the viability of breast, prostate, colon, and several brain tumour cell lines (
Figure 2
) illustrates that only in some cell lines the effect of honey supersedes the effect of sugars. This disparity may be related to the phenolic content of the honey and/or the metabolism of sugars, as well as the number of glucose transporters (GLUTs) expressed by cancer cells [
47
].
Legend:
Concentrations of 10% honey (manuka 15+ and pure raw unprocessed wild flower honey) were compared to a solution containing 3% glucose and 4% fructose, the equivalent amount found in honey. Four brain cell lines were studied: normal astrocyte (CC2565), grade IV glioblastoma (UP029), glioblastoma multiforme (SEBTA003, SEBTA025), as well as one breast cancer cell line (MDA-MB231), one prostate cancer cell line (PC3), and one colon cancer cell line (Caco-2). Absorbance readings were measured at 490 nm, the values being normalised to 100% of media control. The percentage of viable cells in the presence of sugars and honey were measured after 24 h incubation. A comparison of honey treatment with the sugar mixture showed a significant difference (
p
< 0.05) in some, but not all, cancer cells (Wilcoxon rank sum test with IBM SPSS Statistics for Macintosh, Version 22.0, IBM Corp. Armonk, NY, USA).
Our results are in agreement with the data obtained by Wen et al. [
43
] and Ghasham et al. [
36
], in that the effects of honey can vary between the type of honey used, as well as the cell line investigated. These results highlight that for in vitro cell culture studies, it is important to rule out the effects of sugars on cell proliferation. Secondly, if the proposed activity is suggested to be due to the antioxidant components of honey, then the antioxidant and phenolic content of honey should also be measured and correlated with the cell viability analysis. Furthermore, a higher antiproliferative effect has been shown in honeys with high phenolic content [
33
].
Many of the individual constituents of honey have been tested for their antiproliferative effects. Chrysin is one of the best-studied phenolics found in honey and its toxic effects have been reported against several cancer cell lines. For example, one study using chrysin at concentrations of 25 µM and 50 µM demonstrated 15% and 25% inhibition of human melanoma (A375) and 10% and 20% inhibition of murine melanoma (B16-F1) cell lines, following a 24 h treatment. The results were acquired using the MTT assay [
48
]. An IC50 of 50 µM was found for both human and murine melanoma cell lines after 72 h incubation. In the same study, acacia honey also caused inhibition in a time and dose dependent manner with an estimated IC50 value equal to about 0.02 g/mL, regarding both murine and human melanoma cell lines [
48
]. However, in the human colon cancer cell lines, maximum inhibition of HCT16 cell viability by chrysin was observed at a final concentration of 100 µM, with ~13% inhibition observed after 6 h and ~78% inhibition after 48 h of incubation [
48
]. Interestingly, the toxic effects were only observed in the cancer cells, while the control cell lines were not affected. In addition, cytotoxicity of chrysin has been reported against several other cancer cell lines, including breast, prostate, cervical, liver, glioblastoma, lung, liver, and pancreatic cancer [
48
,
49
,
50
]. Recently, chrysin's anticancer activity has been reviewed by Kasala et al. [
50
], with chrysin being shown to inhibit cancer growth through modulation of phase I and phase II enzymes, induction of apoptosis, alteration of cell cycle, inhibition of angiogenesis, and invasion and metastasis. In the HCT 116 human colon cancer cell line, the luciferase assay demonstrated an increase in the activation of three transcriptional pathways (nuclear factor kappa B (NF-κB) response element, serum response element and activator protein 1 (AP-1) response element) by chrysin in a time-dependent manner [
51
]. This was accompanied by an increase in tumour necrosis factor-alpha (TNF-α) and tumour necrosis factor-beta (TNF-β) gene expression, and induction of cell apoptosis.
The antiproliferative effects of quercetin have been reported for HL-60 leukemia [
52
], MCF-7 human breast cancer [
53
], Caco-2 human colon adenocarcinoma [
54
], PC3 and DU145 prostate cancers [
42
,
55
], SCC25 oral cancer [
56
], ishikawa endometrial cancer [
57
], and SPC212 and SPC111 malignant mesothelioma cell lines [
58
]. In the HL-60 cell line, concentrations as low as 10 µM were found to inhibit cancer cell growth by 17% after 24 h incubation and ~53% after 96 h incubation [
52
]. In the case of prostate cancer cell lines, no significant effect was observed at 10 µM and 24 h incubation, however, at a higher concentration (50 µM), a significant inhibition of PC3 and DU145 cell growth was observed, but no effect was observed in LNCaP or in BG-9 normal skin fibroblast cells [
55
]. Some studies showed a biphasic effect of quercetin [
42
], a synergistic antiproliferative effect between quercetin and cisplatin also being reported [
58
]. Other honey constituents, i.e., caffeic acid, kaempferol, apigenin, and luteolin etc., have been tested for their anticancer properties, which has been extensively covered previously [
59
,
60
]. It is interesting to note that when tested individually, all phenolic compounds inhibit cell proliferation at concentrations which are 10- to 100-fold in excess than the amount present in honey. This suggests that either in honey, in spite of the low concentrations, synergism between these compounds leads to antiproliferative effects, or there are other cytotoxic components of honey that are yet to be studied.
2.2. Modulation of Growth Factor Signalling by Honey
2.3. The Apoptotic Properties of Honey
In summary, evidence to date shows a promising effect of honey and its constituents on the apoptotic pathways, especially by promoting proapoptotic protein expression and inhibiting the expression of the antiapoptotic protein Bcl-2, as well as by modulating caspase activation, p53 expression, and DNA fragmentation. Some studies found that combining honey with other natural products enhances the apoptotic effects, however, further studies investigating combinations with a wider range of antioxidant-rich products are warranted.
2.4. The Anti-Inflammatory and Immunomodulatory Properties of Honey
This apparent discrepancy between the pro- and anti-inflammatory properties of honey may be due to differences in the cell lines and animal models used, as well as the honey type and composition. As outlined here, the phenolic components of honey have anti-inflammatory and antioxidant properties, which have been proposed as mechanisms for honey's anti-tumour activity. Each variety of honey has varying amounts of these compounds altering their activity. Further studies are needed to fully elucidate the mechanism of action, particularly concerning the immunomodulatory properties of honey not associated with its antioxidant activity.
2.5. The Anti-Angiogenic Potential of Honey
Angiogenesis is the process of new blood vessel growth, which facilitates tissue formation by providing nutrition and oxygen to tissues. This process is important both in wound healing, as well as in the development of malignant tumours, the latter often being described as a wound that does not heal [
122
]. Cancer cells promote angiogenesis through generation of factors such as bFGF, TNF, and VEGF [
123
]. Honey is well known to promote angiogenesis in normal cells, with a varied response at different concentrations. It has been suggested that at low concentrations (0.015%–6.2%), honey has proangiogenic effects, which disappears at higher concentrations (>12.5%). Honey has been shown to decrease VEGF formation at high concentrations [
124
], while PGE
2
can induce VEGF expression, leading to increase in tumour angiogenesis [
125
]. In the rat air pouch model of inflammation, honey has been shown to inhibit the angiogenic agents PGE
2
and VEGF [
126
]. In 7,12-dimethylbenz(α)anthracene (DMBA)-induced breast cancer rats, tualang honey, at concentrations as low as 0.2 g/kg, significantly reduced the cancer growth, increased the number of apoptotic cells, and reduced VEGF levels, as well as the vasculature around the tumour [
127
].
Degradation of the extracellular matrix (ECM) by proteases facilitates both angiogenesis and metastasis, protease inhibitors being shown to inhibit the process of carcinogenesis [
128
]. Honey was found to inhibit extracellular protease and gelatinase activity in HepG2 cancer cells, however, the effects varied with the type of honey that was used [
129
]. In rats, feeding 300 mg/kg of propolis, a substance used by bees to fill gaps and cracks in hives, was found to inhibit bladder cancer angiogenesis in animals fed
N
-butyl-(-4-hydroxybutyl) nitrosamine [
130
].
Further studies using a co-culture model of endothelial and cancer cells or in vivo animal studies should identify the most effective concentrations, as well as the types of honey with high anti-angiogenic potential. Angiogenesis in wound healing and cancer have some remarkable similarities [
122
], the main differences being that in wound healing the process is self-limiting, while this is not the case in cancer cells. It will, therefore, be interesting to compare the effect of honey on the genes expressed in the late stages of wound repair in healthy cells with that of tumour cells in which the process continues and cells continue to grow and metastasise. Pedersen et al. [
131
] have identified some of these genes, which include GLI3, CRABP-II, calmodulin, galectin-7, conexxin-26, cytokeratin I, and E-cadherin.
2.6. The Anti-Invasive Properties of Honey
Overall, honey constituents are shown to lower the expression of MMP-2 and MMP-9 in a range of cancer cell lines, however, currently there is limited evidence on the effect of honey on the metastatic properties of cancer. The suitable concentration range, as well as the type of honey which is likely to have high inhibitory effects, need to be identified.
3. Honey for Chemoprevention and as an Adjunct to Anticancer Drugs
4. Safety
Honey has been used for centuries as a source of nutrition and topical wound treatment with no reports of adverse effects from the majority of varieties. Gastrointestinal upset and a case of hepatitis [
170
] has been reported following consumption of honey derived from Rhododendron flowers, colloquially known as "mad honey", however, such incidences are rare and restricted to specific sources. Recently, the safety of honey as a medicinal agent has been demonstrated in a study conducted by Fernandez-Cabezudo et al. [
35
]. The authors treated tumour-bearing mice with an intravenous injection of manuka honey for three weeks with no indication of any side effects when haematological and clinical chemistry parameters were evaluated.
5. Conclusions
Overall, evidence from cell culture and animal studies look promising for honey in terms of chemo prevention, as well as an adjunct therapy to cancer drugs. Honey is readily available, inexpensive, easy to administer, and poses minimal risk of adverse side effects. However, the specific composition and properties of honey and its anticancer effects vary with the nectar source, honey bee species, climate, geographical region, extent of processing, as well as packaging and storage [
6
]. Efficacy after in vivo supplementation will depend on the extent to which phenolic levels are raised in the blood, and also on the active constituents reaching the tumour site at sufficient concentrations. Studies have demonstrated that phenolics sourced from honey are bioavailable in humans [
26
], however, it remains to be seen whether the concentration achieved in blood is sufficient to intercept the cancer processes in vivo. Findings from the in vitro and in vivo animal studies mentioned in this review suggest a positive impact of honey on several aspects of cancer. There are, however, several modifiers of metastasis which are yet to be studied for the effects of honey. For example, cancer-associated fibroblasts play an important role in tumour progression; honey has been shown to increase their proliferation during wound healing and was also reported to provide protection from radiation-induced damage to human diploid fibroblasts [
171
]. Therefore, further studies should examine the effects of honey on cancer-associated fibroblasts. The effect of honey on extracellular-degrading proteases i.e., matrix metalloproteinases, of which fibroblasts are an important source, has not been studied extensively to date. Honey's effects on the growth signalling pathways and on the invasive properties of cancer cells are also under-researched areas. Direct injection of honey into a tumour appears to be an attractive option, however, further research is needed to evaluate the overall effectiveness of this approach. Although cancer cells feed on sugars, the high sugar content of honey, if injected directly into the tumour site, may influence the tumour stroma through the osmolarity effect. It would also be interesting to examine if such an approach could prevent neoplastic lesions from becoming invasive, as well as to measure the length of time during which these effects are sustained after treatment. Therefore, further mechanistic studies are needed to verify the anticancer potential of honey before recommendations for its use in clinical trials can be made.
Acknowledgments
The authors would like to thank Mr Larry Saums, Bee Flower & Sun Honey Co., Pittstown, NJ 08867, USA for their generous gift of Pure raw (Wild flower) honey and thanks are extended to Dr Richard Hill for providing the MTS data on the brain cell lines.
Conflicts of Interest
The authors declare no conflict of interest.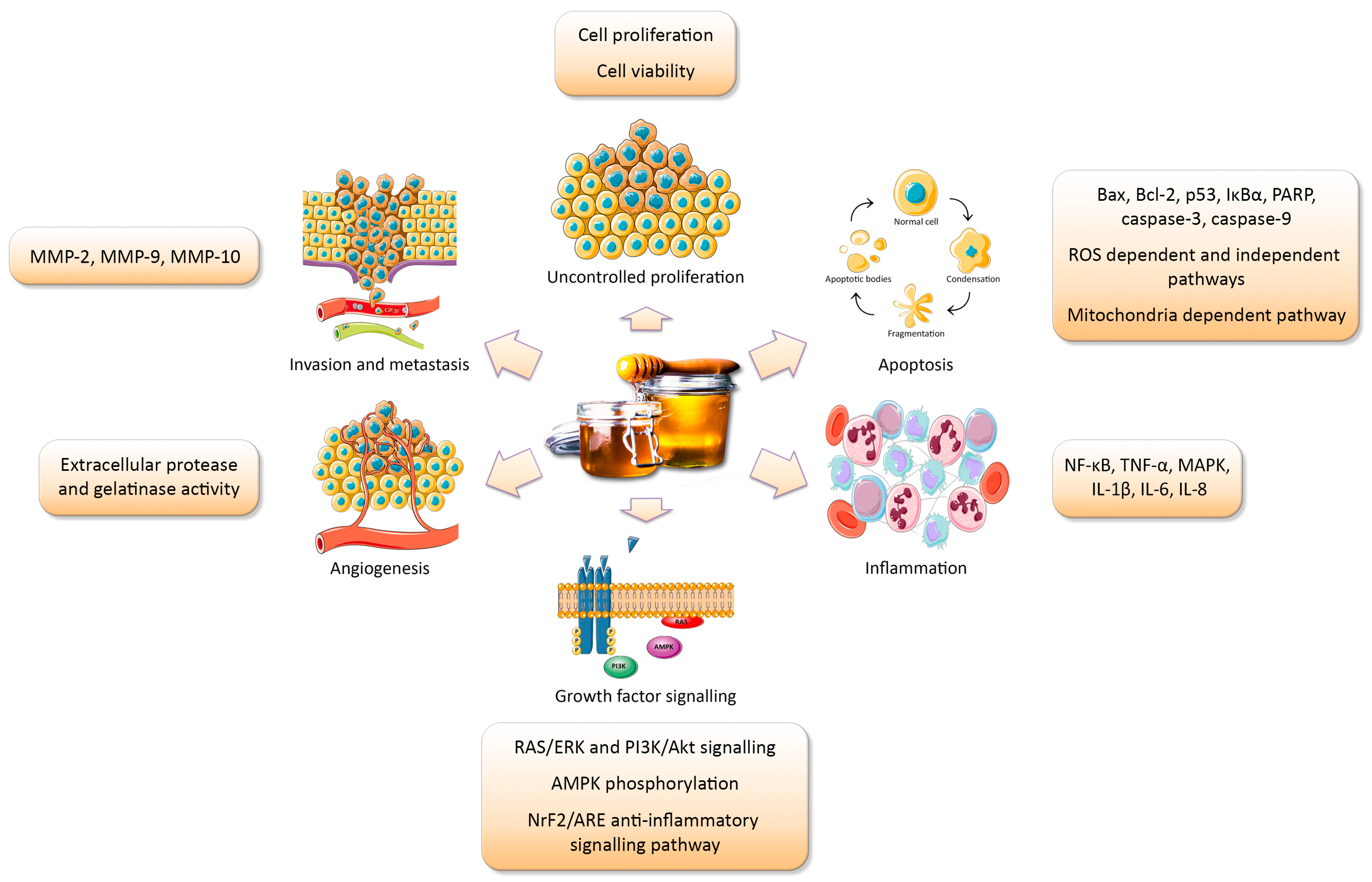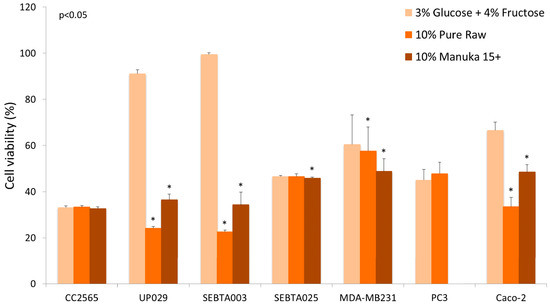 Figure 2. The effect of manuka 15+ honey and pure raw unprocessed honey (USA) on cell viability, using MTS assay.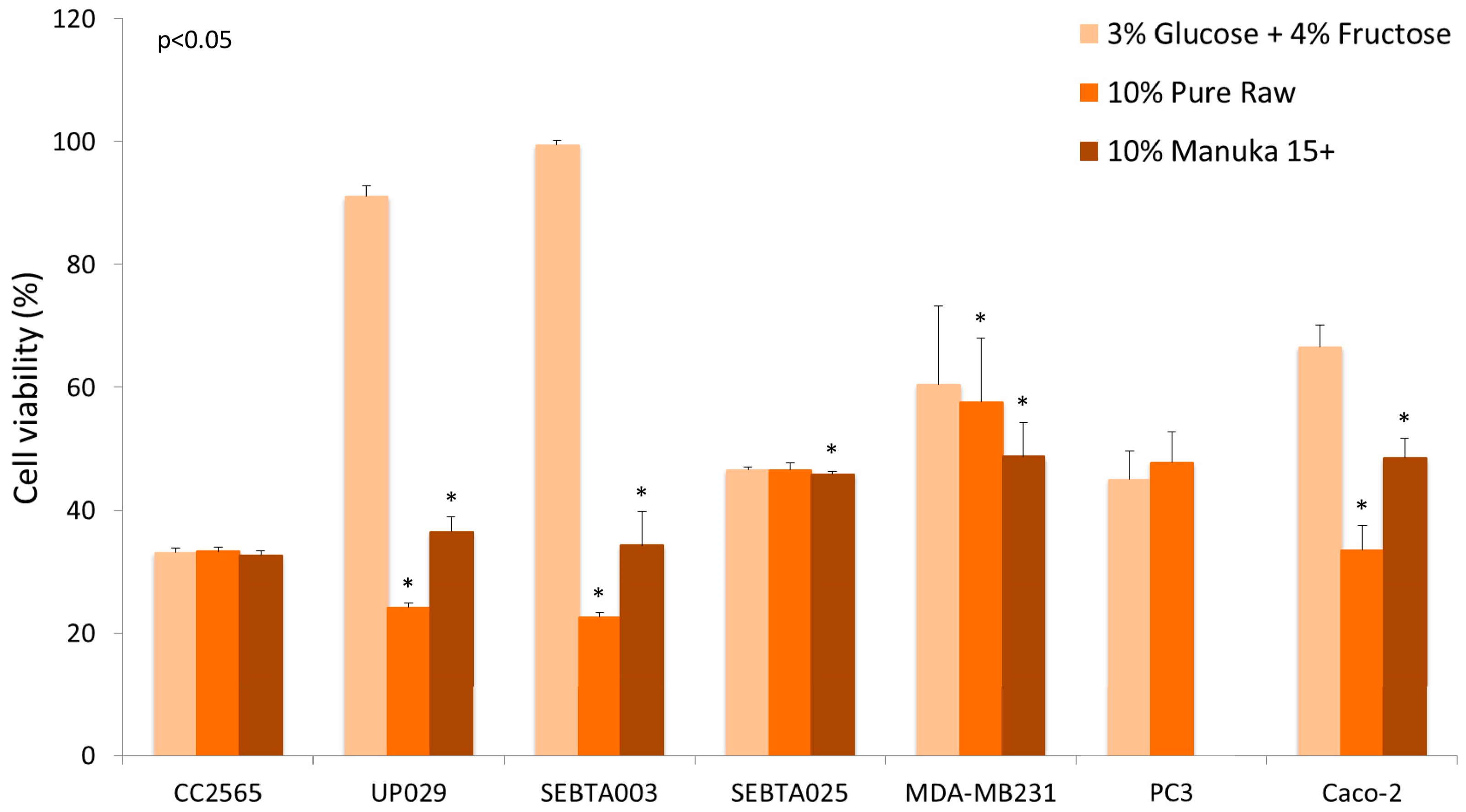 Table 1. The in vitro effects of a variety of honey types on a range of cancer cell lines.
In Vitro Effects of Honey
Cell Line
Honey Type
Reference
Antiproliferative effects of honey
Decreases cell viability
T24, 253 J, RT4, MBT-2
Pure unfractionated (Tokyo)
[32]
MCF-7, PC3, ishikawa
Thyme (Greece)
[41]
MDA-MB-231, MCF-7, HeLa
Tualang (Malaysia)
[37]
Inhibits cell proliferation
MCF-7, B16.F1, CT26
Manuka UMF 10+ (New Zealand)
[35]
HOS (CRL-1543)
Tualang (Malaysia)
[36]
OSCC (CRL-1623)
Tualang (Malaysia)
[36]
K562, MV4-11
Tualang (Malaysia)
[38]
HepG2
Gelam (Malaysia)
[40]
HT29
Gelam and Nenas (Malaysia)
[43]
B16-F1, A375
Acacia (Unspecified)
[34]
PC3
Acacia (Pakistan)
[45]
Apoptotic properties of honey
Induces apoptosis
ACHN
Multifloral (Iran)
[72]
T24
Pure unfractionated (Tokyo)
[32]
HCT-15, HT-29
Pure unfractionated (India)
[74]
Induces apoptosis via ROS-independent pathway
HL-60
Heather, rosemary and polyfloral (Spain)
[71]
Induces apoptosis via mitochondrial membrane depolarisation
MDA-MB-231, MCF-7, HeLa
Tualang (Malaysia)
[37]
Increases caspase expression or activation
B16.F1, MCF-7, CT26
Manuka UMF 10+ (New Zealand)
[35]
MDA-MB-231, MCF-7, HeLa
Tualang (Malaysia)
[37]
HCT-15, HT-29
Pure unfractionated (India)
[74]
HT29
Gelam (Malaysia)
[64]
Increases expression of pro apoptotic proteins
HCT-15, HT-29
Pure unfractionated (India)
[74]
Decreases expression of anti-apoptotic proteins
B16.F1, MCF-7, CT26
Manuka UMF 10+ (New Zealand)
[35]
HCT-15, HT-29
Pure unfractionated (India)
[74]
HepG2, 5637
Astragalus (Iran)
[75]
Growth factor modulation by honey
Downregulation of RAS/ERK and PI3K/Akt signalling
HT29
Gelam (Malaysia)
[64]
Anti-inflammatory and immune-modulatory effects of honey
Reduce activation of NF-κB and MAPK
HIT-T15
Gelam (Malaysia)
[106]
Reduces expression of pro-inflammatory cytokines
HIT-T15
Gelam (Malaysia)
[107]
Inhibits expression of IL-8
WiDr
Monofloral (D. longan, L. chinensis, C. maxima and A. formosana) and one multifloral honey (Taiwan)
[116]
Increases expression of proinflamatory cytokines IL-1β, Il-6, TNF-α
MM6
Manuka, Pasture (New Zealand) and Jelly bush (Australia)
[120]
Anti-angiogenic effects of honey
Inhibits extracellular protease and gelatinase activity
HepG2
Unspecified (Saudi Arabia and Egypt)
[129]
Anti-invasive effects of honey
Decreases MMP-2 and MMP-9 activity
U87MG
Buckwheat, Multifloral light, Willow and Multifloral dark (Poland)
[138]
HT29
Gelam (Malaysia)
[64]

Table 2. The in vivo effects of a variety of hone types on a range of cancer models, including human studies investigating the effects of honey on biomarkers of inflammation.
Table 2. The in vivo effects of a variety of hone types on a range of cancer models, including human studies investigating the effects of honey on biomarkers of inflammation.
In Vivo Effects of Honey
Animal Model
Honey Type
Reference
Apoptotic effects of honey
Tumour growth inhibition
MBT-2 Mouse bladder tumour (C3H/He mice)
Pure unfractionated (Tokyo) (IL, Oral)
[32]
Syngeneic mouse melanoma model (C57BL/6 mice)
Manuka UMF 10+ (IV)
[35]
Lewis Lung Carcinoma/2 (C57BL/6 mice)
Jungle (Nigeria) (IP)
[119]
Increases expression of Bax, inhibits expression of Bcl-2, Increases Bax/Bcl-2 ratio
Walker 256 carcinoma (Wistar rats)
Unspecified (Oral)
[73]
Anti-inflammatory effects of honey
Reduces swelling and oedema with decreased PGE2 levels
Rat paw oedema model (Sprague Dawley rats)
Gelam (Malaysia) (IP)
[112]
Increases macrophage phagocytic activity, activates T-cells
Ehrlich ascites tumour (Swiss albino mince)
Bee honey (Oral)
[117]
IL-1β induced neutrophil activation. Increased ROS
Lewis Lung Carcinoma/2 (C57BL/6 mice)
Jungle (Nigeria) (IP)
[119]
Anti-angiogenic effects of Honey
Reduces tumour growth, increases the number of apoptotic cells. Reduces VEGF, decreases vasculature around the tumour
DMBA-induced breast cancer (Sprague-Dawley rats)
Tualang (Malaysis)
[127]
Anti-invasive effects of Honey
Antimetastatic effects when used preventatively
Mammary carcinoma (CBA mice)
Methylcholanthrene-induced fibrosarcoma (CBA mice)
Anaplastic colon adenocarcinoma (Y59 rats)
Wildflower (Croatia)
[134]
Human Studies
Inflammation
Reduces CRP
Eight subjects
Natural honey
[109]
Reduces PGE2
Twelve subjects
Natural unprocessed honey
[110]
Increases peripheral blood monocyte, lymphocyte and eosinophil count
Ten subjects
Natural honey
[118]
IV, intravenous injection; IP, intraperitoneal injection; IL, intralesional injection.
© 2016 by the authors; licensee MDPI, Basel, Switzerland. This article is an open access article distributed under the terms and conditions of the Creative Commons Attribution (CC-BY) license (http://creativecommons.org/licenses/by/4.0/).