Open Access This article is
freely available
re-usable
Article
Worldview Analysis in a Comparative Context: Fishing for Data in Muddy Waters
Department for the Study of Religions and Environmental Program, Wake Forest University, 3400 Wake Forest Drive, Winston-Salem, NC 27109, USA
Received: 20 June 2018 / Accepted: 22 August 2018 / Published: 3 September 2018
Abstract
:
Drawing on the five-fold revision of the concept of "worldview" offered by the issue editors, I investigate whether some nonreligious modes of cultural production might be profitably investigated using such a typology. In my comparative study of religious and secular sustainability-oriented social movements I offered skeletal definitions of the categories "religion" and "sustainability," and suggested ways in which public deployments of such terms might offer fertile ground for collaboration between individuals and groups with different value sets. In more recent work among particular rock music and festival scenes, I have found it necessary to offer a dramatically different understanding of the category "religion." In a sort of thought experiment, I imagine whether the revised concept of "worldview" might be applicable, and indeed whether it offers some advantage over the category "religion." My conclusions are that in general, in some cases the category of worldview may have some advantages, but it may also gloss over or ignore important cultural contestations over terms such as religion, and at best underplay important affective activators of belonging and identity. The notion of "ways of life," or "lifeways" may offer a term which avoids some ethnocentric impositions, but would require greater elaboration to be broadly useful to ethnographers.
Keywords:
worldview; religion; sustainability; jam band
Turn atoms into rain and stone
She dissolves into the light

—Widespread Panic, "Fishing"

1
1. Religious vs. Nonreligious: What Is at Stake?
The small enclosure was completely enveloped in blankets and sheets of black plastic to ensure that no light could get into the room, and those gathered sat quietly as the ceremony began. All of those present had purified themselves in the sweat lodge, and the
lawonpi
ritual was initiated by the elder, accompanied by several other important community members, drumming rhythmically with him and singing.
2
The elder's voice was audible above the others, first calling, and then conferring with the spirits. The old man wielded a rattle filled with phosphorous, which when it shook generated sharp flashes against the consuming blackness. Then the flashes grew more erratic, first on one side of the room, and quite suddenly appearing on the other side, puzzling many present since the old man could only walk with the assistance of two canes. The elder's later explanation was that at those moments, the rattle was being played by the spirits. Afterward, some participants reported seeing bodily apparitions in the darkened room. One participant reported her terminal cancer went into remission after the ceremony. What accounts for these perceptions of spirit beings, or the healing benefits of such ceremonies?
This is a form of cultural expression that few would deny is religious. But take for example this description of a concert event by the performance artist the Polish Ambassador, that most people would not consider explicitly religious, but which has religion-resembling dimensions and is formative of normative modes of fellow-feeling:
At Beloved Festival this past Sunday, the stage crew brought my performance table out into the center of the dance floor.

3
For an hour and a half friends, family, and extended tribe made their way around the table and dance floor: smiles beaming, hearts bursting open, tears welling up, people dancing their prayers.
It felt more real, more connected than any performance I've ever played. Fully immersed in the crowd. Fully tapped into the collective movement and consciousness that was that dance floor. It felt like a ceremony, a hive mind movement meditation with a continuous exchange of giving and receiving, both ways by audience and performer. For me, there was no clear separation.
At the end of my set, a flood of tears spilled forth. If I were to put that into words it would go something like this.
I was fully seen, and fully loved by the people surrounding me. There was no part of me that could hide and it felt so good, so real, so healing, and so connected. I beamed unlimited gratitude right back at the people surrounding me, flooding me with love, and it all erupted in tears of joy.
The description includes explicit reference to religious elements (i.e., "dancing their prayers") but in a context that would typically be considered secular—a music festival. Certainly there are differences between these instances, but both obviously have what many might refer to as religious dimensions. The co-editors of this special issue have attempted to dodge some of the problems inherent in defining religions in a way that captures such diverse modes of cultural production by employing a definition of "worldviews" or "ways of life" rather than religion, which may extend even to nonreligious cultural formations. Indeed, part of the problem is that such modes of cultural production are often imagined as quasi- or parareligious, which privileges a certain kind of experience as authentically "religious," and others only analogically so.
Both of the cases above implicate affectively-oriented psychological and physiological processes. But tracking the religious dimensions of these movements and putting an analytical finger on them is rather like nailing Jell-O to the wall. The Hindu goddess of illusion invoked in the epigraph, Maya, paired with the practice of fishing, may be an apt metaphor for ethnographic work. Ethnographers plumb for data, but their findings are neither purely a product of their construction, nor are they "authentic" renderings of particular cultural groups. What comes out of the water depends upon the bait you use, and also on which groups (and within those groups which individuals) choose to bite.
In what follows I offer a framework for how we might pursue such a task, fishing for data in a sea of cultural production, much of which is only transiently, or implicitly religious. Specifically, first, I will review my fieldwork among sustainability-oriented social movements, as well as more recent ethnographic work detailing the religious dimensions of social movements commonly referred to as "jambands"—improvisational rock music and festival cultures. To provide a thought experiment drawn from the editors' intention to resuscitate worldviews and ways of life as analytical categories, I ruminate on whether such a typology could provide explanatory power related to the subcultures I have researched.
I found that in some cases, for instance the sustainability-oriented movements recounted below, the concept of worldviews might provide a sort of template for comparing social groups who hold disparate value sets and ways of enacting their identities. Yet, the concept of worldviews proves more problematic if applied to the social movements related to certain music subcultures. It is possible that the term "ways of life" might prove more useful in analyzing such groups. But as I detail below, it requires some elaboration on the differing scales of the communities which provide significant identity foci for individuals. With a few exceptions, religious studies scholars have not adequately attended to the ways in which most people are bricoleurs, cobbling together multiple modes of religious belonging which are highly individualized, but which still promote certain forms of community identity (
Taylor 2002
;
Johnston and Taylor 2016
;
Harvey 2013
), and perhaps this is a starting point for clarifying terminology.
2. The Religious Dimensions of Nonreligious Phenomena
3. The Religious Dimensions of Sustainability-Oriented Movements, and the Therapeutic Value of Worldview Analysis
A major benefit of the worldviews rubric is that it allows researchers to discern how and why different groups perceive the importance of the various elements. The operative question here, then, is whether there is some benefit to deploying the term "worldviews," as opposed to imagining "religion" as having the same elements (or perhaps more).
4. The Emergence of the Jamband Scene
Even if the term "jamband" came into usage in the 1990s, the roots of such scenes are traceable to forms of cultural experimentation in the mid- to late 1960s. The acclaimed author Ken Kesey and his co-conspirators, who dubbed themselves the Merry Pranksters, engineered new modes of cultural production which flaunted social mores, but also moved away from radical leftist movements in the Bay Area in the 1960s. They adopted a relatively anarchistic back-to-the-land ethos, and a form of interbeing and fellow-feeling grounded in social and musical experimentation. The Acid Tests were the driving force behind this transition: "one of those outrages, one of those scandals, that create a new style or a new world view," as the popular author Tom Wolfe put it (Wolfe 1968, p. 250).
5. Ethnographic and Survey Data
There is a robust literature on the emergence of these movements, and specifically the centrality of music scenes to their development. Social scientists and humanities scholars have examined the social, economic, and spiritual dimensions of these movements for decades, with the Grateful Dead receiving the most scholarly attention (
Adams and Sardiello 2000
;
specifically Sutton 2000
;
Hartley 2000
;
Richardson 2015
). Other scholars have expanded such rumination to other musical forms, such as psy-trance, electronic music, and to the religious dimensions of festival scenes (
St. John 2008
,
2010
,
2012
;
Gilmore 2010
), but the contemporary manifestations of the jamband scene have been relatively under-examined (for exceptions see
Szatmary [1987] 2007, pp. 145–201
;
Till 2010
).
My first jamband show was in 1994, and in the intervening 24 years I have participated in hundreds of shows and festivals which informed this research. I first began collecting ethnographic data in 2005 as I began to formulate research questions. Formal in-depth interviews of movement intellectuals and contributors, along with deployment of the survey instrument began in 2013.
17
I pre-tested two versions of the survey instrument in 2013 and 2014, and finalized the survey in the summer of 2014. From 2014 to 2015 I distributed the survey electronically through various social media outlets related to specific bands and their fans, and also distributed some paper surveys at concerts and festivals.
18
The short narrative about the artist the Polish Ambassador above recalled that "friends, family, and extended tribe made their way around the table and dance floor: smiles beaming, hearts bursting open, tears welling up, people dancing their prayers." This sort of highly affective description is not unusual among the individuals and groups I have encountered. This data illustrated a few important facts: (1) jamband fans self-report relatively high levels of environmental and social awareness; (2) such awareness is grounded in either cosmological, biological, or interpersonal metaphors of relationality; (3) most of those in this cohort consider themselves to be spiritual but not religious; and (4) there are significant numbers of this subculture who connect this music and the festival scenes with which it is associated with their spirituality. A large majority of the sample population were raised in what they perceived to be Christian homes, and yet significant proportions of them no longer considered themselves to be religious. Moreover, large proportions of those who no longer considered themselves to be religious often found spiritual fulfillment or lessons within the jamband scene. These findings indicate that there are significant, if under scrutinized, cosmophilic, biophilic affinities related to Darwinian understandings of evolutionary kinship, and to close and intense interpersonal exchange in these groups, which are cast in spiritualized terms and tropes. Questions remain about whether this is correlated with the numbers of (particularly younger) people who are disaffected from traditional religions. But it does indicate that some are seeking atypical modes of meaning making, and are in some cases actively resisted, by traditional sources of religious authority.
19
Such experiences were often discussed in terms that the anthropologist Michael
Winkleman
(
2009
) referred to as "integrative" modes of consciousness, where participants may attribute such integration to cosmological, biophysical, or social (interpersonal) connections. When asked whether they grew up in a religious home, a spiritual home, or neither, 61% of the respondents reported that they grew up in a religious home, close to 11% reported that they grew up in a household that was "spiritual," while 28% (in the USA, slightly more than the general populace) reported that they grew up in neither a religious or spiritual home. Of those who reported that they grew up in a religious home, an overwhelming majority reported having a Christian upbringing (92%), with those raised in Jewish households making up the second largest category (9%).
20
When asked whether they were religious, spiritual, or neither today, only about 17% of respondents reported being religious, while 56% reported identifying as spiritual, and 27% reported no affiliation or affinity with religion or spirituality (
n
= 639). In particular, 53% of those who identified as growing up Christian now identify as "spiritual," and not identified with Christianity.
One responded reported that "my religion is music," while another stated that they were "less church driven, more belief in a higher power." This phenomena was also evident in the ethnographic data collection: this sample contained a tremendous number of people who were once religious (mostly Christian), and who found spiritual fulfillment elsewhere. As one respondent put it, "the way I was raised and the way I am now are two things. Was raised Christian but never went to church. I now find spirituality in nature." Or as another said, "We went to many different churches growing up. None of them stuck. Now I consider myself 'going to church' when I'm hiking in the woods, paddling my kayak, swimming in the ocean or dancing under the stars!" Expressing a sort of cosmophilic sentiment, one opined that "[was] raised Methodist, [but I] don't believe in organized religion as a force for good, [I] adopt a Buddhist viewpoint of the world but consider it a philosophy[.] I don't believe in belief."
Tellingly, only 2% of respondents reported that the jamband scene informs their religious orientation. Meanwhile, a significant number, 45% of survey participants, suggested that the jamband scene informs their spiritual orientation. Many (approximately 38%) indicated that the jamband scene and their religious or spiritual sensibilities were not related at all, but significant proportions of the respondents reported such a relation. Moreover, approximately one quarter (26%) of the respondents reported that they belonged to or support an environmental organization (
n
= 698). Much more significant numbers, however (88%), reported a perception that jamband fans were environmentally aware or conscious (
n
= 711).
Spiritual tropes are nearly always couched in some sort of relationality. One way such it may manifest is in what I have elsewhere (
Johnston 2010
) referred to as a sense of
cosmophilia
—a perception that one is connected to some universal force or purpose (although perceptions of whether such forces are personal or impersonal may vary). Or, it may manifest in articulations of interconnectedness to other-than-human creatures, or even places which are imagined as having significance (Noel 2004). Finally, there may be an important interpersonal dimension, which focuses on the construction of human communities through participation in such festival scenes. It is important to note that among participants in the scene, there is often some overlap in these three modes of relationality. Although much research in the human sciences is premised on the assumption that humans are bounded, discreet, cost–benefit calculating individuals, in reality humans are radically relational, trafficking in communities from the local to the global, and from the interpersonal to the cosmological. These are what I have called "communities of accountability"—the various communities at different scales to which people are beholden to various degrees.
To illustrate I ruminate on whether such cosmophilic articulations, or biologically- and interpersonally-oriented modes of belongingness are parallel with, or could be fruitfully analyzed through the five-fold definition of worldviews. To unpack responses that indicated some sort of cosmophilic affinities, when asked about their religious and spiritual lives, one respondent reported that "[I] believe in nature," while another reported that "[I] now find my spirituality in nature." One respondent noted that "Spirituality absolutely came to me through my interactions with nature, with people, and most definitely through the jam band scene and also mind-altering substances. I believe in the universe and energies… I've experienced it." This illustrates both a "belief" in cosmic energies or forces, but also evidences the ways in which they are often entangled with the biological and interpersonal categories that I have offered here. With a similar sentiment, another respondent reported that "we are all one energy in the universe. We have trouble with that concept due to our human form. Matter cannot be created nor destroyed, it only changes forms so the energy remaining in our bodies when we die must change forms back to our spirit/soul and return to the cosmos. Karma is most definitely real and the spirit moves thru [sic] all things and sees all things so be good and stay human."
These are representative statements that roughly articulate or approximate many of my interlocutors' perceptions. Others commented: "I don't believe in structured religion. I believe in a higher power…Mother Nature controls the universe"; and "religion can be a comfort to some, although it predominantly separates us from one another…spirituality is a oneness with one another, the earth, the universe, and all that is included within." Another wrote, "Now I believe in the power of the universe around us." Recently, the band Phish played 13 days at Madison Square Garden, an experience that was billed as the "Baker's Dozen," with each night correlated with a specific type of donut—a sort of theme for the evening. Several new cover songs related to each night's theme donut were debuted. On one of the nights, the guitarist (Trey Anastasio) and bassist (Mike Gordon) sat down in chairs and staged a conversation based on a 2003 article about astrophysics (
Overbye 2003
), in which the author recounted theoretical work which suggested that the topography of the universe may well be like a donut, in astrophysical terms, finite, but unbounded. Clearly, such antics are meant to reverse the often-presumed seriousness of religion, to "play" with the received categories in ways that are fun, but which also challenge the ways in which cosmologies inform moral sensibilities. References to this event are, at this writing, still ubiquitous on fan boards and social media sites.
To attempt some assessment of the range of ethical perceptions of the non-human world (from anthropocentric to eco-centric), I adapted some of the criteria developed by the ecologist Stephen Kellert (
Kellert and Wilson 1993
) to explore the biologist Edward O. Wilson's biophilia hypothesis (Wilson 1984).
21
Large proportions of the sample (
n
= 695) assented to the phrase "The environment can be used for human benefit, but humans also have responsibility to protect and care for it" (73%). This is a somewhat anthropocentric perspective, but also indicates some sort of altruism toward the natural world. Two statements referred to some aesthetic value of nature, which may of course manifest in either anthropocentric or more biocentric orientations. For instance 75% resonated with the statement that: "For me nature has physical appeal, or is considered beautiful," and 62% with the idea that "The natural world is valuable because I derive some satisfaction from direct experience/contact with nature."
The most strongly Darwinian perspective included in the typology received relatively strong support: "The natural world is important as a subject of scientific study; understanding the structure, function and relationships in nature are valuable" (nearly 70%). Two additional statements cluster as strongly biophilic sensibilities, and also indicate that significant numbers of participants do consider nature to have spiritual and/or ethical significance. The first, "I have a strong affinity, spiritual reverence, or ethical concern for nature" (58%), the second, "The natural world is valuable because I have strong emotional attachment, or 'love' for it" (56%) both received strong support.
There is one category which is clearly bio- or eco-centric in its ethical orientation: "There is no such thing as an "environment" separate from humans—human and environmental well-being are one," to which 25% of respondents assented. It received somewhat less support than the others, but that fully one quarter of participants assented to such a claim is fascinating, and as noted, more research is needed to discern whether it might be correlated with the rising numbers of people who feel disaffected from the institutionalized religions of the world, and seek spiritual fulfillment elsewhere.
22
The social or interpersonal category is the third area in which a spiritually-grounded sense of relationship to others is evidenced. Among my sample, 92% reported that their perception is that jamband fans have a sense of social awareness or conscience (
n
= 728), while around a quarter of them report that they belong to or support a community advocacy, social justice, or social service organization (
n
= 704). One individual who reported that they were spiritual, but not religious, suggested that they "became an adult and realized religion is complete bullshit," and that they find their spiritual fulfillment among the jamband scene. Another reported: "I am a born again non-Christian. I believed in Christ…as a kid, but I've grown into a disbeliever. Now, I consider myself a spiritual person, but it is more along the lines of being interconnected with humanity and the earth." Here, once again, it is possible to note that these categories are not mutually exclusive. The sentiment expressed here, that spiritual sensibilities extend both to special human communities, and to "the earth," indicate that people may express spiritual affinities in multiple ways, and perceive them to be important in multiple communities of accountability.
6. Discussion and a Look Ahead
As a comparative thought experiment, can we arrange the revised elements of a worldview to correspond with the perceptions, behaviors, and predispositions of those in the jamband scene? If so, what would it tell us about the utility of rescuing the worldview concept as an analytical tool?
I have here tried to summarize some of my research and conduct a sort of thought experiment by comparing worldviews based on ethnographic evidence. Discerning individuals' and groups' primary communities of accountability, and their primary normative referents (i.e., are they cosmological, axiological, praxiological, ontological, or epistemological?), may be a productive way to imagine a sort of comparative ethnographic context for scholarly work. In this case, then, the elements of the five-fold typology of a "worldview" may themselves be the data for empirical analysis. But to refer to worldviews as "a complex set of representations related to 'big questions,'" with an eye to study "religion-like" groups, (1) casts worldviews as mental maps (representations); (2) begs the question of what might be the prototype for "religion"; and (3) seems to paper over the always contested cultural terrain in which such definitions take shape. Without further elaboration, it is unclear what such a category might offer to ethnographers that succeeds in ways that explicit heuristic definitions of religion cannot.
Acknowledgments
I am grateful to Robin Globus Veldman and Bernard D. Zaleha, who offered helpful comments on the first drafts of this paper. The research related to jambands also benefitted from funds provided by the Ollen R. Nalley Family Faculty Fellowship, and the Wake Forest Center for Energy, Environment, and Sustainability (CEES).
Conflicts of Interest
The author declares no conflicts of interest.
This epigraph is drawn from the lyric of a song penned by one of the jambands discussed below.

I was present at this event, which is a traditional shamanic ceremony, and in this case was led by a Lakota elder named Floyd "Looks for Buffalo" Hand, who claims to be a full-blooded Oglala Lakota grandson of Big Foot (whose posthumous portrait is the most remembered scene from the massacre at Wounded Knee), and the product of the first planned marriage of the Red Cloud and Crazy Horse Bands (

Hand 1998

). His birth was supposedly prophesied by previous healers, although like many indigenous leaders today who combine indigenous religions and the Christian traditions that were forced upon them, he has his share of critics. The point here is not to defend him, but rather to note that these ceremonies have deep evolutionary roots, and that for many, they work.

This was posted on his artist Facebook page on 12 August 2014.

The anthropologist Jonathan Benthall made another similar, parallel case in his

Returning to Religion

(2008), which proposed a theory of a "religious field" which might run from weak to strong, with those in the strong religious field representing something closer to what Saler would consider a "prototype," while those in the weak religious field were social movements or groups which may not have all the trappings of typical or mainstream religions, but which nonetheless have important religious dimensions or elements.

Chidester

(

2005

) provided a number of examples, from religions meant to parody institutionalized practices, to those which package the worship of money inside extant religious texts and doctrine. Chidester expanded on his book when he discussed Pastafarianism, the religion of the Flying Spaghetti Monster (

see Van Horn and Johnston 2007

) as a respondent to a panel at the American Academy of Religion in 2007.

There were seven case studies in total. Religious organizations included the Northland Church (an evangelical megachurch with approximately 13,000 members), and the Evangelical Environmental Network (EEN). The interfaith cases focused on Interfaith Power and Light (IPL) and the Alliance of Religions and Conservation (ARC). Secular organizations included the Northwest Earth Institute (NWEI), Conservation International (CI), and Natural Capitalism Solutions (NatCap).

Callicott's book is not limited to the world religions, but also includes analysis of indigenous cosmologies and ethics. His survey of environmental ethics "from the Mediterranean Basin to the Australian outback" is cited and affirmed in the Series Foreword for volumes on the World Religions and Ecology, published by Harvard's Center for the Study of World Religions. The volume cited here is the first volume of the series.

For well-known critical histories of such ideas, see Merchant (2008); and Baumann (2014).

Dr. Hunter attributed this quote to Augustine, although I have not been able to ascertain where Augustine might have said this.

I am grateful to Robin Veldman, who pointed out that while it might be relatively simple to pick out the "primary" element for many constituencies, the prioritization of the following elements may demonstrate some variance, or it may be harder to determine causal influences of one element on others.

The H.O.R.D.E. tour was started by the band Blues Traveler, based in the Northeastern U.S. It is important to this story for two reasons: it was the first large-scale festival dedicated specifically to jamband music, and it was one of the first of a new generation of rock music festivals which targeted their marketing products and branding to draw large crowds. The organizers reached out to other groups whose musical styles privileged live performance and improvisation. The other bands who joined them on the tour included Colonel Bruce's Aquarium Rescue Unit, Widespread Panic, Phish, and the Spin Doctors. The lineup shifted over the life of the festival.

Here Connors splits the word into "jam bands," another common rendering. I preserved his spelling here, but utilize Budnick's spelling throughout the article outside of quotations.

These events typically included live music, but also experimentation with sound and light. During the acid tests, microphones were placed in random places around the room to pick up sounds and conversation and broadcast them into the venue, and tape loops were created and recycled.

Glock and the sociologist Robert Bellah organized a large-scale study, putting their graduate students to work exploring the contours of this new consciousness in the Bay Area. Bellah was a professor at the University of California, Berkeley, while Glock taught at the nearby Graduate Theological Union (GTU).

Stewart Brand, who was one of the Merry Pranksters, also started the Whole Earth Catalog (

http://www.wholeearth.com/history-whole-earth-catalog.php

, accessed on 27 August 2018), a well-known publication which was essentially about getting back to the land and getting off the grid, much of what would today fall under the umbrella of the Lifestyles of Health and Sustainability (LOHAS) marketing paradigm (see

Emerich 2014

).

The study was filed with the IRB office at Wake Forest University (WFU IRB: 00021450). This was not a representative sample: respondents were not randomly selected, but rather self-selected to complete the surveys from a good cross-section of the scene's most important bands. Respondents were not required to complete all questions to participate in the survey, thus the different subject numbers for different questions. The online dissemination is necessarily somewhat restrictive. I gathered ethnographic data from respondents/fans who favored bands from the Southeastern U.S., the Northeastern U.S., and from the West Coast, the areas in which the jamband scene is most active.

Distributing surveys in person at festival events presented significant challenges. First, because illicit drugs and often alcohol are for many participants important elements of the scene, some lacked either the attention span or the desire to engage in extended conversation, or fill out a survey. Second, because of the sometimes heavy use of entheogens, alcohol, and other psychotropic substances, there are typically both uniformed and undercover law enforcement officials present, and thus a natural suspicion of divulging what some perceive is personal information (even if there was no identifying information on the survey). Online surveys were distributed through social media sites and official sites related to some of the most well-known contemporary bands in the scene, such as Phish, Widespread Panic, The Allman Brothers, and Gov't Mule. Ethnographic data was collected at many specific concert events, primary in the Southeastern US, and at select festivals, such as Lock'n (Arrington, VA), and Outside Lands (San Francisco, CA).

For instance, organizations such as the Cornwall Alliance, and Answers in Genesis seek to cast moralistic affinities for the universe, and other-than-human creatures as potentially pernicious animistic or pagan sentiments, and generate advertising campaigns and curricular materials to resist what they perceive is a dangerous secular movement.

The respondents did differentiate between Catholic or Protestant in orientation. Such nuances are important, but perhaps not to the case that I wish to make here.

Simply put, the biophilia hypothesis suggests that all life exhibits certain affinities for other carbon-based life. I conducted a pilot study utilizing Kellert's typology at the University of Florida in 2005, which informed this usage.

Indeed, such distinctions might also require rumination on the emergence of "leisure" among late capitalist societies, and how it relates to spiritual experience, practice, and doctrine (see

Turner 1982

;

St. John 2008

).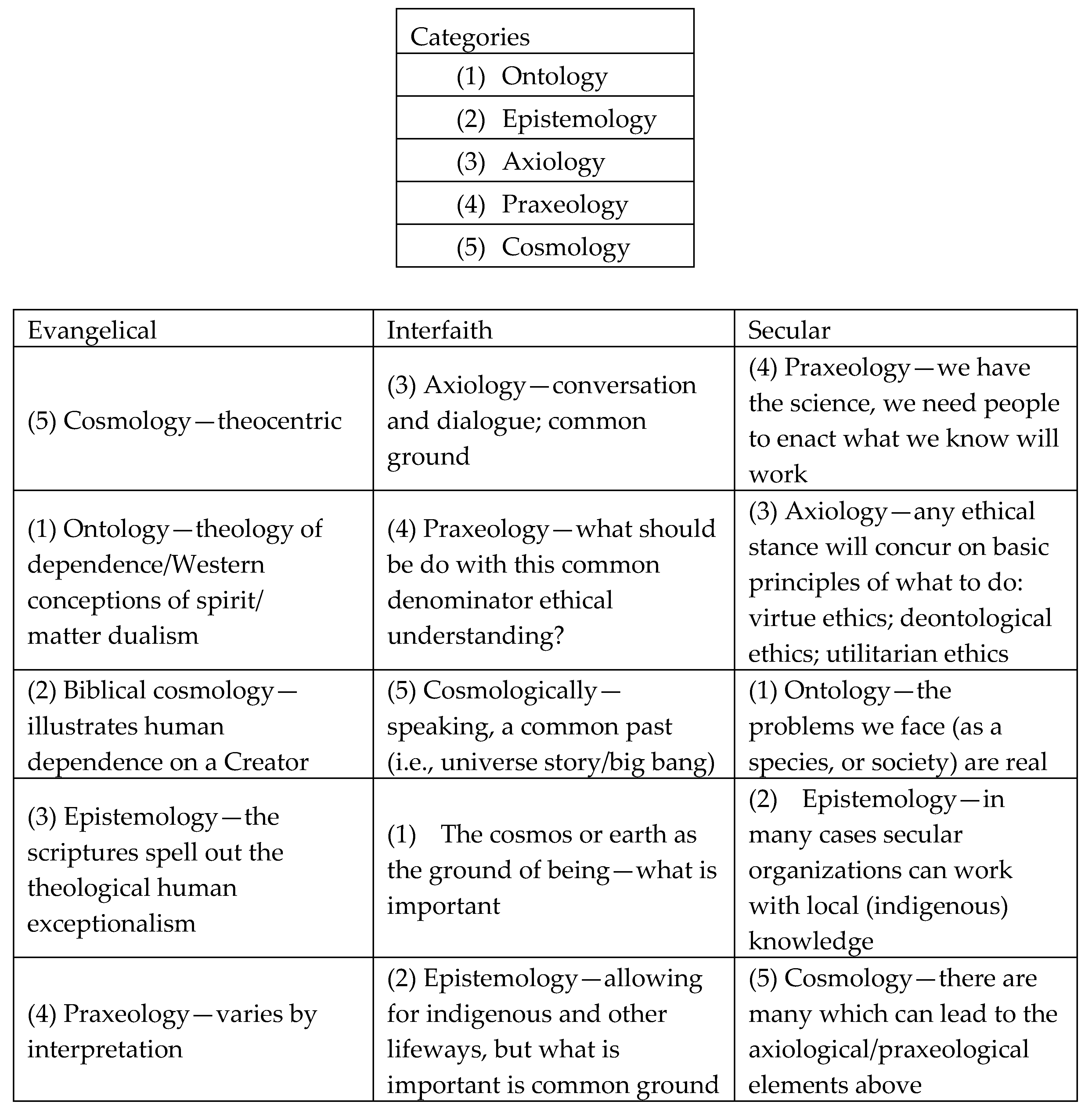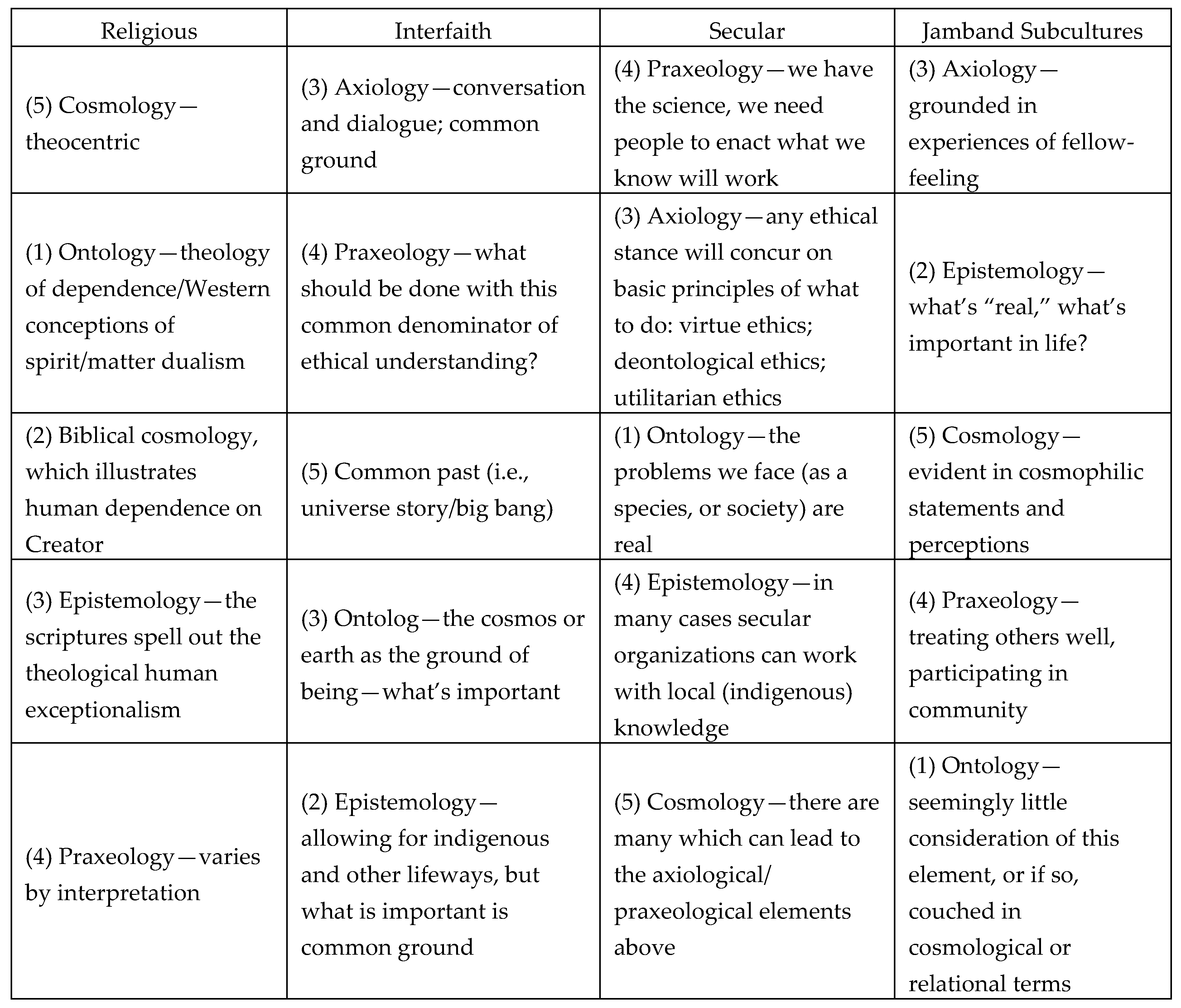 © 2018 by the author. Licensee MDPI, Basel, Switzerland. This article is an open access article distributed under the terms and conditions of the Creative Commons Attribution (CC BY) license (http://creativecommons.org/licenses/by/4.0/).