Testing the Effects of DL-Alpha-Tocopherol Supplementation on Oxidative Damage, Total Antioxidant Protection and the Sex-Specific Responses of Reproductive Effort and Lifespan to Dietary Manipulation in Australian Field Crickets (
Teleogryllus commodus

)

1

Max Planck Research Group, Laboratory of Survival and Longevity, Max Planck Institute for Demographic Research Konrad-Zuse-Str. 1, 18057 Rostock, Germany

2

MaxNetAging School, Max Planck Institute for Demographic Research, Konrad-Zuse-Straße 1, 18057 Rostock, Germany

3

Centre for Ecology and Conservation, College of Life and Environmental Sciences, University of Exeter, Tremough Campus, Cornwall TR10 9FE, UK

4

Leiden University Medical Center, Postzone S4-P, P.O. Box 9600, 2300 RC Leiden, The Netherlands

5

Institute of Biodiversity, Animal Health and Comparative Medicine, College of Medical, Veterinary & Life Sciences, Graham Kerr Building, University of Glasgow, Glasgow G12 8QQ, UK

*

Author to whom correspondence should be addressed.

Academic Editor: Adam Salmon

Received: 22 September 2015 / Revised: 16 November 2015 / Accepted: 18 November 2015 / Published: 4 December 2015
Abstract
The oxidative stress theory predicts that the accumulation of oxidative damage causes aging. More generally, oxidative damage could be a cost of reproduction that reduces survival. Both of these hypotheses have mixed empirical support. To better understand the life-history consequences of oxidative damage, we fed male and female Australian field crickets (
Teleogryllus commodus
) four diets differing in their protein and carbohydrate content, which have sex-specific effects on reproductive effort and lifespan. We supplemented half of these crickets with the vitamin E isoform DL-alpha-tocopherol and measured the effects of nutrient intake on lifespan, reproduction, oxidative damage and antioxidant protection. We found a clear trade-off between reproductive effort and lifespan in females but not in males. In direct contrast to the oxidative stress theory, crickets fed diets that improved their lifespan had high levels of oxidative damage to proteins. Supplementation with DL-alpha-tocopherol did not significantly improve lifespan or reproductive effort. However, males fed diets that increased their reproductive investment experienced high oxidative damage to proteins. While this suggests that male reproductive effort could elevate oxidative damage, this was not associated with reduced male survival. Overall, these results provide little evidence that oxidative damage plays a central role in mediating life-history trade-offs in
T. commodus
.
View Full-Text
►

▼

Figures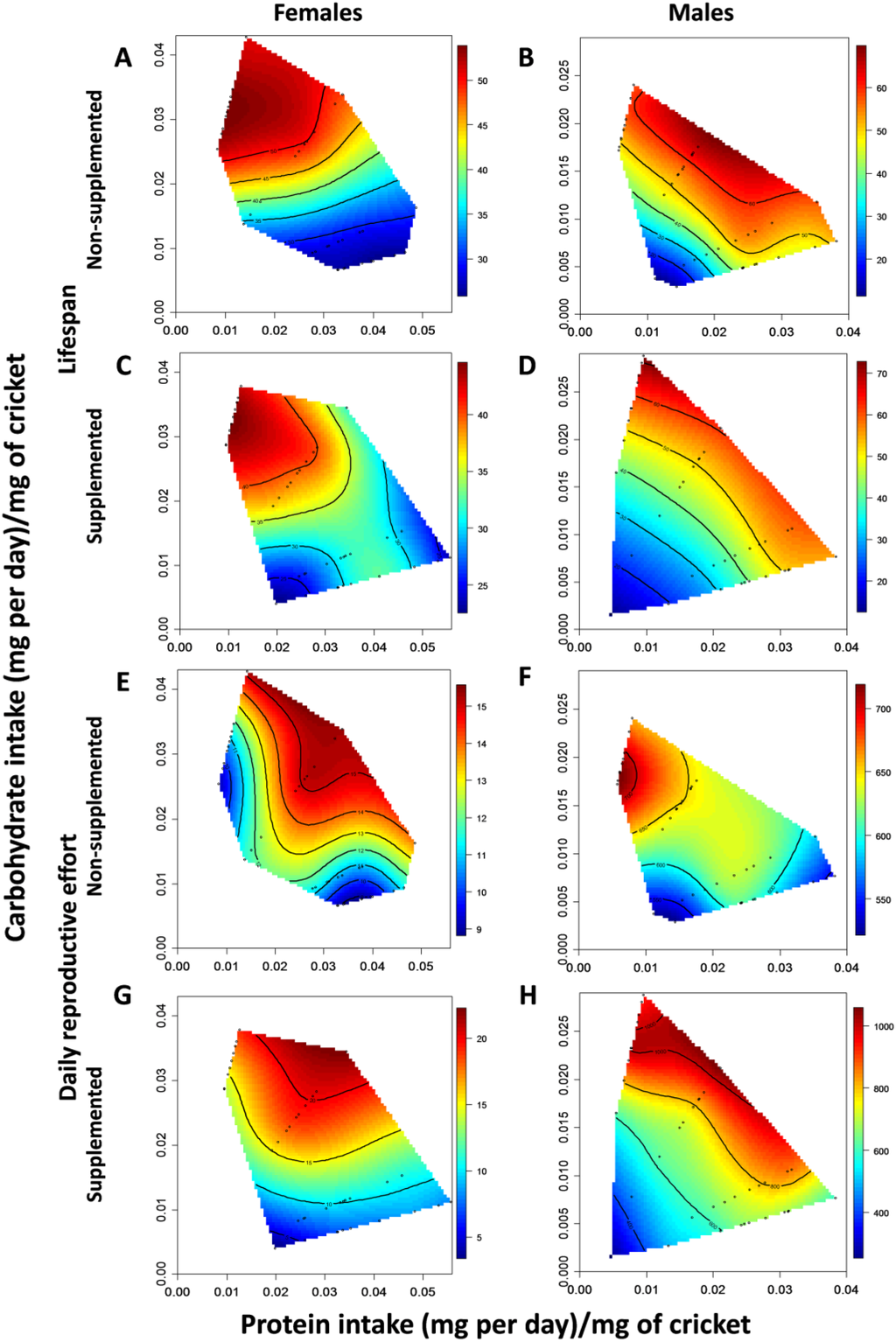 Figure 1
This is an open access article distributed under the
Creative Commons Attribution License
which permits unrestricted use, distribution, and reproduction in any medium, provided the original work is properly cited (CC BY 4.0).

Share & Cite This Article
MDPI and ACS Style
Archer, C.R.; Hempenstall, S.; Royle, N.J.; Selman, C.; Willis, S.; Rapkin, J.; Blount, J.D.; Hunt, J. Testing the Effects of DL-Alpha-Tocopherol Supplementation on Oxidative Damage, Total Antioxidant Protection and the Sex-Specific Responses of Reproductive Effort and Lifespan to Dietary Manipulation in Australian Field Crickets (Teleogryllus commodus). Antioxidants 2015, 4, 768-792.
Related Articles
Comments
[Return to top]