Estimation of Vs Structure of Krueng Aceh and its Suburb Basin of Aceh Province, Indonesia, Derived from Microtremor Measurements
1
Geophysical Engineering Department, Universitas Syiah Kuala, Darussalam-Banda Aceh 23111, Indonesia
2
Geological Engineering Department, Universitas Syiah Kuala, Darussalam-Banda Aceh 23111, Indonesia
3
Chi-ken Sogo Consultant; Tokyo 116-0013, Japan
4
National Institute of Technology, Nagano College; Nagano City 381-8550, Japan
5
Sumiko Resources Exploration & Development; Tokyo 103-6305, Japan
6
CTI Engineering; Tokyo 103-8430, Japan
*
Author to whom correspondence should be addressed.
Received: 25 February 2019 / Revised: 2 April 2019 / Accepted: 16 April 2019 / Published: 22 April 2019
Abstract
The Aceh and Seulimeum Faults flank the Krueng Aceh Basin in Indonesia, and the shear-wave velocity (Vs) structure of the basin is not extensively available. Understanding the Vs structure is very important in order to figure out how the basin structures seemingly appear, and this can eventually be used to generate a microzonation map for other forthcoming studies. To provide this, Vs was measured over an area approximately covering Banda Aceh City and its surroundings, by setting two lines consisting of eight points projected in the NW–SE and SW–NE orientations. This research aims to facilitate the approximation of the Vs structure characteristics of the Krueng Aceh Basin using the microtremor array method (MAM). Triangular configurations were set by deploying four seismometers following an M-station geometry for three different array sizes (i.e., 3, 10, and 30 m in distance). The data were then processed by utilizing the spatial autocorrelation (SPAC) technique. The result shows that the Vs structure generally dips down from SE to NW, and it gradually declines from SW to NE. The combination of these Vs structures tends to be oblique toward the SW–NE direction. This form may be affected by the Aceh Segment Fault which is more active than the Seulimeum Segment Fault. The average maximum penetration depth and Vs are 603 m and 947.5 m/s in the SE–NW orientation, and 650 m and 958 m/s in the SW–NE direction. Generally, the thickness of the strata is greater in the upstream area compared to the downstream area. Their composition consists of alluvium (A) at the uppermost layer and diluvium (D) at the underlying layers. Then, all of the identified strata are aged from the Pleistocene to Tertiary Pleistocene (Tp). These characteristics of the strata could potentially cause surface damages as a result of site effect responses when an earthquake is occurring.
View Full-Text
►

▼

Figures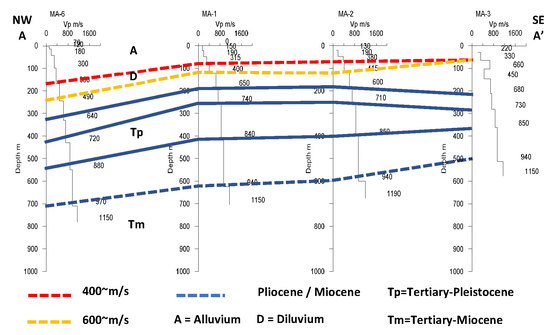 Graphical abstract
This is an open access article distributed under the
Creative Commons Attribution License
which permits unrestricted use, distribution, and reproduction in any medium, provided the original work is properly cited (CC BY 4.0).

Share & Cite This Article
MDPI and ACS Style
Asrillah, A.; Marwan, M.; Muksin, U.; Ibnu, R.; Takao, S.; Yoshinori, F.; Yuichiro, M.; Chisa, H. Estimation of Vs Structure of Krueng Aceh and its Suburb Basin of Aceh Province, Indonesia, Derived from Microtremor Measurements. Geosciences 2019, 9, 186.
Note that from the first issue of 2016, MDPI journals use article numbers instead of page numbers. See further details here.
Related Articles
Comments
[Return to top]