Tracking the Serpentinite Feet of the Mediterranean Salt Giant
Department of Biological, Geological and Environmental Sciences, University of Catania, Corso Italia 55, I–95129 Catania, Italy
*
Author to whom correspondence should be addressed.
Received: 27 June 2018 / Revised: 4 September 2018 / Accepted: 12 September 2018 / Published: 17 September 2018
Abstract
Interpretation of seismic profiles and results of scientific drillings in the Mediterranean subseafloor provided indication of gigantic salt deposits which rarely crop out on land, such as in Sicily. The salt giants were ascribed to the desiccation, driven by the solar energy, of the entire basin. Nevertheless, the evaporite model hardly explains deep-sea salt deposits. This paper considers a different hypothesis suggesting that seawater reached NaCl saturation during serpentinization of ultramafic rocks. Solid salts and brine pockets were buried within the serpentinite bodies being later (e.g., in the Messinian) released, due to serpentinite breakdown, and discharged at seafloor as hydrothermal heavy brines. Therefore, sea-bottom layers of brine at gypsum and halite saturation were formed. The model is applicable to the Mediterranean area since geophysical data revealed relicts of an aged (hence serpentinized) oceanic lithosphere, of Tethyan affinity, both in its western "Atlantic" extension (Gulf of Cádiz) and in eastern basins, and xenoliths from Hyblean diatremes (Sicily) provided evidence of buried serpentinites in the central area. In addition, the buoyant behavior of muddled serpentinite and salts (and hydrocarbons) gave rise to many composite diapirs throughout the Mediterranean area. Thus, the Mediterranean "salt giant" consists of several independent geobodies of serpentinite and salts.
View Full-Text
►

▼

Figures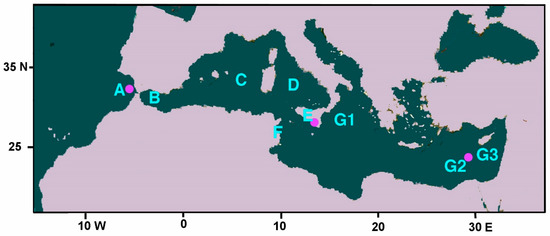 Figure 1
This is an open access article distributed under the
Creative Commons Attribution License
which permits unrestricted use, distribution, and reproduction in any medium, provided the original work is properly cited (CC BY 4.0).

Share & Cite This Article
MDPI and ACS Style
Scribano, V.; Carbone, S.; Manuella, F.C. Tracking the Serpentinite Feet of the Mediterranean Salt Giant. Geosciences 2018, 8, 352.
Note that from the first issue of 2016, MDPI journals use article numbers instead of page numbers. See further details here.
Related Articles
Comments
[Return to top]