Open Access This article is
freely available
re-usable
Article
Unconventional Approach for Prevention of Environmental and Related Social Risks: A Geoethic Mission
1
ISPRA Istituto Superiore Protezione e Ricerca Ambientale, Via V. Brancati 48, 00144 Roma, Italy
2
University of Camerino, Via Gentile Terzo da Varano, 62032 Camerino, Italy
3
University Mediterranea, 89124 Reggio Calabria, Italy
4
Instituto de Geociências—Unicamp, R. João Pandiá Calógeras, 51, Campinas CEP 13083-870, Brazil
*
Authors to whom correspondence should be addressed.
Received: 24 November 2017 / Accepted: 1 February 2018 / Published: 5 February 2018
Abstract
:
Some natural events are considered catastrophic for their damaging effects on society; however, many of these effects are due more to inappropriate management of the environment rather than the event itself. In order to prevent the continuation of the occurrence of such pernicious situations, it is necessary to spread the knowledge of natural mechanisms so that the general public becomes aware of the dynamics that characterize our planet's balance. To this aim, we argue it is indispensable to find, create and test new methods of communication in order to reach a wide audience in an understandable way. We believe in science popularization as an ethic mission: the proposal is dedicated to those Outdoor Sports that take place in the landscape, considered as an ideal vector of information, as people develop curiosity and motivation to learn about natural history. Our study focuses particularly on cycling because of its popularity as well as for its close ties to the environment.
Keywords:
risk; prevention; landscape; communication; sport; ethic
Acknowledgments
The authors wish to thank Sarah Morgan and Alessio Baccarini for the manuscript revision and Michele Lugeri, Nicola Lugeri, and Fabrizio Galluzzo for their participation in the project GeoloGiro.
Author Contributions
Francesca Romana Lugeri conceived and designed the experiments; Francesca Romana Lugeri and Piero Farabollini performed the experiments; Piero Farabollini, Vittorio Amadio and Roberto Greco analyzed the data; Francesca Romana Lugeri and Roberto Greco wrote the paper.
Conflicts of Interest
The authors declare no conflict of interest. The founding sponsors had no role in the design of the study; in the collection, analyses, or interpretation of data; in the writing of the manuscript, and in the decision to publish the results.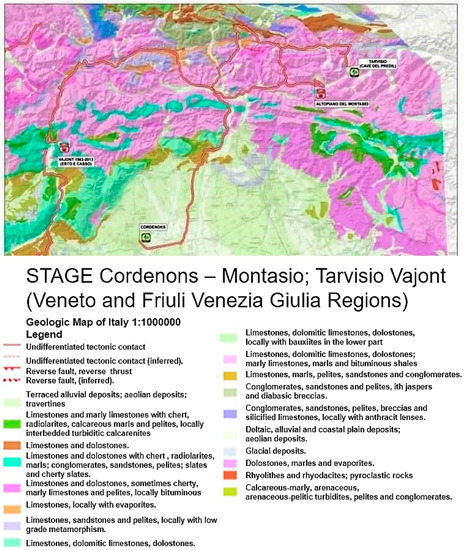 Figure 1. Stages crossing Veneto and Friuli Venezia Giulia Regions (NE of Italy), where the case study is located, represented on the Geologic Map of Italy at the synthetic scale 1:1,000,000. The Vajont site commemorated the landslide tragic event, 50 years later.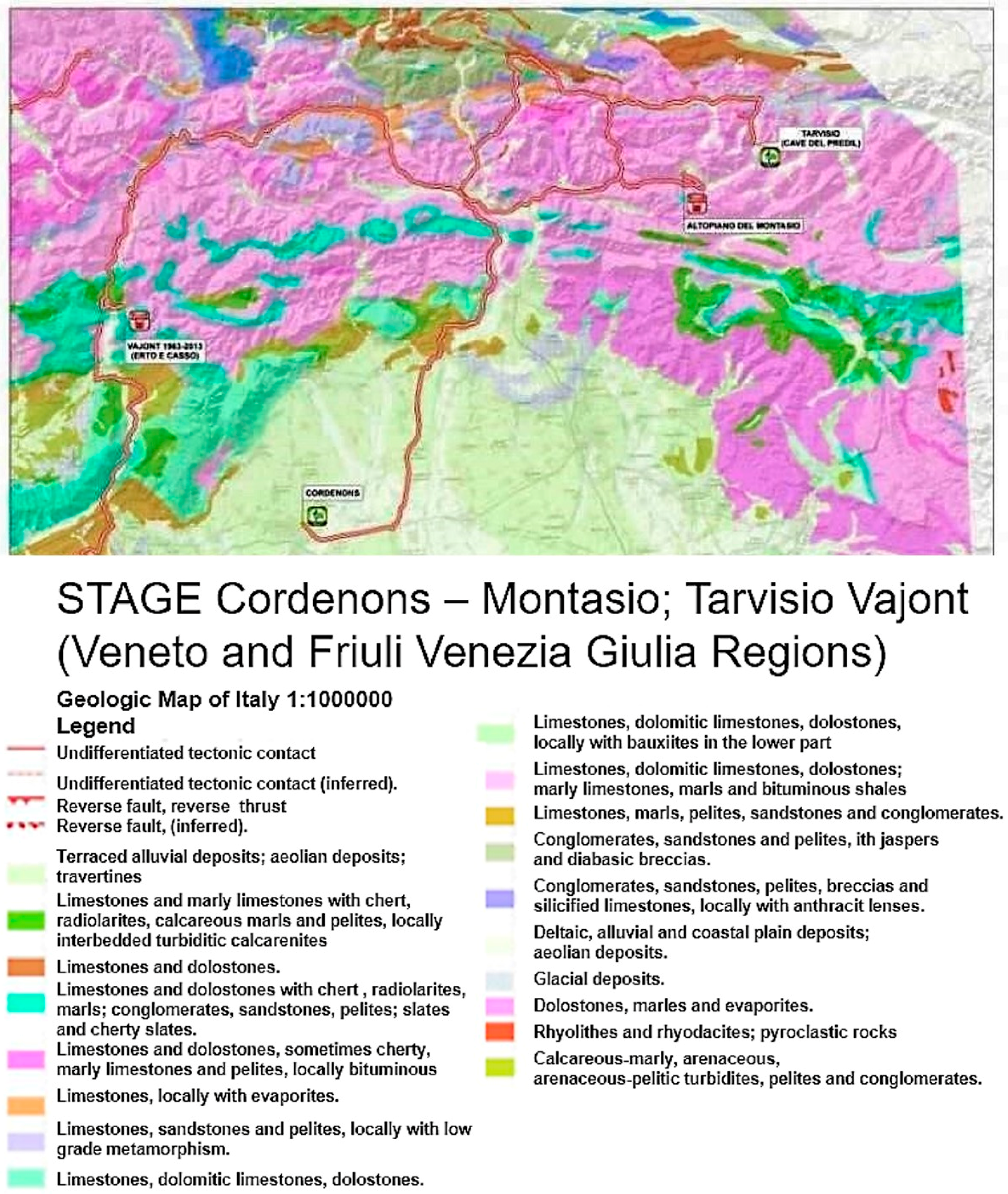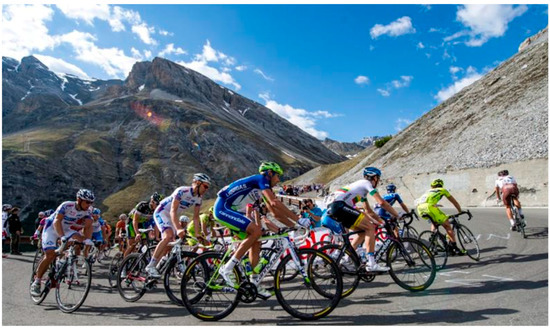 Figure 2. Dolomitic stage Giro d'Italia 2013: WHS, a great territorial resource. The stages in the North East of Italy are strongly representative of the dual Risk/Resource characterizing the Italian country: so beautiful, so fragile.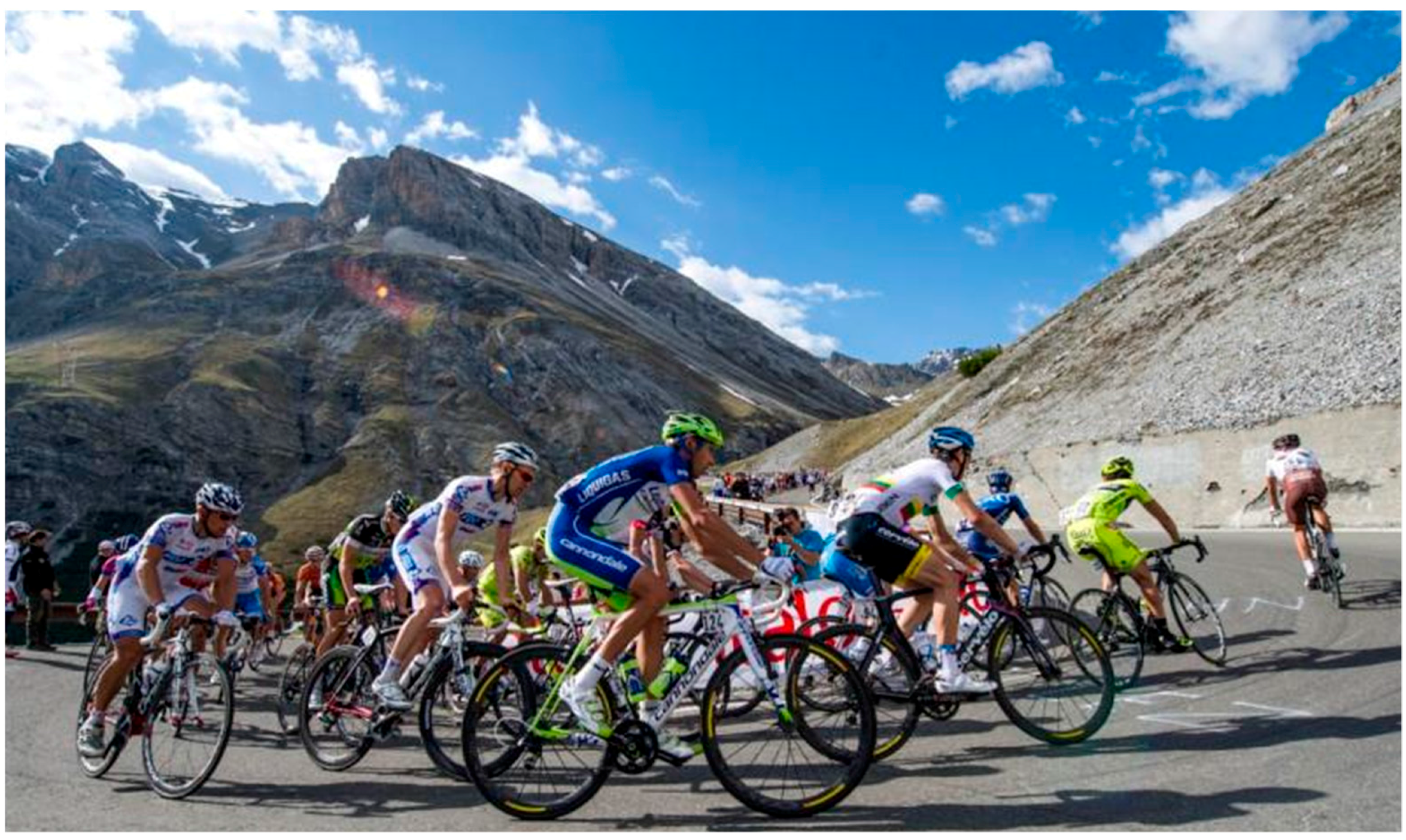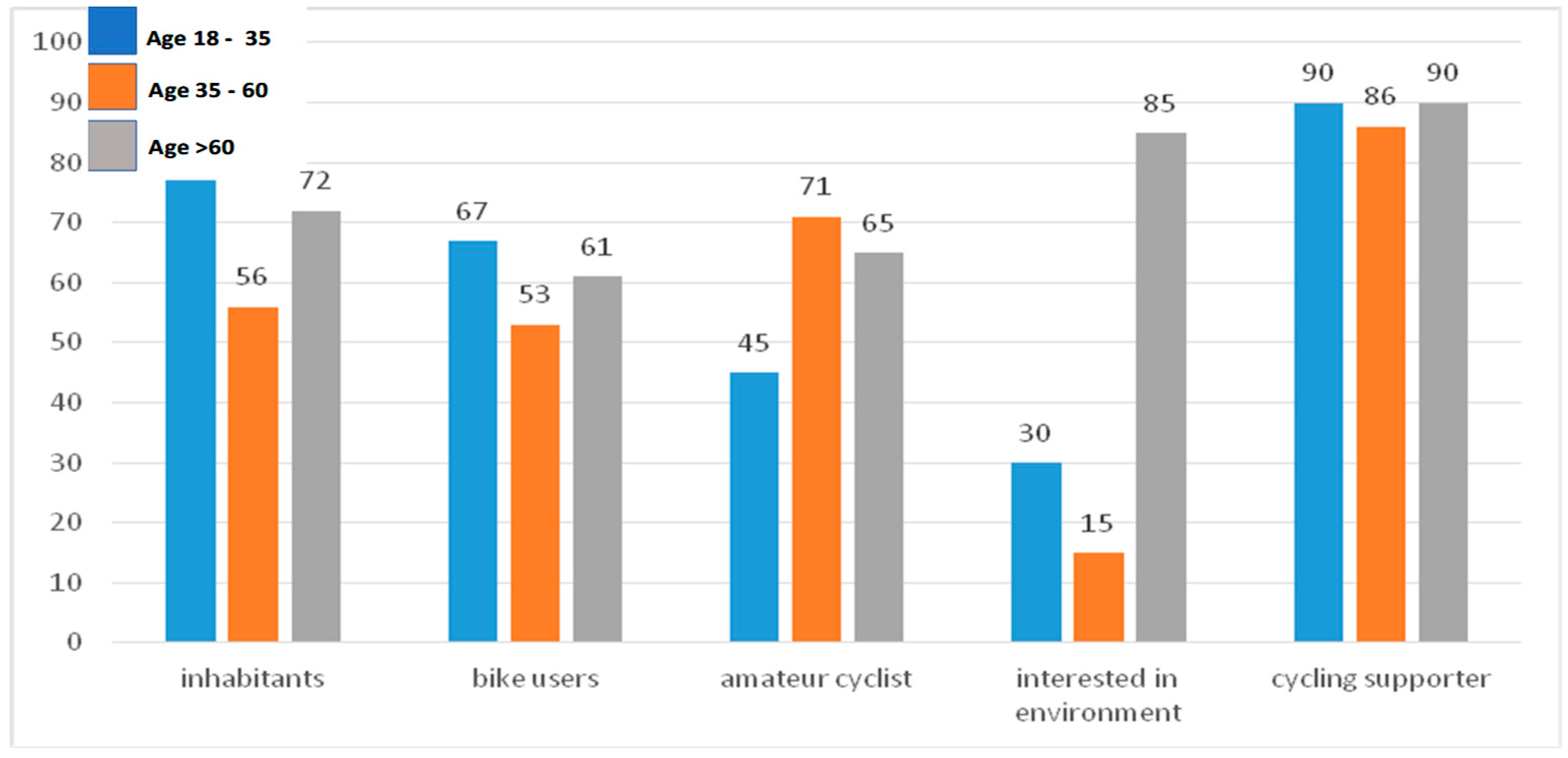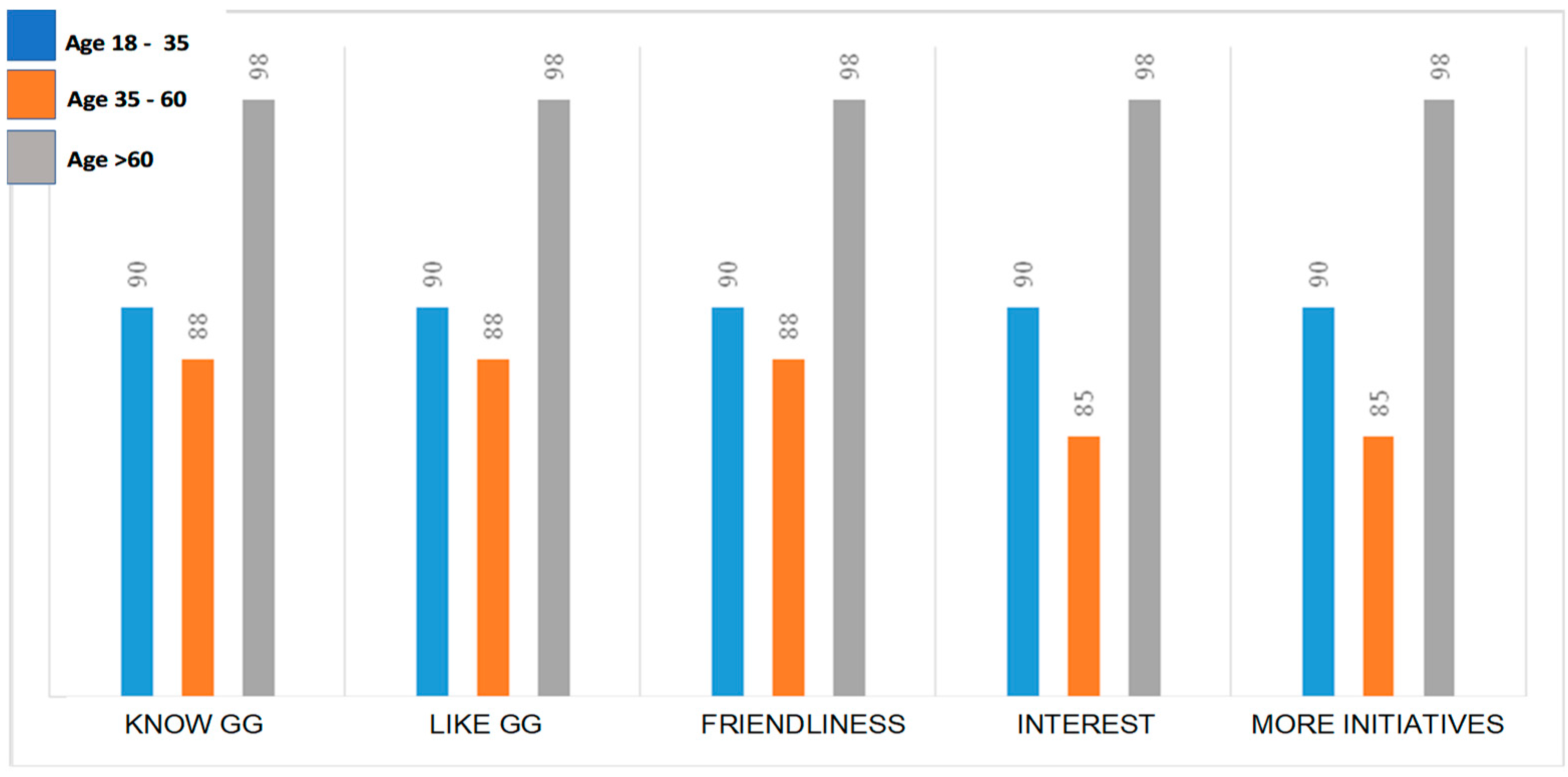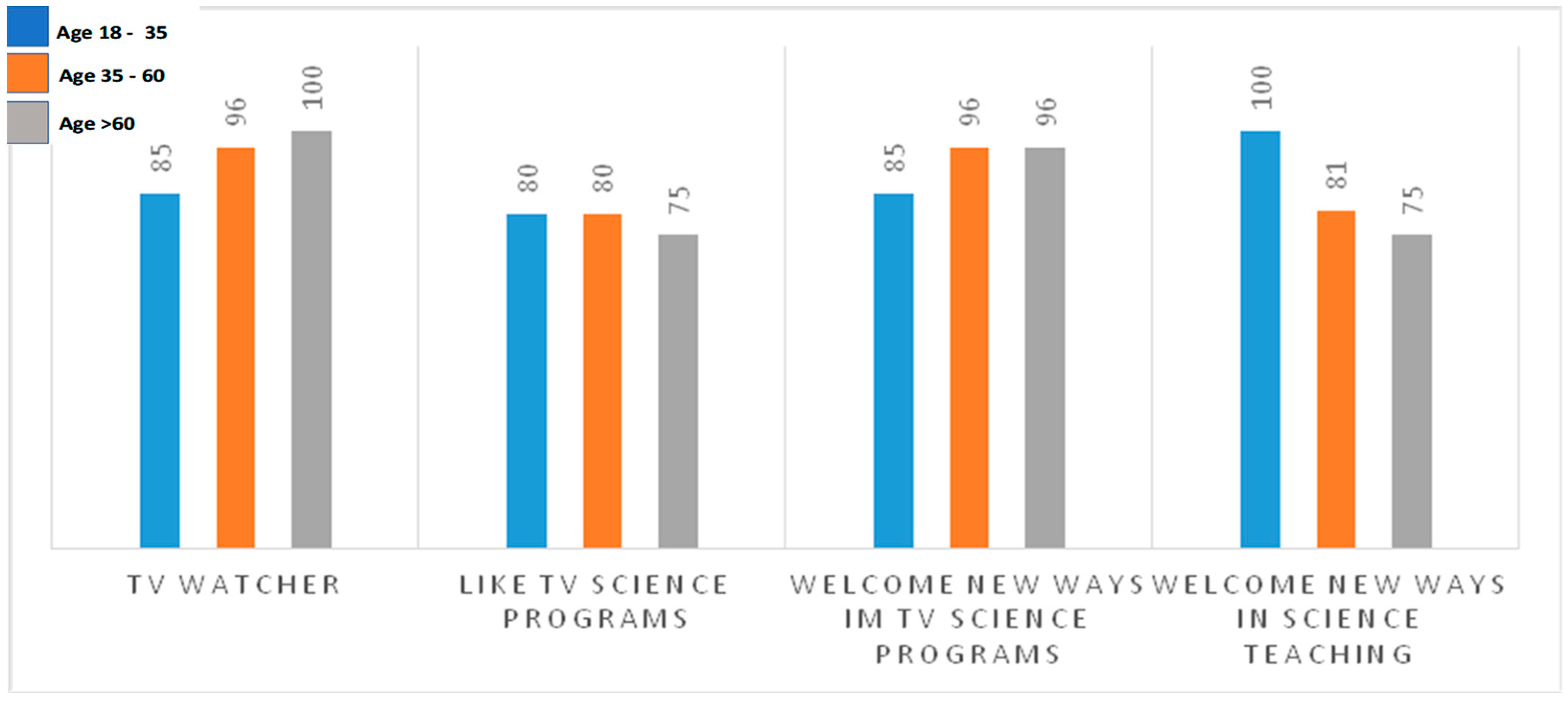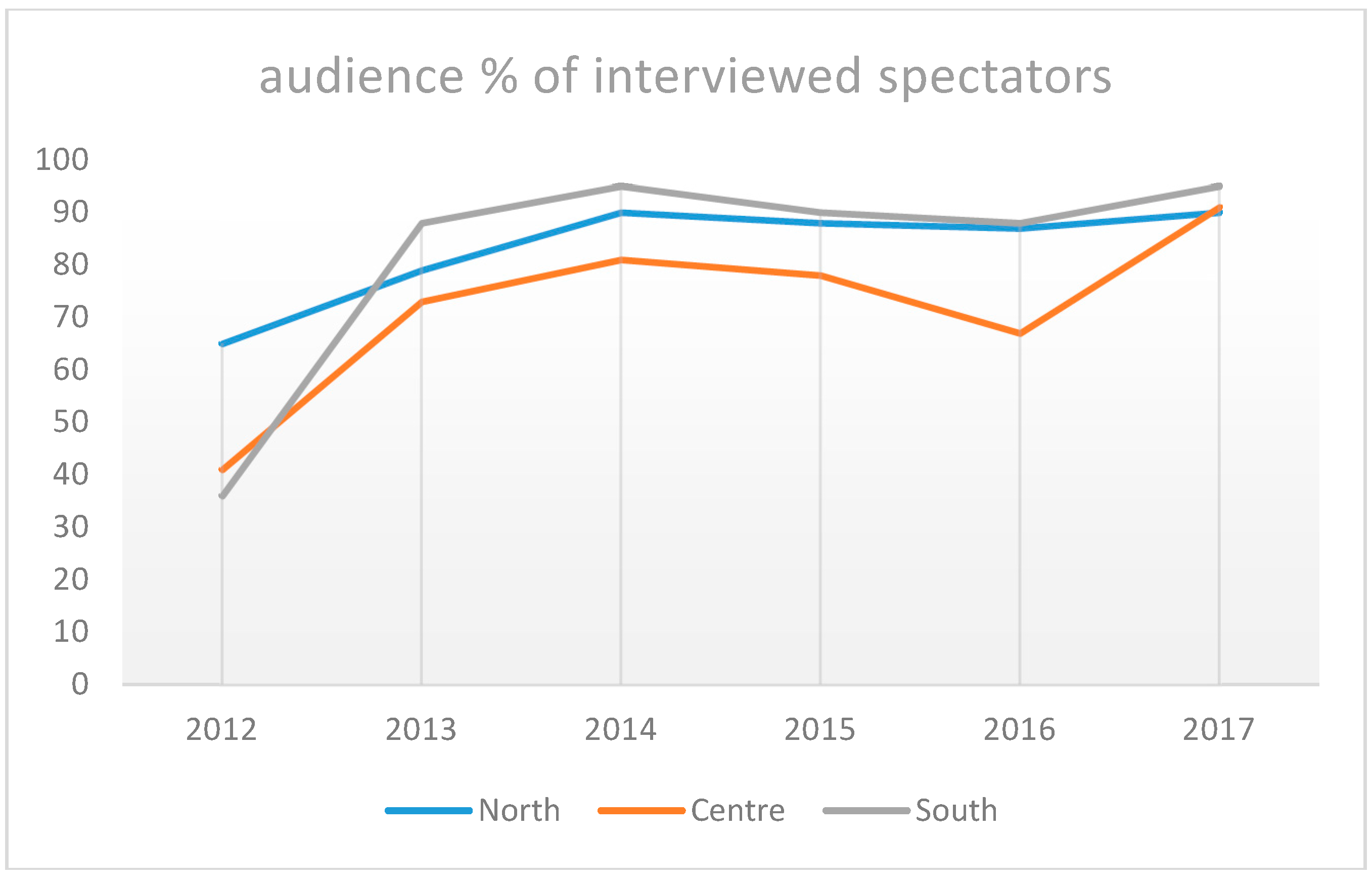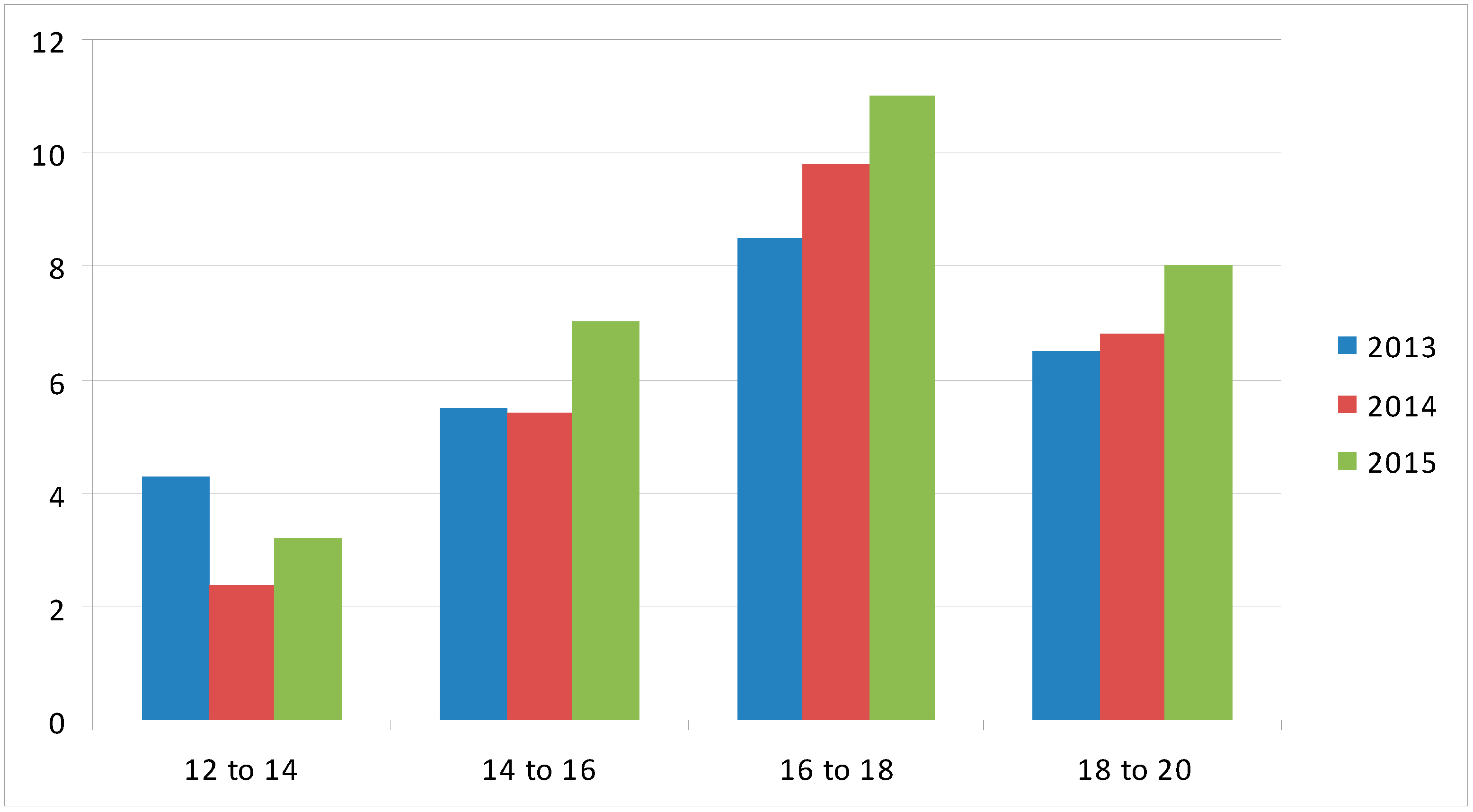 Figure 9. The picture shows the number of times the ISPRA institutional website was accessed, referring to the 3D videos of the Giro d'Italia 2014 and the related information, published contemporariously with the race.
Questions
Age Range 18–35
Age Range 35–60
Age Range ≥60
Yes
No
Yes
No
Yes
No
Do you live in this area?
77
23
56
44
72
28
Do you use a bicycle rather than car for frequent, short journeys?
67
33
53
47
61
39
Are you an amateur cyclist?
45
55
71
29
65
35
Have you ever ask to yourself anything about Landscape and natural environment?
30
70
15
85
58
42
Do you habitually follow cycling races?
90
10
86
14
90
10
Questions
Age Range 18–35
Age Range 35–60
Age Range ≥60
Yes
No
Yes
No
Yes
No
Do you know the GeoloGiro?
90
10
88
12
98
2
Do you like it?
90
-
88
-
98
-
Were the topics clear and comprehensible?
90
-
88
-
98
-
Were the topics interesting?
90
-
85
-
98
-
Would you welcome further similar initiatives?
90
-
85
-
98
-
Questions
Age Range 18–35
Age Range 35–60
Age Range ≥60
Yes
No
Yes
No
Yes
No
Do you often watch television?
86
14
96
4
100
0
Do you like TV scientific programs?
80
20
80
20
75
25
Would you welcome any new and unconventional styles in TV scientific communication?
85
15
96
4
96
4
Would you welcome any new and unconventional styles in teaching?
100
0
81
75
25

© 2018 by the authors. Licensee MDPI, Basel, Switzerland. This article is an open access article distributed under the terms and conditions of the Creative Commons Attribution (CC BY) license (http://creativecommons.org/licenses/by/4.0/).