New Occurrence of Pyroxenites in the Veria-Naousa Ophiolite (North Greece): Implications on Their Origin and Petrogenetic Evolution
1
Section of Earth Materials, Department of Geology, University of Patras, 265 00 Patras, Greece
2
Faculty of Science, Physical and Geological Sciences, Universiti Brunei Darussalam, Jalan Tungku Link, Bandar Seri Begawan, Gadong BE1410, Brunei Darussalam
*
Author to whom correspondence should be addressed.
Received: 6 June 2017 / Revised: 10 September 2017 / Accepted: 13 September 2017 / Published: 21 September 2017
Abstract
The Veria-Naousa ophiolite represents a dismembered unit in north Greece, which includes variably serpentinised lherzolite and harzburgite, locally intruded by a sparse network of dykes or thin layers of websterite and olivine-orthopyroxenite composition. The websterite and the olivine-orthopyroxenite show abundant petrographic and geochemical evidence (relic olivines with mantle affinities, Cr-rich spinels, low Al
2
O
3
, depletions in incompatible elements, and concave upwards rare earth element patterns) that they comprise replacive bodies from refractory subarc mantle precursors. The occurrence of these pyroxenites in dykes implies that channelled percolation of melts account for their replacive character. High CaO/Al
2
O
3
, low Zr and crystallisation of diopside suggest that a melt of ankaramitic/carbonatitic composition percolated in lherzolite replacing porphyroclastic olivine and forming the pyroxenes in the websterite. At a shallower level, harburgites were impregnated by boninitic melts (inferred by U-shape rare earth element patterns and very rich in Cr spinels) triggering the replacement of porphyroclastic olivine by orthopyroxene for the formation of olivine-orthopyroxenite. These peritectic replacements of olivine commonly occur in a mantle wedge regime. The peculiar characteristics of the Veria-Naousa pyroxenites with LREE and compatible elements enrichments resemble the subarc pyroxenites of Cabo Ortegal implying a similar environment of formation. Whole-rock and mineralogical (spinel and clinopyroxene) compositions are also in favour of a backarc to arc environment. It is recommended that the evolution of the Veria-Naousa pyroxenites record the evolution of the subarc region and the opening of a backarc basin in a broad SSZ setting in the Axios Zone of eastern Greece.
View Full-Text
►

▼

Figures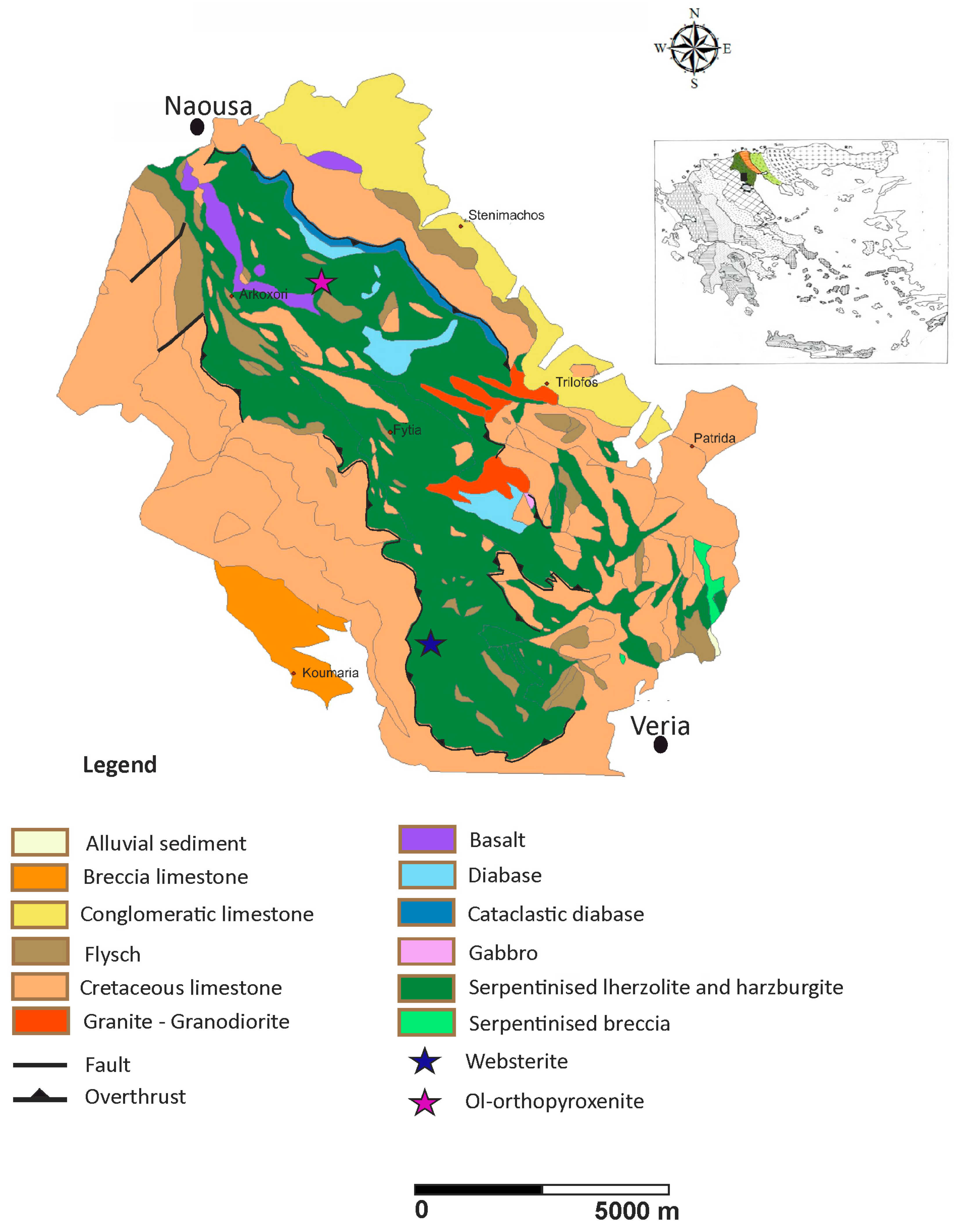 Figure 1
This is an open access article distributed under the
Creative Commons Attribution License
which permits unrestricted use, distribution, and reproduction in any medium, provided the original work is properly cited (CC BY 4.0).

Share & Cite This Article
MDPI and ACS Style
Rogkala, A.; Petrounias, P.; Tsikouras, B.; Hatzipanagiotou, K. New Occurrence of Pyroxenites in the Veria-Naousa Ophiolite (North Greece): Implications on Their Origin and Petrogenetic Evolution. Geosciences 2017, 7, 92.
Note that from the first issue of 2016, MDPI journals use article numbers instead of page numbers. See further details here.
Related Articles
Comments
[Return to top]