Actual Evapotranspiration in the Al-Khazir Gomal Basin (Northern Iraq) Using the Surface Energy Balance Algorithm for Land (SEBAL) and Water Balance
1
Department of Hydrogeology, TU Bergakademie Freiberg, Gustav–Zeuner Str. 12, 09599 Freiberg, Germany
2
Iraqi Geological Survey, 10068 Baghdad, Iraq
3
Department of Petroleum Engineering, Chemical and Petroleum Engineering Faculty, AL Baath University, Homs, Syria
*
Author to whom correspondence should be addressed.
Academic Editor: Jesus Martinez-Frias
Received: 30 October 2014 / Revised: 20 March 2015 / Accepted: 26 March 2015 / Published: 15 April 2015
Abstract
Increasing dependence on groundwater requires a detailed determination of the different outputs and inputs of a basin for better water management. Determination of spatial and temporal actual evapotranspiration (ETa), in this regard, is of vital importance as there is significant water loss from drainage basins. This research paper uses the Surface Energy Balance Algorithm for Land (SEBAL), as well as the water balance, to estimate the spatial and temporal ETa in the Al-Khazir Gomal Basin, Northern Iraq. To compensate for the shortage in rainfall, and to irrigate summer crops, farmers in this basin have been depending, to a large extent, on groundwater extracted from the underlying unconfined aquifer, which is considered the major source for both domestic and agricultural uses in this basin. Rainfed farming of wheat and barley is one of the most important activities in the basin in the winter season, while in the summer season, agricultural activity is limited to small rice fields and narrow strips of vegetable cultivation along the Al-Khazir River. The Landsat Thematic Mapper images (TM5) acquired on 21 November 2006, 9 March 2007, 5 May 2007, 21 July 2007, and 23 September 2007 were used, along with a digital elevation model (DEM) and ground-based meteorological data, measured within the area of interest. Estimation of seasonal ETa from periods between satellite overpasses was computed using the evaporative fraction (Ʌ). The water balance approach was utilized, using meteorological data and river hydrograph analysis, to estimate the ETa as the only missing input in the predefined water balance equation. The results of the two applied methods were comparable. SEBAL results were compared with the land use land cover (LULC) map. The river showed the highest ETa, as evaporation from the free-water surface. Rice fields, irrigated in the summer season, have a high ETa in the images, as these fields are immersed in water during June, July and August. Vegetated corridors along the riverside showed different ETa values, as they contain a mosaic of different crops in different stages of growth. Conglomerate and bare sandstone outcrops showed no ETa, with some exceptions in the mountainous area, where these outcrops are affected by perennial springs. The results indicate the applicability of SEBAL in the study area, and they could be used in further studies to estimate the water budget of the basin.
View Full-Text
►

▼

Figures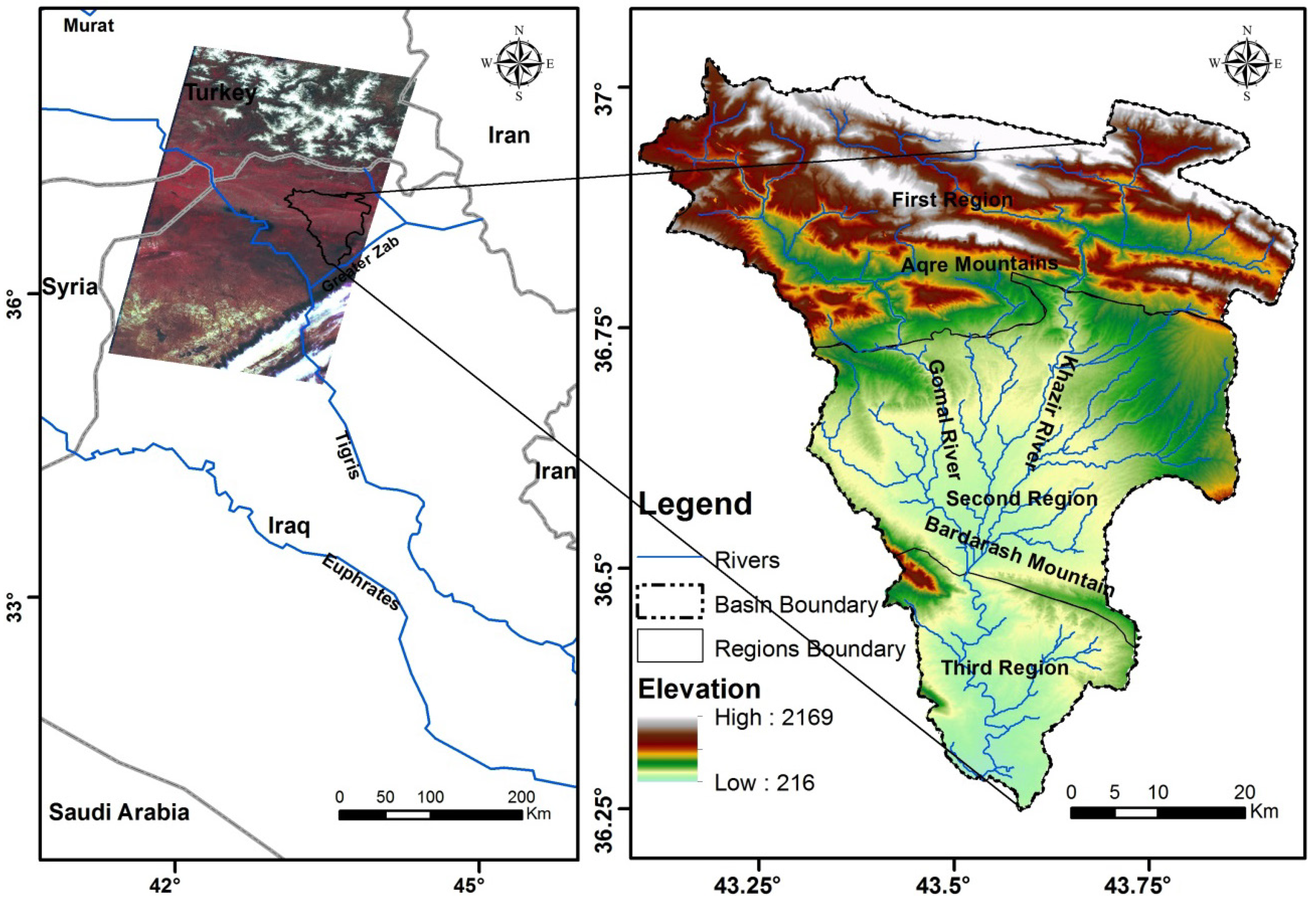 Figure 1
This is an open access article distributed under the
Creative Commons Attribution License
which permits unrestricted use, distribution, and reproduction in any medium, provided the original work is properly cited (CC BY 4.0).

Share & Cite This Article
MDPI and ACS Style
Jassas, H.; Kanoua, W.; Merkel, B. Actual Evapotranspiration in the Al-Khazir Gomal Basin (Northern Iraq) Using the Surface Energy Balance Algorithm for Land (SEBAL) and Water Balance. Geosciences 2015, 5, 141-159.
Related Articles
Comments
[Return to top]