Distribution and Diversity of Carboniferous and Permian Colonial Rugose Coral Faunas in Western North America: Clues for Placement of Allochthonous Terranes
Department of Geology, San Jose State University, San Jose, CA 95192, USA
Received: 3 April 2012 / Revised: 25 April 2012 / Accepted: 2 May 2012 / Published: 10 May 2012
Abstract
Colonial rugose corals are common in western cratonal North America and in some of the allochthonous terranes, now amalgamated against its western margin. Throughout the Late Paleozoic, the coral faunas in these two different settings were significantly different. Comparisons of these faunas suggest that during the Mississippian the Alexander terrane probably was southwest of Arctic Alaska and the Stikine terrane probably lay west of the southern part of the North American craton. The Cache Creek terrane lay far out in the Paleopacific Ocean. The Pennsylvanian faunas suggest that the Quesnellia and Eastern Klamath terranes were situated southwest of Arctic Alaska and the Alexander terrane was somewhat farther southwest and farther from cratonal North America. The Stikine terrane continued to be positioned west of the southern part of the North American craton. During the Early Permian, terranes with a cratonal faunal aspect may have lain 2000–3000 km west of cratonal North America and latitudinally generally southwest of their present positions. In the Middle Permian these terranes were carried southward relative to the North American craton. Simultaneously the Tethyan Realm expanded eastward.
View Full-Text
►

▼

Figures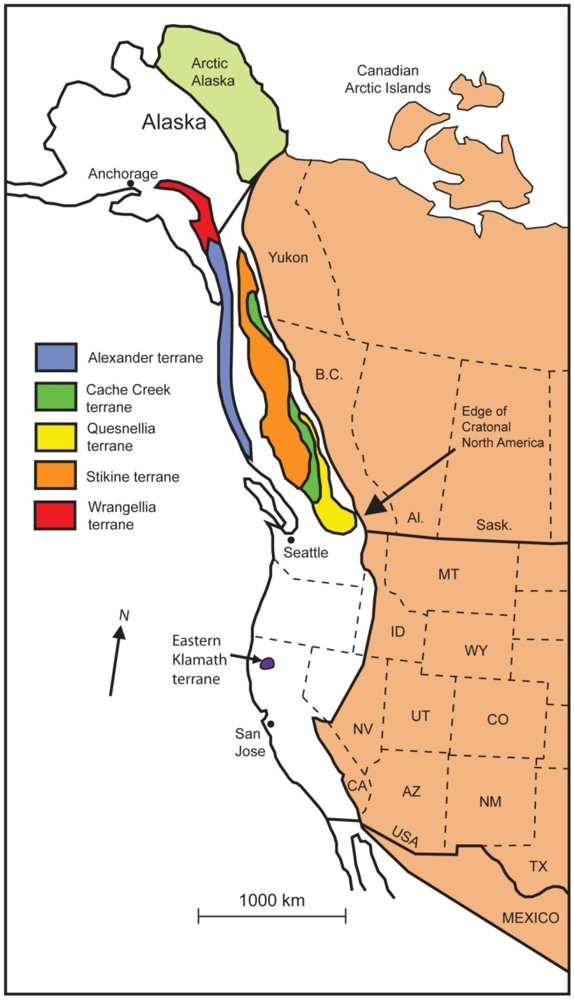 Figure 1

Share & Cite This Article
MDPI and ACS Style
Stevens, C.H. Distribution and Diversity of Carboniferous and Permian Colonial Rugose Coral Faunas in Western North America: Clues for Placement of Allochthonous Terranes. Geosciences 2012, 2, 42-63.
Related Articles
Comments
[Return to top]