Strong Welfare States Do Not Intensify Public Support for Income Redistribution, but Even Reduce It among the Prosperous: A Multilevel Analysis of Public Opinion in 30 Countries
1
Department of Sociology, Nevada Agricultural Experiment Station, Interdisciplinary Social Psychology Ph.D. Program, and Applied Statistics Program at the University of Nevada, University of Nevada, 1664 N. Virginia Street, Reno, NV 89557, USA
2
Department of Sociology and Interdisciplinary Social Psychology Ph.D. Program, University of Nevada, and International Survey Center, LLC, 18124 Wedge Parkway, Suite 1035, Reno, NV 89511, USA
*
Author to whom correspondence should be addressed.
Received: 25 June 2018 / Revised: 14 October 2018 / Accepted: 15 October 2018 / Published: 26 October 2018
Abstract
How tightly linked are the strength of a country's welfare state and its residents' support for income redistribution? Multilevel model results (with appropriate controls) show that the publics of strong welfare states recognize their egalitarian income distributions, i.e., the stronger the welfare state, the less the actual and perceived inequality; but they do not differ from their peers in liberal welfare states/market-oriented societies in their preferences for equality. Thus, desire for redistribution bears little overall relationship to welfare state activity. However, further investigation shows a stronger relationship under the surface: Poor people's support for redistribution is nearly constant across levels of welfarism. By contrast, the stronger the welfare state, the less the support for redistribution among the prosperous, perhaps signaling "harvest fatigue" due to paying high taxes and longstanding egalitarian policies. Our findings are not consistent with structuralist/materialist theory, nor with simple dominant ideology or system justification arguments, but are partially consistent with a legitimate framing hypothesis, with an atomistic self-interest hypothesis, with a reference group solidarity hypothesis, and with the "me-and-mine" hypothesis incorporating sociotropic and egotropic elements. Database: the
World Inequality Study
: 30 countries, 71 surveys, and over 88,0000 individuals.
View Full-Text
►

▼

Figures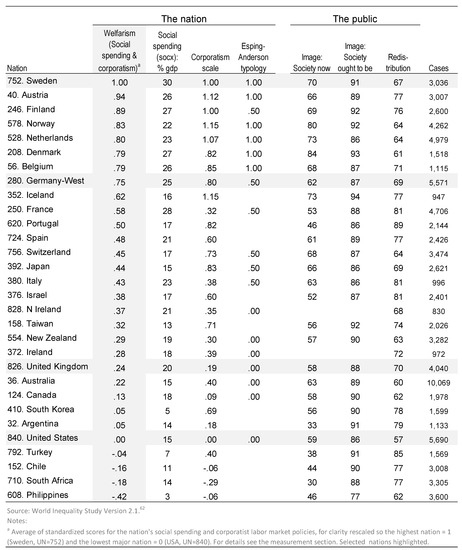 Figure 1
This is an open access article distributed under the
Creative Commons Attribution License
which permits unrestricted use, distribution, and reproduction in any medium, provided the original work is properly cited (CC BY 4.0).

Share & Cite This Article
MDPI and ACS Style
Evans, M.D.R.; Kelley, J. Strong Welfare States Do Not Intensify Public Support for Income Redistribution, but Even Reduce It among the Prosperous: A Multilevel Analysis of Public Opinion in 30 Countries. Societies 2018, 8, 105.
Note that from the first issue of 2016, MDPI journals use article numbers instead of page numbers. See further details here.
Related Articles
Comments
[Return to top]