Habitat Structure, Quality and Landscape Predict Species Richness and Communities of Collembola in Dry Grasslands in Austria
1
Department of Integrative Biology, University of Natural Resources and Applied Life Sciences Institute of Zoology, Gregor-Mendel-Str. 33, A-1180 Vienna, Austria
2
Department of Integrative Zoology, University of Vienna, Althanstr. 14, A-1090 Vienna, Austria
3
Institute of Science in Conservation, University of Applied Arts Vienna, Expositur Salzgries, A-1010 Vienna, Austria
4
VINCA-Vienna Institute for Nature Conservation and Analyses, Giessergasse 6/7, A-1090 Vienna, Austria
5
Environment Agency Austria, Spittelauer Lände 5, A-1090 Vienna, Austria
6
Ministry of Sustainability and Tourism, Division for Nature Conservation and Species Protection Stubenbastei 5, A-1010 Vienna, Austria
7
Department of Botany and Biodiversity Research, University of Vienna, Rennweg 14, A-1030 Vienna, Austria
*
Author to whom correspondence should be addressed.
Received: 24 February 2018 / Revised: 2 July 2018 / Accepted: 2 July 2018 / Published: 7 July 2018
Abstract
We assessed the relationships between site size, habitat quality, landscape factors (fragmentation, landscape diversity) and species richness in communities of Collembola in 50 small dry grassland habitat patches in an agricultural landscape of eastern Austria. Grasslands in that region were once widespread and extensive, but have become increasingly fragmented and isolated. We hypothesized that dry grassland springtails species richness is significantly correlated with site variables (soil properties, habitat quality) and that the size of grassland sites is positively correlated with species richness. We used pitfall traps in 50 dry grasslands in differently structured agricultural landscapes and tested total abundance and three species richness measures: (1) the number of dry grassland specialist species; (2) total number of dry grassland species and (3) overall species richness. In the multivariate correlation models, we found that all species richness measures were significantly related to the plant species richness, a shape parameter of the sites, soil properties such as humus, temperature, sand and gravel content and the landscape variable reflecting isolation (distance to the nearest large dry grassland area). This landscape variable indicates that neighbouring grasslands are influencing the species richness of the sites. This may be a result of passive wind dispersal across the landscape or historic connection of the small sites with much larger dry grasslands. The size of the site did not show any significant correlation with total, dry grassland specialist, dry grassland generalist or generalist species richness. The small size of Collembola might explain these findings, because they have high population densities even in small patches.
View Full-Text
►

▼

Figures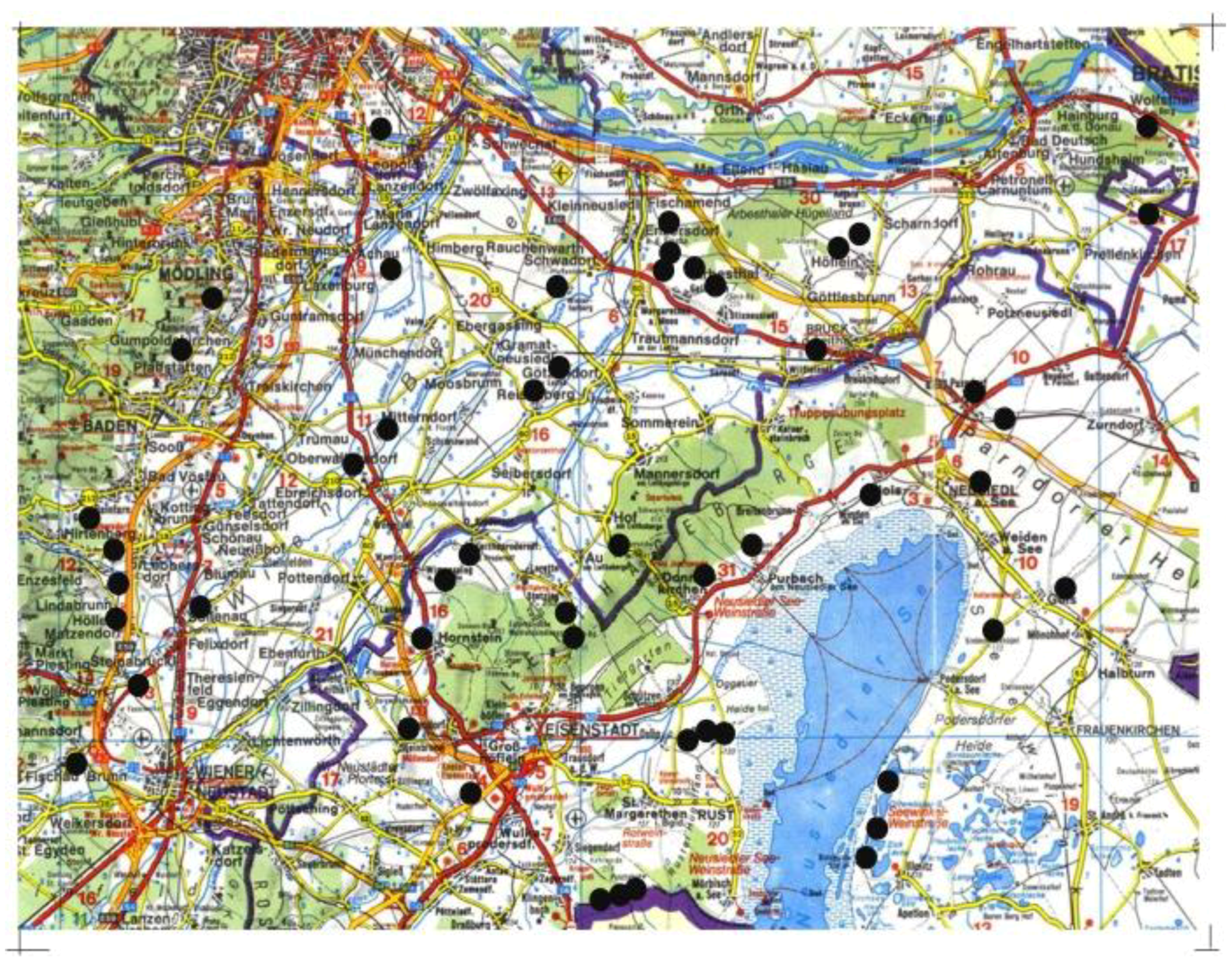 Figure 1
This is an open access article distributed under the
Creative Commons Attribution License
which permits unrestricted use, distribution, and reproduction in any medium, provided the original work is properly cited (CC BY 4.0).

Share & Cite This Article
MDPI and ACS Style
Querner, P.; Milasowszky, N.; Zulka, K.P.; Abensperg-Traun, M.; Willner, W.; Sauberer, N.; Jakomini, C.; Wrbka, T.; Schmitzberger, I.; Zechmeister, H.G. Habitat Structure, Quality and Landscape Predict Species Richness and Communities of Collembola in Dry Grasslands in Austria. Insects 2018, 9, 81.
Note that from the first issue of 2016, MDPI journals use article numbers instead of page numbers. See further details here.
Related Articles
Comments
[Return to top]