Putative Drone Copulation Factors Regulating Honey Bee (
Apis mellifera

) Queen Reproduction and Health: A Review

1

Department of Entomology and Nematology, University of California, Davis, CA 95616, USA

2

Centre for Integrative Bee Research, Department of Entomology, University of California, Riverside, CA 92521, USA

*

Authors to whom correspondence should be addressed.

Received: 31 July 2018 / Revised: 17 October 2018 / Accepted: 28 November 2018 / Published: 8 January 2019
Abstract
Honey bees are major pollinators of agricultural and non-agricultural landscapes. In recent years, honey bee colonies have exhibited high annual losses and commercial beekeepers frequently report poor queen quality and queen failure as the primary causes. Honey bee colonies are highly vulnerable to compromised queen fertility, as each hive is headed by one reproductive queen. Queens mate with multiple drones (male bees) during a single mating period early in life in which they obtain enough spermatozoa to fertilize their eggs for the rest of their reproductive life span. The process of mating initiates numerous behavioral, physiological, and molecular changes that shape the fertility of the queen and her influence on the colony. For example, receipt of drone semen can modulate queen ovary activation, pheromone production, and subsequent worker retinue behavior. In addition, seminal fluid is a major component of semen that is primarily derived from drone accessory glands. It also contains a complex mixture of proteins such as proteases, antioxidants, and antimicrobial proteins. Seminal fluid proteins are essential for inducing post-mating changes in other insects such as
Drosophila
and thus they may also impact honey bee queen fertility and health. However, the specific molecules in semen and seminal fluid that initiate post-mating changes in queens are still unidentified. Herein, we summarize the mating biology of honey bees, the changes queens undergo during and after copulation, and the role of drone semen and seminal fluid in post-mating changes in queens. We then review the effects of seminal fluid proteins in insect reproduction and potential roles for honey bee drone seminal fluid proteins in queen reproduction and health. We finish by proposing future avenues of research. Further elucidating the role of drone fertility in queen reproductive health may contribute towards reducing colony losses and advancing honey bee stock development.
View Full-Text
►

▼

Figures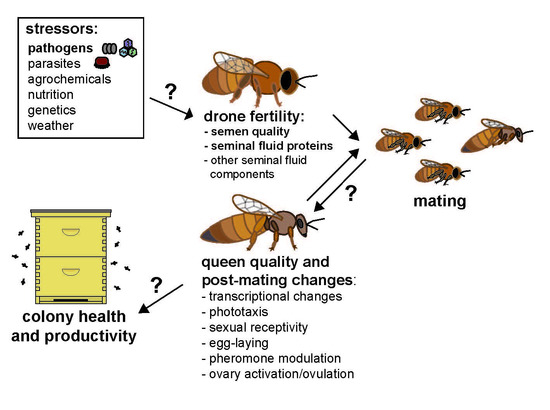 Graphical abstract
This is an open access article distributed under the
Creative Commons Attribution License
which permits unrestricted use, distribution, and reproduction in any medium, provided the original work is properly cited (CC BY 4.0).

Share & Cite This Article
MDPI and ACS Style
Brutscher, L.M.; Baer, B.; Niño, E.L. Putative Drone Copulation Factors Regulating Honey Bee (Apis mellifera) Queen Reproduction and Health: A Review. Insects 2019, 10, 8.
Note that from the first issue of 2016, MDPI journals use article numbers instead of page numbers. See further details here.
Related Articles
Comments
[Return to top]