The Dynamics of
Deformed Wing Virus

Concentration and Host Defensive Gene Expression after

Varroa

Mite Parasitism in Honey Bees,

Apis mellifera

1

USDA-ARS Bee research Laboratory, Bldg. 306, BARC-East, Beltsville, MD 20705, USA

2

Institute of Apicultural Research, Chinese Academy of Agricultural Sciences, Beijing 100093, China

3

USDA APHIS, National Program Manager for Honey Bee Health, Riverdale, MD 20737, USA

4

USDA-ARS Carl Hayden Bee Research Center, 2000 East Allen Road, Tucson, AZ 85719, USA

5

Honey Bee Breeding, Genetics and Physiology Research Laboratory, USDA-ARS, Baton Rouge, LA 70820, USA

6

College of Bee Science, Fujian Agriculture and Forestry University, Fuzhou 350002, China

7

Laboratorio de Patología Apícola, Centro de Investigación Apícola y Agroambiental, IRIAF, Consejería de Agricultura de la Junta de Comunidades de Castilla-La Mancha, 19180 Marchamalo, Spain

*

Author to whom correspondence should be addressed.

†

Both authors contributed equally to this work.

Received: 1 August 2018 / Revised: 30 October 2018 / Accepted: 11 December 2018 / Published: 8 January 2019
Abstract
The synergistic interactions between the ectoparasitic mite
Varroa destructor
and
Deformed wing virus
(DWV) lead to the reduction in lifespan of the European honey bee
Apis mellifera
and often have been implicated in colony losses worldwide. However, to date, the underlying processes and mechanisms that form the multipartite interaction between the bee, mite, and virus have not been fully explained. To gain a better understanding of honey bees' defense response to
Varroa
mite infestation and DWV infection, the DWV titers and transcription profiles of genes originating from RNAi, immunity, wound response, and homeostatic signaling pathways were monitored over a period of eight days. With respect to DWV, we observed low viral titers at early timepoints that coincided with high levels of Toll pathway transcription factor Dorsal, and its downstream immune effector molecules
Hymenoptaecin
,
Apidaecin
,
Abaecin
, and
Defensin 1
. However, we observed a striking increase in viral titers beginning after two days that coincided with a decrease in Dorsal levels and its corresponding immune effector molecules, and the small ubiquitin-like modifier (SUMO) ligase repressor of Dorsal, PIAS3. We observed a similar expression pattern for genes expressing transcripts for the RNA interference (Dicer/Argonaute), wound/homeostatic (Janus Kinase), and tissue growth (Map kinase/Wnt) pathways. Our results demonstrate that on a whole, honey bees are able to mount an immediate, albeit, temporally limited, immune and homeostatic response to
Varroa
and DWV infections, after which downregulation of these pathways leaves the bee vulnerable to expansive viral replication. The critical insights into the defense response upon
Varroa
and DWV challenges generated in this study may serve as a solid base for future research on the development of effective and efficient disease management strategies in honey bees.
View Full-Text
►

▼

Figures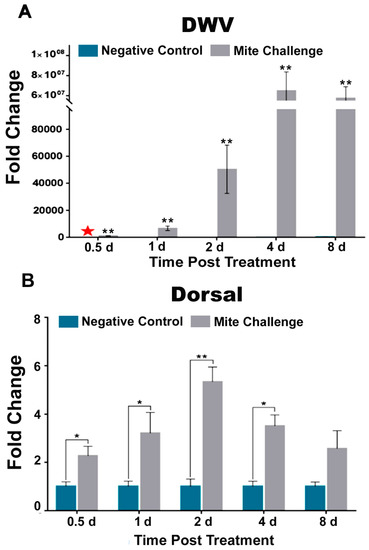 Figure 1
This is an open access article distributed under the
Creative Commons Attribution License
which permits unrestricted use, distribution, and reproduction in any medium, provided the original work is properly cited (CC BY 4.0).

Share & Cite This Article
MDPI and ACS Style
Zhao, Y.; Heerman, M.; Peng, W.; Evans, J.D.; Rose, R.; DeGrandi-Hoffman, G.; Simone-Finstrom, M.; Li, J.; Li, Z.; Cook, S.C.; Su, S.; Rodríguez-García, C.; Banmeke, O.; Hamilton, M.; Chen, Y. The Dynamics of Deformed Wing Virus Concentration and Host Defensive Gene Expression after Varroa Mite Parasitism in Honey Bees, Apis mellifera. Insects 2019, 10, 16.
Note that from the first issue of 2016, MDPI journals use article numbers instead of page numbers. See further details here.
Related Articles
Comments
[Return to top]