Open Access This article is
freely available
re-usable
Article
Behaviour of the Blazar CTA 102 during Two Giant Outbursts
1
Astronomical Institute, Saint Petersburg State University, 198504 Saint Petersburg, Russia
2
Institute for Astrophysical Research, Boston University, Boston, MA 02215, USA
3
Steward Observatory, University of Arizona, Tucson, AZ 85721, USA
4
Crimean Astrophysical Observatory, Nauchny, Crimea 298409, Russia
*
Author to whom correspondence should be addressed.
Received: 23 September 2017 / Accepted: 27 November 2017 / Published: 30 November 2017
Abstract
:
Blazar CTA 102 underwent exceptional optical and high-energy outbursts in 2012 and 2016–2017. We analyze its behaviour during these events, focusing on polarimetry as a tool that allows us to trace changes in the physical conditions and geometric configuration of the emission source close to the central black hole. We also use
Fermi
-ray data in conjunction with optical photometry in an effort to localize the origin of the outbursts.
Keywords:
blazars; photometry; polarimetry; methods of analysis
Acknowledgments
The St.Petersburg University team acknowledges support from Russian Science Foundation grant 17-12-01029. V.L. acknowledges support from St.-Petersburg University travel grant 6.41.340.2017. The BU group acknowledges support from National Science Foundation grant AST-1615796. Blazar research at Steward Observatory is supported by NASA/Fermi Guest Investigator grant NNX15AU81G.
Author Contributions
All authors have participated in both the analysis and the scientific discussion.
Conflicts of Interest
The authors declare no conflict of interest.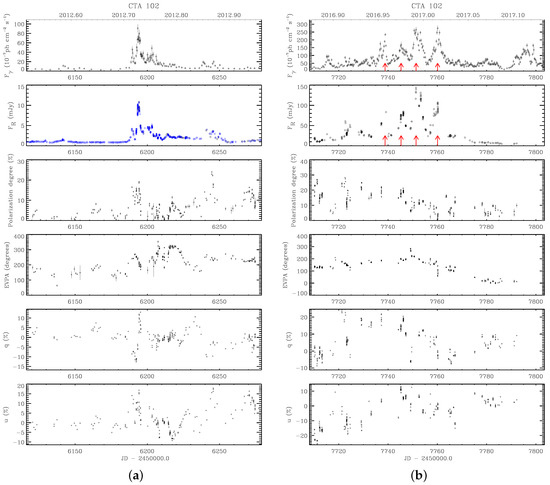 Figure 1.
(
a
) From top to bottom: -ray flux evolution; optical R-band flux evolution, optical fractional polarization, position angle of polarization, and normalized Stokes parameters for CTA 102 during the outburst of 2012, adapted from [
1
]; (
b
) The same for the outburst of 2016–2017. Red arrows mark positions of four subflares. Notice the different time and flux scales for the two observing seasons.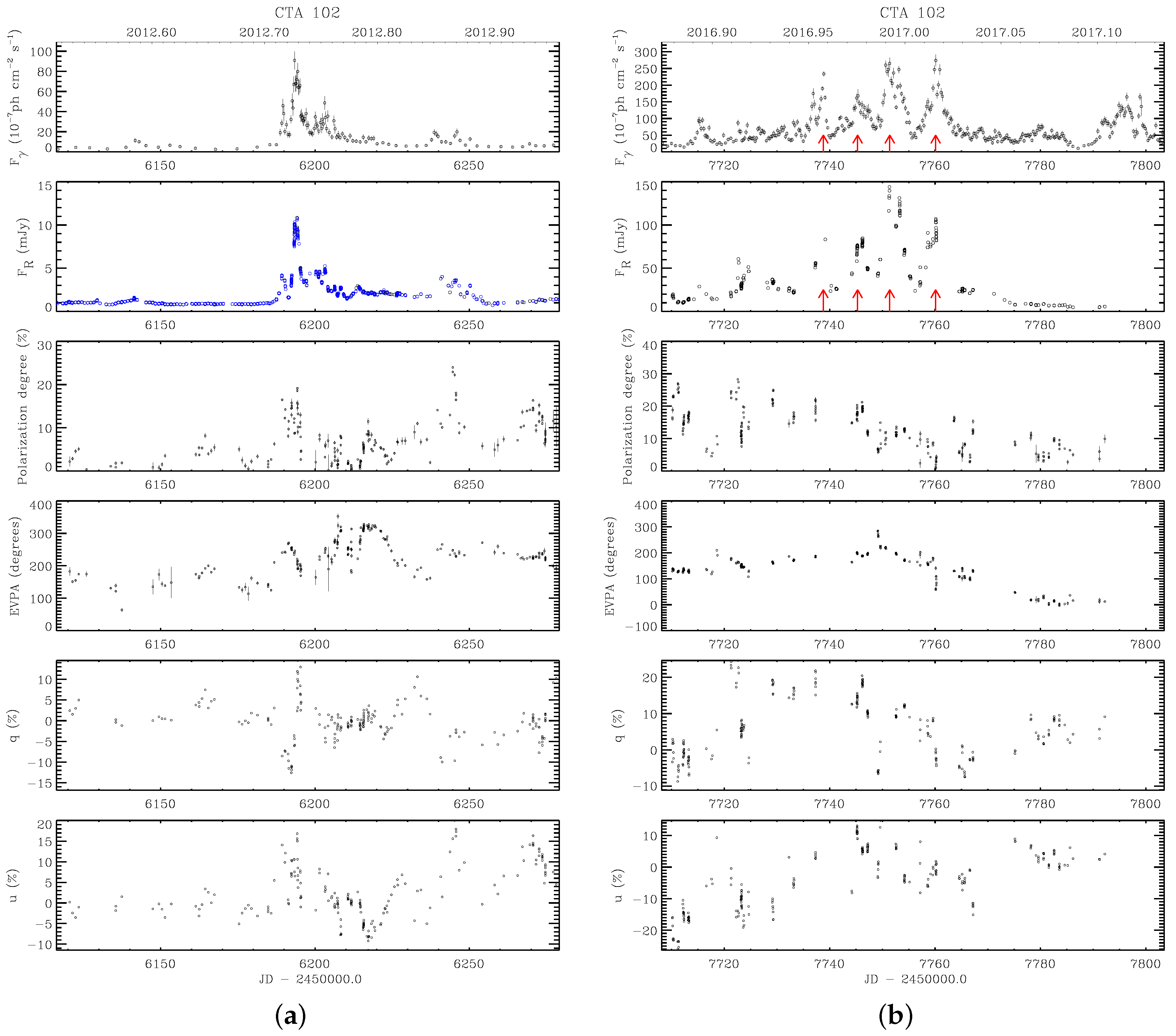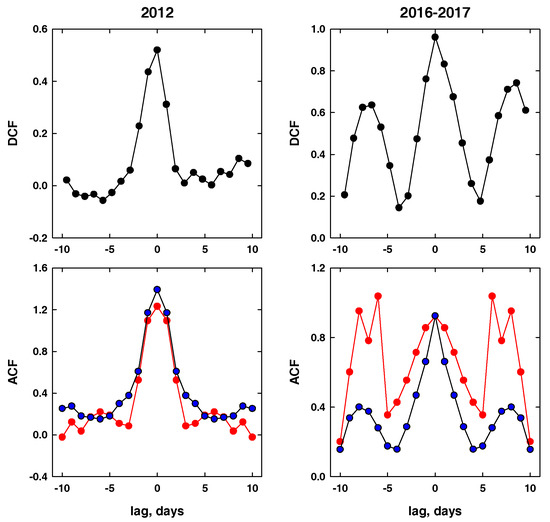 Figure 2.
Upper left:
Discrete Correlation Function (DCF) of optical R-band flux and -ray flux for CTA 102 during the outburst of 2012, adapted from [
1
].
Upper right:
The same for the outburst of 2016–2017.
Bottom panel:
auto-correlation functions for corresponding time intervals: red—for optical R flux, blue—for -ray flux. During both outbursts, there are no delays between -rays and optical, implying that the sites of synchrotron and IC radiation are co-spatial. The triple DCF in 2016–2017 is a consequence of ∼ 7 days recurrence of optical and -ray outbursts (see also
Figure 1
b).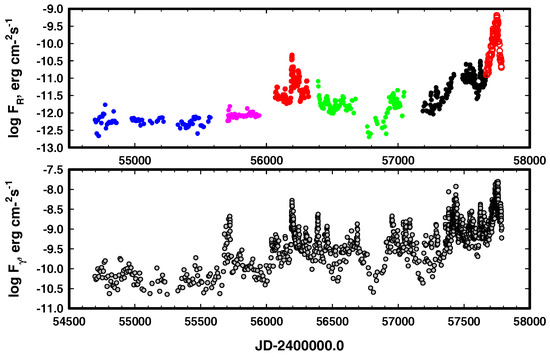 Figure 3. Optical and -ray flux evolution from 2008 to 2017 with colour encoded in the upper optical panel corresponding to different stages of activity.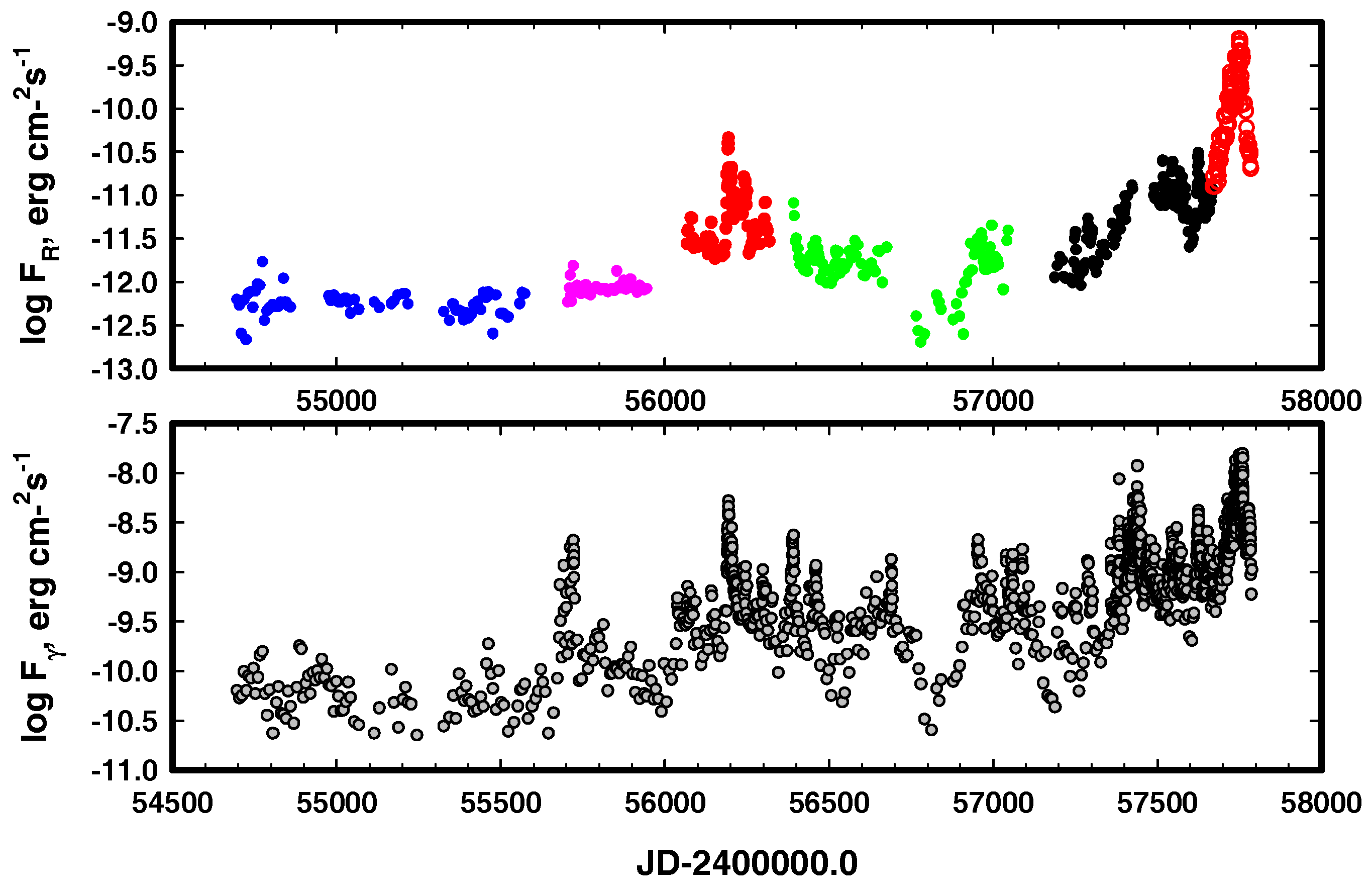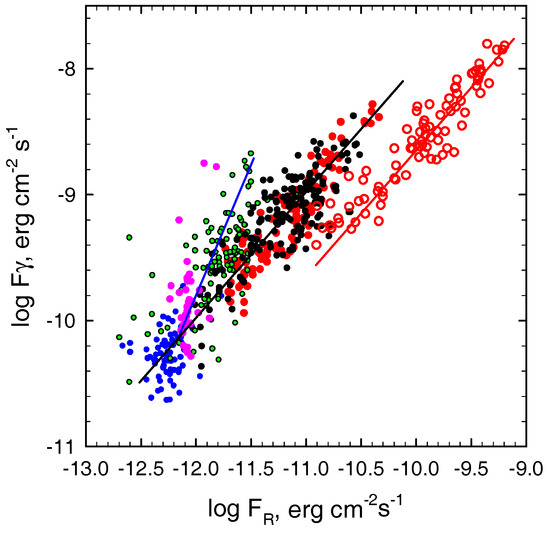 Figure 4.
Optical – -ray flux-flux diagram. Slopes during 'silent' time intervals (blue, pink and green circles) are close to 2. A slope close to 1 is observed during periods of higher activity. The exceptional outburst of 2016–2017 (red open circles) also follows a slope of unity, but is substantially (0.6
dex
down) displaced from the measurements of the previous epochs.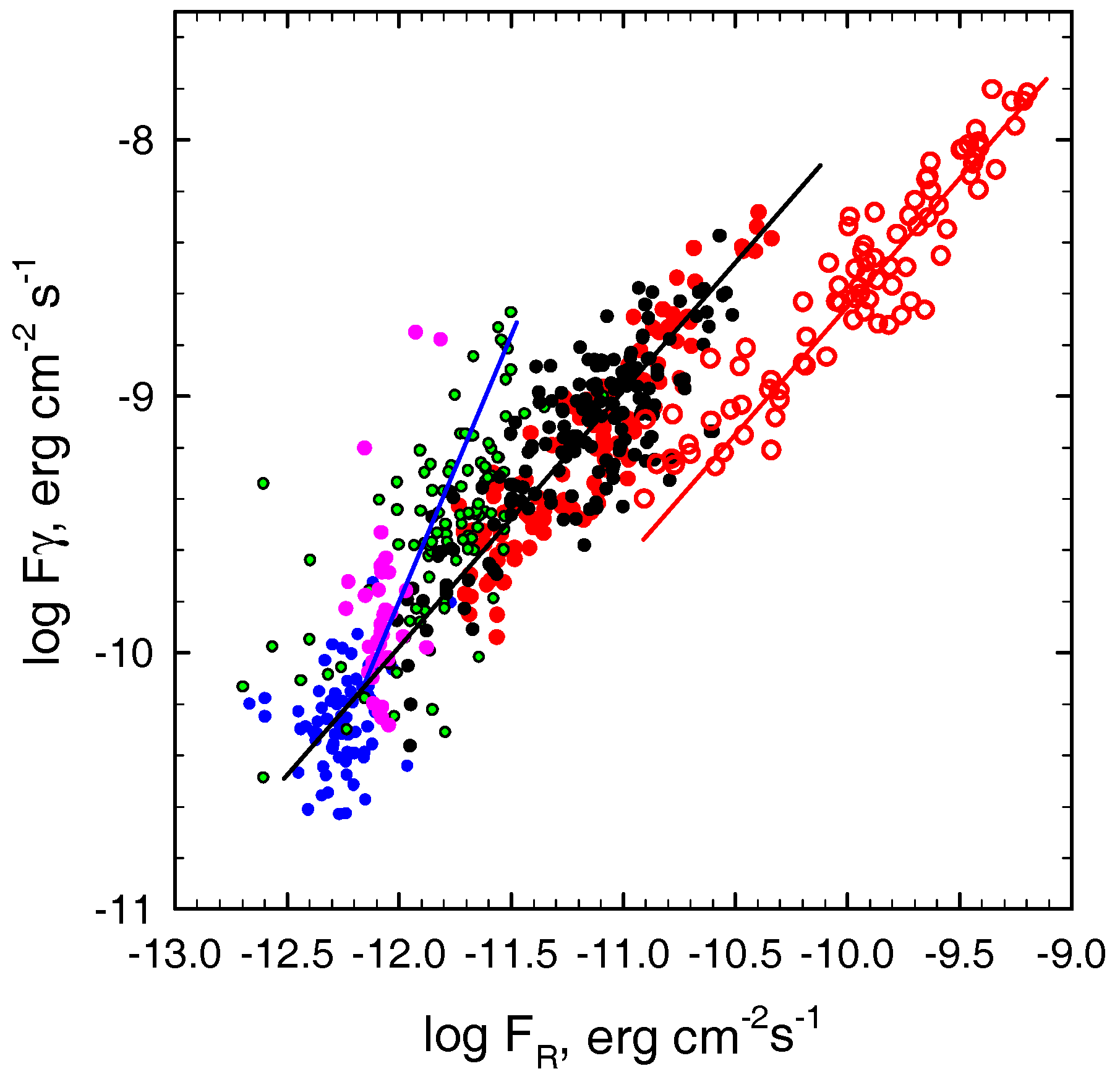 Figure 5.
Left:
Dependence of CTA 102 optical polarization on
R
-band flux density. Green circles correspond to the 2012 outburst and black to the outburst of 2016–2017. Curves correspond to expectations of a model that explains most flux and polarization variations with changing viewing angle. The red curve corresponds to a plasma compression ratio of . The blue curve has .
Right:
Dependence of optical polarization on EVPA for 2012 (green) and 2016–2017 (black).


© 2017 by the authors. Licensee MDPI, Basel, Switzerland. This article is an open access article distributed under the terms and conditions of the Creative Commons Attribution (CC BY) license (http://creativecommons.org/licenses/by/4.0/).