Open Access This article is
freely available
re-usable
Conference Report
Resolving the Extended Stellar Halos of Nearby Galaxies: The Wide-Field PISCeS Survey
Department of Physics & Astronomy, Texas Tech University, Box 41051, Lubbock, TX 79409-1051, USA
Academic Editors: Duncan A. Forbes and Ericson D. Lopez
Received: 15 June 2017 / Accepted: 14 August 2017 / Published: 17 August 2017
Abstract
:
The wide-field Panoramic Imaging Survey of Centaurus and Sculptor (PISCeS) investigates the resolved stellar halos of two nearby galaxies (the spiral NGC 253 and the elliptical Centaurus A, Mpc) out to a galactocentric radius of 150 kpc. The survey to date has led to the discovery of 11 confirmed faint satellites and stunning streams/substructures in two environments substantially different from the Local Group; i.e., the loose Sculptor group of galaxies and the Centaurus A group dominated by an elliptical. The newly discovered satellites and substructures, with surface brightness limits as low as ∼32 mag/arcsec, are then followed-up with HST imaging and Keck/VLT spectroscopy to investigate their stellar populations. The PISCeS discoveries clearly testify the past and ongoing accretion processes shaping the halos of these nearby galaxies, and provide the first census of their satellite systems down to an unprecedented .
Keywords:
galaxies: evolution; galaxies: groups; galaxies: halos; galaxies: photometry
Acknowledgments
D.C. thanks the SOC/LOC of the conference "On the Origin (and Evolution) of Baryonic Galaxy Halos" for impeccable organization, for a very successful and stimulating conference, and for the opportunity to visit beautiful Ecuador. D.C. acknowledges the contributions of the PISCeS team to the research presented here.
Conflicts of Interest
The authors declare no conflict of interest.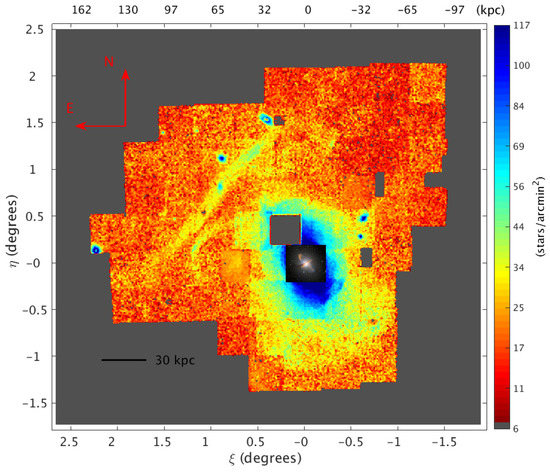 Figure 1.
Stellar density map of old, metal-poor RGB stars in the extended halo of Cen A, from the Magellan/Megacam PISCeS survey (Figure 3 from [
11
]). PISCeS reaches significantly fainter surface brightness limits (down to mag/arcsec) with respect to integrated light alone, thus allowing us to decode the past evolutionary history of Cen A. The density scale is shown on the right; the physical scale is reported on the upper axis. The central regions of the galaxy are replaced by a color image (the star-count map in this region suffers from incompleteness due to stellar crowding). The next generation of telescopes will allow us to obtain comparable maps for tens of galaxies in the Local Volume, thus revolutionizing our understanding of galaxy evolution.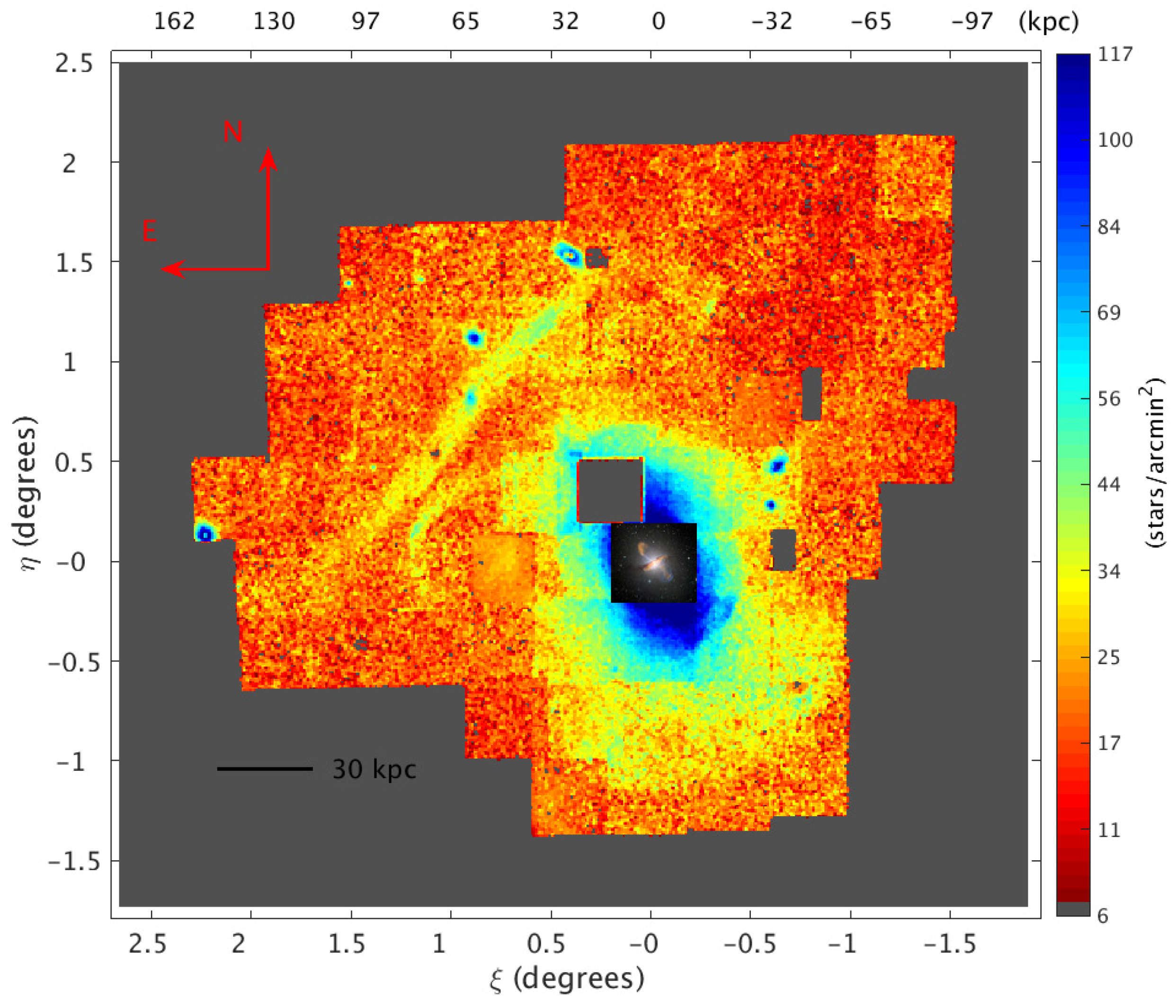 © 2017 by the author. Licensee MDPI, Basel, Switzerland. This article is an open access article distributed under the terms and conditions of the Creative Commons Attribution (CC BY) license (http://creativecommons.org/licenses/by/4.0/).