Open Access This article is
freely available
re-usable
Article
A Photometric Study of Giant Ellipticals and Their Stellar Halos With VST
1
INAF-Astronomical Observatory of Capodimonte, Salita Moiariello 16, I80131 Naples, Italy
2
Department of physics, University of Naples Federico II, C.U. Monte Sant'Angelo, Via Cinthia, 80126 Naples, Italy
3
Institute for Computational Cosmology, Durham DH1 3, UK
4
INAF-Astronomical Observatory of Teramo, Via Maggini, 64100 Teramo, Italy
5
Centre for Astrophysics & Supercomputing, Swinburne University, Hawthorn 3122, Australia
*
Author to whom correspondence should be addressed.
Academic Editor: Emilio Elizalde
Received: 15 June 2017 / Accepted: 20 July 2017 / Published: 26 July 2017
Abstract
:
Observations of diffuse starlight in the outskirts of galaxies are thought to be a fundamental source of constraints on the cosmological context of galaxy assembly in the CDM model. Such observations are not trivial because of the extreme faintness of such regions. In this work, we investigated the photometric properties of six massive early-type galaxies (ETGs) in the VST Elliptical GAlaxies Survey (VEGAS) sample (NGC 1399, NGC 3923, NGC 4365, NGC 4472, NGC 5044, and NGC 5846) out to extremely low surface brightness levels with the goal of characterizing the global structure of their light profiles for comparison to state-of-the-art galaxy formation models. We carried out deep and detailed photometric mapping of our ETG sample taking advantage of deep imaging with VST/OmegaCAM in the g and i bands. By fitting the light profiles, and comparing the results to simulations of elliptical galaxy assembly, we have identified signatures of a transition between relaxed and unrelaxed accreted components and can constrain the balance between in situ and accreted stars. The very good agreement of our results with predictions from theoretical simulations demonstrates that the full VEGAS sample of ETGs will allow us to use the distribution of diffuse light as a robust statistical probe of the hierarchical assembly of massive galaxies.
Keywords:
techniques: image processing; galaxies: elliptical and lenticular, cD; galaxies: fundamental parameters; galaxies: formation; galaxies: halos
Acknowledgments
M. Spavone wishes to thank the ESO staff of the Paranal Observatory for their support during the observations at VST. APC is supported by a COFUND/Durham Junior Research Fellowship under EU grant [267209] and acknowledges support from STFC (ST/L00075X/1). The data reduction for this work was carried out with the computational infrastructure of the INAF-VST Center at Naples (VSTceN). This research made use of the NASA/IPAC Extragalactic Database (NED), which is operated by the Jet Propulsion Laboratory, California Institute of Technology, under contract with the National Aeronautics and Space Administration, and has been partly supported by the PRIN-INAF "Galaxy evolution with the VLT Survey Telescope (VST)" (PI A. Grado). NRN, EI, and MP have been supported by the PRIN-INAF 2014 "Fornax Cluster Imaging and Spectroscopic Deep Survey" (PI. N.R. Napolitano). MS, EI, and M. Cantiello acknowledge finacial support from the VST project (P.I. M. Capaccioli).
Author Contributions
M.S. wrote this paper. M.S., M.C., E.I., N.R.N. and A.P.C. conceived and designed the experiments. M.S. performed the experiments. A.G. and L.L. reduced the data. D.A.F., M.Ca., M.P. and P.S. helped to write and revise the paper.
Conflicts of Interest
The authors declare no conflict of interest.
| | |
| --- | --- |
| 1. | IRAF (Image Reduction and Analysis Facility) is distributed by the National Optical Astronomy Observatories, which is operated by the Associated Universities for Research in Astronomy, Inc. under cooperative agreement with the National Science Foundation. |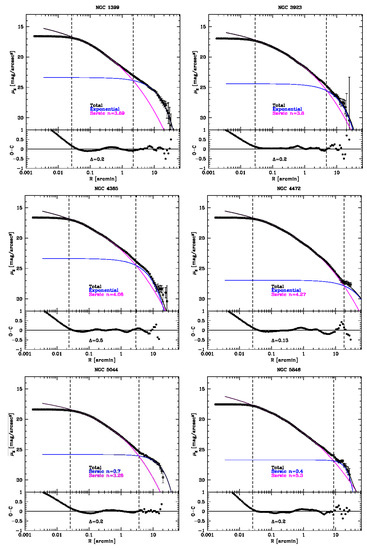 Figure 1.
VST
g
-band profiles of NGC 1399, NGC 3923, NGC 4365, NGC 4472, NGC 5044, and NGC 5846 plotted on a logarithmic scale. The blue line is a fit to the outer regions with an exponential component, for NGC 1399, NGC 3923, NGC 4365, and NGC 4472, and with a Sérsic component for NGC 5044 and NGC 5846. The magenta line is a fit to the inner regions with a Sérsic profile, and the black line is the sum of the components in each fit. The dashed lines indicate the core of the galaxy (), which was excluded in the fit, and the transition point between the two components, respectively.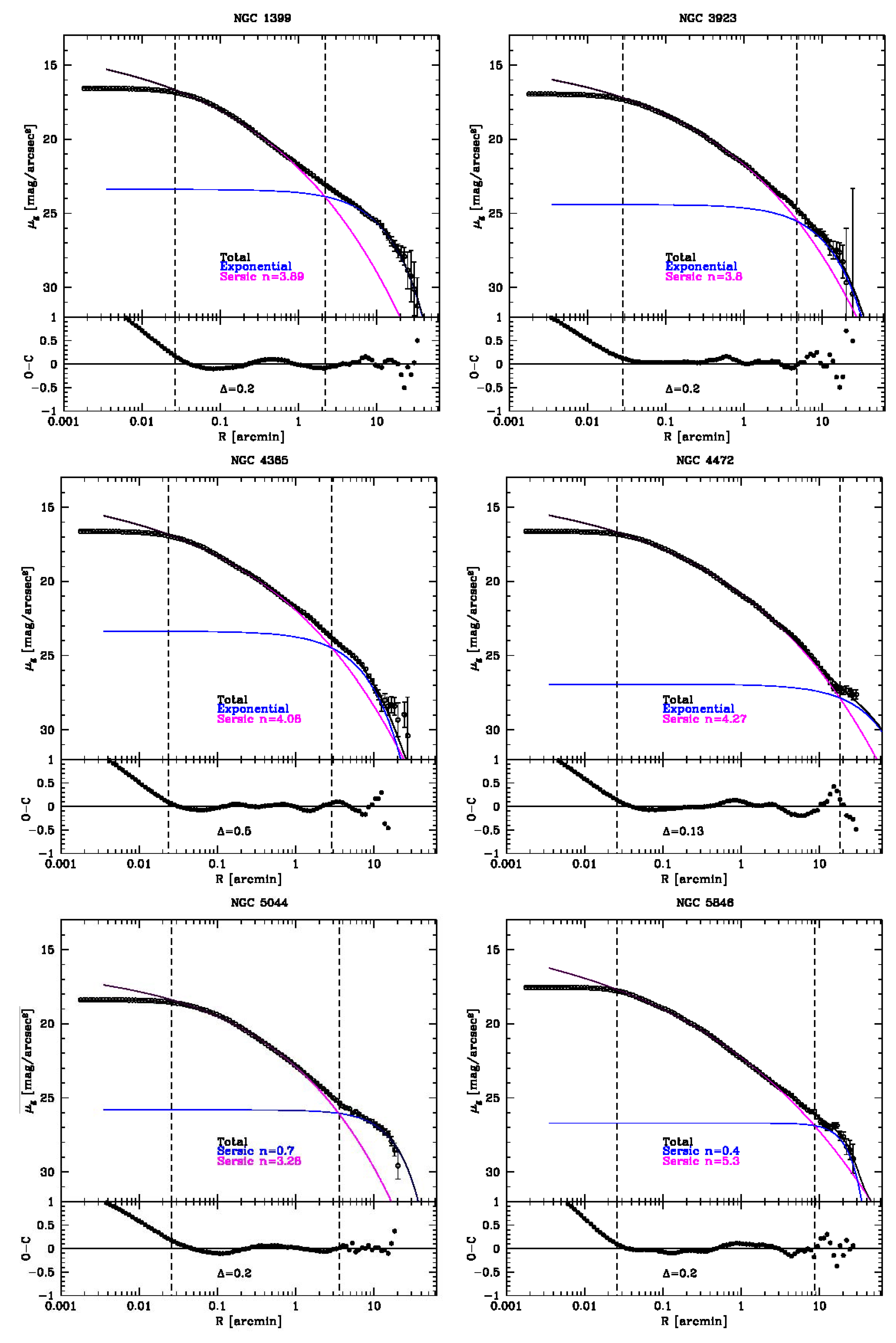 Figure 2.
VST
g
band profiles of NGC 1399, NGC 3923, NGC 4365, NGC 4472, NGC 5044, and NGC 5846, fitted with a three-component model motivated by the predictions of theoretical simulations.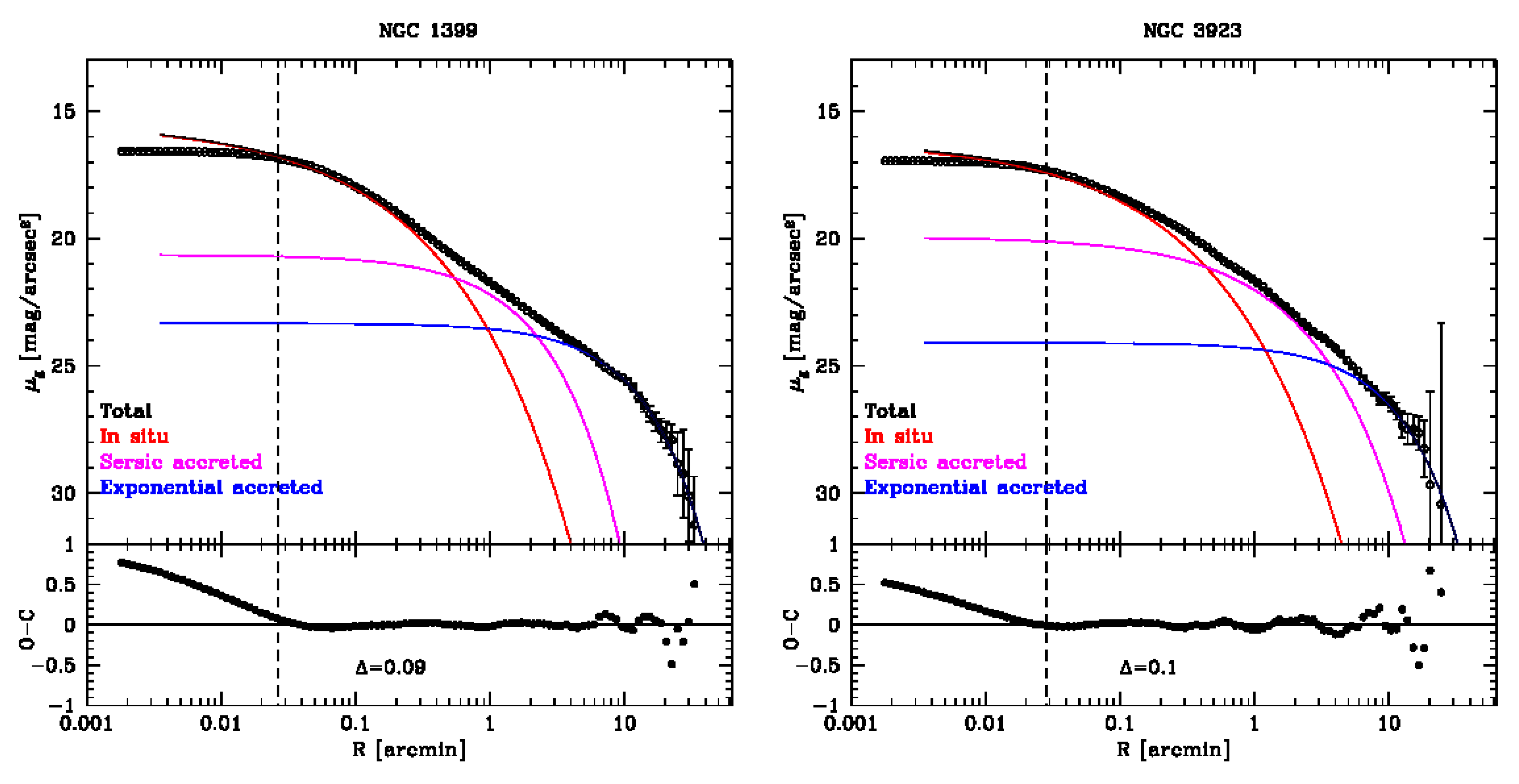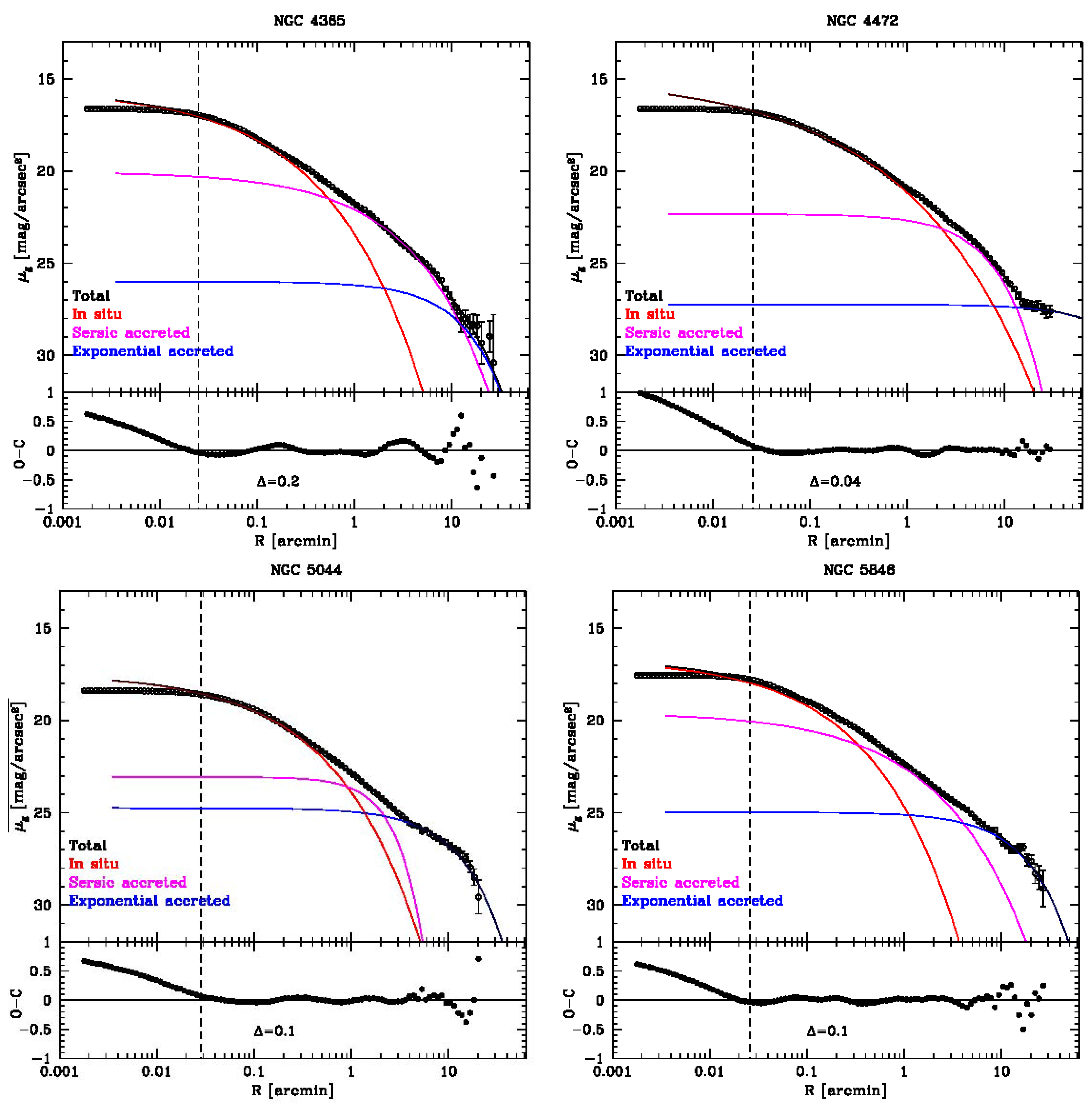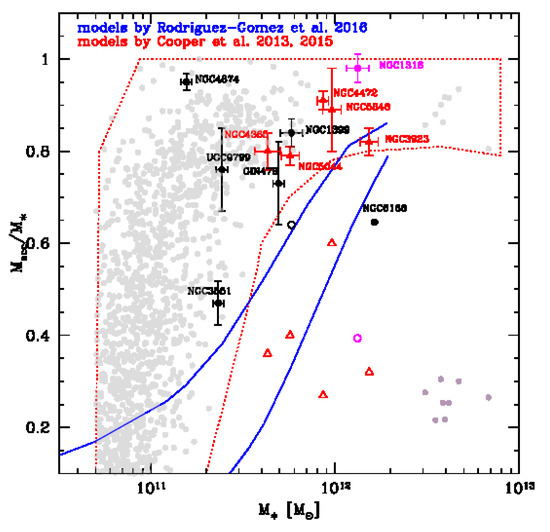 Figure 3.
Accreted mass fraction vs. total stellar mass for early-type galaxies (ETGs). Our VST Elliptical GAlaxies Survey (VEGAS) measurements are given as red filled and open triangles (see text for details). Black circles correspond to other BCGs from the literature [
10
,
13
,
18
]. Pink points are for NGC1316 [
19
]. Red and blue regions indicate the predictions of cosmological galaxy formation simulations by [
3
,
17
] and Rodriguez-Gomez et al. [
4
], respectively, while grey points are from Cooper et al. [
3
]. Purple-grey points (between and solar masses) show the mass fraction associated with the streams from Table 1 in Cooper et al. [
17
] for comparison to the observations shown by open symbols.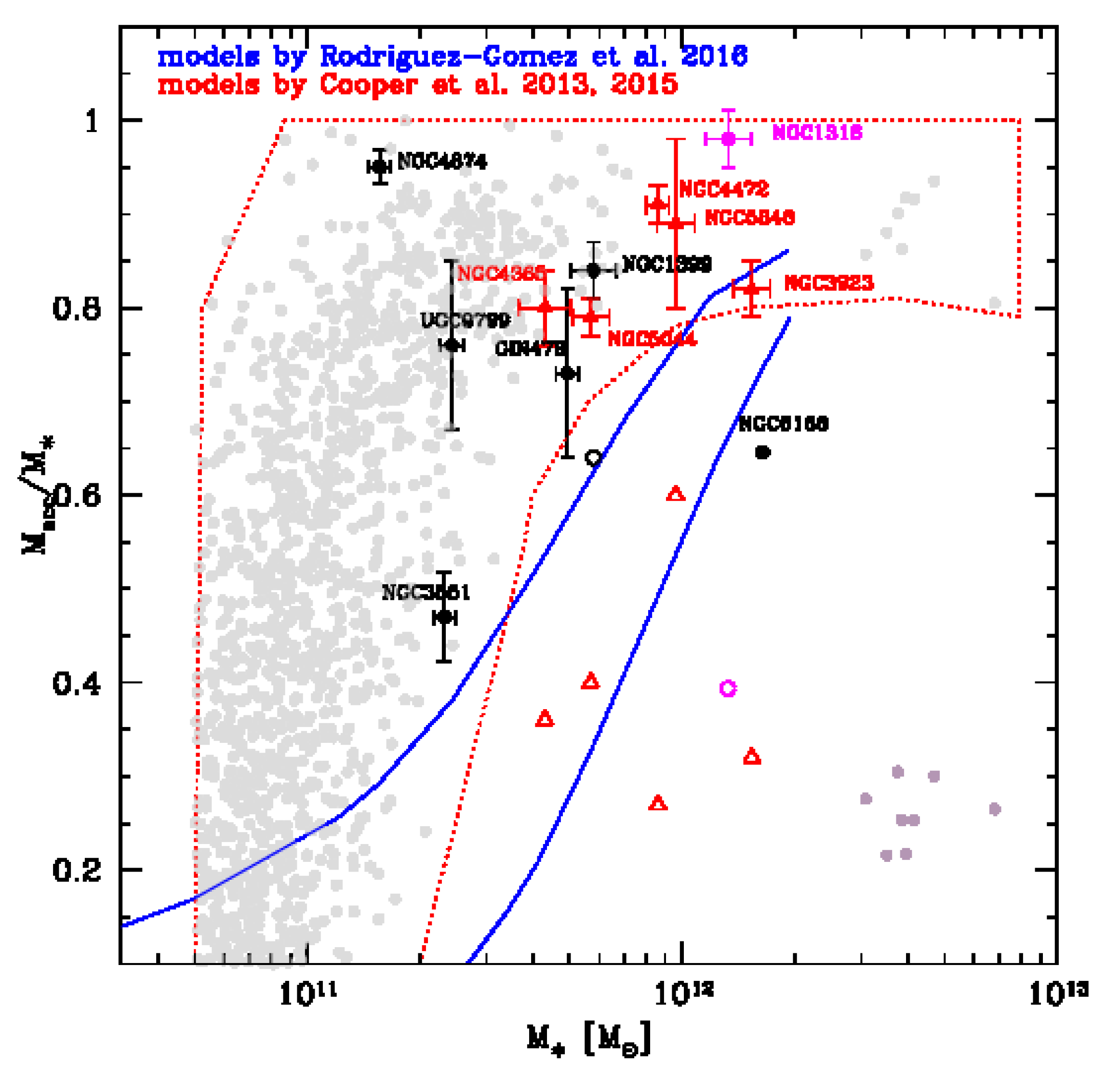 © 2017 by the authors. Licensee MDPI, Basel, Switzerland. This article is an open access article distributed under the terms and conditions of the Creative Commons Attribution (CC BY) license (http://creativecommons.org/licenses/by/4.0/).