Open Access This article is
freely available
re-usable
Article
Simulation of the Surface Energy Flux and Thermal Stratification of Lake Taihu with Three 1-D Models
1
Yale-Nanjing University of Information Science and Technology Center on Atmospheric Environment, Nanjing 210044, China
2
School of Atmospheric Physics, Nanjing University of Information Science and Technology, Nanjing 210044, China
*
Author to whom correspondence should be addressed.
Received: 4 March 2019 / Accepted: 14 May 2019 / Published: 16 May 2019
Abstract
:
The accurate simulation of lake-air exchanges can improve weather and climate predictions, quantify the lake water cycle and provide evidence for water demand management and decision making. This paper analyzes the thermal stratification and surface flux of eastern Lake Taihu and evaluates three common surface models: CLM4-LISSS, E-ε and LAKE. The results show that the thermal stratification and lake-air exchanges are greatly affected by the weather conditions and have obvious diurnal variations in the Lake Taihu. The eddy exchange coefficient (EEC) in the thermodynamic equation varies greatly with the weather conditions and the water depth too, and an accurate parameterization scheme is important for the temperature simulations. The lake surface temperature simulation results of the CLM4-LISSS model have the highest accuracy due to the more accurate EEC simulation, with a correlation coefficient (CC) of 0.94 and a root mean square error (RMSE) of 0.85 °C, and latent flux simulation with a CC of 0.78 and a RMSE of 55.32 W m−2. Moreover, the submerged plants in shallow water have obvious influences on the radiation, thermal transferring and eddy motion. The E–ε model can accurately simulate the surface temperature with submerged plants consideration, though a better scheme to deal with surface flux and turbulence dissipation in the areas of submerged plants is still need to be developed. The physical process in the LAKE model is comprehensive, while when it is used to simulate Lake Taihu and other shallow lakes, the EEC is large and needs to be adjusted.
Keywords:
shallow lake; thermal stratification; flux simulation; models comparison
Author Contributions
Conceptualization, Y.W. and S.L.; methodology, Y.W.; software, Y.G.; validation, Q.M.; X.H.; formal analysis, Q.M.; data curation, Q.M.; writing—original draft preparation, Y.W.; writing—review and editing, S.L.; project administration, Y.W.; funding acquisition, Y.W.
Funding
This research was funded by the National Natural Science Foundation of China, grant number 41275024, and the sponsorship of Jiangsu oversea Visiting Scholar Program for University Prominent Youth & Middle-aged Teachers and Presidents.
Acknowledgments
Sincerely thank the reviewers for their comments, which is of great help to the improvement of this paper.
Conflicts of Interest
The authors declare no conflict of interest.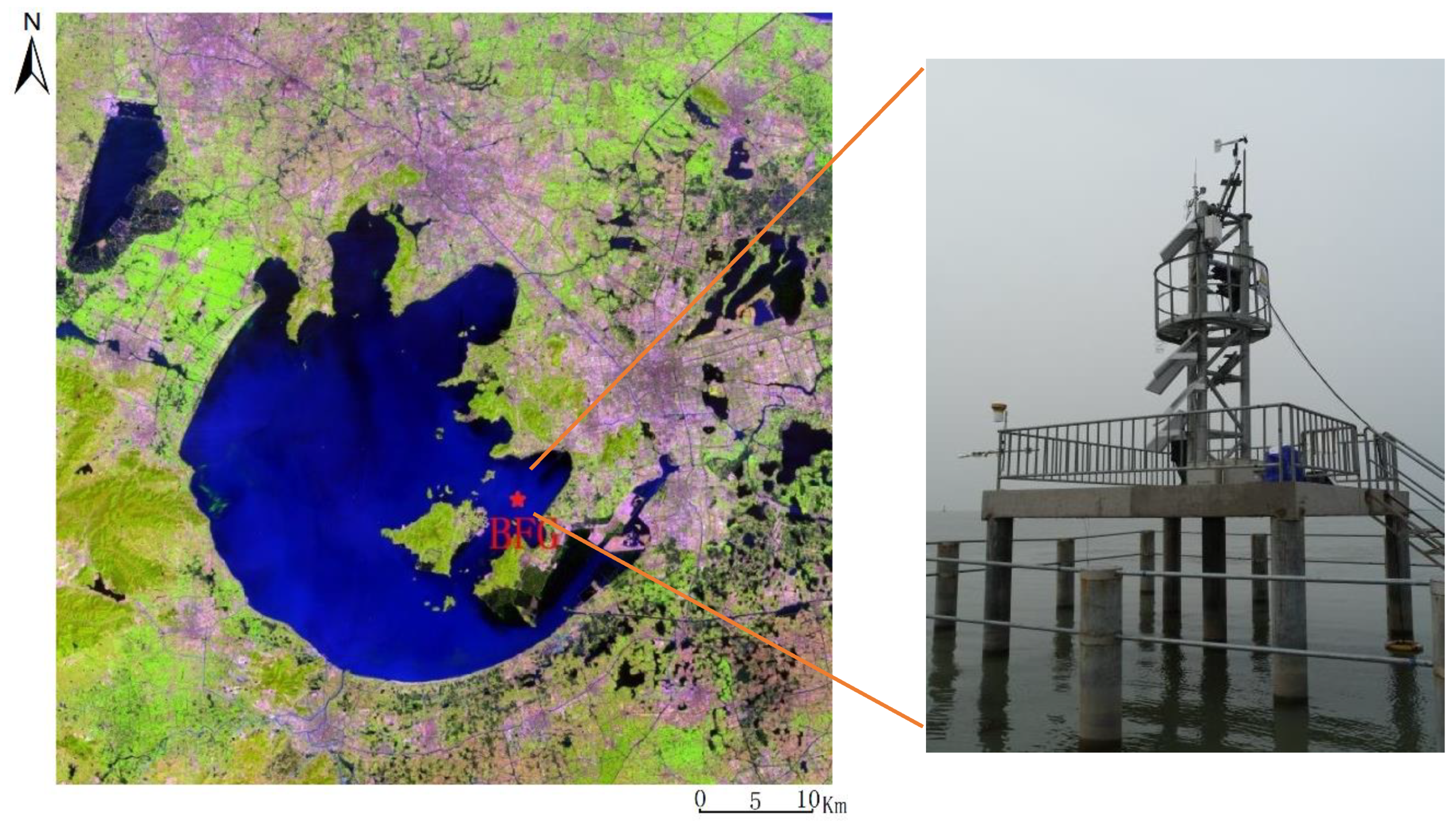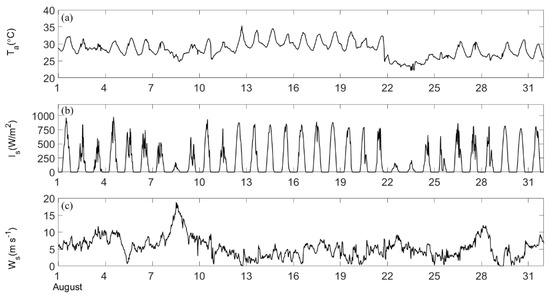 Figure 2. Weather conditions at BFG Station in Lake Taihu in August 2012. (a) is 2m air temperature, (b) is downward solar radiation and (c) is 10m wind speed.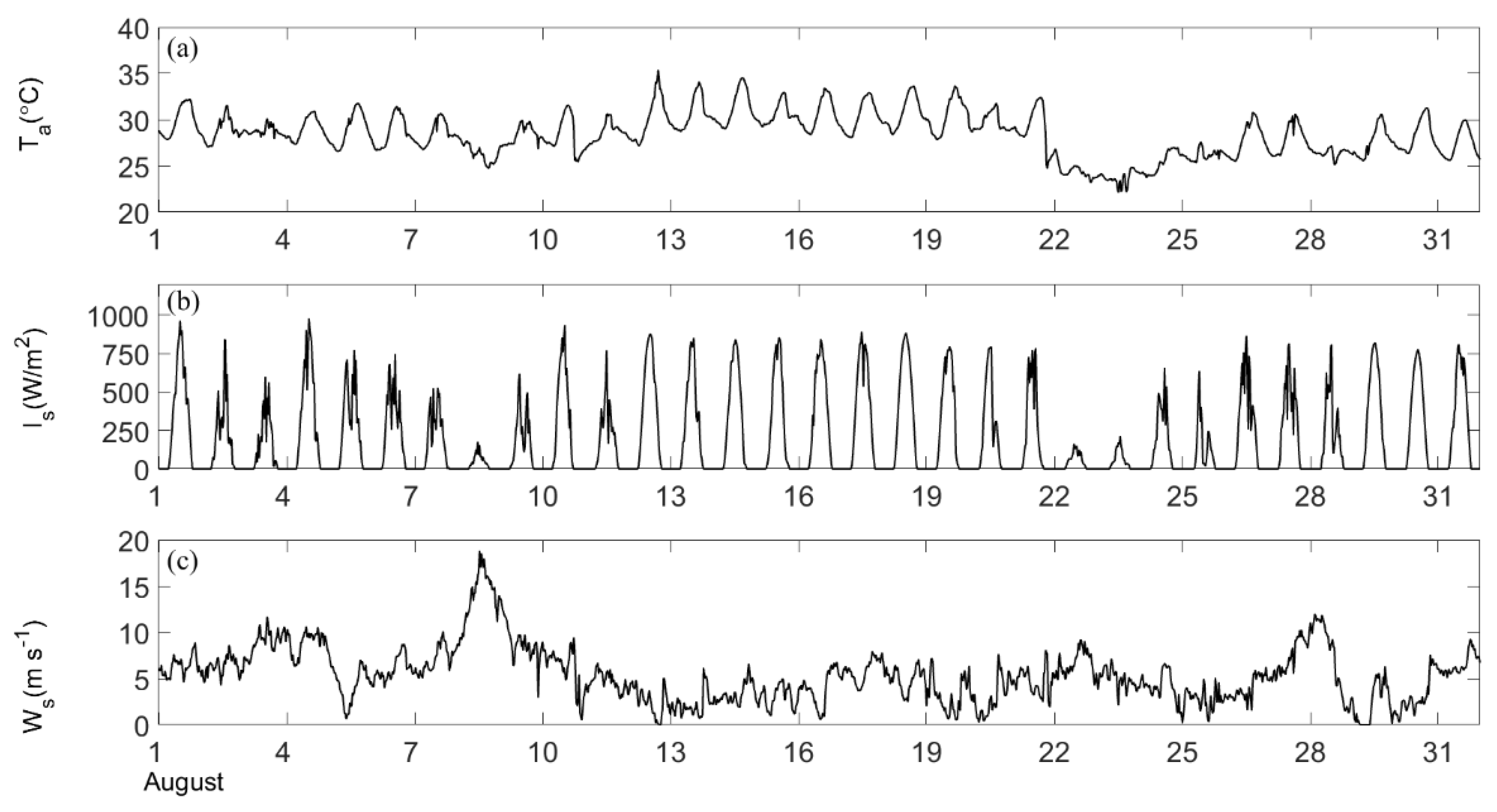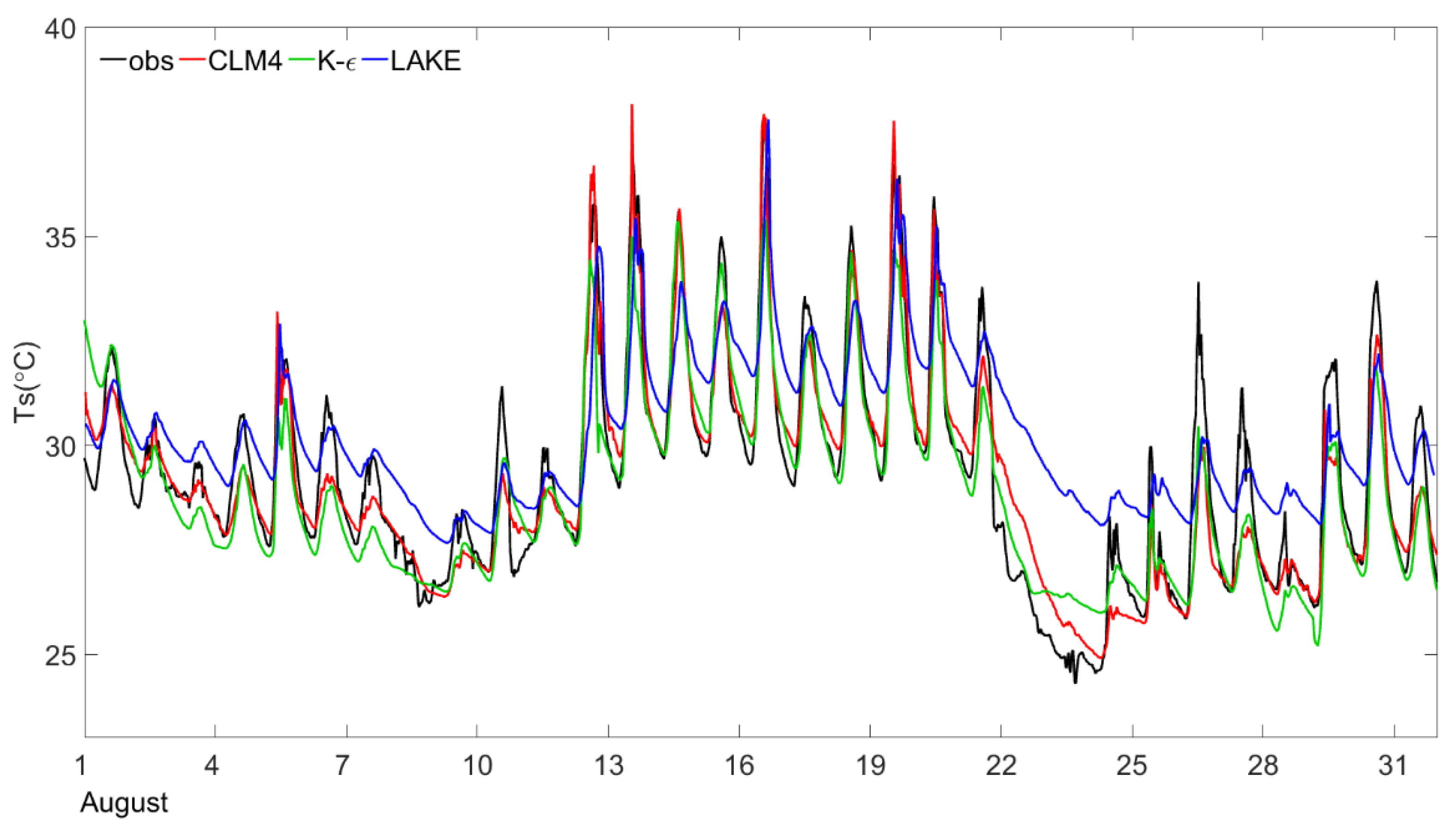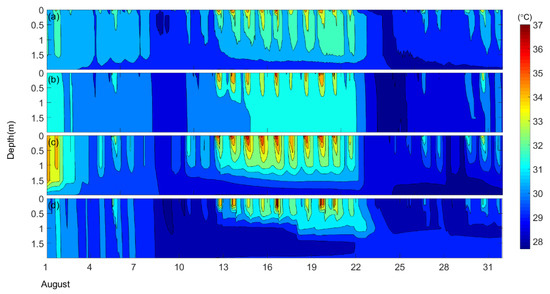 Figure 4. Simulation of vertical temperature profile (lake stratification) in the August 2012 at BFG station in Lake Taihu (a) Observations, (b) CLM4-LISSS, (c) E-ε, (d)LAKE.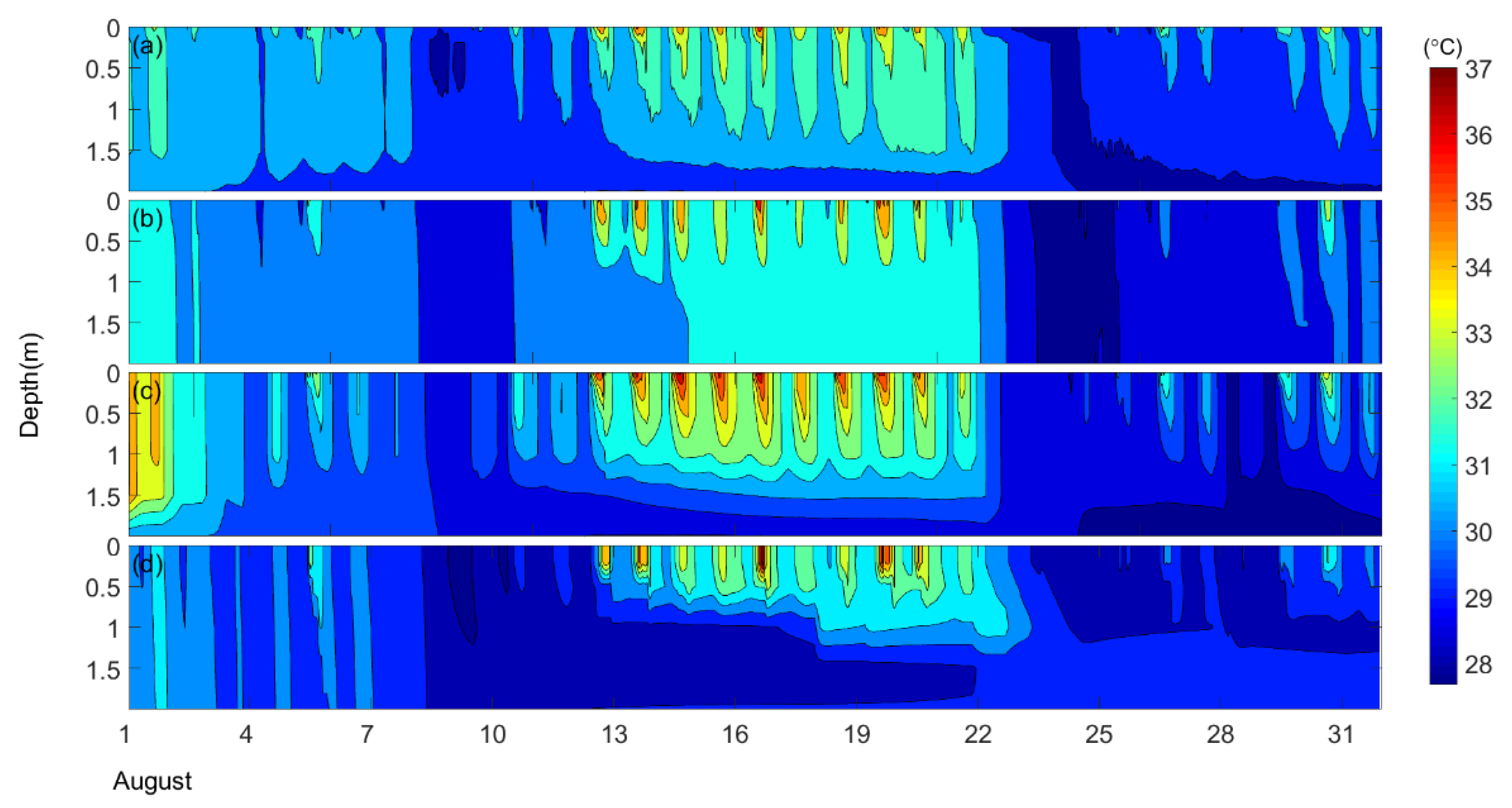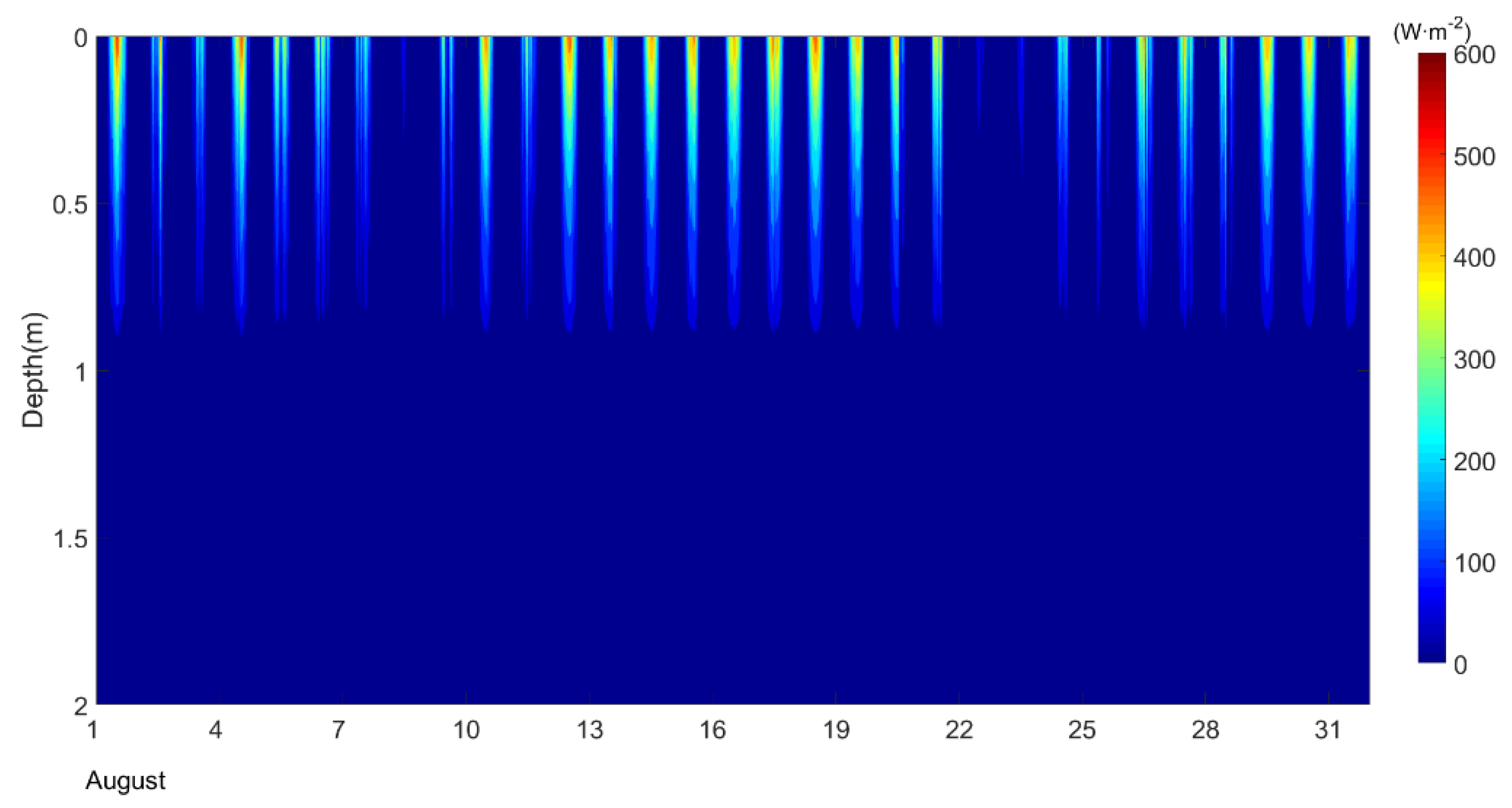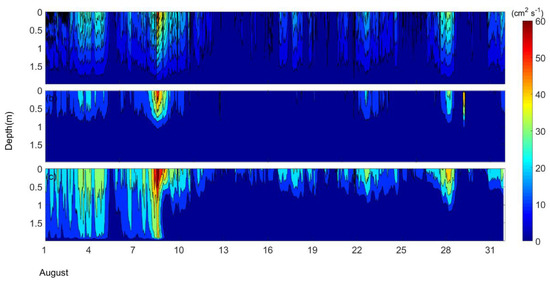 Figure 6. Vertical variations of eddy diffusivity coefficients of lake models (a) CLM4-LISSS, (b) E-ε (c) LAKE.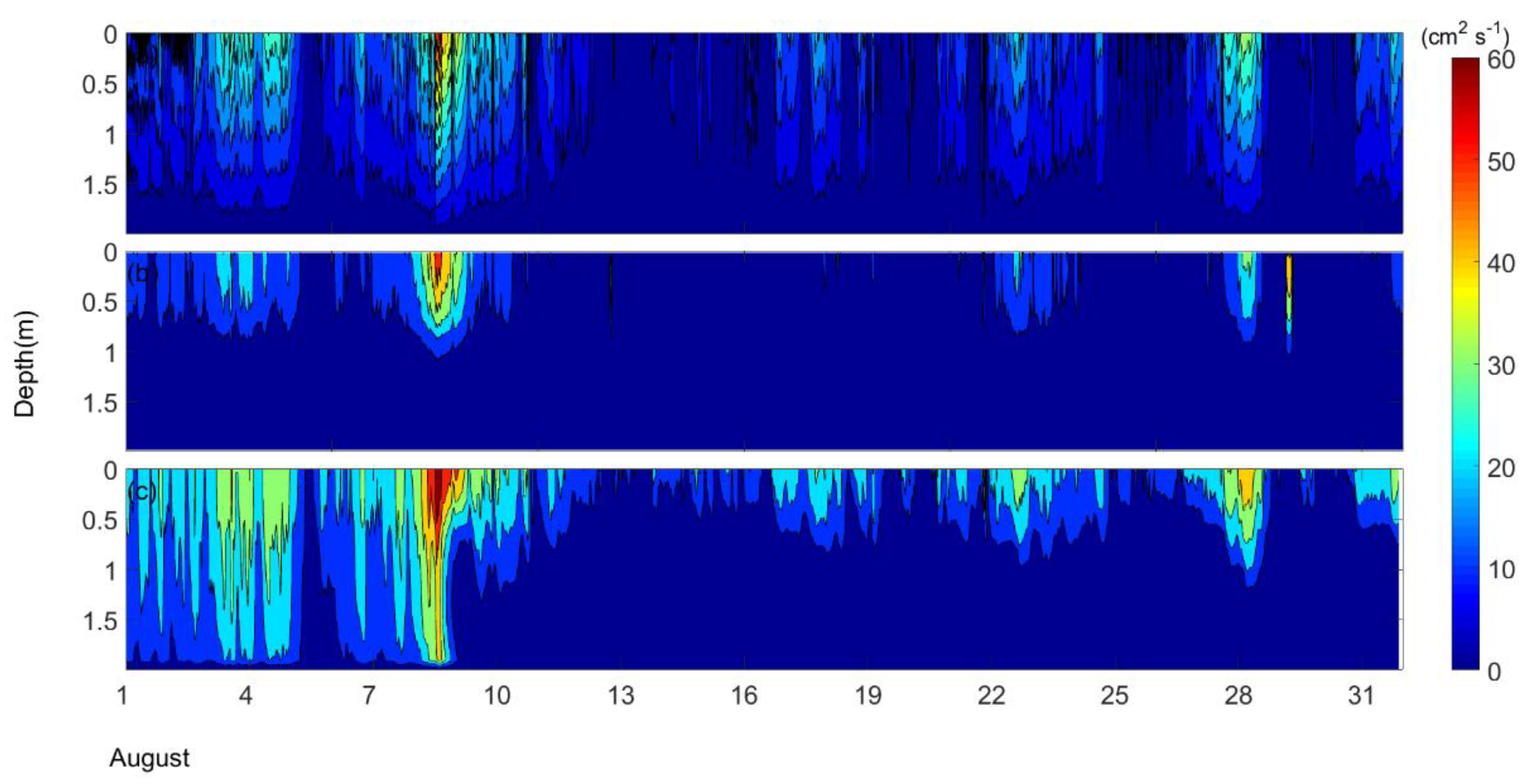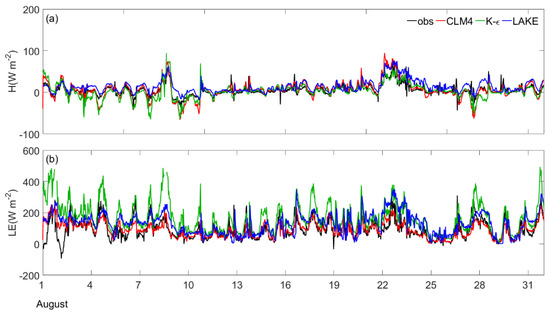 Figure 7. Simulations and observations of the sensible heat flux (a) and latent heat flux (b) at lake surface every half hour in Lake Taihu in August 2012.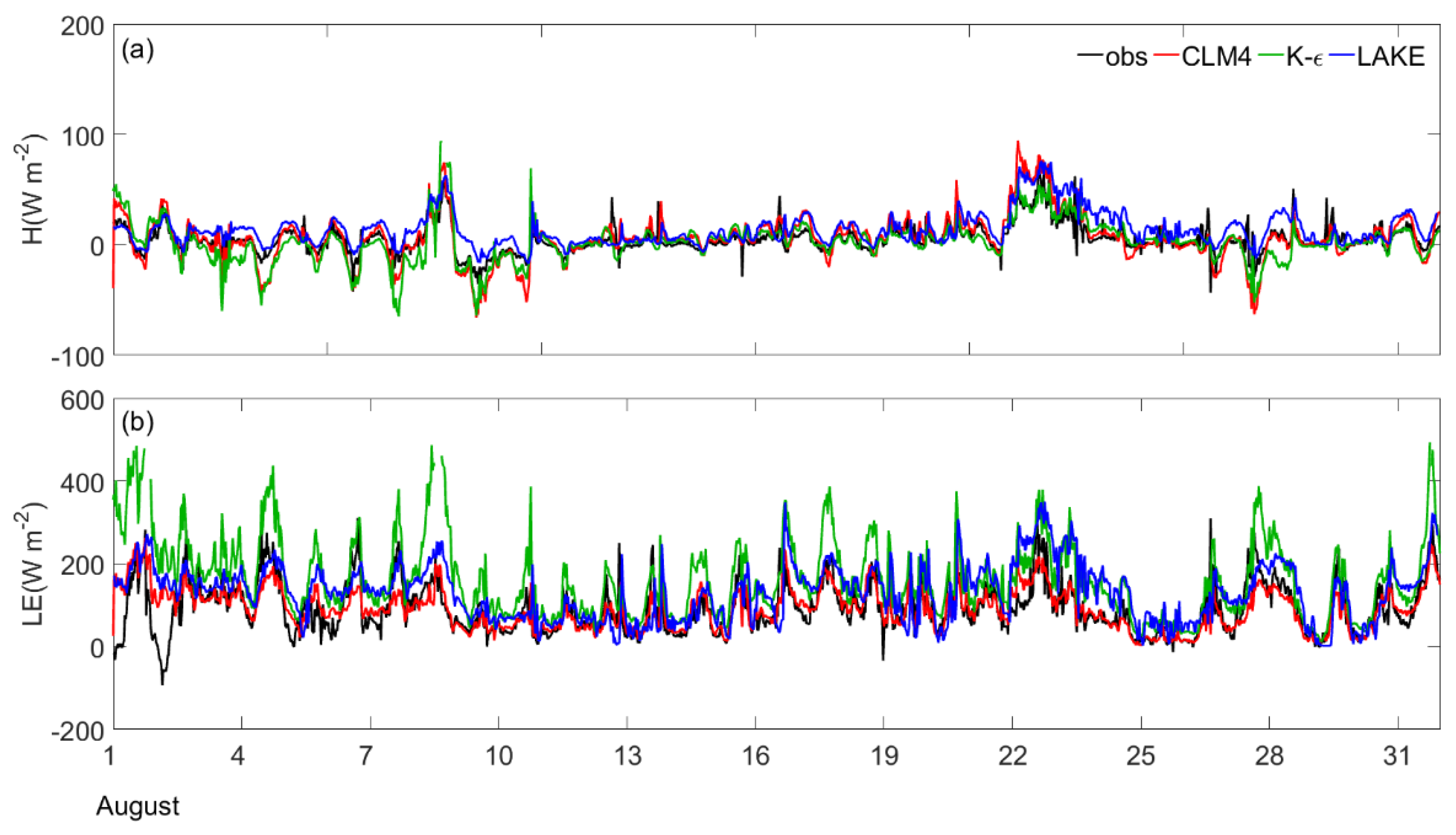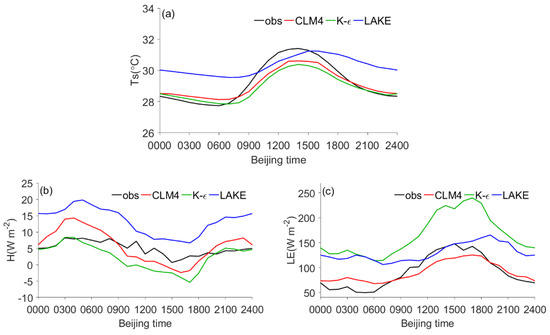 Figure 8. Comparison of simulated and observed diurnal variations of monthly mean surface temperature(a), Sensible heat (b) and latent heat (c).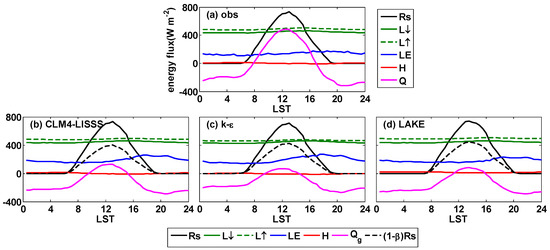 Figure 9.
Simulation and observation of average monthly variation of lake surface layer energy in Taihu in August 2012. Rs is net radiation flux, L is downward long-wave radiation, L is upward long-wave radiation, and LE is latent heat Flux, H is the sensible heat flux,
Qg
refers to the heat transfer from the surface layer to the lake, and (1 −
β
) Rs refers to the heat storage in the surface layer of the lake.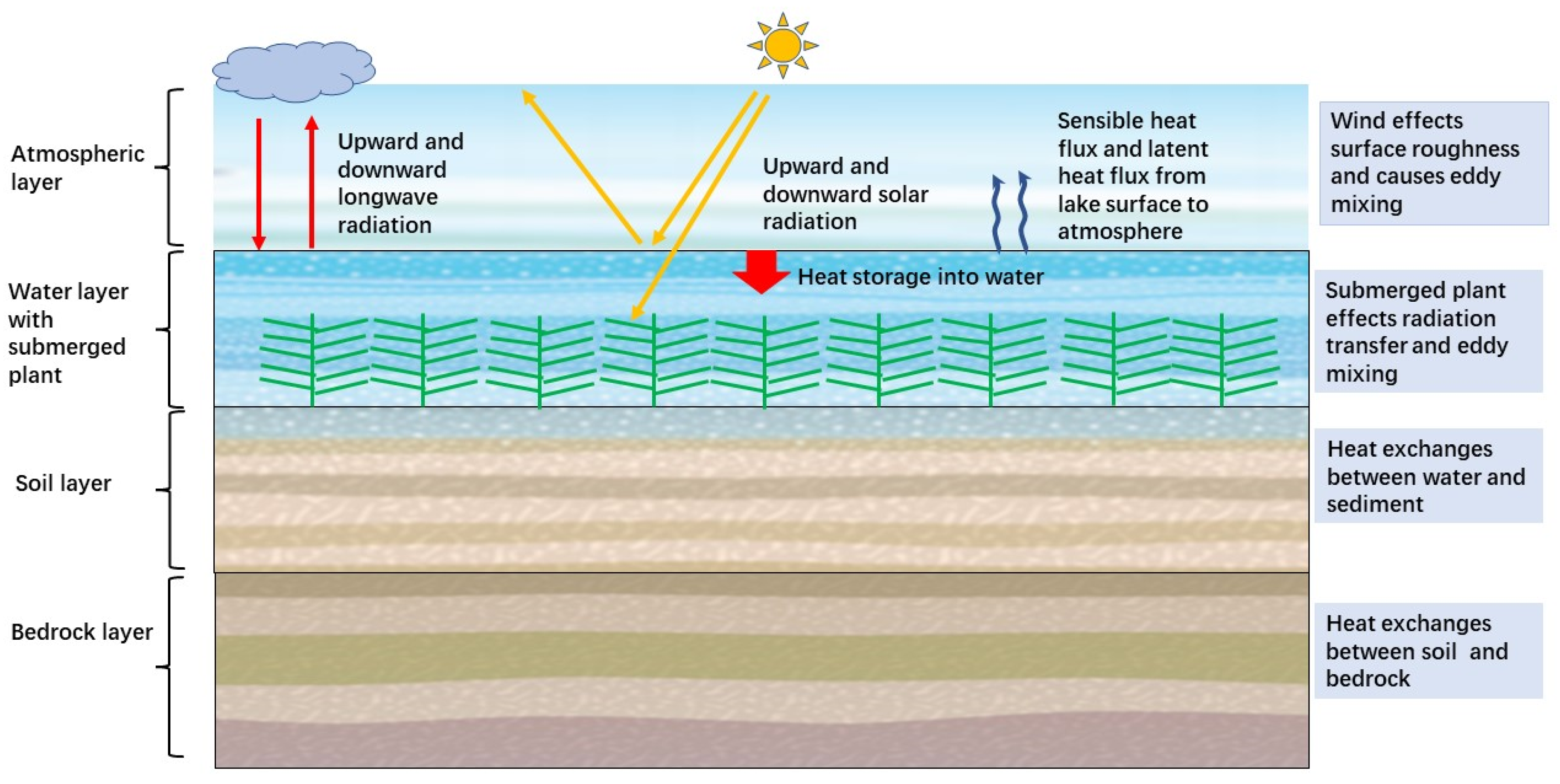 | Lake Type | Vertical Stratification/Layers | Parameterization Scheme of Eddy Flux between Lake and Atmosphere | Parameterization Scheme of EEC | Consideration of Sediment Layers |
| --- | --- | --- | --- | --- |
| CLM4-LISSS | multilayer/10 layers | Monin-Obukhov Similarity Theory | Henderson–Sellers scheme [32] | Yes |
| E-ε lake model | multilayer/50 layers | Empirical function | Eddy kinetic energy prediction equations | No |
| LAKE | multilayer/10 layers | Monin-Obukhov Similarity Theory | Eddy kinetic energy and dissipation prediction equations | Yes |
CLM4–LISSS
E–ε Lake Model
LAKE
Lake surface albedo
0.055
0.055
0.055
Extinction coefficient of water turbidity
5 m−1
5 m−1
5 m−1
Extinction coefficient of submerged plant
—
0.02 m2 gdw−1
—
EEC



k

: Karman constant
: surface friction velocity


z

: layer depth of lake


p

0: neutral value of turbulent Prandtl number


ri

: Richardson number



N

: Brunt-Vaisala constant

, set to be 0.1
mixing length coefficient
turbulent kinetic energy.



λ

0: molecular diffusivity


V

: wind speed


V

0: wind speed at which eddy diffusivity reaches its maximum
λmax = 150 W (m K)−1
Macrophyte height
—
1.2m
—
Macrophyte biomass density
—
100 gdw m−3
—

Table 3. Statistical analysis of simulated and observed values in different layers of lake water temperature in Taihu in August 2012.
CC
Centralized RMSE (°C)
TS
TW
(20 cm)
TW
(50 cm)
TW
(100 cm)
TW
(150 cm)
TS
TW
(20 cm)
TW
(50 cm)
TW
(100 cm)
TW
(150 cm)
CLM4
0.94
0.94
0.94
0.96
0.95
0.85
0.64
0.59
0.42
0.53
E-ε
0.93
0.93
0.92
0.90
0.8
0.98
0.68
0.66
0.65
1.03
LAKE
0.82
0.93
0.89
0.58
0.06
1.45
0.64
0.78
1.20
1.49

Table 4. Statistical values of simulation and observation of surface heat flux in Lake Taihu in August 2012.
CC
Centralized RMSE
(W m−2)
H
LE
H
LE
CLM4
0.86
0.78
11.61
55.32
E-ε
0.77
0.72
11.56
64.53
LAKE
0.71
0.55
10.96
61.96

© 2019 by the authors. Licensee MDPI, Basel, Switzerland. This article is an open access article distributed under the terms and conditions of the Creative Commons Attribution (CC BY) license (http://creativecommons.org/licenses/by/4.0/).