Denitrification-Potential Evaluation and Nitrate-Removal-Pathway Analysis of Aerobic Denitrifier Strain
Marinobacter hydrocarbonoclasticus

RAD-2

1

Agricultural Experiment Station, Zhejiang University, Hangzhou 310058, China

2

Key Laboratory of Hangzhou City for Ecosystem Protection and Restoration, College of Life and Environmental Sciences, Hangzhou Normal University, Hangzhou 310036, China

3

Aquaculture and Fisheries Group, Department of Animal Sciences, Wageningen University, 6708 WD Wageningen, The Netherlands

4

Institute of Agricultural Bio-Environmental Engineering, College of Bio-systems Engineering and Food Science, Zhejiang University, Hangzhou 310058, China

5

New Countryside Development Institute, Zhejiang University, Hangzhou 310058, China

*

Author to whom correspondence should be addressed.

Received: 15 August 2018 / Revised: 12 September 2018 / Accepted: 20 September 2018 / Published: 21 September 2018
Abstract
An aerobic denitrifier was isolated from a long-term poly (3-hydroxybutyrate-
co
-3-hydroxyvalerate) PHBV-supported denitrification reactor that operated under alternate aerobic/anoxic conditions. The strain was identified as
Marinobacter hydrocarbonoclasticus
RAD-2 based on 16S rRNA-sequence phylogenetic analysis. Morphology was observed by scanning electron microscopy (SEM), and phylogenetic characteristics were analyzed with the API 20NE test. Strain RAD-2 showed efficient aerobic denitrification ability when using NO
3
−
-N or NO
2
−
-N as its only nitrogen source, while heterotrophic nitrification was not detected. The average NO
3
−
-N and NO
2
−
-N removal rates were 6.47 mg/(L·h)and 6.32 mg/(L·h), respectively. Single-factor experiments indicated that a 5:10 C/N ratio, 25–40 °C temperature, and 100–150 rpm rotation speed were the optimal conditions for aerobic denitrification. Furthermore, the denitrifying gene
napA
had the highest expression on a transcriptional level, followed by the denitrifying genes
nirS
and
nosZ
. The
norB
gene was found to have significantly low expression during the experiment. Overall, great aerobic denitrification ability makes the RAD-2 strain a potential alternative in enhancing nitrate management for marine recirculating aquaculture system (RAS) practices.
View Full-Text
►

▼

Figures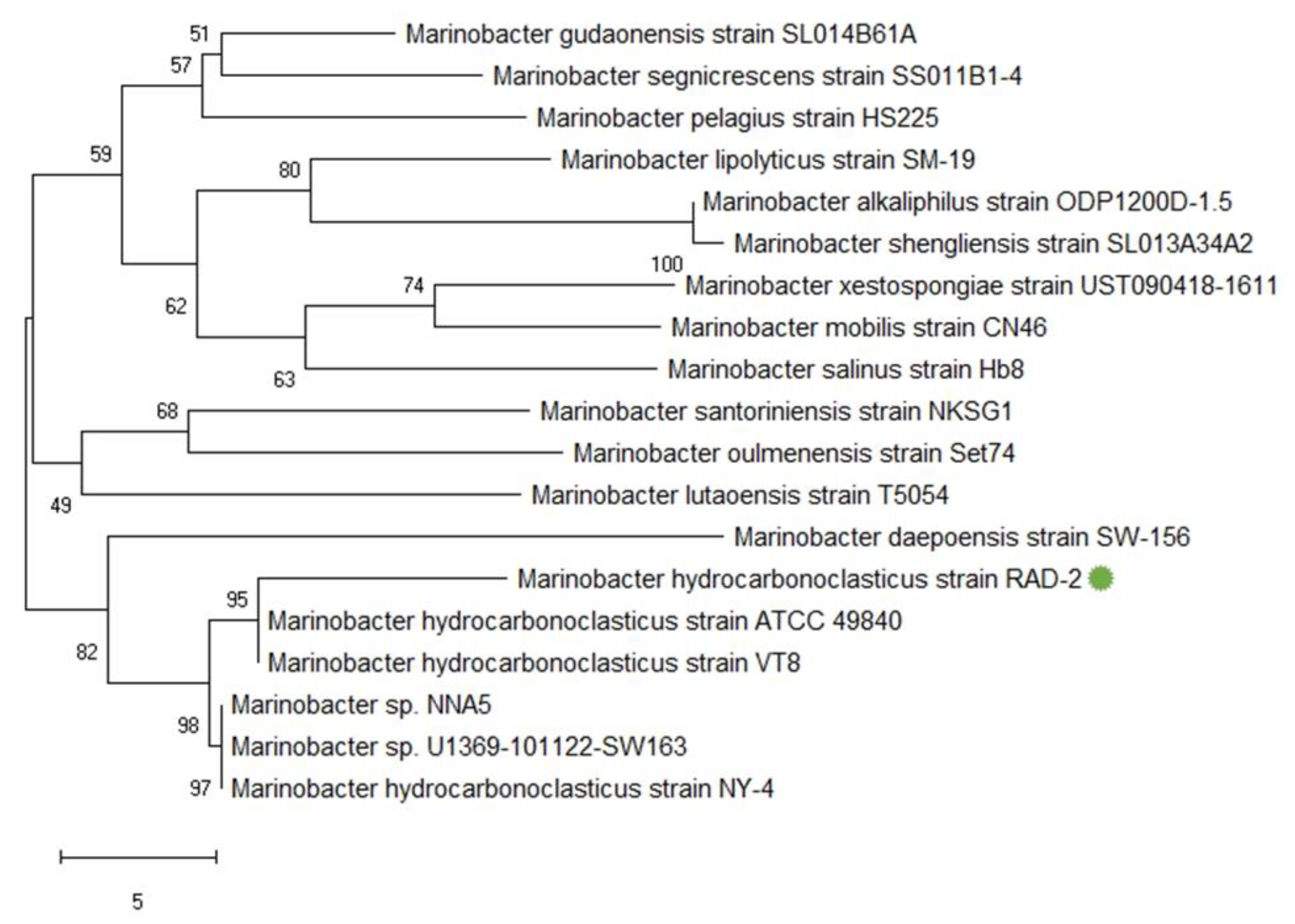 Figure 1
This is an open access article distributed under the
Creative Commons Attribution License
which permits unrestricted use, distribution, and reproduction in any medium, provided the original work is properly cited (CC BY 4.0).

Share & Cite This Article
MDPI and ACS Style
Kong, D.; Li, W.; Deng, Y.; Ruan, Y.; Chen, G.; Yu, J.; Lin, F. Denitrification-Potential Evaluation and Nitrate-Removal-Pathway Analysis of Aerobic Denitrifier Strain Marinobacter hydrocarbonoclasticus RAD-2. Water 2018, 10, 1298.
Note that from the first issue of 2016, MDPI journals use article numbers instead of page numbers. See further details here.
Related Articles
Comments
[Return to top]