Exploring Genomic Variants Related to Residual Feed Intake in Local and Commercial Chickens by Whole Genomic Resequencing
1
Institute of Animal Sciences, Chinese Academy of Agricultural Sciences, Beijing 100193, China
2
State Key Laboratory of Animal Nutrition, Beijing 100193, China
3
College of Animal Science, Jilin University, Changchun 130062, China
*
Authors to whom correspondence should be addressed.
†
These authors contributed equally to this work.
Received: 17 October 2017 / Revised: 20 December 2017 / Accepted: 2 January 2018 / Published: 24 January 2018
Abstract
Improving feed efficiency is a major goal in poultry production to reduce production costs and increase profitability. The genomic variants and possible molecular mechanisms responsible for residual feed intake (RFI) in chickens, however, remain poorly understood. In this study, using both local and commercial breeds, genome re-sequencing of low RFI and high RFI chickens was performed to elucidate the genomic variants underlying RFI. Results showed that 8,505,214 and 8,479,041 single nucleotide polymorphisms (SNPs) were detected in low and high RFI Beijing-You chickens, respectively; 8,352,008 and 8,372,769 SNPs were detected in low- and high-RFI Cobb chickens, respectively. Through a series of filtering processes, 3746 candidate SNPs assigned to 1137 genes in Beijing-You chickens and 575 candidate SNPs (448 genes) in Cobb chickens were found. The validation of the selected 191 SNPs showed that 46 SNPs were significantly associated with the RFI in an independent population of 779 Cobb chickens, suggesting that the method of screening associated SNPs with whole genome sequencing (WGS) strategy was reasonable. Functions annotation of RFI-related genes indicated that genes in Beijing-You were enriched in lipid and carbohydrate metabolism, as well as the phosphatase and tensin homolog (PTEN) signaling pathway. In Cobb, however, RFI-related genes were enriched in the feed behavior process and cAMP responsive element binding protein (CREB) signaling pathway. For both breeds, organismal development physiological processes were enriched. Correspondingly,
NOS1
,
PHKG1
,
NEU3
and
PIP5K1B
were differentially expressed in Beijing-You, while
CDC42
,
CSK
,
PIK3R3
,
CAMK4
and
PLCB4
were differentially expressed in Cobb, suggesting that these might be key genes that contribute to RFI. The results of the present study identified numerous novel SNPs for RFI, which provide candidate biomarkers for use in the genetic selection for RFI. The study has improved knowledge of the genomic variants and potential biological pathways underlying RFI in chickens.
View Full-Text
►

▼

Figures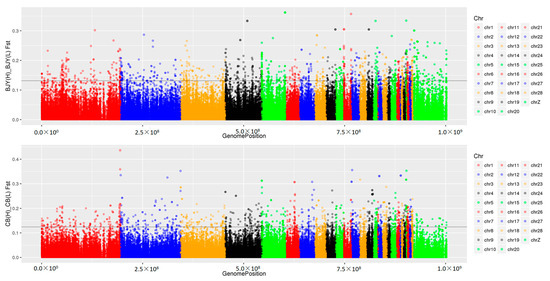 Figure 1
This is an open access article distributed under the
Creative Commons Attribution License
which permits unrestricted use, distribution, and reproduction in any medium, provided the original work is properly cited (CC BY 4.0).

Share & Cite This Article
MDPI and ACS Style
Liu, J.; Liu, R.; Wang, J.; Zhang, Y.; Xing, S.; Zheng, M.; Cui, H.; Li, Q.; Li, P.; Cui, X.; Li, W.; Zhao, G.; Wen, J. Exploring Genomic Variants Related to Residual Feed Intake in Local and Commercial Chickens by Whole Genomic Resequencing. Genes 2018, 9, 57.
Note that from the first issue of 2016, MDPI journals use article numbers instead of page numbers. See further details here.
Related Articles
Comments
[Return to top]