Chromosome Evolution in the Free-Living Flatworms: First Evidence of Intrachromosomal Rearrangements in Karyotype Evolution of
Macrostomum lignano

(Platyhelminthes, Macrostomida)

1

The Federal Research Center Institute of Cytology and Genetics SB RAS, Lavrentiev ave., 10, Novosibirsk 630090, Russia

2

European Research Institute for the Biology of Ageing, University of Groningen, University Medical Center Groningen, Antonius Deusinglaan 1, 9713AV, Groningen, The Netherlands

3

Novosibirsk State University, Pirogova str., 2, Novosibirsk 630090, Russia

*

Author to whom correspondence should be addressed.

Received: 31 August 2017 / Revised: 16 October 2017 / Accepted: 26 October 2017 / Published: 30 October 2017
Abstract
The free-living flatworm
Macrostomum lignano
is a hidden tetraploid. Its genome was formed by a recent whole genome duplication followed by chromosome fusions. Its karyotype (2n = 8) consists of a pair of large chromosomes (MLI1), which contain regions of all other chromosomes, and three pairs of small metacentric chromosomes. Comparison of MLI1 with metacentrics was performed by painting with microdissected DNA probes and fluorescent in situ hybridization of unique DNA fragments. Regions of MLI1 homologous to small metacentrics appeared to be contiguous. Besides the loss of DNA repeat clusters (pericentromeric and telomeric repeats and the 5S rDNA cluster) from MLI1, the difference between small metacentrics MLI2 and MLI4 and regions homologous to them in MLI1 were revealed. Abnormal karyotypes found in the inbred DV1/10 subline were analyzed, and structurally rearranged chromosomes were described with the painting technique, suggesting the mechanism of their origin. The revealed chromosomal rearrangements generate additional diversity, opening the way toward massive loss of duplicated genes from a duplicated genome. Our findings suggest that the karyotype of
M. lignano
is in the early stage of genome diploidization after whole genome duplication, and further studies on
M. lignano
and closely related species can address many questions about karyotype evolution in animals.
View Full-Text
►

▼

Figures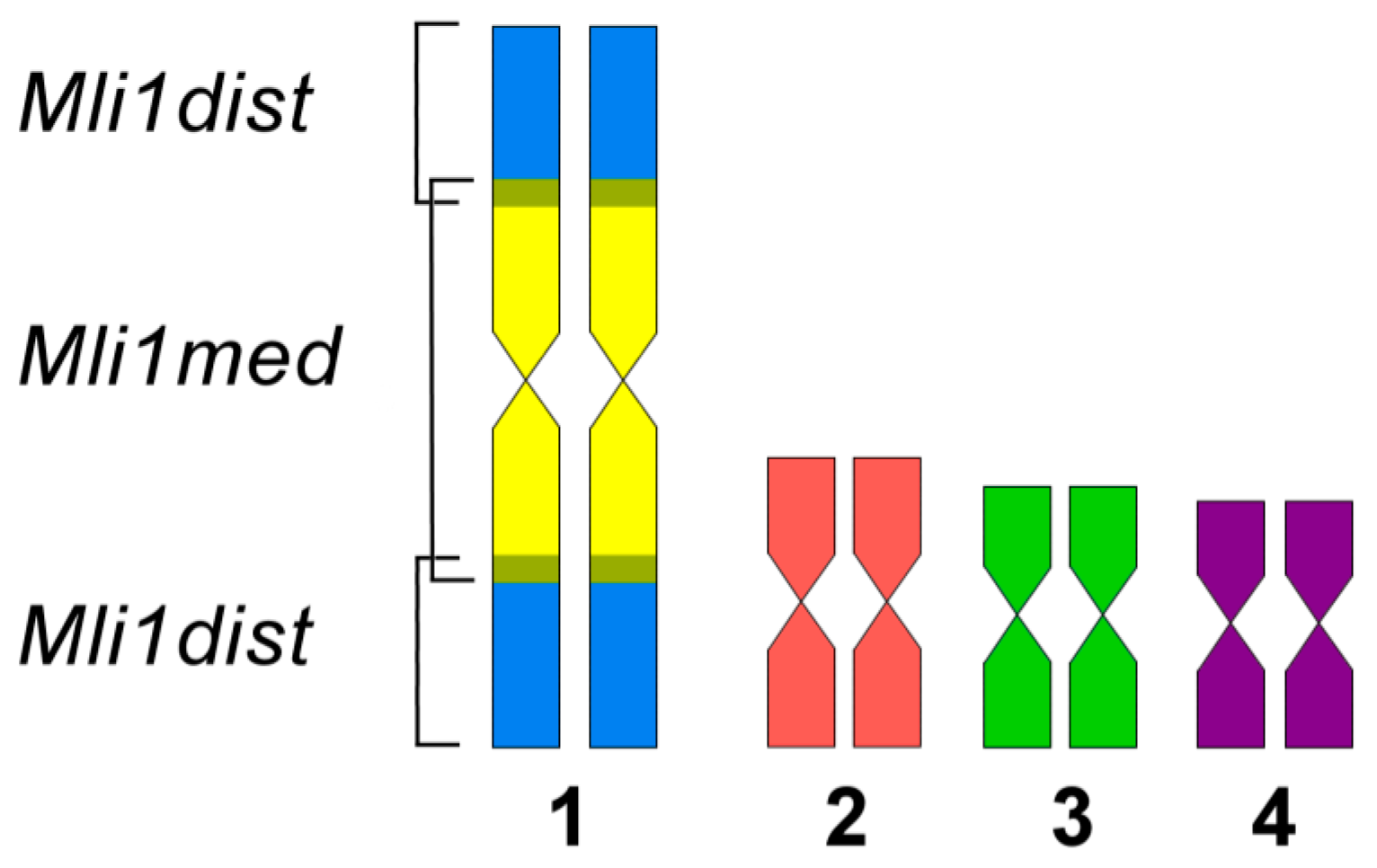 Figure 1
This is an open access article distributed under the
Creative Commons Attribution License
which permits unrestricted use, distribution, and reproduction in any medium, provided the original work is properly cited (CC BY 4.0).

Share & Cite This Article
MDPI and ACS Style
Zadesenets, K.S.; Ershov, N.I.; Berezikov, E.; Rubtsov, N.B. Chromosome Evolution in the Free-Living Flatworms: First Evidence of Intrachromosomal Rearrangements in Karyotype Evolution of Macrostomum lignano (Platyhelminthes, Macrostomida). Genes 2017, 8, 298.
Note that from the first issue of 2016, MDPI journals use article numbers instead of page numbers. See further details here.
Related Articles
Comments
[Return to top]