The Transcriptomes of
Xiphinema index

and

Longidorus elongatus

Suggest Independent Acquisition of Some Plant Parasitism Genes by Horizontal Gene Transfer in Early-Branching Nematodes

1

INRA, Université Côte d'Azur, CNRS, ISA, 06903, Sophia Antipolis Cedex, France

2

Cell and Molecular Sciences Group, Dundee Effector Consortium, James Hutton Institute, Invergowrie, Dundee DD2 5DA, UK

3

Ecological Sciences Group,

[email protected]

, James Hutton Institute, Invergowrie, Dundee DD2 5DA, UK

4

Centre of Parasitology of the A.N. Severtsov Institute of Ecology and Evolution, Russian Academy of Sciences, Leninskii Prospect 33, Moscow 119071, Russia

5

Commissariat à l'Energie Atomique (CEA), Institut de Génomique (IG), Genoscope, 92057, Evry, France

6

Laboratory of Nematology, Department of Plant Sciences, Wageningen University, Droevendaalsesteeg 1, 6708 PB Wageningen, The Netherlands

7

School of Biology, University of St Andrews, North Haugh, St Andrews KY16 9TZ, UK

8

Biological Chemistry, John Innes Centre, Norwich Research Park, Norwich NR4 7UH, UK

9

School of Life Sciences, University of Dundee, Dundee, DD1 5EH, UK

*

Author to whom correspondence should be addressed.

†

These authors contributed equally to this work.

Received: 12 September 2017 / Revised: 16 October 2017 / Accepted: 18 October 2017 / Published: 23 October 2017
Abstract
Nematodes have evolved the ability to parasitize plants on at least four independent occasions, with plant parasites present in Clades 1, 2, 10 and 12 of the phylum. In the case of Clades 10 and 12, horizontal gene transfer of plant cell wall degrading enzymes from bacteria and fungi has been implicated in the evolution of plant parasitism. We have used ribonucleic acid sequencing (RNAseq) to generate reference transcriptomes for two economically important nematode species,
Xiphinema index
and
Longidorus elongatus
, representative of two genera within the early-branching Clade 2 of the phylum Nematoda. We used a transcriptome-wide analysis to identify putative horizontal gene transfer events. This represents the first in-depth transcriptome analysis from any plant-parasitic nematode of this clade. For each species, we assembled ~30 million Illumina reads into a reference transcriptome. We identified 62 and 104 transcripts, from
X. index
and
L. elongatus
, respectively, that were putatively acquired via horizontal gene transfer. By cross-referencing horizontal gene transfer prediction with a phylum-wide analysis of Pfam domains, we identified Clade 2-specific events. Of these, a GH12 cellulase from
X. index
was analysed phylogenetically and biochemically, revealing a likely bacterial origin and canonical enzymatic function. Horizontal gene transfer was previously shown to be a phenomenon that has contributed to the evolution of plant parasitism among nematodes. Our findings underline the importance and the extensiveness of this phenomenon in the evolution of plant-parasitic life styles in this speciose and widespread animal phylum.
View Full-Text
►

▼

Figures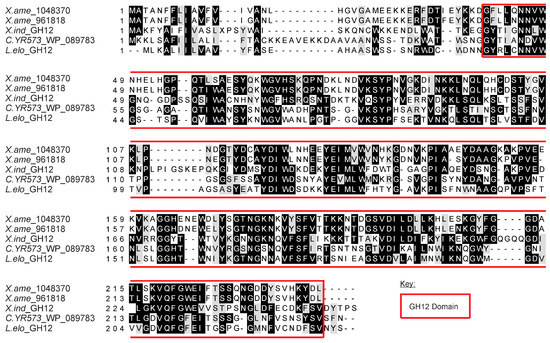 Figure 1
This is an open access article distributed under the
Creative Commons Attribution License
which permits unrestricted use, distribution, and reproduction in any medium, provided the original work is properly cited (CC BY 4.0).

Share & Cite This Article
MDPI and ACS Style
Danchin, E.G.; Perfus-Barbeoch, L.; Rancurel, C.; Thorpe, P.; Da Rocha, M.; Bajew, S.; Neilson, R.; (Guzeeva), E.S.; Da Silva, C.; Guy, J.; Labadie, K.; Esmenjaud, D.; Helder, J.; Jones, J.T.; Den Akker, S.E.-V. The Transcriptomes of Xiphinema index and Longidorus elongatus Suggest Independent Acquisition of Some Plant Parasitism Genes by Horizontal Gene Transfer in Early-Branching Nematodes. Genes 2017, 8, 287.
Note that from the first issue of 2016, MDPI journals use article numbers instead of page numbers. See further details here.
Related Articles
Comments
[Return to top]