Complete Mitochondrial Genome Sequencing of a Burial from a Romano–Christian Cemetery in the Dakhleh Oasis, Egypt: Preliminary Indications
1
Department of Anthropology, Western University, London, ON N6A 3K7, Canada
2
Armed Forces Medical Examiner System—Armed Forces DNA Identification Laboratory (AFMES/AFDIL), Dover, DE 19902, USA
3
Department of Anthropology, Northwestern University, Evanston, IL 60208, USA
4
Department of Anthropology, University of Illinois at Urbana-Champaign, 109 Davenport Hall, 607 S. Mathews Ave, Urbana, IL 61801, USA & Carl R. Woese Institute for Genomic Biology, University of Illinois at Urbana-Champaign, Urbana, IL 61801, USA
5
Department of Anthropology, Lakehead University, Thunder Bay, ON P7B 5E1, Canada
*
Author to whom correspondence should be addressed.
†
Current address: FBI Laboratory, 2501 Investigation Parkway, Quantico, VA 22135, USA.
Academic Editor: Michael Hofreiter
Received: 16 June 2017 / Revised: 15 September 2017 / Accepted: 26 September 2017 / Published: 6 October 2017
Abstract
The curse of ancient Egyptian DNA was lifted by a recent study which sequenced the mitochondrial genomes (mtGenome) of 90 ancient Egyptians from the archaeological site of Abusir el-Meleq. Surprisingly, these ancient inhabitants were more closely related to those from the Near East than to contemporary Egyptians. It has been accepted that the timeless highway of the Nile River seeded Egypt with African genetic influence, well before pre-Dynastic times. Here we report on the successful recovery and analysis of the complete mtGenome from a burial recovered from a remote Romano–Christian cemetery, Kellis 2 (K2). K2 serviced the ancient municipality of Kellis, a village located in the Dakhleh Oasis in the southwest desert in Egypt. The data were obtained by high throughput sequencing (HTS) performed independently at two ancient DNA facilities (Armed Forces DNA Identification Laboratory, Dover, DE, USA and Carl R. Woese Institute for Genomic Biology, University of Illinois Urbana-Champaign, Urbana, IL, USA). These efforts produced concordant haplotypes representing a U1a1a haplogroup lineage. This result indicates that Near Eastern maternal influence previously identified at Abusir el-Meleq was also present further south, in ancient Kellis during the Romano–Christian period.
View Full-Text
►

▼

Figures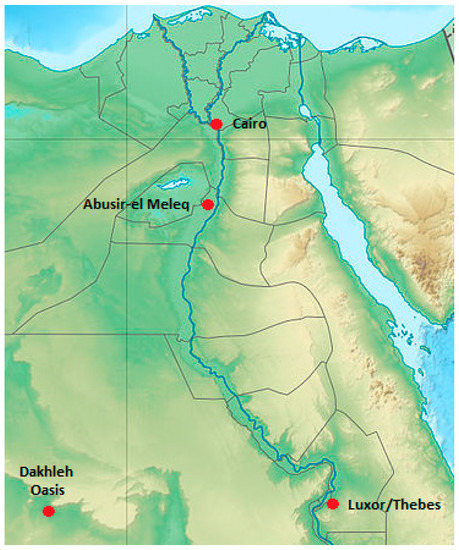 Figure 1
This is an open access article distributed under the
Creative Commons Attribution License
which permits unrestricted use, distribution, and reproduction in any medium, provided the original work is properly cited (CC BY 4.0).

Share & Cite This Article
MDPI and ACS Style
Molto, J.E.; Loreille, O.; Mallott, E.K.; Malhi, R.S.; Fast, S.; Daniels-Higginbotham, J.; Marshall, C.; Parr, R. Complete Mitochondrial Genome Sequencing of a Burial from a Romano–Christian Cemetery in the Dakhleh Oasis, Egypt: Preliminary Indications. Genes 2017, 8, 262.
Note that from the first issue of 2016, MDPI journals use article numbers instead of page numbers. See further details here.
Related Articles
Comments
[Return to top]