Signaling Pathways in Exosomes Biogenesis, Secretion and Fate
1
Department of Experimental Medicine and Biochemical Sciences, University of Perugia, Via del Giochetto, 06123 Perugia, Italy
2
Department of Internal Medicine, Section of Biochemistry, University of Perugia, Via del Giochetto, 06123 Perugia, Italy
3
Centro di Eccellenza sui Materiali Innovatovi Nanostrutturati (CEMIN), University of Perugia, Via Elce di Sotto 8, 06123, Perugia, Italy
*
Author to whom correspondence should be addressed.
Received: 4 February 2013 / Revised: 22 March 2013 / Accepted: 25 March 2013 / Published: 28 March 2013
Abstract
Exosomes are small extracellular vesicles (30–100 nm) derived from the endosomal system, which have raised considerable interest in the last decade. Several studies have shown that they mediate cell-to-cell communication in a variety of biological processes. Thus, in addition to cell-to-cell direct interaction or secretion of active molecules, they are now considered another class of signal mediators. Exosomes can be secreted by several cell types and retrieved in many body fluids, such as blood, urine, saliva and cerebrospinal fluid. In addition to proteins and lipids, they also contain nucleic acids, namely mRNA and miRNA. These features have prompted extensive research to exploit them as a source of biomarkers for several pathologies, such as cancer and neurodegenerative disorders. In this context, exosomes also appear attractive as gene delivery vehicles. Furthermore, exosome immunomodulatory and regenerative properties are also encouraging their application for further therapeutic purposes. Nevertheless, several issues remain to be addressed: exosome biogenesis and secretion mechanisms have not been clearly understood, and physiological functions, as well as pathological roles, are far from being satisfactorily elucidated.
View Full-Text
►

▼

Figures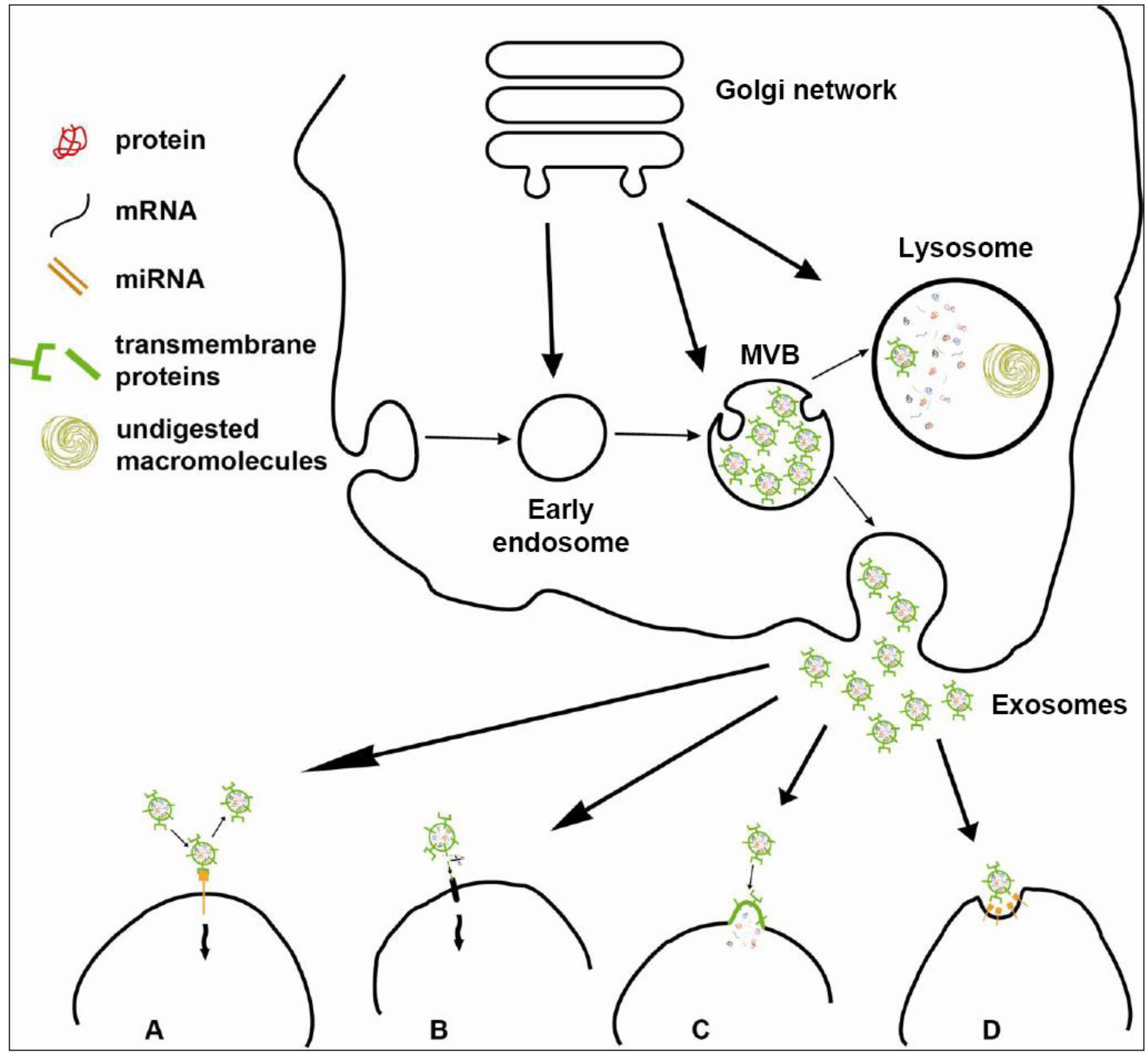 Figure 1

Share & Cite This Article
MDPI and ACS Style
Urbanelli, L.; Magini, A.; Buratta, S.; Brozzi, A.; Sagini, K.; Polchi, A.; Tancini, B.; Emiliani, C. Signaling Pathways in Exosomes Biogenesis, Secretion and Fate. Genes 2013, 4, 152-170.
Related Articles
Comments
[Return to top]