Open Access This article is
freely available
re-usable
Article
Optical Characteristics of ZnCuInS/ZnS (Core/Shell) Nanocrystal Flexible Films Under X-Ray Excitation
1
Department of Medical Physics, Faculty of Medicine, University of Patras, GR-15310 Rion, Greece
2
Department of Biomedical Engineering, Radiation Physics, Materials Technology, and Biomedical Imaging Laboratory, University of West Attica, 122 10 Athens, Greece
3
Department of Biomedical Sciences, University of West Attica, 122 10 Athens, Greece
4
Department of Medical Physics, Faculty of Medicine, University of Thessaly, 41110 Larissa, Greece
*
Author to whom correspondence should be addressed.
Received: 6 June 2019 / Accepted: 3 July 2019 / Published: 4 July 2019
Abstract
:
The aim of this article is to evaluate optical characteristics, such as the intrinsic conversion efficiency and the inherent light propagation efficiency of three polymethyl methacrylate (PMMA)/methyl methacrylate (MMA) composite ZnCuInS/ZnS (core/shell) nanocrystal flexible films. The concentrations of these were 100 mg/mL, 150 mg/mL, and 250 mg/mL, respectively. Composite films were prepared by homogeneously diluting dry powder quantum dot (QD) samples in toluene and subsequently mixing these with a PMMA/MMA polymer solution. The absolute luminescence efficiency
(AE
) of the films was measured using X-ray excitation. A theoretical model describing the optical photon propagation in scintillator materials was used to calculate the fraction of the generated optical photons passed through the different material layers. Finally, the intrinsic conversion efficiency was calculated by considering the QD quantum yield and the optical photon emission spectrum.
Keywords:
quantum dots; nanocrystals; ZnCuInS/ZnS; PMMA; luminescence efficiency
1. Introduction
In recent years nanophosphors [
1
,
2
,
3
,
4
] and quantum dots (QDs) [
5
,
6
] have been investigated as possible sensors for many applications, including but not limited to, medicine, displays, and solar energy harvesting. QDs are semiconductor nanocrystals, in which optical properties are controlled by their particle size, which is in the nanoscale range, as well as shape and composition [
7
,
8
]. QDs have attracted attention since their emission spectra and electronic properties have found application as biological labels, light emitting devices, and optoelectronic sensors [
9
,
10
,
11
]. In addition, QDs and other scintillating materials have been proposed as candidates for ionizing radiation detectors [
12
,
13
,
14
,
15
]. On the other hand, increased awareness of the harmful effects of toxic heavy-metal compounds that could be used in QDs has led authorities to provide relevant legislation. The European Union Directive 2011/65/EU "Restriction of the Use of Certain Hazardous Substances" (RoHS) limits the amount of cadmium, lead, and mercury that can be used in electrical and electronic equipment to protect the consumer and the environment from the effects of heavy-metal toxicity. Our group has reported initial experimental results, regarding the response of QDs employing Zn, S, and Cd in their synthesis, as a candidate for radiation detection. The detectors consisted of QDs infused in a polymethyl methacrylate (PMMA)/methyl methacrylate (MMA) toluene [
12
,
16
,
17
,
18
]. However, the use of cadmium, a proven carcinogen with (LD
50
) toxicity, of 100–300 mg/kg [
19
] is restricted ten-fold. Where LD stands for "Lethal Dose". LD
50
is the amount of a material, given all at once, which causes the death of 50% (one half) of a group of test animals. Therefore, it is of importance to examine a cadmium-free QD and assess its performance as a radiation detector. ZnCuInS/ZnS QDs are cadmium-free, hydrophobic core-shell structured nanocrystals with an inner core of zinc copper indium sulfide encapsulated by an outer core of zinc sulfide [
20
,
21
,
22
,
23
,
24
]. In this study, ZnCuInS/ZnS QDs infused in a PMMA/MMA toluene substrate were excited by X-rays and their X-ray luminescence efficiency, also known as absolute efficiency (
AE
), was experimentally determined. The optical photon transmission properties of the ZnCuInS/ZnS were determined theoretically. To our knowledge, this is the first time the Absolute Efficiency of ZnCuInS/ZnS QDs infused in a PMMA/MMA substrate have been theoretically examined and their optical transmission properties investigated. The current work is the first step towards a thorough investigation regarding the estimation of optimum QD-nanocrystal-based detector performance for various combinations of thin film preparation methods, scintillator concentration, and X-ray energy. This will allow the optimization of QDs synthesis and PMMA/MMA substrate infusion process.
4. Discussion
As shown in
Figure 3
, a higher QD concentration leads to a lower optical photon transmission in the detector, since the increased QD material increases the optical photon absorption and scattering sites within the thin film. Thus, the light generated suffers more losses while propagating to the output. This trend, however, is not demonstrated straightforwardly by our experimental
AE
data shown in
Figure 4
, where the higher the QD concentration the better the
AE
. The shape of the
AE
curve can be justified by the fact that the higher QD concentration offers more sites for X-ray energy absorption and optical photon generation. Thus, for the 250 mg/mL thin film, the number of optical photons generated per layer in the scintillator, that is, the sum
increases with QD concentration. The overall performance of the ZnCuInS/ZnS QDs, with respect to
AE
, is a combination of the number of the optical photons generated and the rate of their absorption as they propagate within the scintillator mass. It was found that absolute efficiency increases with QD concentration. However, it seems to saturate over a 400 mg/mL QD concentration, as shown by
Figure 6
, where the corresponding
AE
values of 400 mg/mL and 450 mg/mL films are very close. Even though the higher concentration increases the probability of X-ray absorption in ZnCuInS/ZnS mass and the production of optical photons, the overall attenuation of light as it propagates to the output is also increased. The latter is demonstrated by the effect on the predicted
k
value with increasing concentration. For example, the transmission of the optical photons per layer for the 450 mg/mL concentration is 9.5%, which is less than the 300 mg/mL concentration. For the X-ray tube voltages used in diagnostic radiology applications, the optimum performance was found for the 300 mg/mL concentration in all tube voltages. The calculated
AE
values, however, were found to be below other values reported in the literature for non-QD powder phosphors [
1
,
25
,
27
,
28
,
29
,
30
]. Results indicate that the nanocrystals used in our experiments may be more promising in modalities using X-ray energies below 28 keV, such as XRD or dedicated equipment for small animal imaging and tissue sample characterization. The presented results are based on the optical parameters derived from the experimental
AE
data of the prepared thin films. Further investigation into the improvement of the QD thin film preparation procedure and the use of other scintillator concentrations may alter the X-ray absorption properties, as well as the optical transmittance per layer of the detector, and improve its efficiency.
5. Conclusions
In this work, the performance of three compound PMMA/QD nanocrystal films, fabricated in our laboratory, was experimentally and theoretically evaluated under X-ray excitation. It was found that the absolute efficiency increases with ZnCuInS/ZnS concentration but that the gain is negligible for concentrations above 400 mg/mL. The intrinsic conversion was calculated as 0.22, while the optical photon attenuation in the material was calculated between 64.3% to 70.8% for QD concentrations between 100 mg/mL to 250 mg/mL, respectively. The theoretical investigation suggested that ZnCuInS/ZnS QDs might be more efficient in instrumentation using lower X-ray energies, such as XRD or dedicated equipment for small animal imaging and tissue sample characterization.
Author Contributions
Conceptualization, G.S., N.K.; methodology, G.S., I.V., N.K., G.P. and I.K.; software, N.K.; validation, N.K. and G.S.; formal analysis, G.S., C.M., N.K., and I.V.; investigation, G.S., C.M., N.K., G.P., K.N., I.S., and I.V.; resources, G.S., K.N., C.F. and A.B.; data curation, G.S., C.M., N.K., G.E.K., I.V. and G.P.; writing—original draft preparation, G.S., N.K. and C.M.; writing—review and editing, G.S., N.K., I.K., and I.V.; visualization, G.S., N.K, and G.F.; supervision, I.K., G.P. and I.V.; project administration, G.S., N.K., K.N., G.F., G.P. and I.V.; funding acquisition, G.S., I.V., and G.P.
Funding
This research was funded by the Institutional Open Access Program (IOAP) of the University of Patras and the University of West Attica.
Conflicts of Interest
The authors declare no conflict of interest.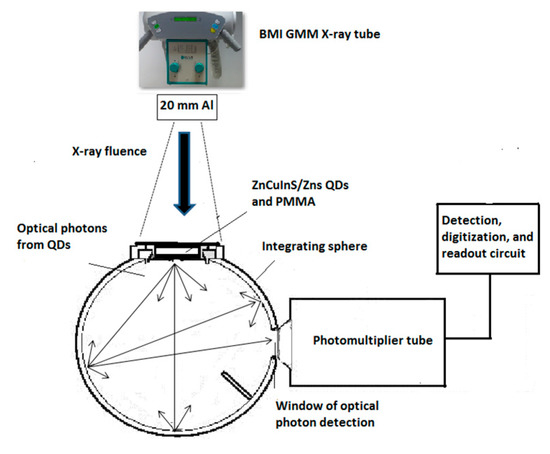 Figure 1. The experimental setup for ZnSCdS/ZnS quantum dot (QD) irradiation. Legend: PMMA, polymethyl methacrylate.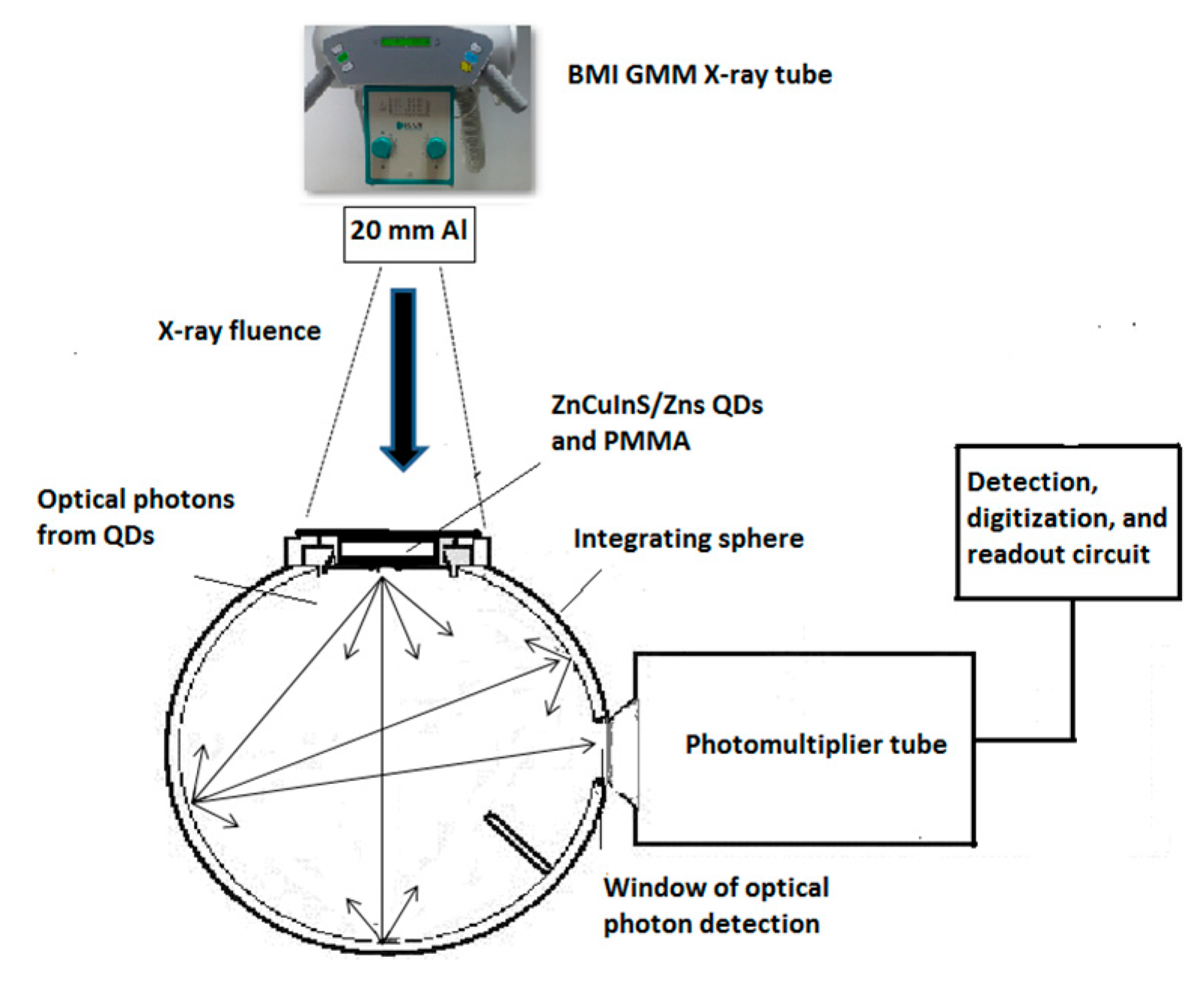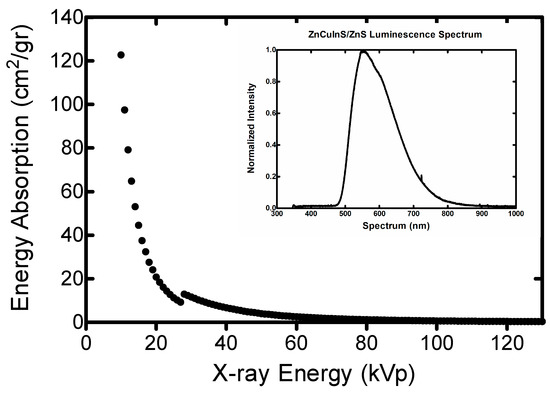 Figure 2. The mass energy absorption coefficient of ZnCuInS/ZnS QDs. The inset shows the QDs' luminescence spectrum.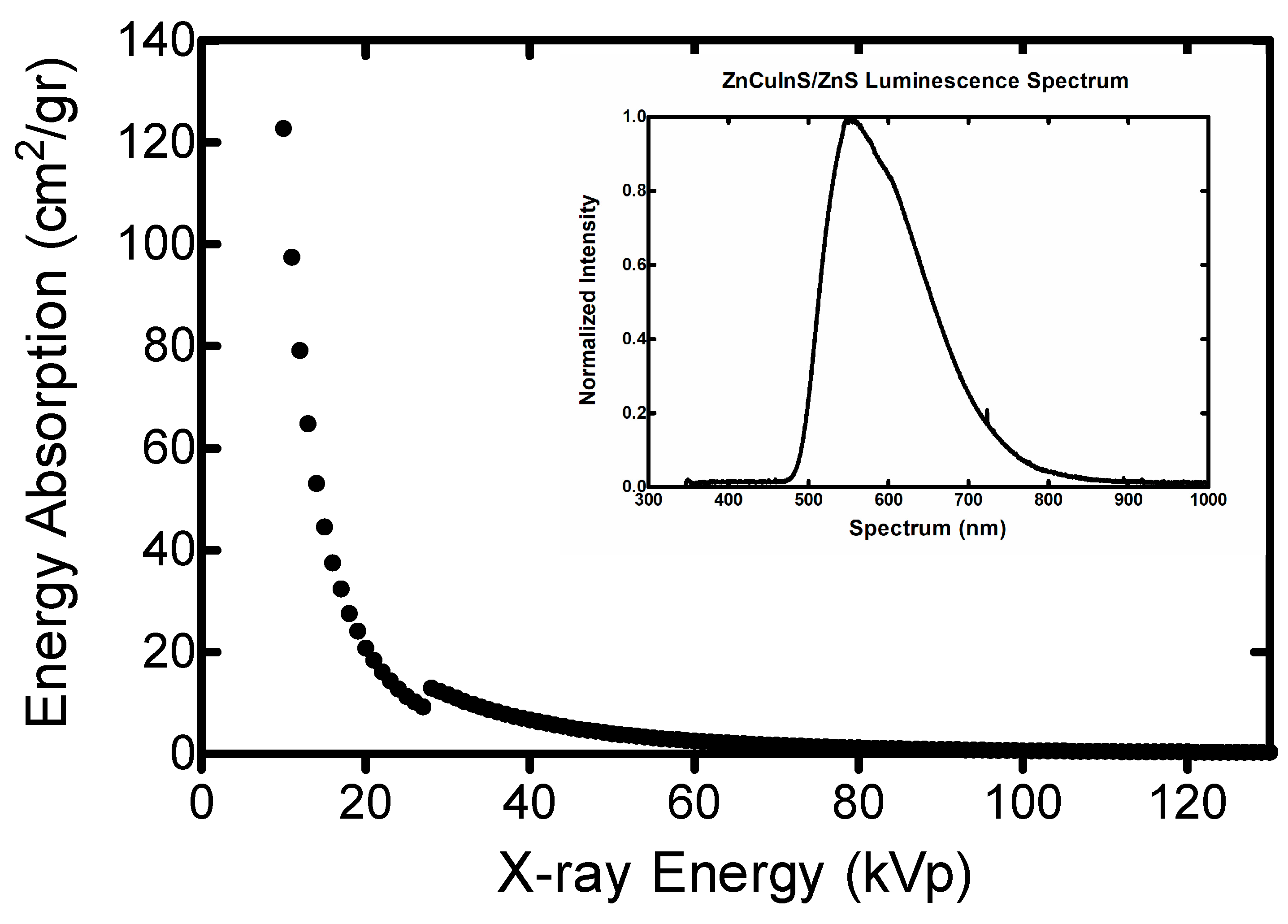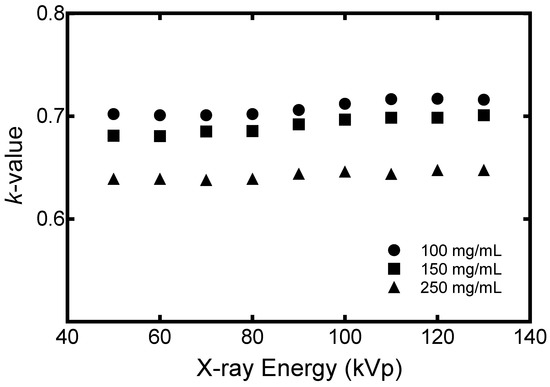 Figure 3.
The optical photon transmission per 5 μm (
k
value) for the 100 mg/mL, 150 mg/mL, and 250 mg/mL ZnCuInS/ZnS concentrations.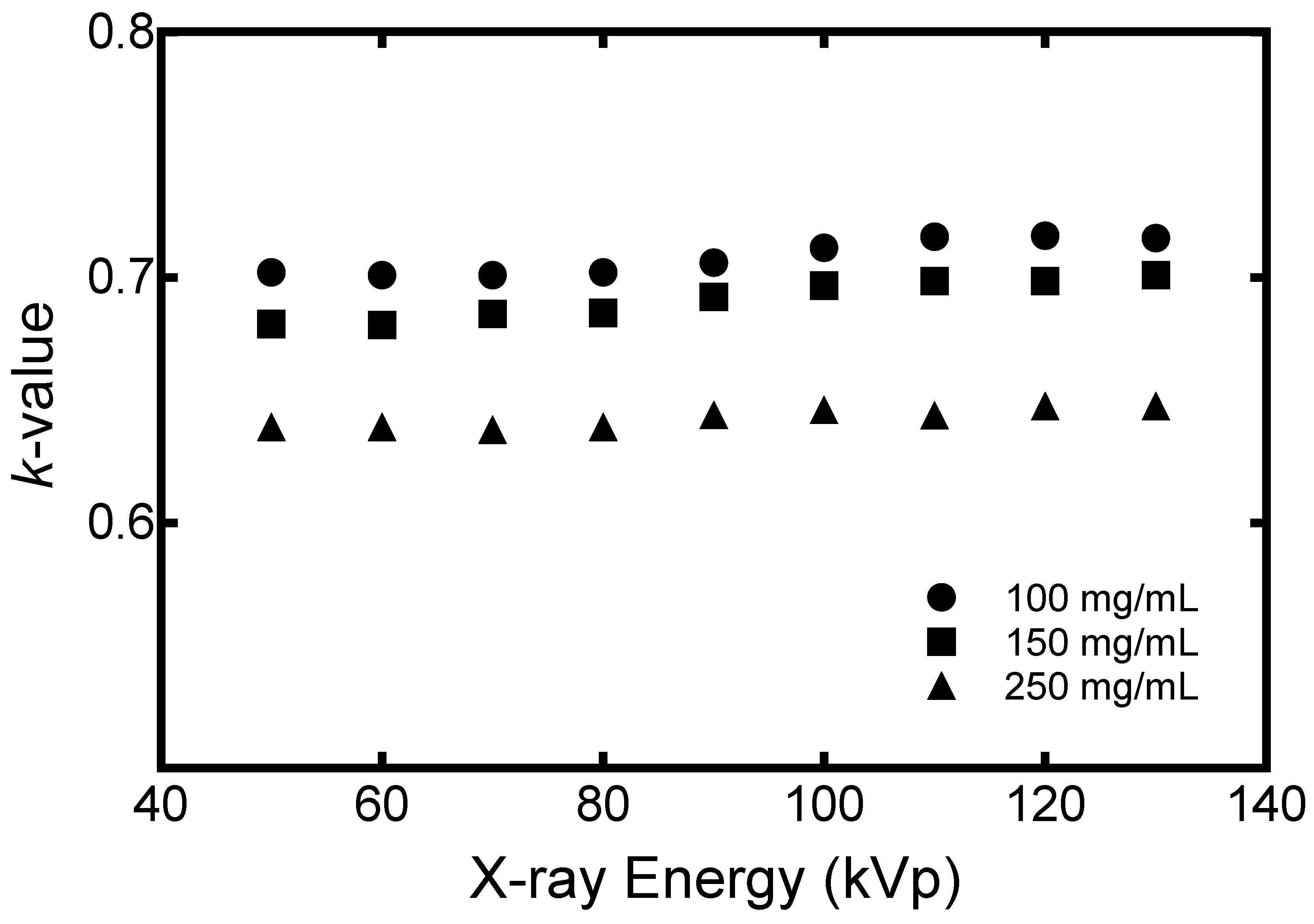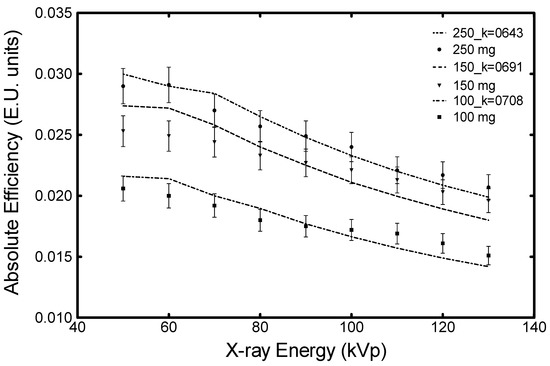 Figure 4.
Comparison between experimental and theoretical (based on Equation (5)) absolute efficiency (
AE
) results in E.U. (1 E.U. = 1 μW m
−2
/mR s
−1
).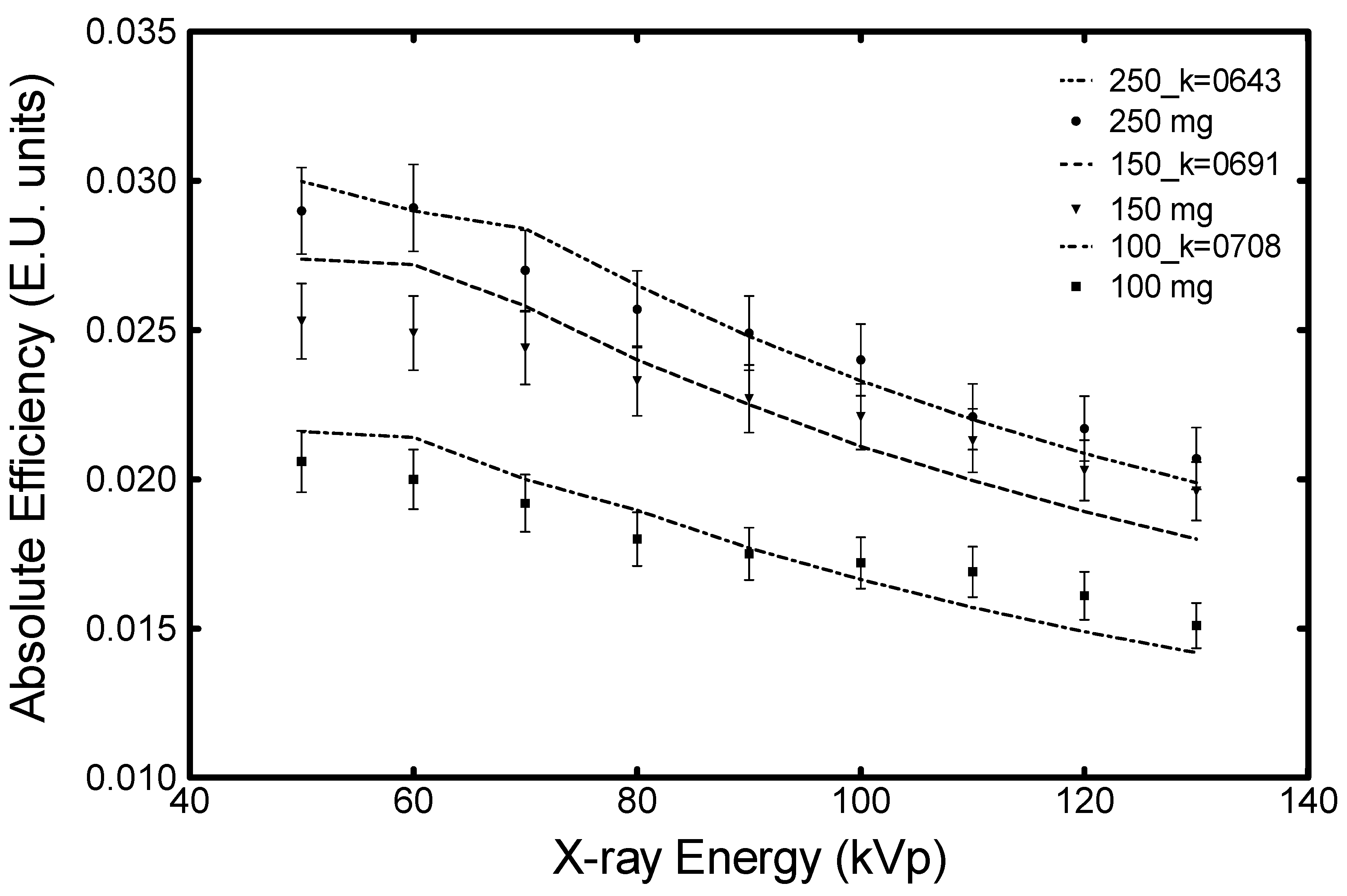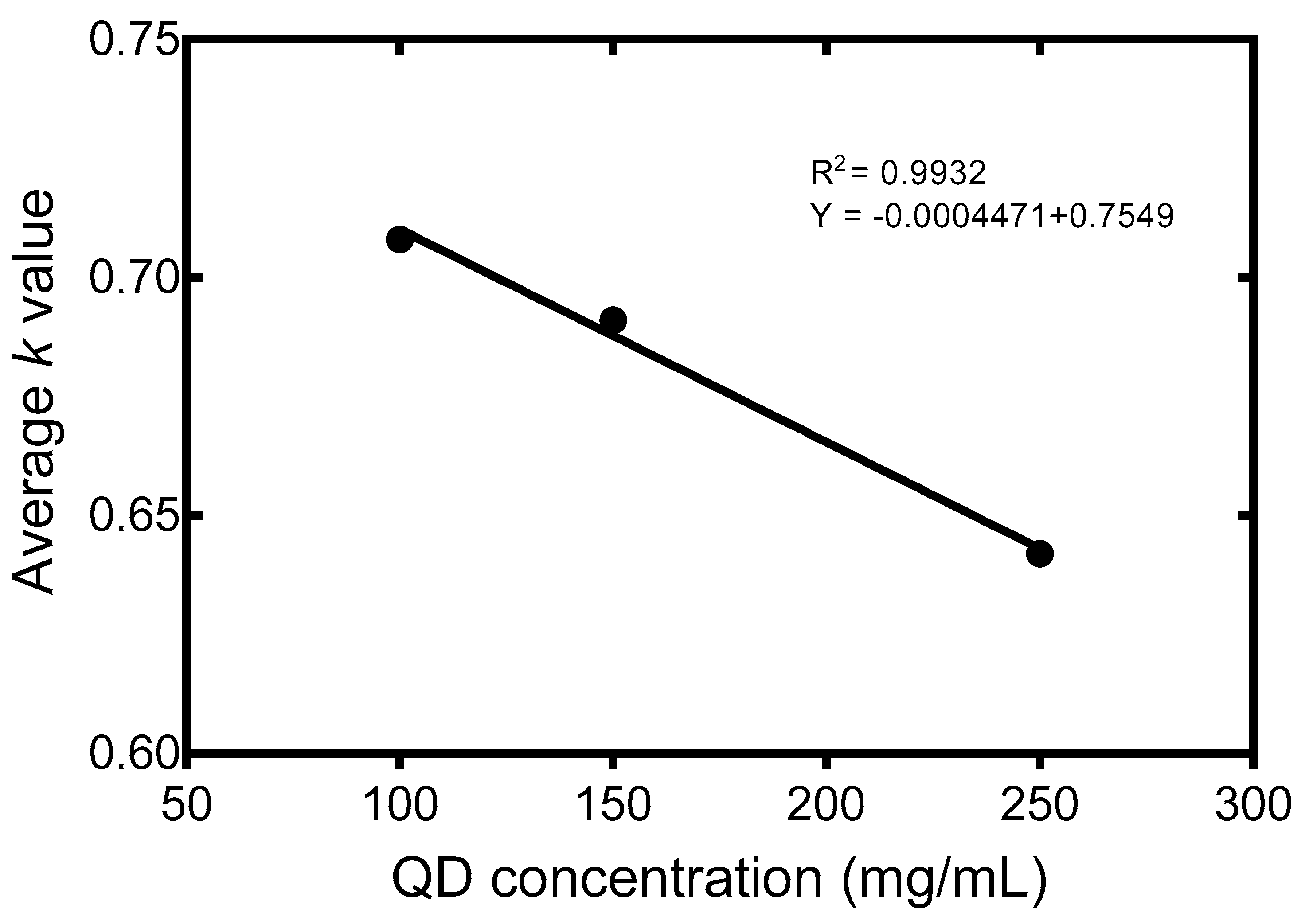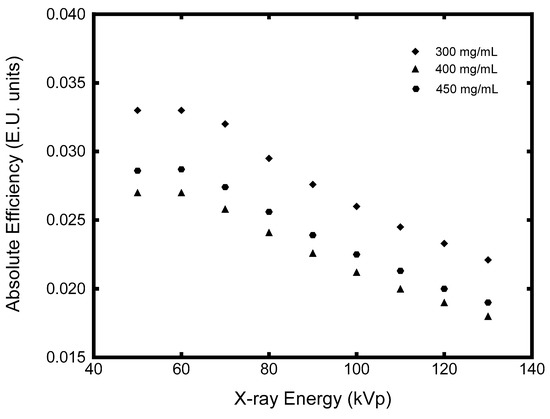 Figure 6.
Comparison between predicted
AE
values for 300 mg/mL, 400 mg/mL, and 450 mg/mL ZnCuInS/ZnS concentrations for X-ray tube voltages used for radiographic applications.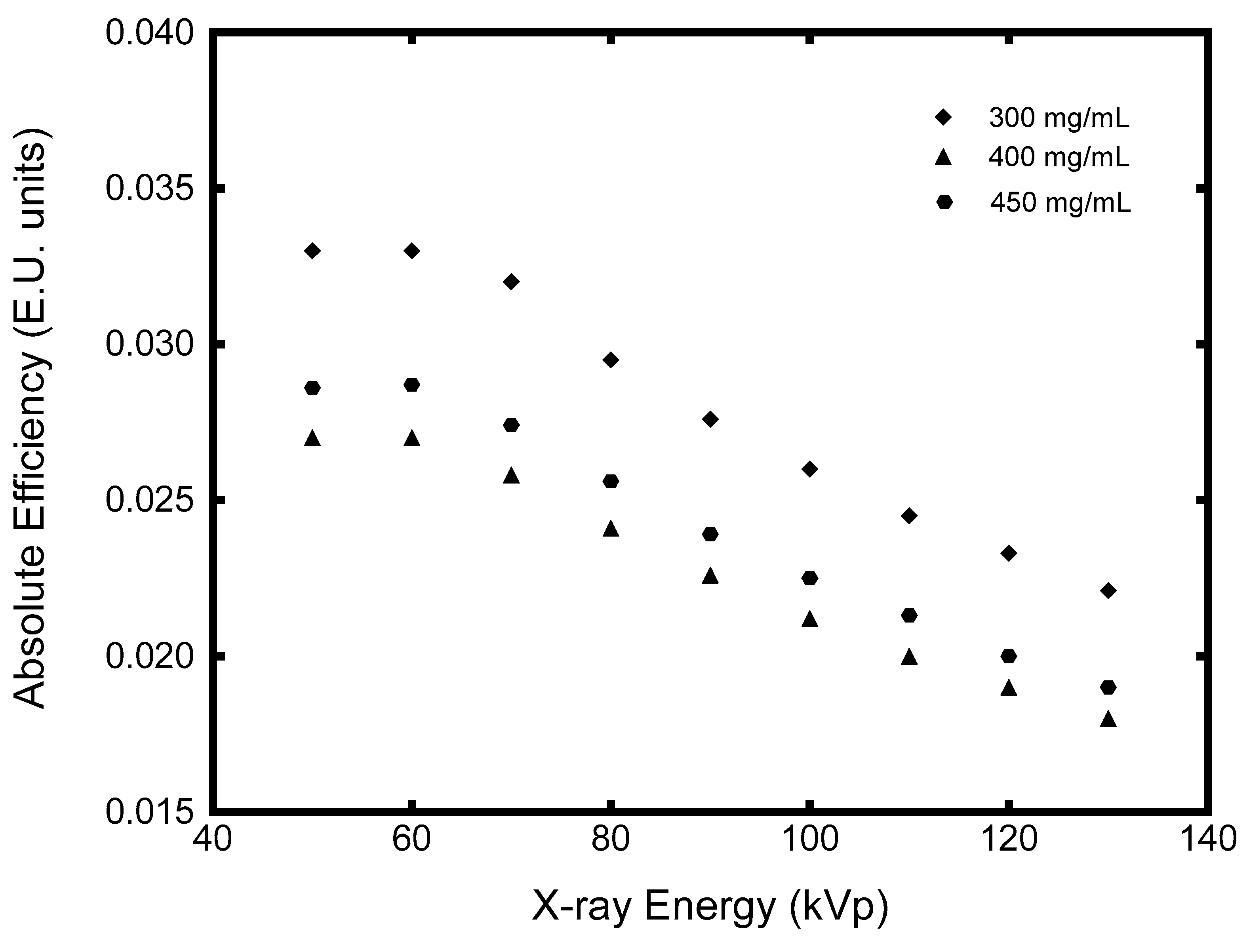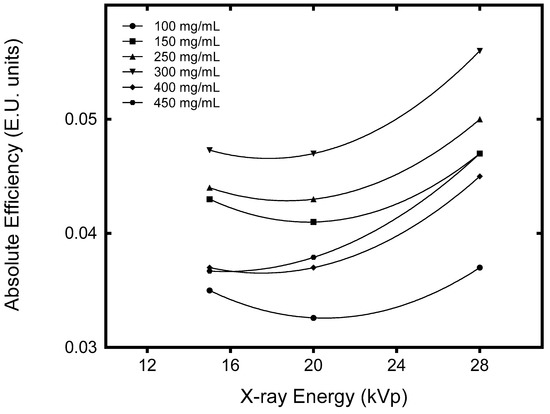 Figure 7.
Predicted
AE
values for 100 mg/mL, 150 mg/mL, 250 mg/mL, 300 mg/mL, 400 mg/mL, and 450 mg/mL at X-ray energies of 15 keV, 20 keV, and 28 keV.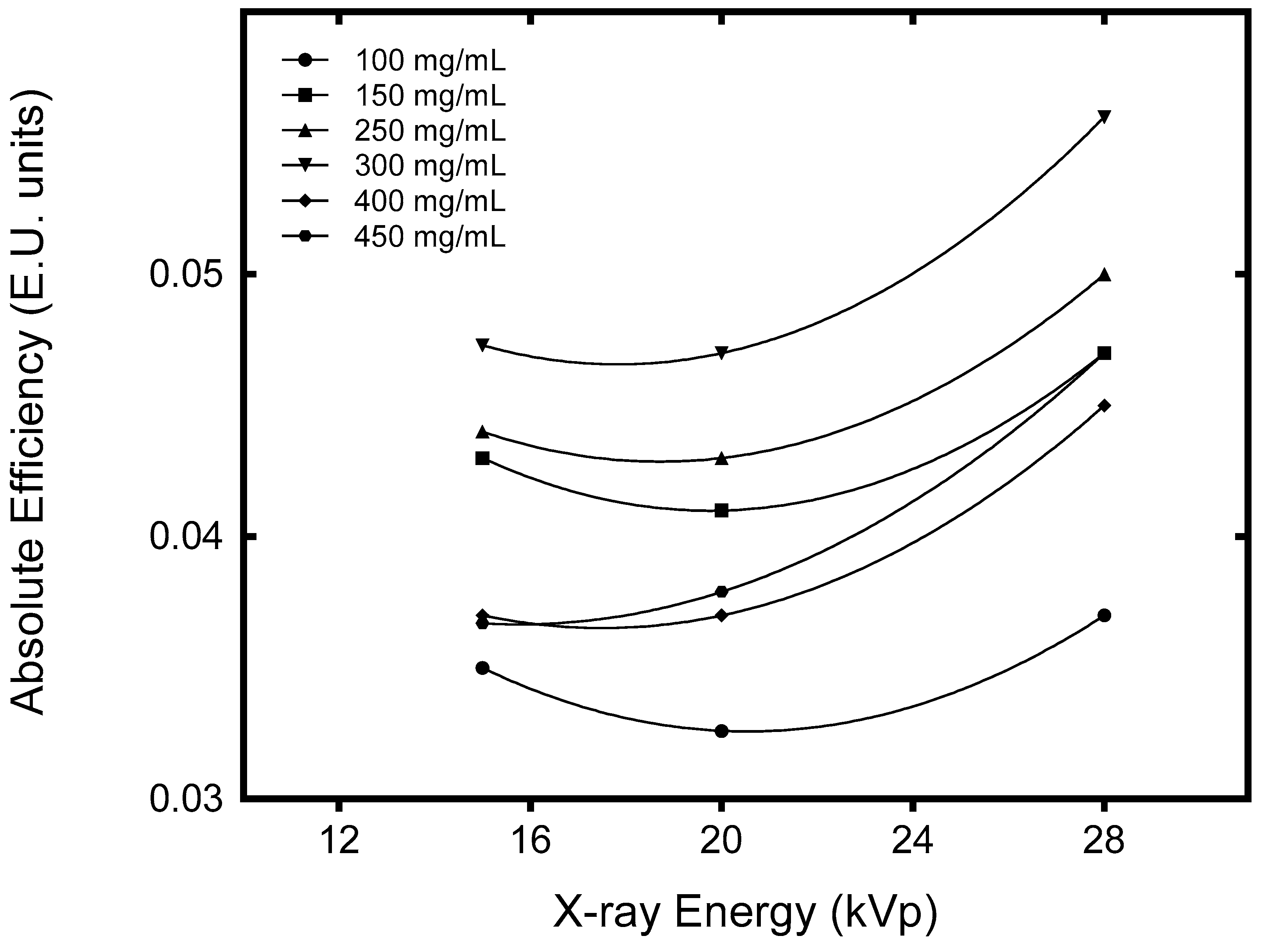 © 2019 by the authors. Licensee MDPI, Basel, Switzerland. This article is an open access article distributed under the terms and conditions of the Creative Commons Attribution (CC BY) license (http://creativecommons.org/licenses/by/4.0/).