Open Access This article is
freely available
re-usable
Article
Structure, Optical, and Thermal Properties of 9, 10-Diphenylanthracene Crystals
Institute of Nuclear Physics and Chemistry, China Academy of Engineering Physics, 919-215 Mail Box, Mianyang, Sichuan 621999, China
*
Author to whom correspondence should be addressed.
Received: 28 July 2019 / Accepted: 27 September 2019 / Published: 1 October 2019
Abstract
:
9,10-diphenylanthracene (DPA) single crystal is a promising scintillator material for fast-neutron detection. Two centimetre-sized polymorph crystals of DPA were grown by melting and solution methods (DPA-Melt and DPA-Solution, respectively), and characterised by single-crystal X-ray diffraction, Raman spectroscopy, Fourier-transform infrared spectroscopy, fluorescence spectroscopy, UV-Vis absorbance spectroscopy, and thermogravimetric/differential scanning calorimetry. The DPA-Melt crystal possessed a P21/n structure, with excitation bands at approximately 331, 348, 367, and 387 nm, and the strongest emission wavelength at approximately 454 nm. On the other hand, the DPA-Solution crystal possessed a C2/c structure, with excitation bands at approximately 335, 353, 372, and 396 nm, and the strongest emission wavelength at approximately 468 nm. The two kinds of DPA crystals have the same molecular formula but different crystal structures, crystal lattice constants, and cell parameters. The theoretical density of the DPA-Solution crystal was 1.239 g/cm3, while that of the DPA-Melt crystal was 1.211 g/cm3. The two types of crystals exhibited the same melting point, but the thermal stability of the DPA-Solution crystal is better than that of the DPA-Melt crystal.
Keywords:
diphenylanthracene; polymorph; crystal structure; scintillator; neutron detection
1. Introduction
Neutron radiation sites often possess a large number of gamma rays. The ability to efficiently detect low levels of high-energy neutrons in a strong gamma ray background is crucial for nuclear non-proliferation and detection of illicit nuclear materials. Since fast neutrons strongly signify the presence of fissile materials, such as plutonium and highly-enriched uranium, their detection is very important [
1
]. Currently, fast neutrons are mainly detected using organic scintillator detectors, which are employed not only because of their high content of hydrogen that allows neutron detection via proton recoil, but also because of their ability to discriminate neutrons and gamma rays using pulse shape discrimination (PSD). In the past decades, single-crystal stilbene has proven to be the most effective material for discrimination [
2
,
3
,
4
]. However, trans-stilbene cannot be applied at higher temperature conditions due to a lower melting point (124 °C). Researchers have been working on low-cost crystal growth methods and stilbene alternatives [
5
,
6
,
7
]. Research results from the Lawrence Livermore National Laboratory of America show that 9, 10-diphenylanthracene (DPA) has a higher light yield than stilbene for heavy particles [
8
,
9
]. Moreover, the melting point of DPA is more than 120 °C higher than that of stilbene. DPA is more stable at room temperature and can be used as a scintillator in a wider temperature range. Because DPA has excellent neutron/gamma discrimination, high light yield, fast scintillation decay, and good thermal stability, it will become a promising fast-neutron detection material once large crystals can be grown. However, research on DPA is relatively scarce; its properties have not been studied deeply, the technology of its growth is still not mature, and research on its performance is not adequately comprehensive.
Loef et al. [
8
,
10
] have reported the luminescence spectra of DPA crystals and the time spectra of scintillation attenuation of neutrons and γ-rays. However, only one crystal obtained by the Bridgman technique has been studied in detail. Ren [
11
] obtained a micron-sized DPA crystal from silica gel and phenyl-modified silica gel, and explored the interaction between the gel networks and the crystal in three-dimensional space. Salzillo et al. [
12
] studied the properties of a micrometre-sized DPA crystal. The difference between micrometre crystals and ordinary bulk crystals is analysed by Raman and X-ray diffraction. As the structure and the properties of the crystals prepared by different methods are different, crystals with better performance can be selected only by studying the differences between them in detail. Subsequently, the application conditions more suitable for the crystals can be designed, so that the discrimination efficiency of the crystals is improved. Most of the researches currently focus on the properties of one kind of DPA, without focusing on the performance comparison between different DPA polymorphic crystals, since an investigation on DPA polymorphism would require a more systematic study. In this study, two polymorphs of DPA crystals were grown by the solution method and the melting method. The crystal structure, optical properties, and thermal properties of the two kinds of crystals were systematically studied and compared.
2. Experimental Methods
2.1. Growth of DPA Crystals
The DPA crystals were grown by the melt method and the solution method (hereafter referred to as DPA-Melt and DPA-Solution, respectively). DPA powder (purity >98%, Shanghai Aladdin biochemical Technology Co., Ltd., Shanghai, China) was used as the starting material without further purification. The DPA crystal was prepared by the melt method according to the following procedure: (1) DPA powders were loaded into a double-walled quartz glass ampoule (Chengdu Haihong Experimental instrument Co., Ltd., Chengdu, China); the lower end of the inner tube had a capillary of diameter ~1 mm. (2) The ampoule was evacuated to 10−3 Pa, then filled with high purity nitrogen and kept for 15 min. Subsequently, a vacuum of 10−2 Pa was maintained. After repeating the above operation three times, the ampoule was sealed when the vacuum reached ~10−3 Pa. (3) The ampoule was placed in a vertical Bridgman furnace (Fuzhou Keres Test equipment Co., Ltd., Fuzhou, China). (4) The DPA powders were melted at ~258 °C for two days. Subsequently, the ampoule was moved slowly from the top oven to the lower oven, which was at a lower temperature, at a rate of 0.3−1.2 mm/h. The resulting DPA-Melt crystal was colourless and transparent.
The solution method for the preparation of the DPA crystal is as follows: (1) A saturated solution of DPA was prepared in toluene(Tianjin Kemiou Chemical Reagent Co.,Ltd, Tianjin, China) at ~56 °C in a quartz glass crystalliser(Chengdu Haihong Experimental instrument Co., Ltd., Chengdu, China). (2) The solution was heated to a temperature a few degrees higher than the saturation temperature, following which the crystal seeds were added into the solution. (3) The temperature of the solution was reduced at a rate of 0.12 °C/h to ~20 °C. The crystal was then obtained after a dozen days. The DPA-Solution crystal was light-yellow and transparent.
Figure 1
shows the photographs of both the DPA crystals.
2.2. Characterisation of DPA Crystals
Single-crystal X-ray diffraction analysis was performed with an Oxford Xcalibur Eos diffractometer (Renishaw, Wotton-under-Edge, UK) using Mo-Kα radiation (λ = 0.71073 Å). The crystal was maintained at 293(2) K during data collection. Using Olex2 [
13
], the structure was solved with the XS [
14
] structure solution program using direct methods and refined with the ShelXL [
15
] refinement package using least squares minimisation. Raman spectra were recorded in the range of 2000−300 cm
−1
on the surface of DPA crystals on a Renishaw inVia Raman Microscope (Renishaw, Wotton-under-Edge, UK). Raman excitation was performed using a laser tuned at 785 nm. The fluorescence spectra of the DPA crystals were recorded with an Edinburgh instruments FLSP920 fluorescence spectrometer (Edinburgh Instruments Ltd., Livingston, UK). The excitation source was a Xe lamp. The UV-Vis absorption spectra of the crystals were obtained with a Shimadzu SolidSpec-3700 UV-Vis-NIR-spectrophotometer (Shimadzu Corp., Kyoto, Japan). The partial DPA-Melt crystal and the entire DPA-Solution crystal were fixed on the sample rack with double-sided adhesive tape and then the transmission UV-Vis spectra were tested. The IR transmission spectra were recorded in the range of 2000−400 cm
−1
on a Thermo fisher NICOLET 6700 Fourier-transform infrared spectrometer (Thermo Fisher Scientific Inc., Waltham, MA, USA). The infrared spectra were determined by solid pressing method: Cut a small piece of crystal from a big crystal, add potassium bromide powder, grind evenly and press the sheet, and then determine its infrared spectrum. Thermogravimetric (TG) and differential scanning calorimetry (DSC) data were recorded on a NETZSCH STA 449C instrument (NETZSCH-Gerätebau GmbH, Selb, Germany). The samples (~3 mg) were placed in alumina crucibles and heated from room temperature to 500 °C at a heating rate of 5 °C/min under N
2
atmosphere (30 mL/min).
3. Results and Discussion
4. Conclusions
The spatial configuration and the arrangement of molecules influence the optical and the thermodynamic properties of DPA crystals. The DPA-Melt crystal belongs to the P21/n space group, whereas the DPA-Solution crystal belongs to the C2/c one. Although the molecular composition of the two crystals is the same, the spatial conformation and the lattice parameters are different, leading to different macroscopic properties. Compared with the DPA-Melt crystal, the DPA-Solution crystal has a lower cell volume, higher density, higher thermal decomposition temperature, and exhibits a red-shift of the characteristic peak in the UV-Vis absorption and fluorescence spectra. Differences in the physical and the chemical properties of the two crystals may have an impact on their scintillation performance, thus affecting their neutron-γ discrimination ability. Preliminary studies show that the DPA-Melt crystal has a better PSD performance than the DPA-Solution crystal, and this will be discussed in detail in another paper.
Author Contributions
Crystal growth and writing—original draft preparation, X.L.; the retrieval of references, T.Z. and X.L.; characterization of fluorescence spectra, Q.H.; analysis of Raman Spectroscopy, L.D.; project administration and funding acquisition, Z.T.
Funding
This research was funded by the National Science Foundation of China (Grant No. 415731227).
Conflicts of Interest
The authors declare no conflict of interest.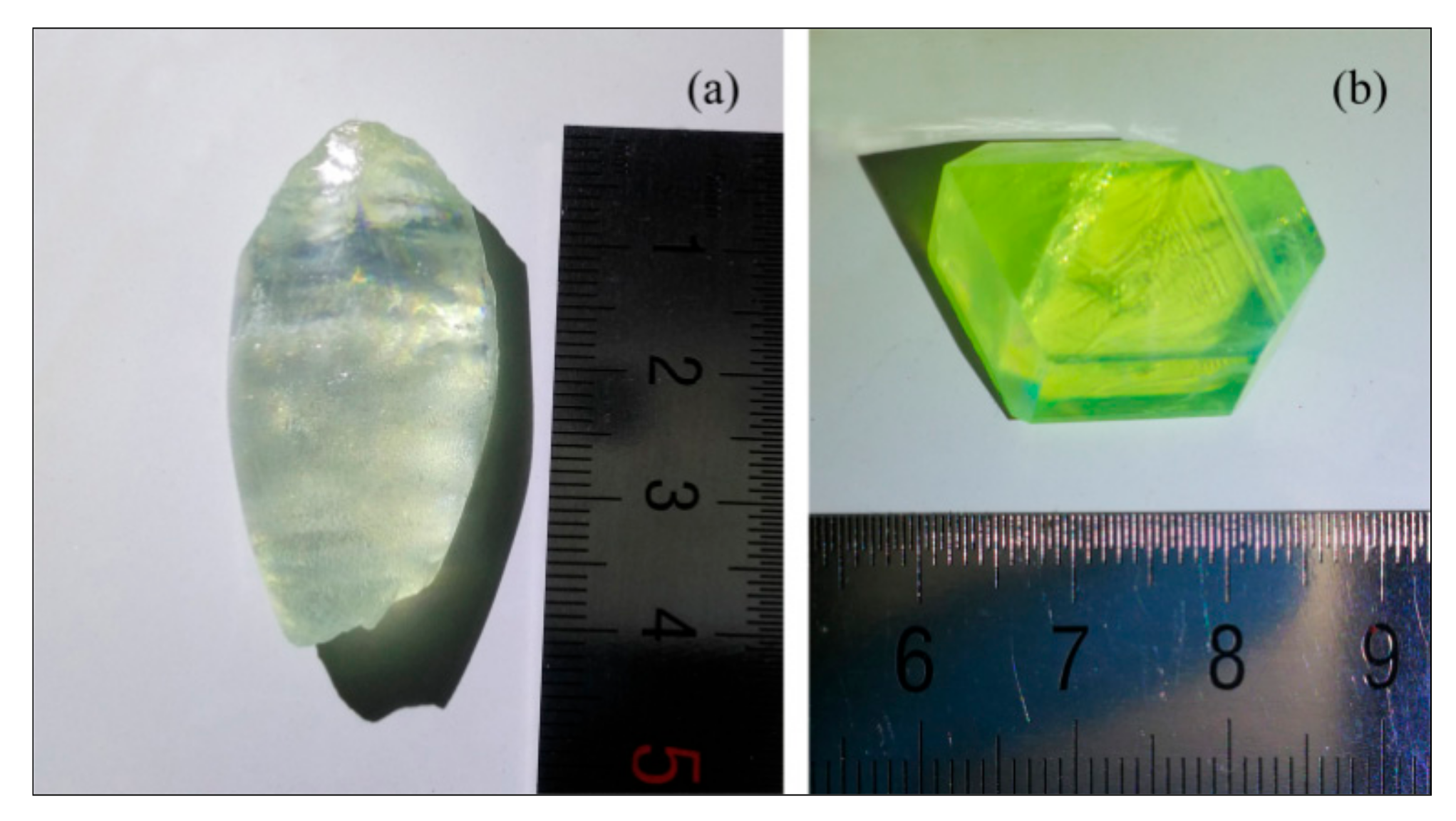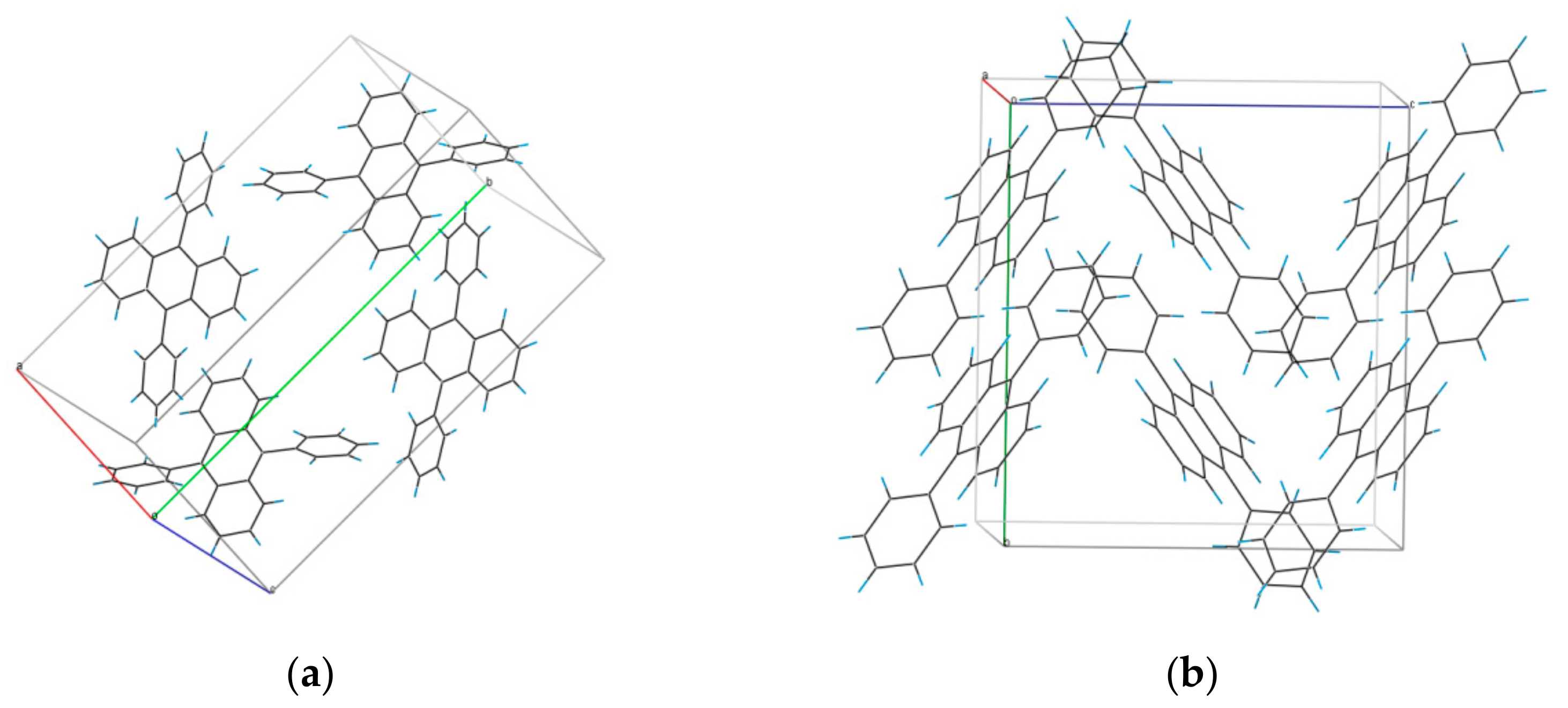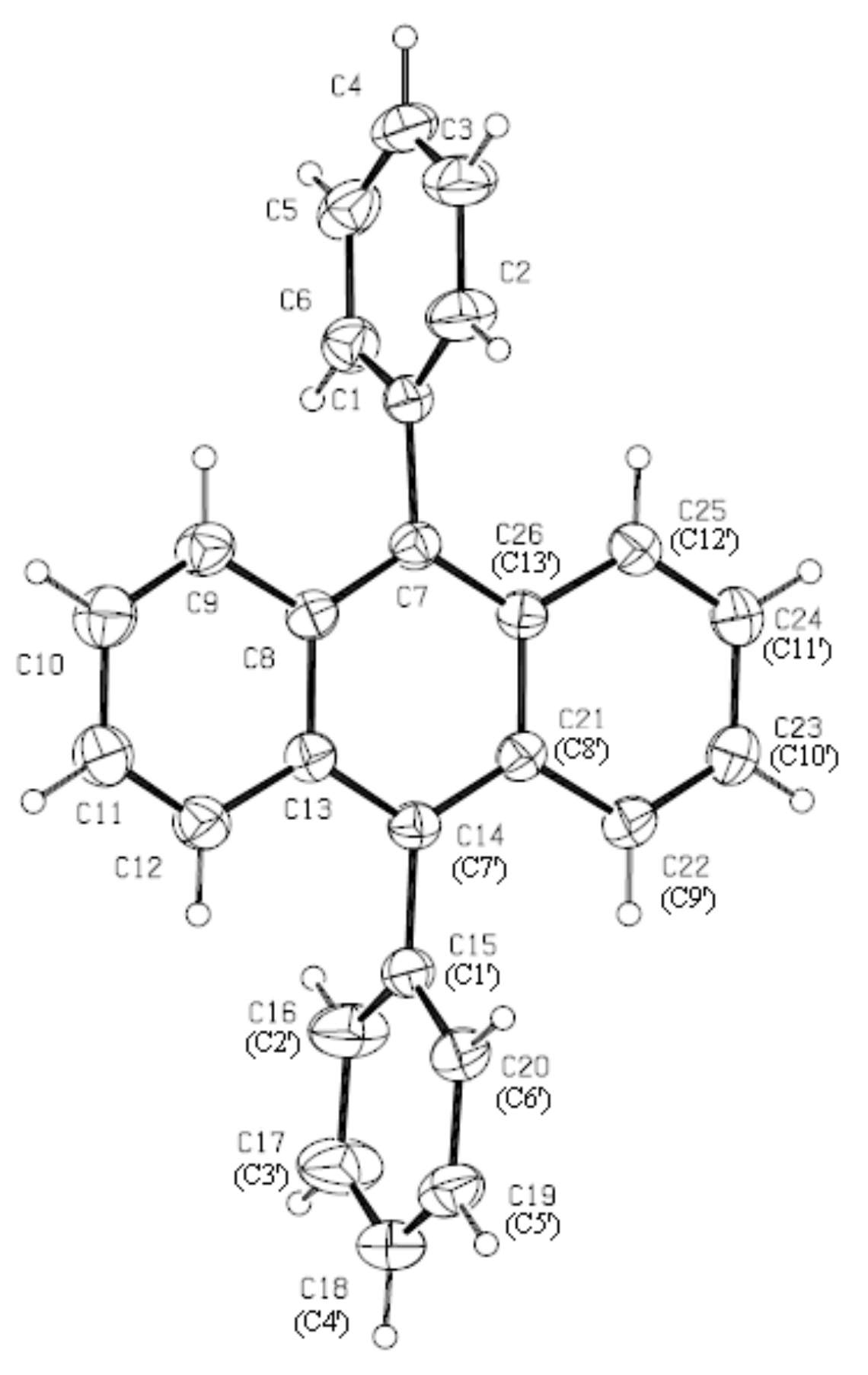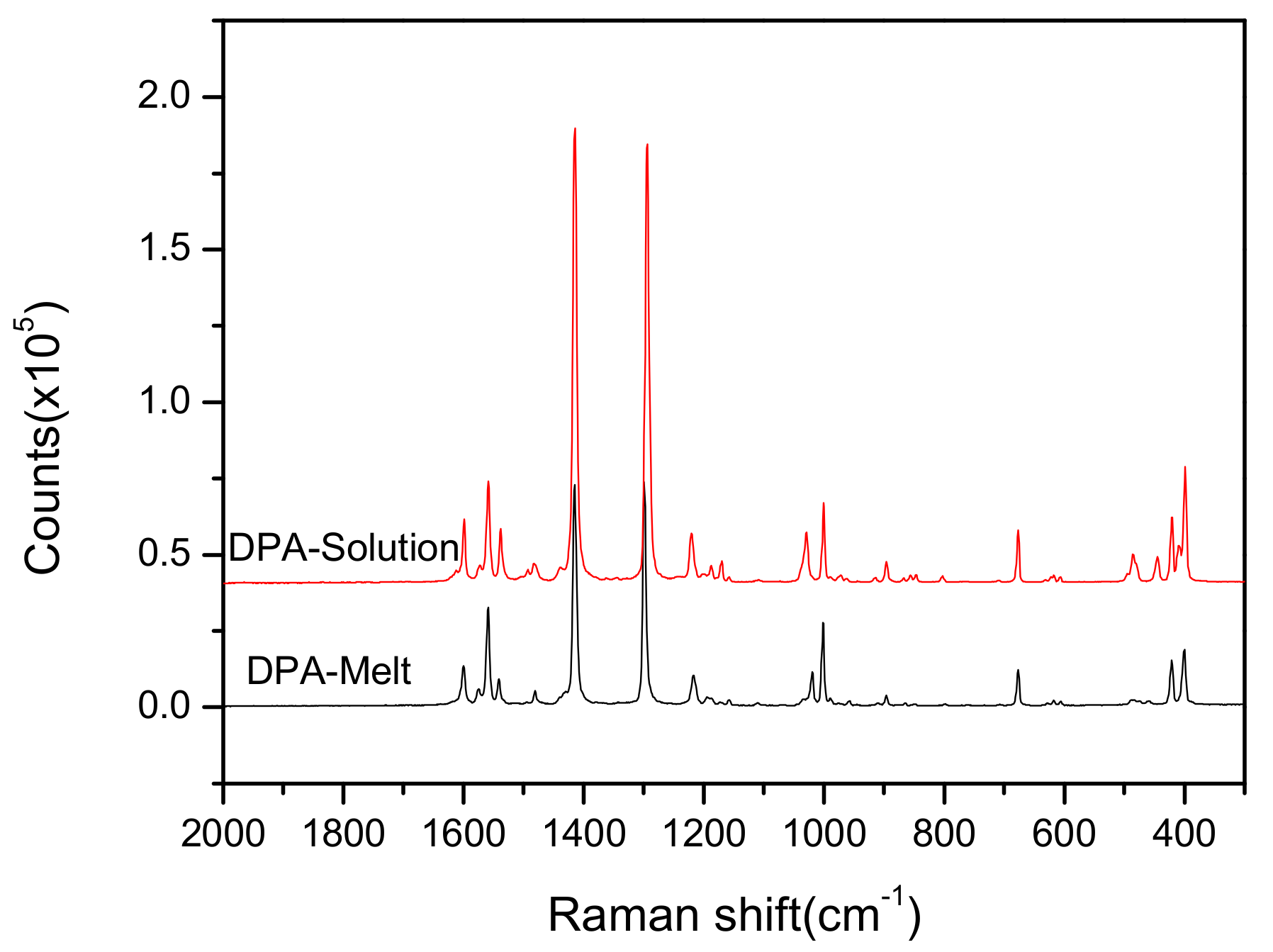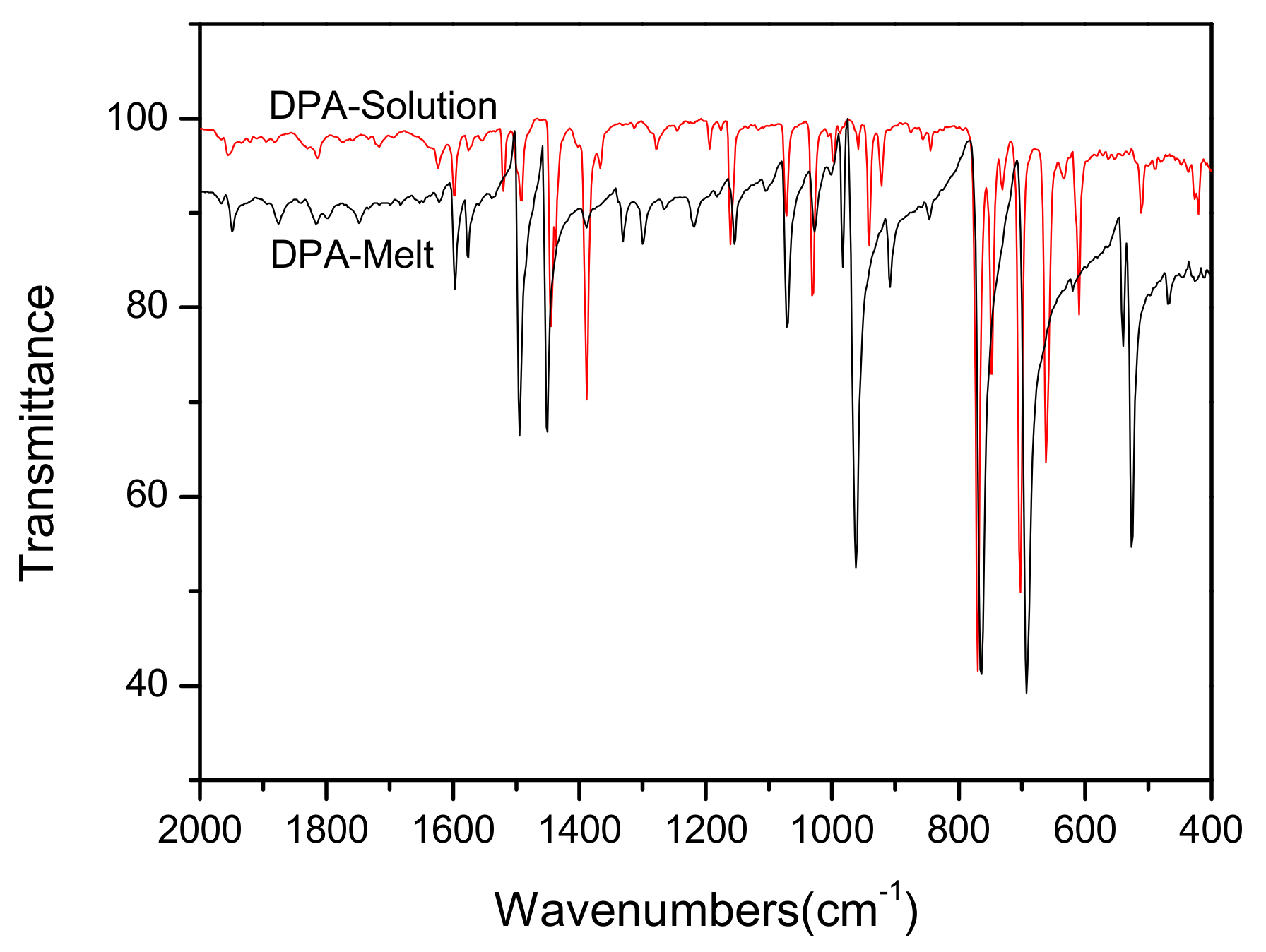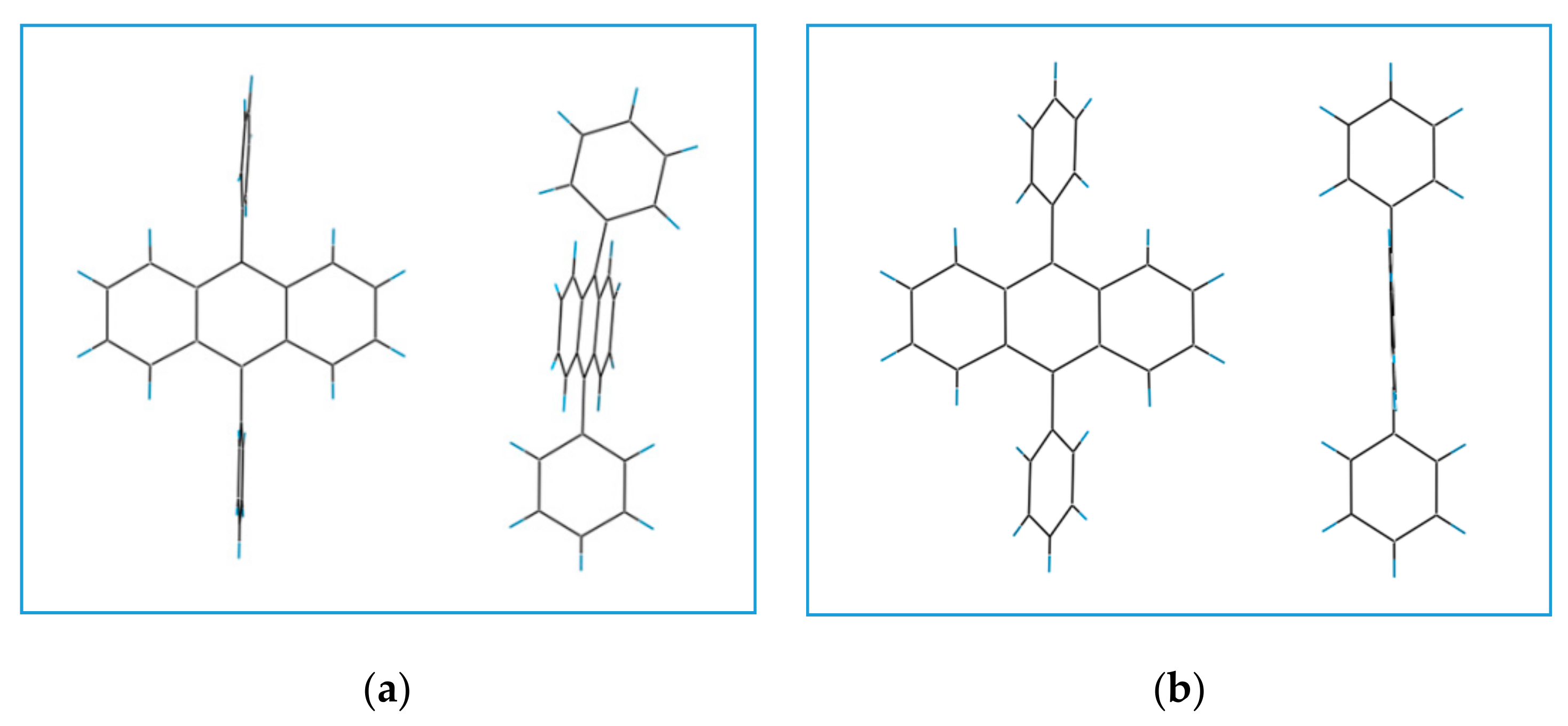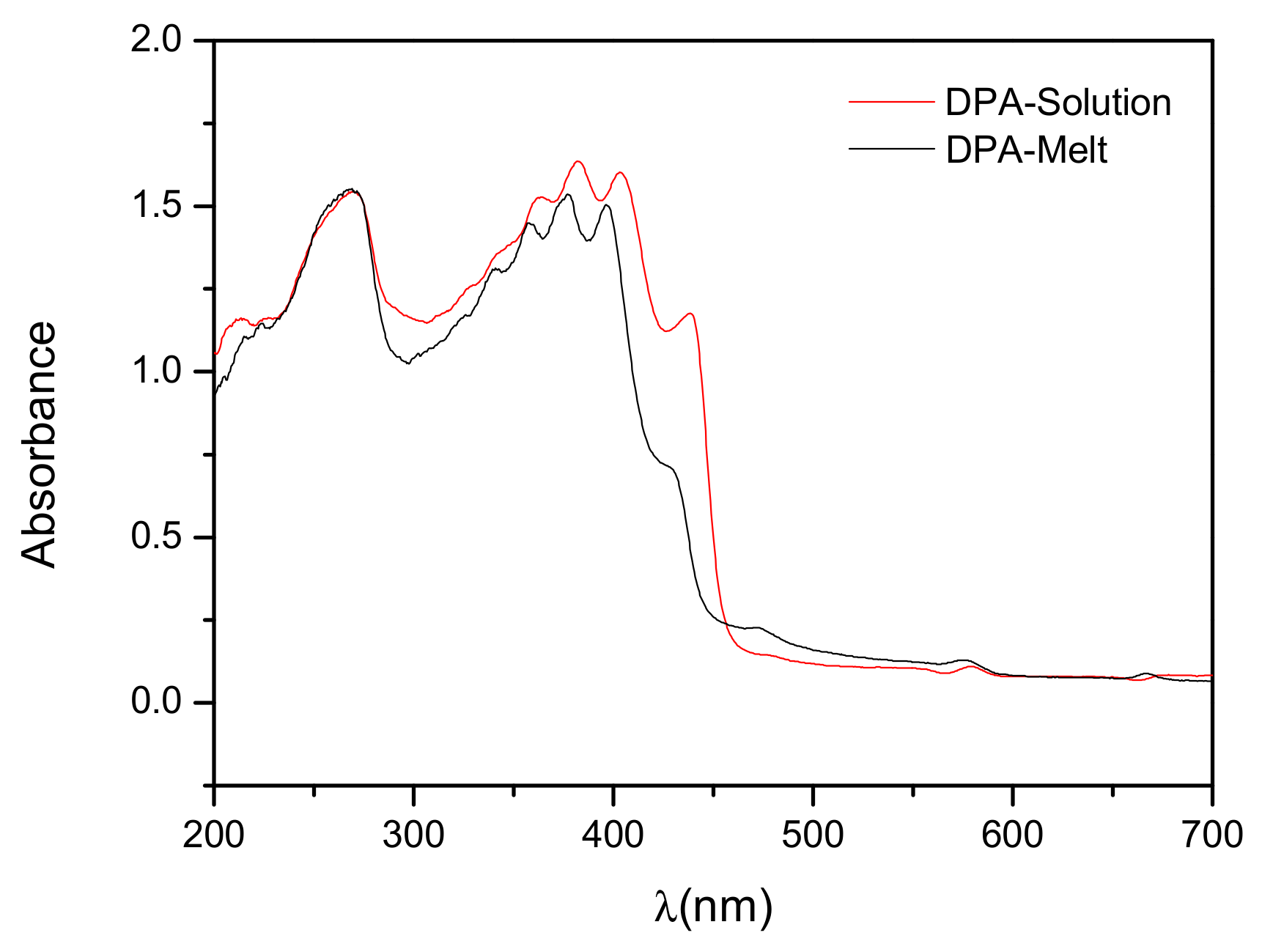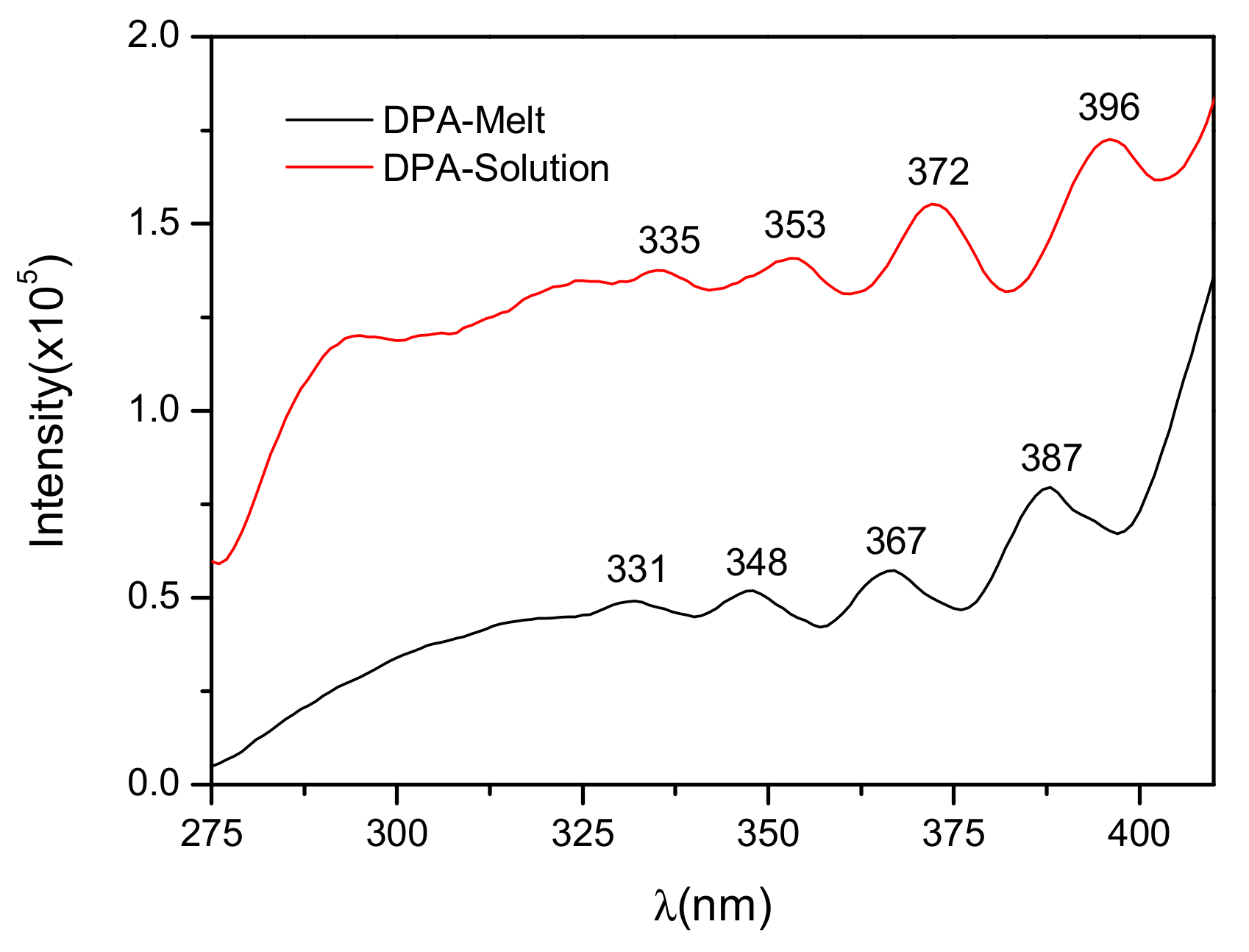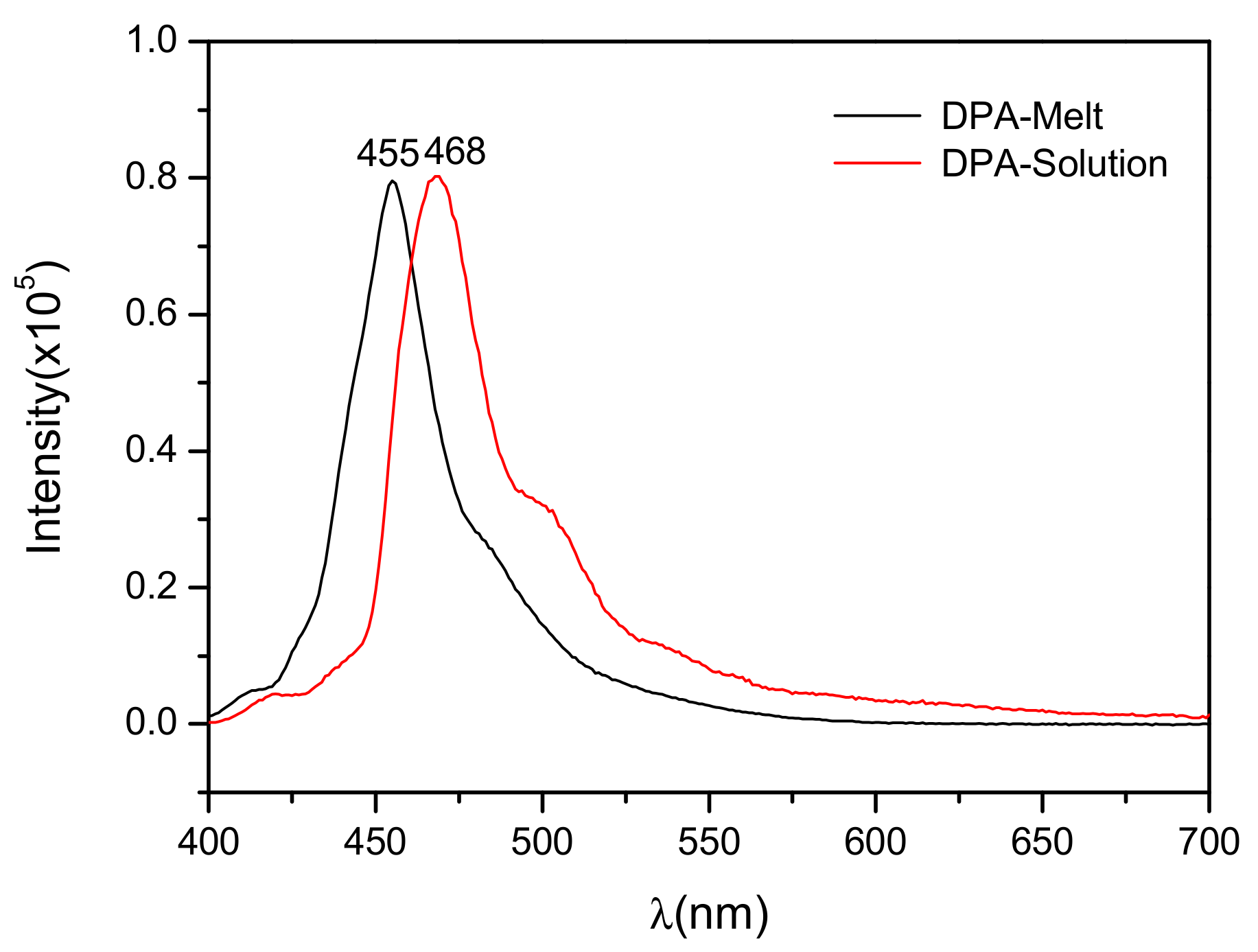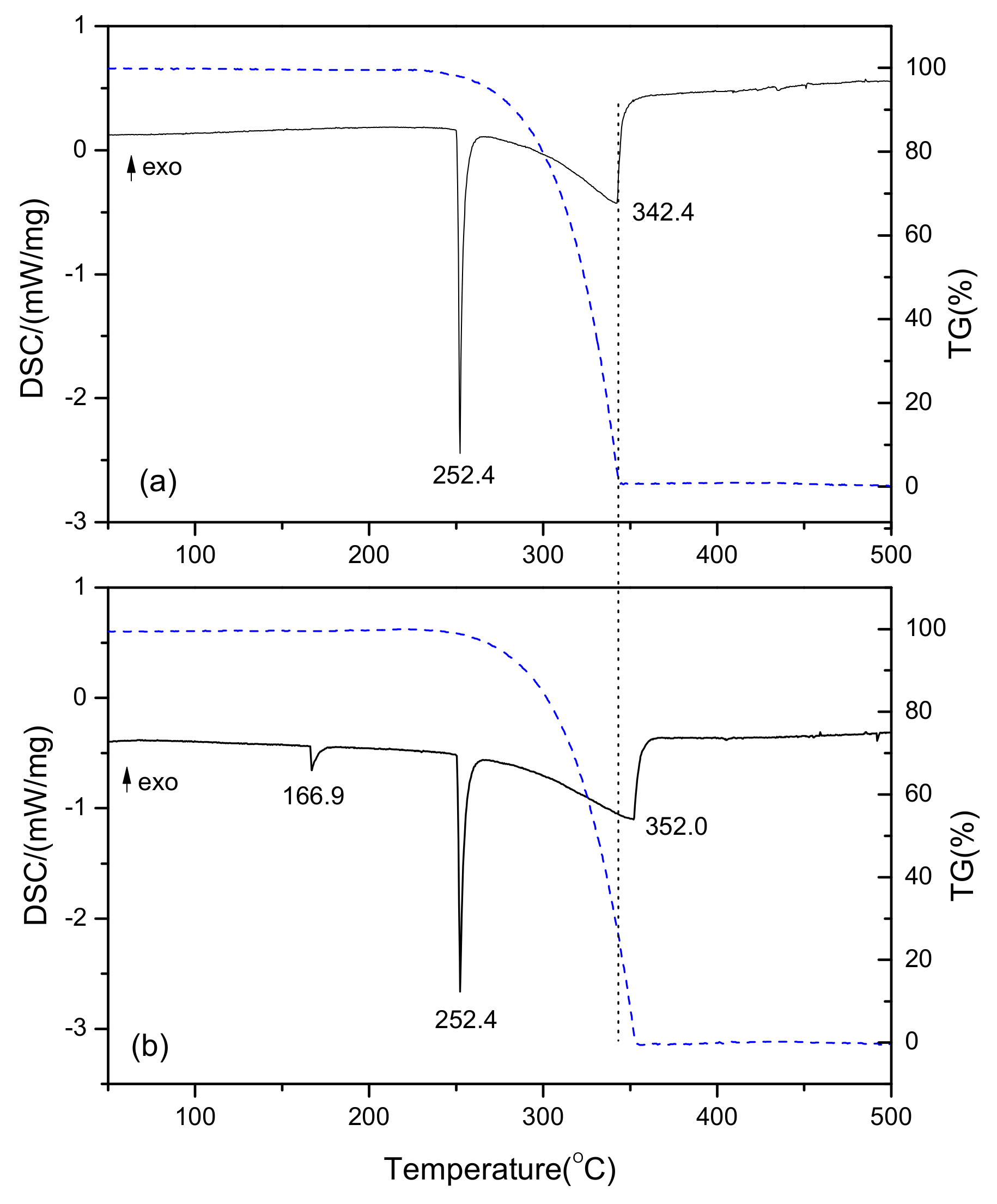 | Crystal | DPA-Melt(γ-DPA) | DPA-Solution(α-DPA) |
| --- | --- | --- |
| Empirical formula | C26H18 | C26H18 |
| Temperature/K | 293(2) | 293.15 |
| Formula weight | 330.40 | 330.40 |
| Crystal system | Monoclinic | Monoclinic |
| Space group | P21/n | C2/c |
| a/Å | 9.2004(4) | 10.6842(7) |
| b/Å | 21.0836(8) | 13.5461(8) |
| c/Å | 10.0367(4) | 12.2430(8) |
| α/° | 90 | 90 |
| β/° | 111.446(5) | 90.615(6) |
| γ/° | 90 | 90 |
| Volume/Å3 | 1812.10(14) | 1771.82(19) |
| Z | 4 | 4 |
| ρcalcg/cm3 | 1.211 | 1.239 |
| μ/mm−1 | 0.068 | 0.070 |
| F(000) | 696.0 | 696.0 |
| Crystal size/mm3 | 0.2 × 0.08 × 0.05 | 0.4 × 0.35 × 0.25 |
| Radiation | MoKα (λ = 0.71073) | MoKα (λ = 0.71073) |
| 2Θ range for data collection/° | 7.256 to 52.736 | 5.864 to 52.734 |
| Index ranges | −11 ≤ h ≤ 8, −26 ≤ k ≤ 20, −12 ≤ l ≤ 12 | −13 ≤ h ≤ 11, −16 ≤ k ≤ 16, −8 ≤ l ≤ 15 |
| Reflections collected | 11425 | 3856 |
| Independent reflections | 3699 [Rint = 0.0278, Rsigma = 0.0332] | 1823 [Rint = 0.0222, Rsigma = 0.0408] |
| Data/restraints/parameters | 3699/0/236 | 1823/0/118 |
| Goodness-of-fit on F2 | 1.068 | 1.073 |
| Final R indexes [I >= 2σ (I)] | R1 = 0.0523, wR2 = 0.1286 | R1 = 0.0533, wR2 = 0.1141 |
| Final R indexes [all data] | R1 = 0.0802, wR2 = 0.1470 | R1 = 0.0772, wR2 = 0.1320 |
The Number of the Atom
Angle/°
A
B
C
D
DPA-Melt
DPA-Solution
C8
C7
C1
C6
−89.0(2)
113.15(16)
C8
C7
C1
C2
93.1(2)
−67.5(2)
C26(C131)
C7
C1
C2
−90.4(2)
−66.18(19)
C26(C131)
C7
C1
C6
87.5(2)
113.22(17)

© 2019 by the authors. Licensee MDPI, Basel, Switzerland. This article is an open access article distributed under the terms and conditions of the Creative Commons Attribution (CC BY) license (http://creativecommons.org/licenses/by/4.0/).