Open Access This article is
freely available
re-usable
Article
Noncovalent Bonds, Spectral and Thermal Properties of Substituted Thiazolo[2,3-b][1,3]thiazinium Triiodides
South Ural State University (National Research University) 76, Lenin Prospect, Chelyabinsk 454080, Russia
*
Author to whom correspondence should be addressed.
Received: 31 August 2019 / Accepted: 23 September 2019 / Published: 28 September 2019
Abstract
:
The interrelation between noncovalent bonds and physicochemical properties is in the spotlight due to the practical aspects in the field of crystalline material design. Such study requires a number of similar substances in order to reveal the effect of structural features on observed properties. For this reason, we analyzed a series of three substituted thiazolo[2,3-b][1,3]thiazinium triiodides synthesized by an iodocyclization reaction. They have been characterized with the use of X-ray diffraction, Raman spectroscopy, and thermal analysis. Various types of noncovalent interactions have been considered, and an S…I chalcogen bond type has been confirmed using the electronic criterion based on the calculated electron density and electrostatic potential. The involvement of triiodide anions in the I…I halogen and S…I chalcogen bonding is reflected in the Raman spectroscopic properties of the I–I bonds: identical bond lengths demonstrate different wave numbers of symmetric triiodide vibration and different values of electron density at bond critical points. Chalcogen and halogen bonds formed by the terminal iodine atom of triiodide anion and numerous cation…cation pairwise interactions can serve as one of the reasons for increased thermal stability and retention of iodine in the melt under heating.
Keywords:
chalcogen bond; halogen bond; triiodide anion; Raman spectroscopy; thermal analysis; thiazolo[2,3-b][1,3]thiazinium salts
1. Introduction
Our research is focused on a series of thiazolo[2,3-b][1,3]thiazinium triiodides and on the study of how the spectral properties and thermal stability of these crystals are influenced by the type and features of the S…I noncovalent bond.
3. Results and Discussion
3.1. Structural Characterization of Compounds 2a–c
The crystal structures of compounds 2a,b belong to the triclinic crystal system. The crystallographic cell consists of two ionic pairs of 2H-benzo[4,5]thiazolo[2,3-b][1,3]thiazin-5-ium cations with triiodide anions. Compound 2c crystallizes in a monoclinic lattice with four ionic pairs of 3,5,6,7-tetrahydro-2H-thiazolo[2,3-b][1,3]thiazin-4-ium cations with triiodide anions (
Figure 2
). The summary of geometric parameters of the S...I interactions and bond lengths within triiodide anions can be found in
Table 2
.
3.2. Noncovalent Bonds Formed by Triiodide Anions: Electron Density Calculations
3.3. Raman Spectroscopy Data
Experimental Raman spectra of the studied crystals are presented in
Figure 6
. On the spectrum of crystal 2c, we clearly see two overlapping bands corresponding to the two symmetrically independent triiodide anions in the crystallographic cell. As both of them are symmetric, we see only the band of symmetric stretching vibration of the triiodide anion at 112.1 cm
−1
and 113.7 cm
−1
and do not see the band of antisymmetric vibration, usually observed in the range of 120–140 cm
−1
[
30
].
The spectra of crystals 2a and 2b are very similar and have weak bands at 138 cm−1, 149 cm−1 and 168 cm−1, which are not attributed to the anionic vibrations and relate to libration and deformational vibrations of the tricyclic dihydrobenzothiazolo[2,3-b]thiazin-5-ium system. The intense triiodide vibration bands are located at 118 cm−1 (2a) and 115 cm−1 (2b).
The correlation between the I–I bond lengths in the triiodide anion and the observed experimental wavenumbers of symmetric vibration is not so clear and evident as in case of iodine complexes [
62
,
63
]. For example, one of the triiodide anions in the crystal 2c has the same bond length as in 2a (2.9170 Å), but its wavenumber is much lower: 113 cm
−1
(2c) and 118 cm
−1
(2a), respectively. Such a spectral difference may reveal the effects that are beyond the geometric contribution on the level of bond length analysis and may be due to the effect of noncovalent interactions and crystal surrounding. Thus, as the isolated triiodide in 2c demonstrates a lower wavenumber, it has weaker I–I bonding within the triiodide anion in comparison to the anion in crystal 2a, demonstrating the band at 118 cm
−1
.
Such features of bonding strength in triiodide anions according to spectral data are also reflected in quantum-topological analysis of electron density. The electron density value at the bond critical point of the I–I bond in the triiodide anion is slightly higher in crystal 2a (0.0433 a.u.) than in crystal 2c (0.0419 a.u.), although the calculated equilibrium distances in these structures are identical (
Table 2
).
This fact is in agreement with the experimental spectral data and electron density values at the I–I bond critical point. Thus, the combination of experimental Raman characteristics together with calculated electron density descriptors can enrich the understanding of bond properties within the triiodide anion beyond the geometric approach based on bond length analysis.
3.4. Thermal Analysis Data
4. Conclusions
The synthesized crystal structures of 2
H
-benzo[4,5]thiazolo[2,3-b][1,3]thiazin-5-ium and 3,5,6,7-tetrahydro-2
H
-thiazolo[2,3-b][1,3]thiazin-4-ium triiodides were characterized using single crystal X-ray diffraction, Raman spectroscopy, and thermal analysis. The type of noncovalent bonds were described on the basis of periodic quantum-chemical calculations revealing cation…anion chalcogen S…I bonds and halogen I…I bonds. In the cases of ambiguous mutual orientation of noncovalently bound atoms, the electronic criterion of the disposition of electron density and electrostatic potential minima was used; all considered S…I interactions were categorized as chalcogen bonds. Raman spectra and local properties of electron density allowed us to reveal the influence of noncovalent bonds on the properties of triiodide anions with equal bond length: the more bound iodine atoms was the reason for a stronger I–I bond within the triiodide anion. The thermal analysis data showed that the layered packing of benzothiazolo-thiazinium triiodide promoted effective capsulation of triiodide anions due to hydrogen and chalcogen bonding and might act as a stabilizing factor, providing comparatively higher thermal stability and iodine retention in the melt.
Supplementary Materials
The following are available online at
https://www.mdpi.com/2073-4352/9/10/506/s1
, Table S1: Bond lengths for triiodides 2a, 2b and 2c, Table S2: Bond angles for triiodides 2a, 2b and 2c, Figure S1: Crystal habit of triiodide 2c (ruby red) and corresponding monoiodide (light yellow) under 4× microscope magnification, Table S3: Local properties at bond critical points (bcp) of noncovalent interactions formed by triiodide anions in 2a, 2b and 2c crystals, Table S4: Local properties at bond critical points of noncovalent interactions formed by organic cations in 2a, 2b and 2c.
Author Contributions
Conceptualization, E.B.; Funding acquisition, D.K., V.S. and E.B.; Investigation, I.Y., N.T. and V.S.; Methodology, E.B.; Project administration, D.K. and E.B.; Resources, N.T.; Supervision, D.K. and E.B.; Validation, I.Y. and E.B.; Visualization, I.Y. and E.B.; Writing—original draft, I.Y., N.T.; Writing—review and editing, E.B.
Funding
The work was supported by The Government of Russian Federation decree №211, agreement № 02.A03.21.0011 and by the Ministry of Education and Science of the Russian Federation: grant 4.9665.2017/8.9 (N.T. and D.K.), grant 4.6151.2017/8.9 (V.S.) and 4.1157.2017/4.6 (I.Y. and E.B.).
Conflicts of Interest
The authors declare no conflict of interest.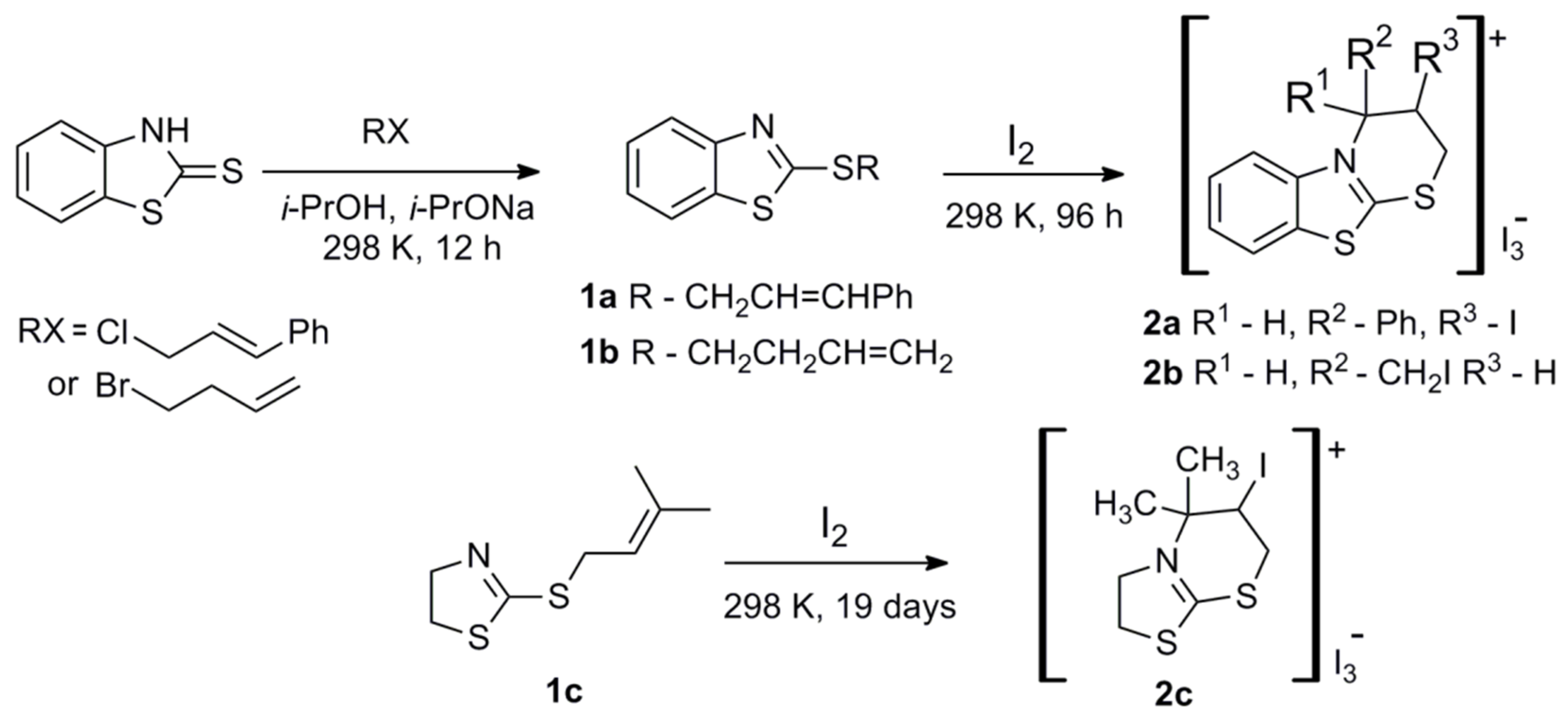 Figure 2. Crystal packing of 2a (a); 2b (b) and 2c (c) with thermal ellipsoids of 50% probability, view along the b crystallographic axis.


Figure 3. Electron localization function (ELF) distribution in S…I motives in the structures (a) 2a (plane I4-–I2…S2); (b) 2b (plane I1–I2…S2); and (c) 2c (plane I3–I2…S4).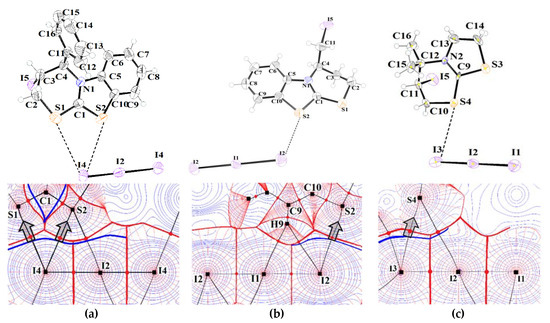 Figure 4. ORTEP diagrams of crystal structures illustrating the typical S…I chalcogen bond (on top); on bottom: gradient fields, atomic basins and bond critical points of electron density (red lines and points), electrostatic potential distributions (blue lines) for typical chalcogen bonds (a) 2a (plane I4––I2…S2); (b) 2b (plane I2–I1…S2); and (c) 2c (plane I3–I2…S4).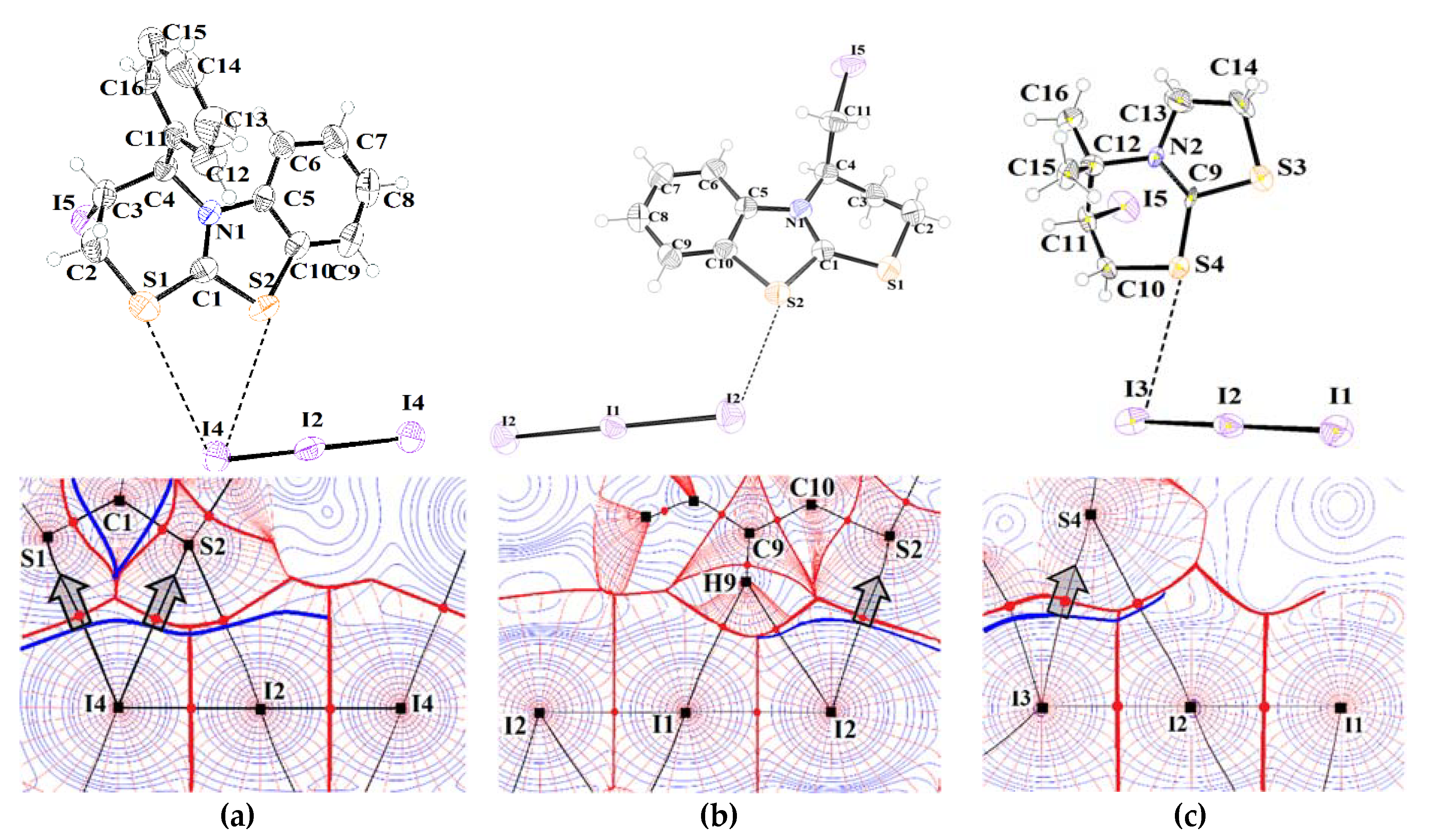 Figure 5. One-dimensional distributions of electron density (ED) and electrostatic potential (ESP) functions (a.u.) along the S…I chalcogen bonds in 2a (a), 2b (b) and 2c (c) illustrating that the positions of electron density minimum (EDmin) are closer to the S atoms; interatomic distances are in Bohr.


Figure 7. Thermogravimetric (TG), differential scanning calorimetry (DSC) and differential thermogravimetric (DTG) curves of crystals: 2a (a), 2b (b) and 2c (c).

Structure
2a
2b
2c
Empirical formula
C16H13NS2I4,
C11H11NS2I4,
C8H13NS2I4
Temperature (K)
293
293
296.15
Crystal system
triclinic
triclinic
monoclinic
Space group
P-1
P-1
P21/n
a (Å)
9.775(7)
7.913(5)
12.1447(7)
b (Å)
9.868(6)
7.994(5)
10.2762(5)
c (Å)
12.890(8)
14.883(11)
13.9862(7)
α (°)
96.416(19)
101.68(3)
90
β (°)
98.49(2)
96.33(3)
108.053(2)
γ (°)
117.72(4)
101.22(3)
90
Volume (Å3)
1065.24
893.29
1659.57(15)
Z
2
2
4
Density (g/cm3)
2.466
2.710
2.781
µ, (mm−1)
6.045
7.195
7.74

F

(000)
720.0
653.4
1242.9
Crystal size (mm)
0.25 × 0.14 × 0.11
0.77 × 0.27 × 0.22
0.47 × 0.29 × 0.17
2θ range of data collection (deg)
5.9 to 59.22
5.66 to 66.48
6.12 to 79.2
Range of refraction indices
–13 ≤ h ≤ 13,
–13 ≤ k ≤ 13,
–17 ≤ l ≤ 17
–12 ≤ h ≤ 12,
–12 ≤ k ≤ 12,
–22 ≤ l ≤ 22
–21 ≤ h ≤ 21,
–18 ≤ k ≤ 18,
–24 ≤ l ≤ 25
Measured reflections
47057
52396
81480
Independent reflections
5968 (Rint = 0.0346,
Rsigma = 0.0186
6839 (Rint = 0.0357,
Rsigma = 0.0208)
9984 (Rint = 0.0432,
Rsigma = 0.0315)
Refinement variables
211
165
142
Goodness-of-fit on F2
1.039
1.049
1.104
R factors for F2 > 2σ(F2)
R1 = 0.0283,


w

R2 = 0.0623
R1 = 0.0450,


w

R2 = 0.1007
R1 = 0.0543,


w

R2 = 0.117
R factors for all reflections
R1 = 0.0431


w

R2 = 0.0683
R1 = 0.0611


w

R2 = 0.1098
R1 = 0.1107


w

R2 = 0.1171
Residual electron density (min/max) (

e

/Å3)
0.61/−1.29
1.98/−2.24
3.13/−3.71
Distance S…I, Å
C–S…I Angle, °
S…I–I Angle, °
I–I in I3−, Å
2a
S2…I2: 3.707
C1–S2…I2: 142.27
S2…I2–I4: 110.54
2.917; 2.917
2b
S2…I2: 3.775
C1–S2…I2: 161.54
S2…I2–I1: 110.53;
I3– (1): 2.912; 2.912
S2b…I2: 3.778
C10–S2b…I2: 153.69
S2b…I2–I1: 32.93
I3– (2): 2.931; 2.931
2c
S4…I3: 3.910
C9–S4…I3: 165.72
S4…I3–I2: 96.39
I3– (1): 2.904; 2.936
S3…I8: 3.699
C9–S3…I8: 166.14
S3…I8–I7: 96.41
S2…I1: 3.902
C1–S2…I1: 172.07
S2…I1–I2: 77.78
I3– (2): 2.931; 2.933
S1…I6: 3.734
C1–S1…I6: 165.23
S1…I6–I7: 96.74
| | 2a | 2b | 2c |
| --- | --- | --- | --- |
| Melting Point (°C) | 141 | 127 | 122.5 |
| Decomposition start (°C) | 162*smooth | 222 | 160 |
| DTG peak 1 (°C) | 180–210 | 249 | 215 |
| DTG peak 2 (°C) | 277 | 310 | 252 |
| Mass loss, peak 1 and 2 (%) | 83.4 | 89.9 | 90.3 |

© 2019 by the authors. Licensee MDPI, Basel, Switzerland. This article is an open access article distributed under the terms and conditions of the Creative Commons Attribution (CC BY) license (http://creativecommons.org/licenses/by/4.0/).