Crystal Structure of the Disordered Non-Centrosymmetric Compound Fe0.43Mo2.56SbO9.5
1
Department of Materials and Environmental Chemistry, Stockholm University, SE-106 91 Stockholm, Sweden
2
Department of Chemistry, University of Kalyani, Kalyani, Nadia, West Bengal-741235, India
3
Division of Polymer and Materials Chemistry, CAS, Lund University, 22241 Lund, Sweden
*
Authors to whom correspondence should be addressed.
Received: 11 December 2018 / Revised: 8 January 2019 / Accepted: 10 January 2019 / Published: 15 January 2019
Abstract
Single crystals of Fe
0.43
Mo
2.56
SbO
9.5
were obtained by hydrothermal techniques at 230 °C. The crystal structure was determined from single crystal X-ray diffraction data. The compound crystallizes in the non-centrosymmetric space group
Pc
with unit cell parameters
a
= 4.0003(2) Å,
b
= 7.3355(3) Å,
c
= 12.6985(6) Å,
β
= 90°. The crystal structure comprises five crystallographically independent M atoms and one Sb
3+
atom, M atoms are of two kinds of partially occupied sites Mo
6+
and Fe
3+
. The building blocks consist of [SbO
3
O
0.5
O
0.5
E] octahedra (E = lone electron pair) and [(Mo/Fe)O
6
] octahedra. The
M
= (Mo, Fe) and O atoms are arranged in a distorted hexagonal 2D-net, not the Sb atoms. The distortion of the net and consequently the symmetry reduction results mainly from the location of the Sb atoms. Disorder manifests itself as a splitting of the metal sites and as a consequent shortening of the Mo–Fe distances. Six (Mo/Fe)O
6
octahedra are connected to form a pseudohexagonal channel. The Sb
3+
atom is displaced from the
pseudo
-six-fold axis.
View Full-Text
►

▼

Figures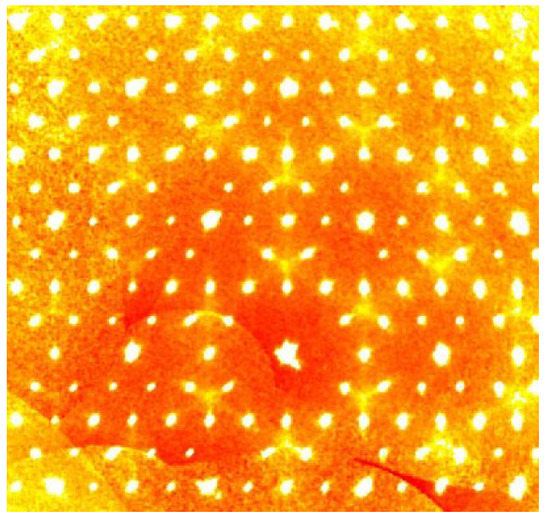 Figure 1
This is an open access article distributed under the
Creative Commons Attribution License
which permits unrestricted use, distribution, and reproduction in any medium, provided the original work is properly cited (CC BY 4.0).

Share & Cite This Article
MDPI and ACS Style
Ali, S.I.; Lidin, S.; Johnsson, M. Crystal Structure of the Disordered Non-Centrosymmetric Compound Fe0.43Mo2.56SbO9.5. Crystals 2019, 9, 40.
Note that from the first issue of 2016, MDPI journals use article numbers instead of page numbers. See further details here.
Related Articles
Comments
[Return to top]